Christian Laettner and David Thompson Inducted into College Hall of Fame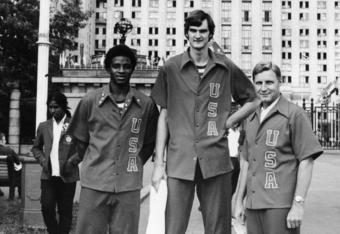 Thompson, Burleson and Sloan

Former Duke and N.C. State men's basketball stars Christian Laettner and David Thompson were inducted into the National Collegiate Basketball Hall of Fame on Sunday evening at a ceremony at the Midland by AMC in Kansas City, Mo.
(In alphabetical order) Laettner helped lead the Blue Devils to four straight NCAA Final Fours, including national championships in 1991 and 1992.
The 1992 National Player of the Year and three-time All-American, Laettner averaged 16.6 points and 7.8 rebounds for his career. His 2,460 points and 1,149 rebounds in his career rank third all-time at Duke, while he holds the school record with 713 career made free throws.
As a junior, Laettner was named second team All-America, MVP of the Final Four, ACC Athlete of the Year, first team All-ACC and to the All-Midwest Regional team. He averaged 19.8 points and 8.7 rebounds and had 75 steals, 44 blocked shots and a .575 field goal percentage.
He followed his terrific junior season with an even better senior campaign, averaging 21.5 points and 7.9 rebounds with had 74 steals, 32 blocked shots and a .575 field goal percentage. He was named National Player of the Year, ACC Player of the Year, ACC Athlete of the Year, ACC Tournament MVP and MVP of the East Regional.
Laettner was the third player taken in the 1992 NBA Draft and played 13 seasons in the NBA with the Minnesota Timberwolves, Atlanta Hawks, Detroit Pistons, Dallas Mavericks, Washington Wizards and Miami Heat.
Outside of Duke circles, Laettner was not particularly popular and consistently appears on published lists of "Most Hated Duke Basketball Players." He is especially loathed in Kentucky for several well-known reasons.
After leading North Carolina State University to an undefeated season (27-0) in 1973, David Thompson was part of a history-making Wolfpack squad that stopped John Wooden's UCLA Bruins' long string of national championships.
Nicknamed "Skywalker" because of his incredible 48-inch vertical leap, Thompson became the prototype for the modern "above the rim" modern player. Along with his teammates—the diminutive Monty Towe and the conversely gigantic Tommy Burleson—Thompson helped invent the most exciting play in basketball, the "alley-oop."
Although the high-flying Thompson was prohibited from dunking by the Suits In Kansas, the play was a staple in coach Norm Sloan's "offense" (offense is in quotes as Sloan often claimed his '73, '74 and '75 Wolfpack rarely ran an offense, as they had so much talent and were so adept at freelancing that he simply "let them play") and took advantage of Thompson's leaping ability and Burleson's reach. (The 7'4" Burleson could touch the rim standing flat-footed.)
Thompson finally happily broke the rule in the final non-conference game of his career with a dunk that promptly drew a technical. But that play sent a symbolic message that "slam-jam athleticism" was the wave of the future in both college and pro basketball.
N.C. State's game against the nationally fourth-ranked University of Maryland Terrapins in the 1974 ACC Tournament finale, in an era in which only conference champions were invited to the NCAA Tournament, is considered one of the best college basketball games of all time.
Thompson. Towe and Burleson led the No. 1-ranked Wolfpack to a 103-100 win in overtime. Thompson and the Wolfpack would go on to win the national championship while Maryland sat at home. (Lefty's guys said "no thanks" to the N.I.T.)
The Terps' exclusion from the NCAAs, despite their high national ranking, would lead to the expansion of the NCAA Tournament the very next season to include teams other than the league champions. So credit Thompson with helping to create the "Big Dance" as well.
Thompson is accustomed to being a Hall of Fame luminary. The former No. 1 pick in both the NBA and ABA drafts, he also is enshrined in the Naismith Hall of Fame in Springfield, Mass. In addition, Thompson presented Michael Jordan for his induction in Springfield.
At N.C. State, Thompson was a consensus first-team All-America in 1973, 1974 and 1975. He was the AP Player of the Year in 1974 and 1975 and the UPI Player of the Year in 1975. That same year, Thompson also won the coveted Naismith Award for National Player of the Year.
Thompson played in the NBA for nine years, but his career was impeded by frequent injury and substance abuse problems.
This article is
What is the duplicate article?
Why is this article offensive?
Where is this article plagiarized from?
Why is this article poorly edited?

Duke Basketball: Like this team?