Picking an All-Time World Football XI: Featuring Lev Yashin, Cruyff, and Müller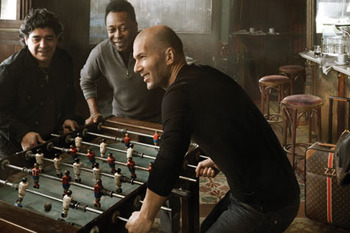 Picking an all-time world football XI simply revolves around a "useless" brain-storming that leads to some definite conclusion involving few moments of reflection which surely give you a sweet headache as you go through the history pages and revive the classics—some genius, some notorious, and some world class displays by mere humans—that have left some unforgettable influence and impact on the face of the football history.
When it comes to picking some favorites, in any walk of life, then we get some clashes of ideas. What might be considered the best for one school-of-thought would be taken as the worst by the others. The displays which are held as flash-of-genius by some would be taken as dull by the others. All these things take us on one road only which has one sign-post at the end that reads: "It's only the matter of perceptions and opinions, you genius!"
Having said that, I would pick my all-time world football XI, out of some true gems, of this divine sport (played and "plagued" by humans, of course).
You would either agree or disagree as I said that this kind of discussion brings the clashes of ideologies or perceptions but at the end it all stands as opinions.
For example; the "gods" that you see here in the picture are not in this team!
Well, how about if I change the title of this post to: "Going Nuts: Picking an All-Time World Football XI; Avoiding Pele, Maradona, and Zidane in Best Possible Way!"
True that, we consider them the best of the best and you might be pelting your gaze at this page with some "lambasting" frowning or you might have started doubting my sanity (If I have left, any) but this might be because of we have "seen" them with our own bloody eyes of what they can do. How about taking the "leap of faith", then? Instead of what media has polluted our mind with the definition of "genius" why not go deep down in the pages of the history; dig YouTube, burn Torrents, find biographies, and stumble documentaries to form our own opinions, then?
While writing till this point and while you have read it, we have reached that bloody sign-post eventually. That only reads as: "It's only the matter of perceptions and opinions, you genius!"
So nothing else matters, let's dig the team.
Lev Yashin: Goalie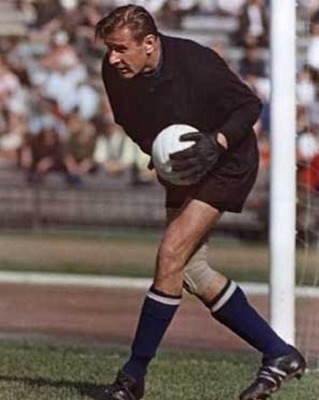 I am simply impressed and fall on my knees when I see some innovation. Your legendary acts will go down in a book as a glorious chapter only but your innovation will set the standards on how a book should be written!
Lev Yashin, a Russian, was an innovator who made an unparalleled contribution to the game as a whole and goal-keeping in particular that he sits on that throne alone. He set the modern standards for goal-keeping which include; commanding of the area, punching out, inventing ways of kicking out the ball while rushing out, and mastering the goal-line with unbelievable reflexes.
What he had in difference to others was his cold and imposing stature as that of silent assassin. Add to that; his all-black outfit and flawless athleticism earned him the nickname "The Black Spider".
Talking about goal-keeping, it's a serious business. It requires mental attributes as well like courage, confidence, and reliability which many modern goalies lack in abundance but Lev Yashin always brimmed with all those traits.
Quick-throws in order to carve out a counter-attack were invented by this one legendary man. He remained coldly calm and dangerously confidant when handling one-on-one situations. If you look at the modern goal-keepers around then you may notice that all the goal-keepers have mastered one trait or another which are defined here but none have mastered it all as there was only one Lev Yashin.
He remains the only goal-keeper who has won "European Footballer of the Year", the feat he attained in 1963. Enough said!
Considerations: For this position, none!
Claudio Gentile: Right Back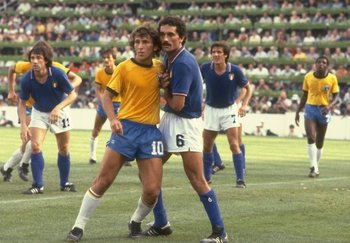 Perhaps, a controversial inclusion for many as this position has widely been "possessed" by the Brazilians but I will take my chances on this Libya-born Italian Claudio Gentile.
He had been deployed in various positions including centre-midfielder, left-back, and right back. In this team, he serves as a right-back. His equal efficiency with both feet made it easier for him to excel in what he did famously—read notoriously—marking.
This is the man who notoriously destroyed the most technically gifted players of his era, namely Zico and Maradona, on the world stage i.e. World Cup. If a player makes Maradona look like an utter shambles then he must be something, no?
Azzurri's world-cup triumph in 1982 is a well documented piece. Much has been said and written on Paulo Rossi's out of the world performances in that tourney and Tardelli's THAT goal remains one of the best and iconic image but I, personally, think that Gentile was the man of that world cup. That, the world cup truly belonged to him to what he had done with Brazil and Argentina in that World Cup.
I am sorry, but I couldn't include all-smiling Pele in my team. I didn't need blistering runs of Carlos Alberto Torres neither did I want Jorginho although his career in Bundesliga somewhat tempted me to include him keeping the players in this team on my mind.
What I needed was a marker. What I needed was a destroyer. What I needed was an uncanny right-back who would just put the best player of the opposition out of the bloody game. What I needed was Claudio Gentile.
Considerations: Carlos Alberto, Jorginho, Cafu
Antonio Camacho: Left Back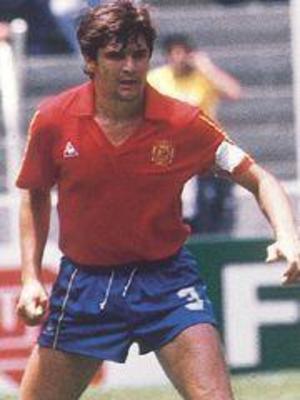 Wherever you went on the pitch, he would follow you. If you had second thought of quitting game and going home, you will find him waiting in dining room watching TV there. He was a chewing gum, your shadow—Antonio Camacho.
He played over 400 games for Real Madrid and never lost his work-ethics. He put so much energy yet remained cool on the pitch. He offered you sigh-of-relief as you had nothing to worry about on flanks as you had Antonio Camacho to deal with any threat.
This Spaniard served his national team for almost 13 years and made some huge contributions in his defensive mainstay role for the team.
He never talked on the pitch. He just carried an air of innocent swagger with him which was to follow you down even to the Death Valley. If you were off-the-ball then you would hear some hissing off the shoulder. You would start thinking that some ghost is prowling on the football pitch but once you turned you would find Antonio Camacho. He was a total nightmare for whoever was up against him.
Considerations: Paolo Maldini, Roberto Carlos, Lizarazu
Franco Baresi: Centre-Back (Steel)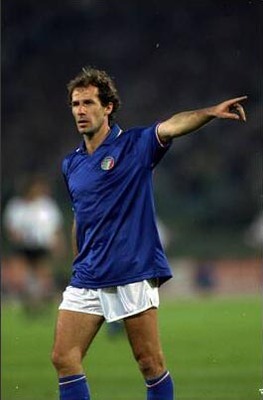 He was a true leader, a perfect game-reader, a monumental and iconic figure in world football—Franco Baresi.
His vast understanding of the game would mostly take him to where the danger was ought to happen and all he would do was to nip that in the bud. Nothing beats his legacy at AC Milan and the enormous contribution to Azzurri which is wide-spread on decades.
He became famous in his late 20's as this fickle world with feeble mind couldn't understand of what this bloke was up to with lately but by then he was recognized as best in the business already.
What Maldini was doing on the flanks that time, Baresi was doing that right in the middle of the pitch. His tackling and defensive prowess stood second to none. Not only he excelled in defending but also he offered some options in attacking on various occasions as he was a quality on the ball as well.
Every attacker, in his era, had a second thought of "How do we get past with this guy?" Franco Baresi was a real madness at the Milan's heart of the defense for three decades.
Considerations: Bobby Moore, Laurent Blanc, Daniel Passarella
Franz Beckenbauer: Centre-Back (Silk)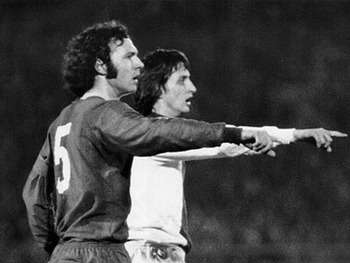 Franz Beckenbauer, perhaps the greatest German player of all time. Initially started his career as all-action defensive midfielder, Der Kaiser was later deployed as a sweeper; more-like in a role that he redefined with his exceptional class of football skills—"Libero".
The world said he couldn't defend…
He masqueraded-in that short-coming with his extensive game-reading, explosive range of passing, holding-up with the ball, and opening up some out-of-the-world attacking plays with his languid passing from the back.
His effectiveness of reading the game proved crucial in breaking up oppositions' attacking threats. His creativity coupled with ability to burst forward resulted in headaches for the rivals. His long range-shooting proved lethal for opposition at numerous times.
Most of all, he was a leader through in through.
The world said he couldn't defend, he made the world eat their words as what world witnessed that he actually emerged as one of the most complete footballers, perhaps the best of all, who with shielded defensive ability and geared up with all the traits discussed above anchored the midfield from the back and ruled the world.
Considerations: Fernando Hierro, Gaetano Scirea, Ronald Koeman
Lothar Matthäus: CDM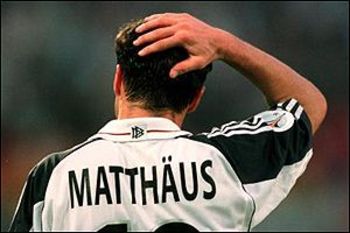 The man who was famous for his outstanding positioning awareness, accurate tackling, and hell of an explosive shots! Ladies and "their" gentleman… Lothar Matthäus.
He might not be famous in Germany due to his rowing with team-mates and bosses in his playing time but what he earned in his 20 years of playing career stands a legend including leading the Germans to World Cup glory by brilliant example.
Perhaps, he was one of the players who had glittering careers on both international and club stages tasting success on each level. He was an astute character on the pitch who with his fulcrum of creativeness took the dying art of sweeper with his sense of positioning to next levels if the explosiveness of his young age coupled with fierce shots and well-timed tackling was not enough in his hay-days.
He was the man who gifted Franz Beckenbauer his moments when the latter managed Germany to world cup glory in 1990 and Matthäus captained the team.
He possessed great leadership although he wasn't famous within his colleagues due to his cunning attitude but he always did what he did the best and was a constant thorn for his rivals who recognized his abilities more than his colleagues.
"He was the best rival I've ever had. I guess that's enough to define him."—Diego Maradona.
Considerations: Pep Guardiola, Frank Rijkaard, Didier Deschamps

Michael Laudrup: CM (Play-Maker)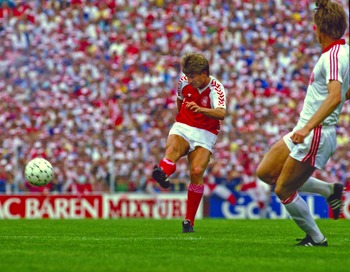 Michael Laudrup is my favorite No.10. He was a great play-maker who could feed you with mind-numbing passes out of nothing and would complement the team-mates with his sheer attacking displays. You just had to run; he would give you weighted passes out of nowhere.
He was well known for his no-look passes—i.e. looking one way but would pass the other way—and fooled so many greats of this game with this technique. Others would think that this guy has some serious problems with his sight and is in dire need of an appointment with an ophthalmologist but next moment they would know that this genius had just punked them with mind-blowing technique and it's them who need to see some neurologist!
If you need ground-drilled passes, aerial lobs, through passes to run on, defense splitters, or just technically gifted intelligent passes then he was the man for you.
Not only he made his name out of those crazy passes but he was also good at goals. He had his scorchers under his control. Long-shooting was famous in those days as anyone would run on the ball and send a missile shot at the mercy of goalies alone but Michael Laudrup would beat the keepers as he always aimed at the top-corners when it came to long-range shooting.
His running, his passing, his shooting, his art of play-making, you name anything required to have in a play-maker then Michael Laudrup had it in abundance with a class of par excellence.
He is responsible in reviving many players' careers with his phenomenal assists. He is a true legend—Michael Laudrup.
Considerations: Socrates, Zidane, Greame Souness
Garrincha: RAM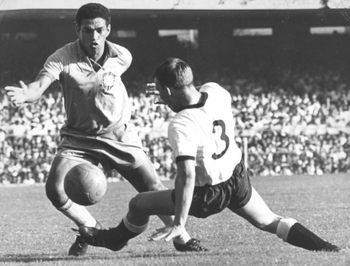 If you asked me yesterday about this position then I would have given you a name, Jairzinho. As the things stand, no one asked me about that yesterday so today I am picking Garrincha. But, if you come again tomorrow then maybe I would give you a name for this position, Jairzinho.
Garrincha was a flawed genius. The flaw was not in his performances which only spilled the ruthless intelligence of this "Little Bird" geared with high-class imagination, excellent control over ball, pin-point crossing, sickening dribbles, and powerful shots.
The Flaw was physical. It was in his legs that defied the ways of human anatomy in which you are not supposed to do few things, specially play football—as his left leg was 6 cm longer than the right along with childhood illness that left his left leg slightly bent inward and right leg little outward—but Garrincha did all the things and yes he played football like no one else did!
Garrincha remained an important figure of Brazil in Pele era and despite playing under the shadow of perhaps the player of the century he seemed to outclass Pele on many occasions. Two-times World Cup winner with Brazil and golden boot winner of 1962 World Cup, Garrincha makes this list with so much ease despite some stiff consideration for others but no one came any closer.
Considerations: Jairzinho, Roberto Donadoni, Luis Figo
Cruijff: LAM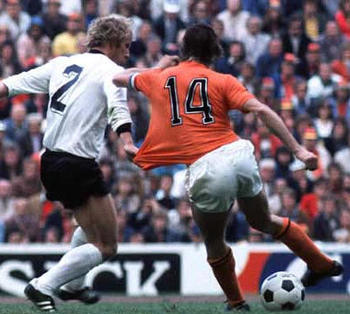 What Pele and Maradona is to you lot, Johan Cruijff is that to me.
Cruijff was a key to Rinus Michelis' "Total Football". His presence on the pitch ensured that the system i.e. Total Football was well executed and kept refined throughout. His football brain always stood 20 years ahead of his time as if he had some time-travelling secret or either he was exposed to some radio-activity process.
He was the man who orchestrated the symphony that "Orange Machine" played some time back. His awareness of his team-mates' positions was flawless. His movement on the pitch was phenomenal. His invention of "Cruijff Turn" remains a sweet memory. His tormenting technique of literally mop down his rivals on the pitch was ruthlessly genius.
He remains my all-time favorite footballer. He is my inspiration. He is the man who has literally created chaos on every area of the football pitch. When I started reading about Johan Cruijff, my perception about football changed completely, my football life was never same since then. Ladies and "their" gentleman… Johan Cruijff!
Considerations: Dragan Džajić, Gheorge Hagi, Pavel Nedvěd
Michel Platini: CAM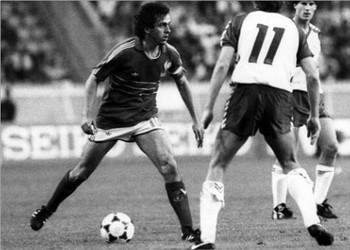 I would regard Platini as a player who hit the free-kicks with superlative precision. In modern times, I would consider Michael Ballack in that department along with Juninho but Platini's free-kick were just "something else".
Platini was one of the graceful players on the field and he always carried himself with such esteem that as if he was preparing himself for some roles in Francis Ford Coppola's movies but alas Coppola found Al Pacino.
One of the finest midfielders of 80's era, Platini had all the weapons required for that position which include great passing, high-level game-reading and tireless movement to torment the heart of opposition's defense. Despite being a midfielder he remained the top-scorer for French national team until some bloody Henry came to rip that record off.
Platini was always delightful to watch on football field as he wore on Juventini colors and won everything there is to win in club football for his long hunting ground, Juventus. He is hailed as "Napoleon of Football" for all the right reasons.
Considerations: Zico, Maradona, Dragan Stojković
Gerd Müller: Striker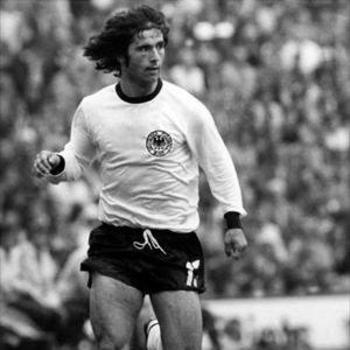 He was not a traditional striker, in speaking sense, of old times. He was short. He was awkward. He was slow. But, he was lethal when it came to scoring goals because he was Gerd Müller.
He was nicknamed as "Der Bomber" and bombed he did with his blasting and uncanny instincts of goal scoring. He would score without making any fuss or waste of time. He possessed an intelligent acceleration over short-distance and he remained dominant aerially.
Müller was a nightmare of goalies as they knew that he would only need ball in his reachable radius to score the goals because this guy was never stopping with that.
He used his short height to remain balanced. He used his dummy acceleration to cancel out his deficiency of being slower. What else did I write above? Yeah, awkwardness! He used his awkwardness to simply frighten the goal-keepers. Kidding!
Gerd Müller remained an inspiration for the likes of Raul, Inzaghi, Ruud van Nistelrooy, and Schevchenko with his 69 goal-tally in Champions League (which remained unbeaten for nearly three decades).
Consideration: An endless list…
Formation And Tactics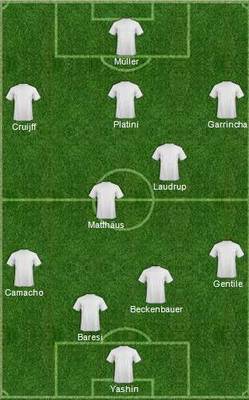 Due to inclusion of Der Kaiser, I have opted for an asymmetric 4-2-3-1 formation giving him the role he has excelled at. Gentile and Camacho don't play the modern wing-back role i.e. going forward but simply go on as markers and win the balls and simply give it to Beckenbauer. I really don't have to worry about Baresi at all neither Yashin.
Lothar Matthäus plays a defensive midfield role in front of Beckenbauer and just behind Laudrup which ensures his communication role between defense and offense. Once he gives the ball to Laudrup then we are about to see magic as whichever route left, right, or centre he chooses to send the ball in it would be explosive.
However, I am just worried about one thing here. The moment the referee blows his whistle then almost every member of this team would come around to take the free-kick and all will present themselves with their nice arguments to take the free-kick. Mostly it would happen that the discussion would linger longer that the spectators would finally begin to leave the stadium and we… would just complete this bloody article.
Doing this article was a real pleasure as I consider it compulsory for Football writers to come up with their all-time World Football XI as it really offers some new views in to the game as you go through the legends and rediscover something about them. It is like earning doctorate. Trust me!
This article was initially published at Football Stryder blog, where the writer offers his view on football, mainly Bundesliga. You can read this article on that blog here which includes videos in it as well.
Keep Reading

FC Bayern Munich: Like this team?