NFL Scores Week 11: Stars of the Week 11 Winners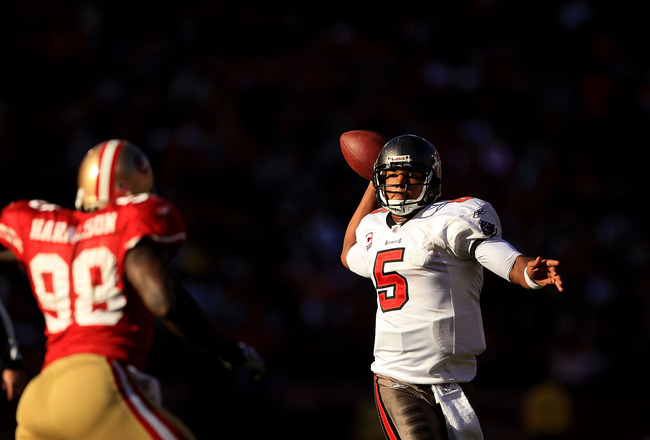 Ezra Shaw/Getty Images
Aside from the Monday Night Denver Broncs - San Diego Chargers showdown on the docket tonight, Week 11 of the 2010 NFL season came to an end last night as the Eagles took advantage of the mistake riddled New York Giants in a 27-17 win.
This week was a good one for football, playing host to a few upsets, a few beat downs, and a few plain, old-fashioned tough games.
So then, how about a little run down? Here are the stars of the winning teams from Week 11.
Bears Vs Dolphins: Charles Tillman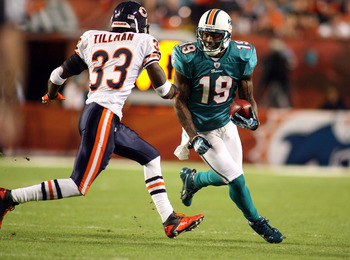 Marc Serota/Getty Images
It's hard to pick one player out of this game as someone who really stood out and made a difference. The Bears played well collectively on defense, pitching the shutout against an always-dangerous Dolphins offense (despite the injuries that they are facing).
Tillman had an interception in addition to five tackles, which adds up to a pretty solid night for the veteran.
In spite of all this, though, something tells me I should just stick with Robbie Gould...
Baltimore Vs Carolina: Ray Lewis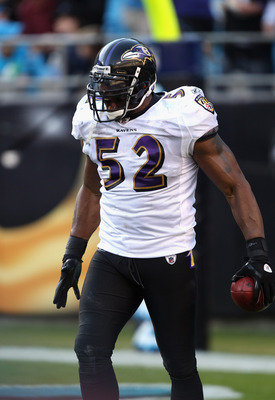 Streeter Lecka/Getty Images
Normally I would give this immediately to Joe Flacco and move on with little explanation needed, but I have to be straight with you all here. Sure, 72% completion rating, 301 yards, and one touchdown are all very impressive, but the fact is Joe Flacco fumbled the ball twice. The Panthers weren't anywhere close to being able to really capitalize on that, but fumbles are bad nonetheless.
Ray Lewis, on the other hand, had a great night. He even added another interception to his illustrious career. Ray Lewis was the heart and soul of the Ravens defense (as he always is) against Carolina, and he deserves that recognition.
Buffalo Vs Cincinatti: Ryan Fitzpatrick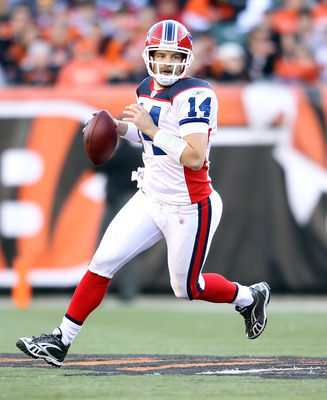 Andy Lyons/Getty Images
Are we sure that the Bills really need a new quarterback more than anything?
Sure, the Bengals were without Johnathan Joseph and Chris Crocker in the second half. Who cares.
The Bills were down 31-14 at half time, and the comeback has to rest on the quarterback.
21 of 34 for 316 yards, four touchdowns, and only two interceptions, Buffalo fans have to be proud of Ryan Fitzpatrick right now.
Detroit Vs Dallas: Jon Kitna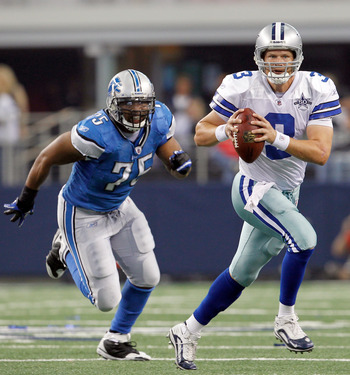 Tom Pennington/Getty Images
Well, well, well, look at what we have here.
And you all thought that Jon Kitna would drive the Cowboys into the ground. What a shame.
In what can best be described as a spectacular performance, Kitna went 18 for 24 for 147 yards and three touchdowns. Yes, I know, 147 yards isn't much, but 75% completion rating and three touchdown passes buy my vote any day of the week.
Besides, who else would I give it to? The Cowboys gave up 19 points to one of the weakest offenses in the League, Jon Kitna had a higher per carry average than Felix Jones, and Jason Whitten had the most receiving yards with 48.
Cleveland Vs Jacksonville: Maurice Jones-Drew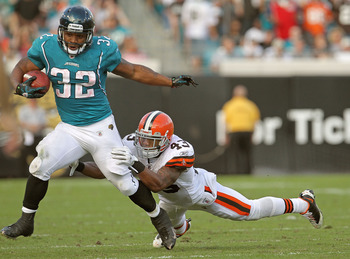 Mike Ehrmann/Getty Images
Again, who else could this go to?
In a game that was ultimately decided by four points, Maurice Jones-Drew was everything. He has Jacksonville's leading rusher and leading pass catcher, posting 220 yards from scrimmage and one touchdown.
NFL fans around the country are probably still scratching their heads on this one wondering two things:
1. Do the Jaguars only play well against teams that everyone thinks are good?
2. Do the Browns only play well against teams that everyone thinks are good?
I think the answer to both questions is yes. It's too bad for Cleveland that they were the better team coming into the game.
Arizona Vs Kansas City: Dwayne Bowe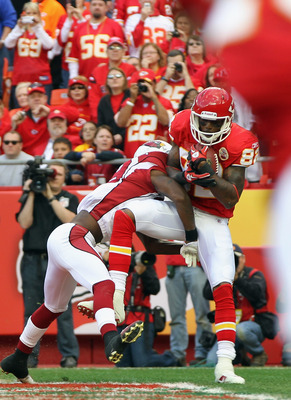 Jamie Squire/Getty Images
This is a tough one, because Matt Cassel actually had a decent game, but I think Dwayne Bowe ultimately deserves this one for single-handedly keeping the Kansas City Chiefs afloat in the passing game for another week.
I would be a little more impressed if this kind of performance was against a better team, but hey, you can't argue with 109 yards and two touchdowns (that come on only six catches no less). That's an all-star performance.
Green Bay Vs Minnesota: Aaron Rodgers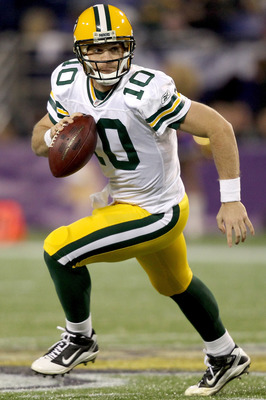 Matthew Stockman/Getty Images
In a weekend full of players putting up big numbers, Aaron Rodgers really stuck out to me. Playing on the road against rival Minnesota, one would expect the Green Bay Packers to struggle a bit.
Well, I guess not.
Aaron Rodger accounted for all four touchdowns scored by the Packers, completed 71% of his passes, and moved the ball over 300 yards.
The worst part? Brett Favre more or less sat by and watched his former team tear his new team apart.
Houston Vs New York Jets: Texans Defense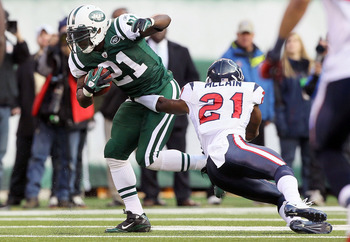 Jim McIsaac/Getty Images
Every week, while watching the New York Jets play, I get really excited. Every week it seems like a team that shouldn't really be competitive with them plays up and puts themselves in a position to win the game.
Then comes the overwhelming flood of disappointment as said team inevitably blows it at the last possible second.
Thus this award has to go to the Texans defense, not to a New York Jet.
Yes, I know all you Jets fans out there are going to get angry. You want me to say Mark Sanchez or LaDainian Tomlinson, but let's face it: The Texans had a lead, and they blew it in the waning seconds of the game.
Oakland Vs Pittsburgh: Ben Roethlisberger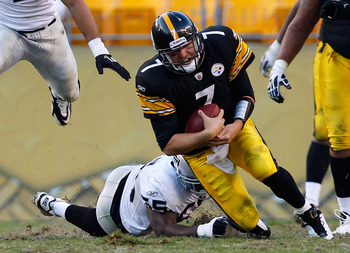 Jared Wickerham/Getty Images
Picking quarterbacks as game MVP is always boring, because we all figure that wins will ultimately be on them. If a quarterback flops, the team flops, if they succeed, the team succeeds, it's that simple (unless you are Jacksonville, San Diego, or Kansas City).
In this one, though, it's hard to point to anyone else.
Roethlisberger was everything for the Steelers, scoring four of their five touchdowns (three through the air and one on the ground).
Honorable mention goes to Richard Seymour though. The Raiders may have lost, but boy can that guy throw a wicked punch
Washington Vs Tennessee: Graham Gano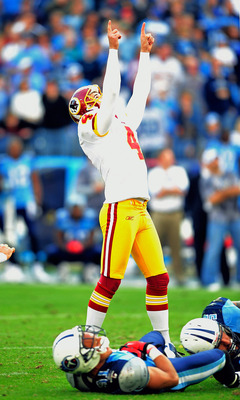 Grant Halverson/Getty Images
Sure, Graham Gano missed two field goals against Tennessee, but you can't always expect perfection from a guy who has only been in the League for two years.
Gano sucked it up in the end and put the game-winning field goal through the uprights from 48 yards away, and for that (as well as accounting for a majority of the points scored by the Redskins against the Titans), Gano deserves the MVP nod.
New Orleans Vs Seattle: Chris Ivory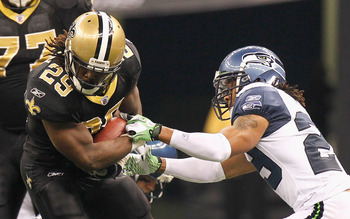 Kevin C. Cox/Getty Images
Yeah, yeah, yeah, we all know Drew Brees is good. He threw two picks, but he also pitched four touchdowns, so he could get this one.
I want to focus on someone else, though: Chris Ivory.
Ivory joined the Saints as an undrafted rookie free agent at the beginning of the year, and has played pretty well in place of the injured Reggie Bush, Sunday being no exception.
Ivory came one yard short of breaking into the hundreds, but averaged a comfortable 4.3 yards per carry and added one touchdown to his resume.
Congratulations, rookie, you've made it.
Tampa Bay Vs San Francisco: Geno Hayes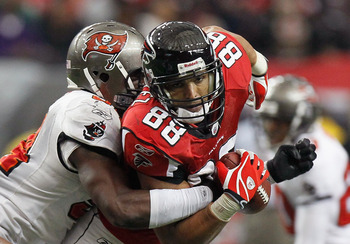 Kevin C. Cox/Getty Images
When you shut out an opponent, the game MVP has to go to someone on the defense, and Geno Hayes seems like the perfect candidate.
Four tackles and one forced fumble. Not bad.
I suppose, for those of you likely looking for someone else here, I could probably have also tabbed LeGarrett Blount or Josh Freeman. Both played great games.
Atlanta Vs St. Louis: Michael Turner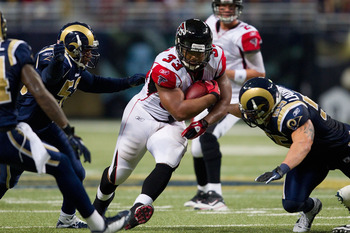 Dilip Vishwanat/Getty Images
At this point I'm really starting to wonder why the Falcons aren't the talk of the town.
The Falcons are now 8-2, with their two losses coming against Pittsburgh and Philadelphia. Matt Ryan is one of the best quarterbacks right now, and Michael Turner continues to churn out big numbers every week.
I'm going to stick with Michael Turner over Matt Ryan this week. Turner posted an impressive 131 yards on 28 yards and found the end zone. The best part is that he more than doubled the yardage total of Steven Jackson, the more talked about of the two running backs.
Indianapolis Vs New England: James Sanders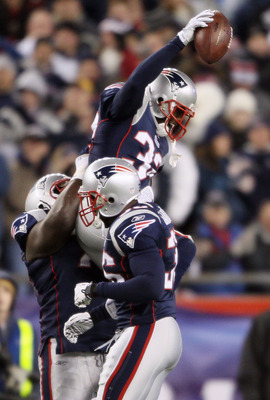 Elsa/Getty Images
The Colts were so close to completing the comeback Sunday against the Patriots that it was more than painful to watch Manning throw the ball between two receivers and into the outstretched hands of James Sanders.
At the same time, though, you have to give credit to Sanders. Not only was his interception pretty athletic, but it also effectively ended the game.
New York Giants Vs Philadelphia: LeSean McCoy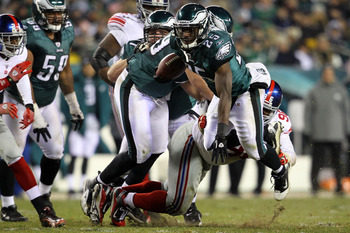 Michael Heiman/Getty Images
LeSean McCoy deserves credit. He ended the game.
Twice.
His only touchdown came at a key point in the game, when the Eagles needed a fourth down conversion late in the fourth quarter. That score put the Eagles ahead for the rest of the game.
Then, when the Giants were threatening to make a stop and get a crack at the end zone before the end of the game, McCoy broke off a 50 yard run to finally put the game to rest.
Prediction: San Diego Vs Denver: Philip Rivers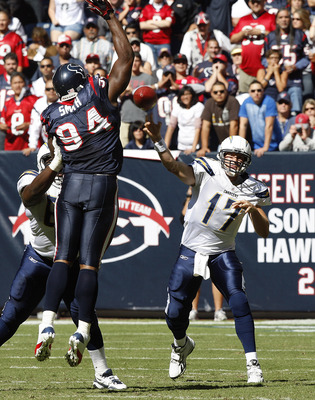 Bob Levey/Getty Images
There's one more game left in Week 11, and while this one has been talked over more than enough times, how about we throw out one more prediction?
Well, I suppose this isn't much of a prediction, actually.
Rivers posts huge numbers every game, whether facing good defenses or bad. This week, Rivers faces a relatively weak defense, he is playing in San Diego, and he is getting back a few of his top receiving targets.
Rivers is poised to have a huge game tonight.
Questions? Comments? Concerns?
Hit the comments section people.
Like the article? Follow me on Twitter @chriseggemeyer
Keep Reading