WWE Survivor Series! Color Commentary!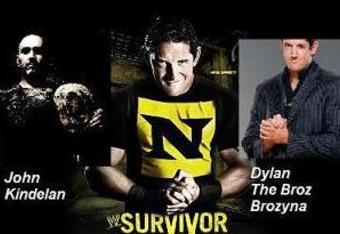 Welcome to Survivor Series 2010 color commentary with John Kindelan and Dylan 'The Broz' Brozyna!
I realize there is one other live blog going on for this event and while appreciate the other writers style, my goal is here to bring my style of humor, history and I can't think of another H word. But I will.
So The Broz here and I are into the first match and ready to go.
Hope you'll join us.
Well, its been fun people
Thank you for the 30 reads.
See you next time, but no point in keeping up with this.
Goodnight.
Survivor Series match up now.
Team Del Rio vs. Team Mysterio.
Big Show coming out in his Jeri-show clothes
Long lost Chris Masters.
Broz: He's very moist.
Kofi Kingston!
MVP with a big pop from the Miami crowd
and now Rey Mysterio, in the yellow and blue.
I would like to point out sign guy and weird Hulk Hogan guy is here in the crowd tonight.
Broz: I guess dolph ziggler is the master of the small package.
John: Did he grab the tights? He grabbed something.
Poor Kaval.
Ziggler gets the win, a broken nose, and vicki.
Thats like 1 out of 3
John: this is an amazing back and forth, i'm liking this better than bryan vs. dibiase
Broz: Oh Yeah! I'm feeling they're at the same level, but in different ways.
John: uh What? Same level but different?
Broz: Looking at Kaval I feel like his signature move should be called the cue ball...
John: Dolph Ziggler, corner pocket.
Vicki looking good as always.
John: kaval should team with MVP and his power ranger outfit
Since our blog only has 9 reads i was going to shut it down and bow out to Michael Robinson, but I'm having too much fun.
This is like Mystery Science Theatre meets the WWE.
match 3 - Kaval vs. Dolph Ziggler
John: Look at how cute kaval is, he's like a cute lil ninja doll.
Borz: Uhhhhhhh
John: That's why your the best color commentator online, Broz
Ugh, go away R-Truth.
Please blow up again.
He's talking to his "friend" John Cena.
and fix that dumb hair.
Okay, so we have 9 reads on our live blog, and the other one has 2000 plus
Way to go Bleacher, thanks for not putting my blog in a featured spot.
Morrison high heel kick.
Sheamus with the "Irish Curse"
John: I would think that would somehow involve kicking him in between the legs.
Broz: So the storyline here is Sheamus is a bully and Morrison is stopping him.
John: Sheamus just had this evil clown look on his face. Went for a kick and missed.
John: Michale Cole just said "just another day at the office." What office does he work at that allows pummeling?
Aslo, I am not liking the Jesus Morrison beard.
Ohhh and a 2 count.
John: My favorite moment from Raw last week, Arn Anderson yelling at Sheamus as though he's his dad.
"Sheamus! That's enough!" I was waiting for 'Now go to your room!'
Sheamus- 'He started it! I was going to talk to Santino, (sniff sniff) and then, and then John Morrison hit me, and then, and then I walked away, and he was mean to me.
Broz: Morrison also looks rather warm. What is it with all the coats? Aren't we in Miami?
Broz: Next up we have an interview with Ginger Casper. Someone should call the Ghostbusters. Who ya gonna call? John Morrison?
John: Miz...blah blah blah, insulting Miami. Something about basketball, blah blah blah
Someone really needs to stop bumping into the light switch in the back.
John: While the match was good, the better part of it was the comentating.
Uh Oh. The Miz with a brief case shot to Daniel Bryan.
Drunk Alex Riley in tow, okay maybe not drunk. But now were in Miz ville apparently.
Broz: Whats up with the lights? Undertaker? Or GM email fail?
OHhhhhhhhhh and a 2 count, numerous ones going on.
He's locked in the Labelle Lock and Dibiase taps out!
John: 17 minutes in, I think these two started the night nicely.
The Broz: There was a match? I was watching Maryse.
Okay match number 1 Bryan vs. Dibiase.
John: This should be a good match, lets see what the 2 gen star can do with the IWC love sensation Daniel Byran. Broz?
Broz: Maryse looks hot. I mean, warm, she has a coat on.
This article is
What is the duplicate article?
Why is this article offensive?
Where is this article plagiarized from?
Why is this article poorly edited?