WWE Survivor Series 2010: Live Blog, Match Results and Analysis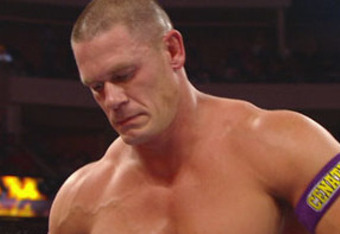 Cena has been fired from the WWE, for now.

WWE Featured Columnist Micheal Robinson here to bring you a live breakdown of the 24th annual WWE Survivor Series.
The only thing that is missing is turkey and stuffing. I can hardly wait.
In the meantime, a nicely put together Survivor Series has my appetite feeling just fine.
Join me here for the next three hours as I break down every match as it happens live.
I hope you are all as excited about tonight's pay-per-view as I am. We have a lot of titles up for grabs in warm and cozy Miami, Florida for this year's Survivor Series. It is going to be an amazing show.
Please feel free to follow me on Twitter, @nyyrobinson.
#ThankYouCena will be trending tonight, I'll show my respects and post it, and play a role in the angle of Cena being "fired."
Cena makes his rounds, shaking hands with the announcers, hugging a few fans, and then proceeds to leave up the ramp slowly.
He then comes back down into the crowd and doesn't want to leave.
He walks through the crowd, shaking hands and hugging fans.
The show goes off the air as Cena makes a complete circle int he crowd, back to the top of the ramp, with one last salute as the screen goes black.
I am shocked to say the least but enjoyed covering this pay-per-view. It looks like Cena is going to be taking some time off.
Don't really know what to say about this one.
Cena takes off his wrist bands and leaves them in the center of the ring as the crowd chance for Cena and now there is more cheers then boo's for a moment.
Orton music stops as the camera is focused on John Cena in the ring, alone.
As Orton walked up the ramp, he looks back at Cena, and then continues his walk towards the backstage area before turning around once again and raising his hands in victory.
Randy Orton gets on the turnbuckle, and holds his belt up high, but then leaves the ring, and lets John Cena have the squared circle.
Cena gets the WWE Championship from the time keeper and brings it back into the ring as the crowd chants "Hey, Hey, Hey, Goodbye" to Cena.
Cena hands the belt to Randy Orton and hugs him.
Nexus saved Barrett as Cena and Orton are left standing in the ring together.
He shoved Barrett into the RKO for sure. Cena takes off his referee shirt as Orton celebrates and Nexus storms ringside.
Barrett pushes Cena this time, and pushed Barrett into the RKO, which Cena counted the 1-2-3. Cena fired?
Winner: Randy Orton
Barrett hits a nice sidelslam or "Bossman slam" (rip) on Orton and goes for the cover, another kickout. Barrett argues with Cena as it gives Orton time to regain control in the match.
The crowd begins to have a war of "Lets go Cena", "Cena Sucks!" chants.
Barrett hits a knee right to Orton's head, and then hit his finisher on Orton, but he was too close to the ropes and grabbed the ropes before the three count.
Barrett is irate at Cena.
Orton kicks it into another gear midway through this match.
The WWE Champion hits a back breaker on Barrett, goes for the cover, and Barrett kicks out.
Orton gets a little frustrated, but Cena is calling the match right down the middle. No fast counts.
Barrett found out pretty quick that Cena was going to call this thing down the middle as Orton nailed a dropkick on Barrett, as he was arguing with Cena for breaking a hold that Barrett had on Orton.
The two competitors battle on the outside as Barrett slams Orton into the apron a few times.
Barrett then whips Orton into the ringsteps.
Striker then announced Cena was going to count Barrett out if he didn't get back into the ring, but there is no countouts, good call Striker, good call.
Chants of RKO fill the arena as Orton gains early control on this match.
Cena carefully calls the match and keeps his distance from both men.
Orton explodes out of the corner with a clothesline as he counters an irish whip from Barrett.
Cena pulls Orton out of the corner because Orton wouldn't back out of the corner, and it caused Barrett to gain control of the match.
Barrett thanks Cena and begins to mount some offense on the WWE Champion.
John Cena makes his way out first to a decent ovation from the crowd. I think we all know he isn't going anywhere.
Nexus leader Wade Barrett comes out next and stands in the ring next to John Cena.
The WWE Champion Randy Orton comes out last, as he pauses at the bottom of the ramp to stare down both Barrett and Cena.
Orton slowly enters the ring and gets on the ropes for his signature pose to the Miami crowd, holding the WWE Championship up high.
Here we go folks...
Are you ready for this one folks? I got to admit right now, this is one of the most compelling main event matches in recent memory in the WWE. Awesome set up by the WWE on this one.
Match 8: WWE Championship Free or Fired Match w/Special Referee John Cena
Randy Orton (c) vs. Wade Barrett
No Disqualifications, No Count Outs, Pinfall or Submission Only, Nexus Banned From Ringside
If Barrett Wins, Cena is Free From Nexus, If Orton Wins, Cena is Fired from the WWE.
Following the match, the Nexus members attack Marella and Slater, only to have the mysterious Raw GM to alert the crowd and Nexus.
Michael Cole, quotes, "Just a reminder, Nexus members are banned from ringside, and will be suspended if they interfere. In other words, I suggest that Nexus members leave this ring immediately."
I knew the Raw GM booth would come in to play, but seriously?, we already know the match stipulations.
So, the wrestling world is buzzing about a Miz cash-in, what do you think?
I think so, and I hope so. Just got to find a way to contain those darn Nexus members.
I could see a nice face turn for Miz as well. I don't know, so many possibilities here, which makes this match coming up so great.
Husky Harris, David Otunga and Mike McGillicutty cheer on their fellow Nexus members Slater and Gabriel as they show some team work and regain control of the match.
The crowd is chanting for Santino, as Kozlov is reaching for a tag.
At 10:10 now on the east coast, this match shouldn't last too much longer.
Kozlov finally gets the tag on Santino, as he breaks out the split on Heath Slater and nearly gets the win, but Gabriel saved the matchup.
However, Santino breaks out the cobra, going after the distracting Nexus members, giving Slater the pinfall on Marella.
Winners: Slater & Gabriel
All of the Nexus members are at ringside for this match, besides Wade Barrett to support Gabriel and Slater.
I am wondering if we could see a planned attack from Miz and Alex Riley soon on the other members of Nexus to prevent them from interfering, if Miz does decide to cash in, we'll see.
The sheer strength of Kozlov has given him and Marella the early advantage in this match.
Match 7: WWE Tag Team Championship Match
Heath Slater & Justin Gabriel (c) vs. Santino Marella & Vladimir Kozlov
In a backstage promo, John Cena is shown holding his referee shirt.
Wade Barrett talks about attacking Cena earlier this year, and we are back in the same arena, Nexus first attacked Cena earlier this year.
Barrett tells Cena to do his job tonight, and do the right thing and he will be free from Nexus forever. But, he also says if he doesn't, it will all be over for him.
Cena says, "I remember everything you have done to me, but tonight, you need to remember this. When the time is right, I know exactly what I am doing."
Edge then fights off Kane and places Kane into the wheelchair.
He rolls the wheelchair all the way across one side of the ring, and crashes Kane through the barrier, into the time keepers area.
Edge's music hits as Kane is laid out at ringside.
Edge celebrates at the top of the ramp before he exits. Looks like this one will continue at TLC next month.
This article is
What is the duplicate article?
Why is this article offensive?
Where is this article plagiarized from?
Why is this article poorly edited?