Seahawks vs. Saints Football: Live Blog, Stats and Analysis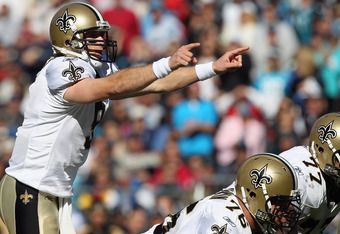 Streeter Lecka/Getty Images
Good afternoon, NFL fans. This is Keyon Jeff, featured columnist, providing the live blog for today's Seattle Seahawks-New Orleans Saints game from the Louisiana Superdome.
Seattle (5-4) leads the NFC West and are coming off a win over the Cardinas. Seahawks receiver Mike Williams became the first player in franchise history to have three games with 10-plus catches in one season last week. Safety Earl Thomas leads NFL rookies with four interceptions
New Orleans (6-3) is coming off their bye week and trail the Falcons by a game in the NFC South. Reggie Bush will not return to action today. The Saints hope their two-game wining streak signals a restore their world champion swagger. New Orleans has the league's top-ranked pass defense.
So join me for the next three hours or so, and see who prevails. I'll talk about everything from X's and O's to the FOX commentators Thom Brennaman and Brian Billick and have some fun along the way.
Thank you for being with me today. I don't know if I'll be blogging the Saints vs. Cowboys on Thanksgiving. If not, I will definitely be back on Dec. 5 when the Saints travel to Cincinnati to face the Bengals. Until then, good night and good luck.
Final Thoughts:
The Saints are 7-3, still a game behind the Falcons in the NFC South. New Orleans has been flying under the radar when comes to discussing who is the best team in the NFC. That will change.
The offense was clicking all game, and they are starting to get balance with their run game. even without Bush and Thomas in the lineup. However, Brees needs to be more careful in the red zone. Two more picks make six interceptions in the red zone this season. That's Jay Cutler territory.
With Harper, Greer and Porter back from injury and hopefully Sharper returning soon, the defense is beginning to look like the ball hawks from last season. Still the league's No. 1 pass defense allowed 366 yards to an injuried Hasselbeck. Gregg Williams will have to get the secondary pn track before their Thanksgiving tilt with the resurgent Dallas Cowboys.
Saints 1st Half Stats
Total Yards: 494 (382 passing, 112 rushing)
Brees: 29/43, 382 yards, 4 TDs, 2 INTs; Rating 106.9
Ivory: 23 carries, 99 yards
Colston: 8 catches, 113 yards, 2 TDs
3rd Down Conversion: 11-for-15
Turnovers: 2 INTs
Penalties: 3-24 yards
Time of Possession: 33:45
Seahawks Final Game Stats
Total Yards: 424 (366 ppassing, 58 rushing)
Hasselbeck: 32/44, 366 yards, 1 TD; Rating 104.9
Marshawn Lynch: 7 carries, 36 yards
Mike Williams: 6 catches, 109 yards
1st Downs: 21
3rd Down Conversion: 7-for-12
Turnovers: 2 fumbles
Penalties: 8-79 yards
Time of Possession: 25:54
GAME OVER! SAINTS WIN 34-19!
Earl Thomas intercepts Brees in the end zone.
Brian Billick is right about the need to increase the speed of the replay calls. The official in the booth can do the job quicker then the officials on the field.
Mare connects on a 20-yard FG to bring Seattle within 34-19, with 5:26 reamining.
Replay reverses the interception call. Seattle ball, 2nd and 10 at the Saints 39 yard line.
Saints CB Tracy Porter intercepts Hasselbeck at the New Orleans 17 yard line, with 9:22 remaining.
Hartley misses the 26-yard FG attempt wide left. Hit the left upright. All five of Hartley's FG misses this season have been wide left. Looks like more kicker tryouts on Monday and Tuesday for New Orleans.
Amazing one-hand catch by Lance Moore!
Lynch fumbles the ball again. This time Saints LB Scott Shanle strips and recovers the ball at the New Orleans 44-yard line, with 1:05 remaining in 3rd quarter.
This is the sixth consecutive game Brees has thrown an interception, the longest streak of his career. That was also Brees' fourth red zone INT of the season.
Seahawks LB David Hawthrone intercepts Brees on the goal line, returns to the 5-yard line. Seattle ball with 6:53 left in 3rd quarter.
Jimmy Graham will stay the Saints starting TE even when Jeremy Shockey returns from injury.
Saints safety Roman Harper strips Marshawn Lynch and recovers the ball at the New Orleans 48 yard line. First Seahawks fumble lost by a running back this season.
TOUCHDOWN SAINTS! Meachem runs a skinny post, and Brees finds him for a 32-yard TD catch. Extra point good. Saints boost lead 34-16, with 12:18 left in the 3rd quarter. Fifth straight possession that the Saints have scored a touchdown.
Saints 1st Half Stats
Total Yards: 280 (205 passing, 75 rushing)
Brees: 18/25, 205 yards, 3 TDs; Rating 135.8
Ivory: 10 carries, 65 yards
Colston: 6 catches, 93 yards, 2 TDs
3rd Down Conversion: 6-for-7
Penalties: 2-14 yards
Time of Possession: 17:34
Seahawks 1st Half Stats
Total Yards: 250 (244 ppassing, 6 rushing)
Hasselbeck: 16/27, 244 yards, 1 TD; Rating 101.5
Marshawn Lynch: 5 carries, 13 yards
Mike Williams: 5 catches, 99 yards
1st Downs: 10
3rd Down Conversion: 4-for-8
Penalties: 5-66 yards
Time of Possession: 12:26
Mare makes his third field goal as the first half comes to an end. A 43-yarder to trim the New Orleans lead to 27-16. Saints get the ball to start the 2nd half.
Dumb penalties by Seattle pushing them almost to midfield.
Now Garnett Hartley muffs the kickoff out-of-bounds. Ball on the 40.
TOUCHDOWN SAINTS! After a bad roughing the passer penalty that would have been 3-and-out for the Saints, Brees guns a 22-yard TD pass to Colston. New Orleans fails on the 2-point conversion attempt. Chase Daniel tries to run it in but came up just short. Saints lead 27-13, with 1:00 left. I can't believe Payton went for two in that situation.
TOUCHDOWN SEAHAWKS! Hasselbeck rifles a 2-yard TD pass to Ben Obomanu in the back of the end zone. Extra point good. Seattle cut the deficit to 21-13, with 1:54 remaining before halftime.
This article is
What is the duplicate article?
Why is this article offensive?
Where is this article plagiarized from?
Why is this article poorly edited?

New Orleans Saints: Like this team?