Brett Favre: Why Awful 2010 Play Hurts His Legacy More Than Jenn Sterger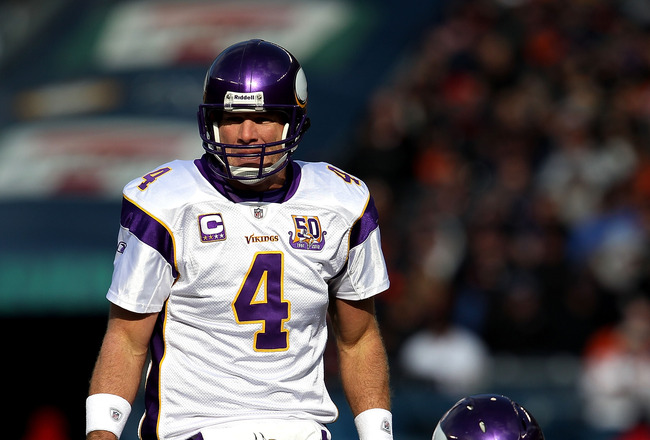 Jonathan Daniel/Getty Images
On Sunday, Brett Favre will face his former team, the Green Bay Packers, for possibly the last time.
With the Vikings at 3-6 and father time clearly affecting this 41-year-old quarterback's play, this could become his final season.
For real this time.
There's no question that Jenn Sterger's widespread allegations earlier this year dented his public image of being a Southern gentleman.
But it's his poor play from this year that has consequently tarnished his legacy.
10. Fans Are Losing Patience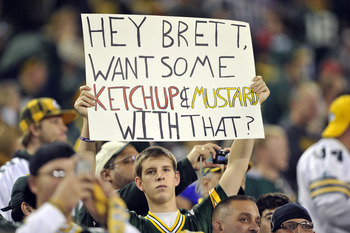 Jim Prisching/Getty Images
Your average NFL can fan can only take so much.
He broke the hearts of Green Bay hopefuls when he first defected to their rival Minnesota Vikings in 2009. With the allegations from Jenn Sterger, he also lost a lot of love from New Yorkers, where he played for the Jets in 2008.
Now he's on the brink of losing the affection of his supporters from Minnesota.
That's what losing does. Favre's return to the field this season has turned him into a possible postseason hero to an old turnover prone has-been.
He could have walked away a year ago as a Vikings one-year wonder. But coming back for his 20th year and playing poorly has caused some fans to lose patience with him. And losing fans plays a big factor in one's legacy.
9. Failure to Utilize Randy Moss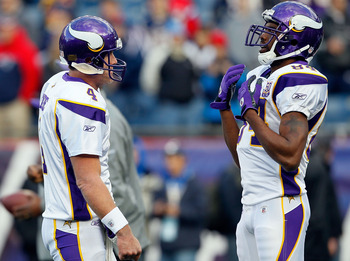 Jim Rogash/Getty Images
After Week 4 of the 2010 NFL season, Favre was suddenly received a gift in the form of future Hall of Fame receiver Randy Moss.
The Vikings made the deal to acquire Randy Moss looking to ignite this struggling offense after starting the year with a 1-2 record.
It may be true that Moss didn't really get much of a shot with his limited stay but it does speak volumes how even Favre's presence could not keep the notorious malcontent happy.
As much as Moss should be blamed for not playing to his potential, Favre did not give very much reason to feel comfortable with the team.
During Moss' brief time with the Vikes, Favre failed to lead the team back in a 29-20 loss to the Jets, only managed to throw for one touchdown against the hapless Cowboys, and only threw one other TD pass in two games against the Green Bay Packers and New England Patriots.
In each of those four games, Moss' receiving numbers gradually plummeted. His Vikings career ended with a one-reception, 8-receiving yard performance.
8. Questioned by Head Coach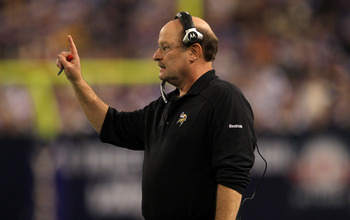 Stephen Dunn/Getty Images
At the start of the season, one of his biggest supporters was Vikings head coach Brad Childress.
In fact, Childress was so pro-Favre in the offseason that he publicly said that Favre was free to spend however long it takes to decide if he would return to the team this season.
This year, however, the losing atmosphere in Minnesota changed that. Now there is speculation in Minnesota that a once-friendly relationship between coach and QB has now turned icy.
A possible rift between Favre and Childress emerged after some of the quarterback's in-game decisions was questioned by his coach earlier this season. Childress was even reportedly considering starting Tarvaris Jackson over Favre against the New England Patriots in order to force him rest and recover.
That immediate loss of love from his head coach—although he should also shoulder the blame for the Vikings' failures—never bodes well for quarterback's reputation.
7. Nut Shot: A Sign to Stay Away
Call it a sign from the football gods from above.
But that errant football sent Favre a message that he made the wrong choice in returning this season.
That Favre video went viral in no time. Adding to an ever-growing list of embarrassments.
How did it affect his legacy?
Legends aren't supposed to get hit in the balls and laughed at by millions of viewers on YouTube.
6. Weekly Injuries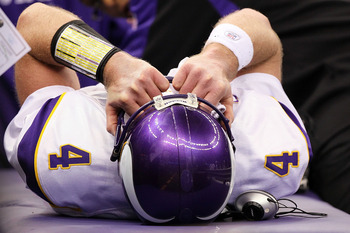 Jed Jacobsohn/Getty Images
It's hard to sit the NFL iron man and we know that Favre is never one to make excuses.
But those are two things that has hurt his legacy this season.
The mere fact that he's too proud to admit it's time to rest or jinx his consecutive starts streak, which stands at 294 games, has made him look overmatched in game situations. His stubborn mentality and diva-like personality now continues to hurt the public's perception.
It would be OK if Favre backed up his injuries with productive play. However, he hasn't.
Now his 41-year-old body has just looked tired and has proven to be unable to meet high expectations.
5. No Lambeau Magic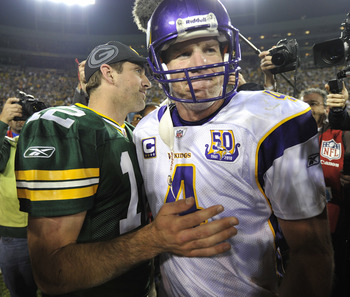 Jim Prisching/Getty Images
There was plenty of magic for Brett in the 2009 season as he defeated his former Packers team both times he played against them.
But this year, it's been a different story.
There was no magic for Brett at Lambeau in Week 7 as the Vikings fell to the Packers 28-24. He may have been close at the end and was within one game-winning drive from a tremendous comeback.
However, his overall performance was hardly impressive. In that game, he only managed to throw for one touchdown pass and three costly interceptions.
Nothing legendary.
4. Arizona Comeback: A Classic or a Letdown?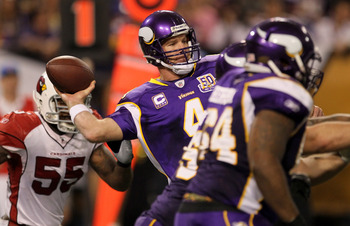 Stephen Dunn/Getty Images
At first glance, the Brett Favre-led come-from-behind win against the Arizona Cardinals appeared to be a classic Favre comeback.
But let's not fool ourselves. The Vikings faced a poor Cardinals team that have had troubles both offensively and defensively all season.
Favre dug deep for a career-high 446 passing yards but the fact that the game was so close gives us a reality check—the Vikings should have easily won that game.
Yet they didn't. Favre should have never let it get close to begin with.
3. The Chicago Failure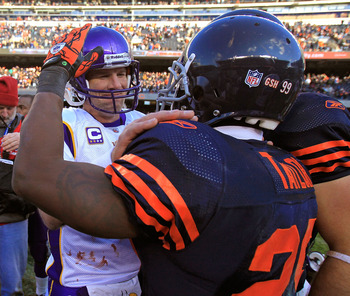 Jonathan Daniel/Getty Images
Favre's most recent game came against the NFC North rivals, Chicago Bears.
In that game, he lacked efficiency and was responsible for four turnovers. In a game that could have pulled them closer to possible playoff contention, Favre only contributed to further the Vikings' demise.
He continued to show signs that he stayed in the NFL a season too long.
2. Frustrating Teammates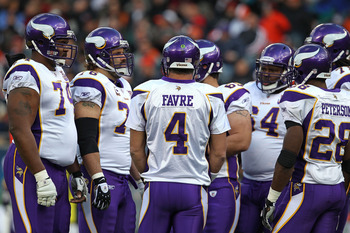 Jonathan Daniel/Getty Images
A losing environment is infectious as well as frustrating.
There have been plenty of distraction in the Vikings locker room even when you don't figure Jenn Sterger into the equation.
It started with his on-again, off-again commitment to coming back for another season to dealing with plenty of injuries this year to his ultimate failure in leading his teammates to victory.
His name may warrant immediate respect from all of his previous success. However, he has only succeeded in alienating his teammates and becoming the big reason why the Vikings have been unable to win this season.
1. It Was a Bad Encore
Genevieve Ross/Getty Images
Despite winning a pair of Super Bowl trophies early in his career, last year's season with the Minnesota Vikings has been argued as his best-ever season in the NFL.
After falling just short of making the Super Bowl last year, Favre had a chance to walk off into the sunset.
Although his accomplishments will certainly never be forgotten, he has the uncanny distinction of staying in the game a lot longer than he should have.
Nine games into the season, he's arguably having one of the worst of his career.
While he has been portrayed as as NFL legend, this year has exposed him as too old and completely ordinary.
Keep Reading

Minnesota Vikings: Like this team?