Cam Newton, Brett Favre, Erin Barry and Saturday's Top Sports News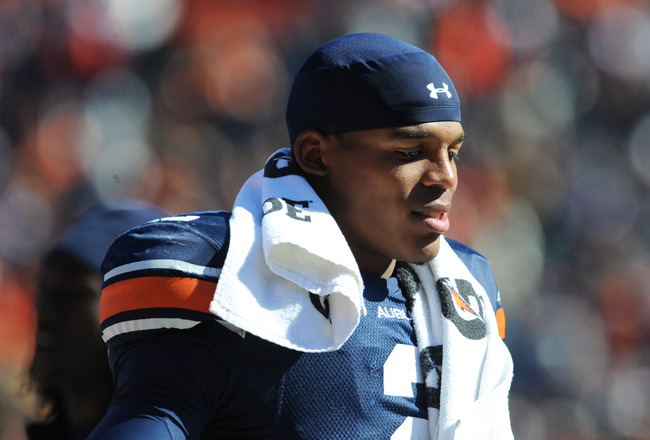 Al Messerschmidt/Getty Images
Cam Newton's eligibility to play remains up in the air as investigation into allegations that he had knowledge of a pay-for-play plan that his father and a third-party solicited on his behalf during Newton's recruitment late last year.
Newton's team, the undefeated Auburn Tigers, will go head-to-head with bitter in-state and SEC rivals, the Alabama Crimson Tide on Friday November 26.
Stay right here for the latest on any new developments.
Also we're on a Saturday Brett Favre watch as the 42-year-old preps for possibly the last time he'll play against Green Bay.
And of course, we'll have updates on any news related to Tony Parker's divorce to Eva Longoria. Especially if Erin Barry decides to comment further on her alleged involvement.
The San Antonio Spurs play host to the Cleveland Cavaliers at 8:30 EST.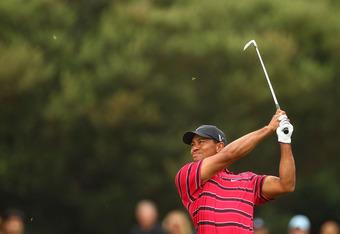 Tiger Woods is back on Twitter, if you haven't heard. The ever-popular golfer is looking to re-connect with fans and what better way to do that than to use social media.
On Wednesday November 17, Woods greeted the Twitter universe with this message (@TigerWoods): "What's up everyone. Finally decided to try out twitter!"
Then he added, "Yep, it's me. I think I like this twitter thing. You guys are awesome. Thanks for all the love."
As of the first Saturday of Tiger's return to Twitter, he has already attracted around 250,000 followers.
What are his favorite teams?
Well, a quick look at his Twitter page reveals that Tiger is a follower of five sports teams.
Tiger is a fan of several California-based sports teams including the Los Angeles Lakers, Los Angeles Dodgers, Oakland Raiders and of course his alma mater Stanford Cardinal.
The only out-of-California team Tiger follows are the New York Yankees.
On Thursday, November 18 Tiger gave us a hint on what he wears during telephone interviews, he posted: "The best part about phone interviews is getting to wear shorts."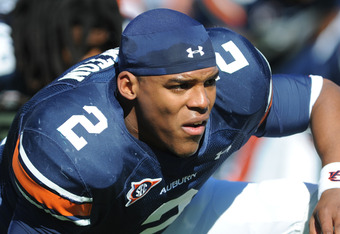 Cam Newton and the 11-0 Auburn Tigers had this weekend to prepare for their big Iron Bowl match against arch-rival Alabama Crimson Tide.
According to Charles Goldberg of the Birmingham News, Auburn practiced twice on Saturday in pads, and coach Gene Chizik ordered rest time for his player to recover from injuries.
Goldberg is also reporting that the FBI has interviewed Mississippi State players about Kenny Rogers, the alleged third-party who solicited money on behalf of Newton.
Despite the allegations coming from Mississippi State, there are no sources that have confirmed Newton took money to play for Auburn, per Goldberg. Newton's attorney maintains that the young quarterback has done no wrong.
There are also reports that Tommy Tuberville coach of Texas Tech has pulled a scholarship offer for Rogers' son, Justin Rogers who committed to Texas Tech months ago from junior college.
Although it's not directly linke to Newton's case, the pulled scholarship is still interesting news.
Information from Birmingham News was used in this report.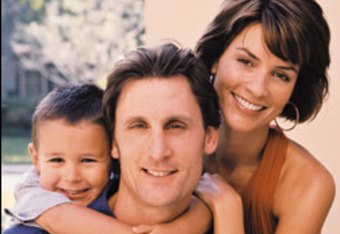 Erin Barry, Brent Barry's wife and the woman who many sources speculate was the one that Tony Parker was sexting now finds herself in the center of a much controversy.
According to numerous reports, Parker's wife, actress Eva Longoria filed for divorce after she discovered that her husband had apparently been sending hundreds of text messages to a mutual friend.
That mutual friend, according to sources, is Erin Barry. Wife of Parker's former teammate with the San Antonio Spurs, Brent Barry.
Although there has been no confirmation that Barry was indeed the other woman, there are also reports that the Barry's are also going through a divorce. The recent turn of events, if true, gives us a completely different view of Erin Barry who was portrayed as as happily in love wife and mother in an interview with Susan Sheffloe Speer.
Here's a look back at Erin Barry's interview with San Antonio Woman in 2006.
On first dating Brent: "We went to a movie, National Lampoon's Christmas Vacation — that tells you how long ago it was! I remember looking at him in the theater, and at that moment, Cupid drew back his bow. I was 16 years old and I just knew he was the one I wanted to be with. That was it."
On watching her first basketball game with Brent: "Brent took me to a Golden State Warriors game. I remember looking up in the rafters, and I saw a retired jersey hanging there with the name 'Barry' on the back. I said something like, 'Hey, look, there's a jersey with your last name on it!'" The jersey belonged to Brent's dad, NBA Hall-of-Famer Rick Barry. "My dad was so embarrassed that I didn't know who Brent's dad was," she told Speer.
Information from San Antonio Woman was used in this report.
Brett Favre is expected to have Pro Bowl receiver, Sidney Rice back on Sunday as the Minnesota Vikings play a very important home game against NFC North rivals Green Bay Packers.
According to ESPN's Ed Weder, Rice said he expects to play.
"I don't think I can go the whole game but I'm going to play as much as I can," Rice told Weder.
In a report by Minnesota Star Tribune beat reporter, Judd Zulgad, he wrote that coach Brad Childress indicated that Rice's injury has improved.
Childress told reports during Vikings practice: "[It's] not as bad as last week is what he told me. We'll see how he does tomorrow."
Brett Favre and the Vikings offense could benefit from Rice's presence since they have been heavily relying on Percy Harvin since Randy Moss was waived by the team.
Information from ESPN and Minnesota Star Tribune was used in this report.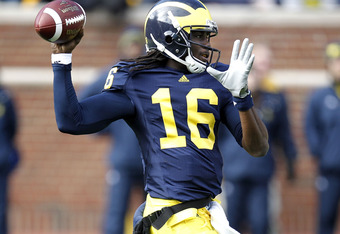 Denard Robinson became the first NCAA player to pass for 1,500 yards and rush for 1,500 yards in a single season.
According to a report by the Associated Press, that was just one of two NCAA marks that Robinson set today against the Wisconsin Badgers.
He broke Beau Morgan's record for rushing yards by a quarterback, which was set at 1,494 rushing yards when Morgan played for Air Force in 1996.
The the player that has come closest to a 1,500-1,500 season was Drake running back Johnny Bright who ran for 1,232 yards and passed for 1,168 in 1960.
On Saturday, November 20 Robinson completed 16-of-25 passes for 239 passing yards, two touchdowns and an interception against Big Ten rivals, the Wisconsin Badgers.
Robinson also ran the ball 22 times for 121 rushing yards and two touchdowns.
The No. 7 ranked Badgers defeated the Wolverines, 48-28. Wisconsin has now improved to a 10-1 record while Michigan is 7-4.
Information from the Associated Press was used in this report.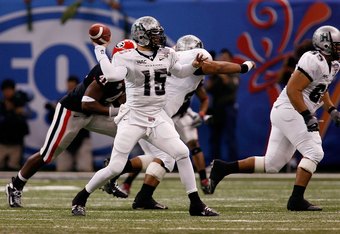 Colt Brennan's accident from Friday night, November 19, is the latest buzz on the web.
Brennan was the passener in a two-car head-on collision. His girlfriend, Shakti Stream, was the driver of the vehicle.
According to a report by ESPN, the cause of the accident has not yet been determined. His agent, Brian Tollner is describing his client's injury as serious, per ESPN.
Colt Brennan's father spoke with news reporters rearding his son's accident and gave a statement to KHON-TV in Honolulu about a move to a different hospital for their son.
"I talked to the doctor, the doctor from Kona," Terry Brennan told KHON-TV. "He was saying 'Hey, we've done what we could do over here, we think it's best he gets over to Oahu.' "
Brennan was drafted by the Washington Redskins in 2006, in the 6th round.
His injuries have not been reported as life threatining. He is believed to have broken ribs, a broken left collarbone, and head injuries. While his girlfriend also has a broken collarbone.
The driver of the other vehicle is said to have leg injuries from the accident.
Information from ESPN and the Associated Press was used in this report.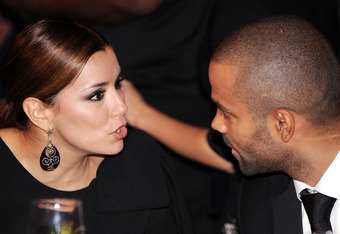 Tony Parker and Eva Lonoria's marriage is headed for a divorce, this we know. Longoria filed divroce papers on Wednesday morning November 17 after rumors of Parker's alleged affair with a teammates' wife came to surface.
There has been widespread speculation that his player wife mistress is Erin Barry, wife of Parker's former teammate with the San Antonio Spurs, Brent Barry.
As much as we can be led to believe that the Longoria-Parker marriage is now beyond repair, on source claims that Tony Parker is still trying to save his marriage once this all blows over.
An Unnamed source spoke to Kelli Thompson of the San Antonio Dispatch and said the couple could still have a chance at reconciliation.
"They've had their arguments before but always bounced back stronger than ever. I knew they were fighting recently but I didn't think it'd go this far," said a source close close to Tony Parker. "He hasn't given up on his marriage. I think they have a good chance of getting back together after the emotions are cleared,"
Information from the San Antonio Dispatch was used in this report.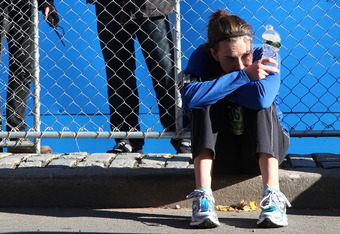 Philadelphia Marathon is underway this weekend and is completely sold out.
The marathon is one of the few in the country that is owned by a municipality.
In a press release from Temple University, a recent study revealed that last year's marathon pumped $15 million into the local economy. Last year's marathon also drew nearly 30 million visitors.
"The Philadelphia Marathon events showcase Philly as a destination to a group of consumers who are attractive to the local economy when you have this high socio-economic group coming to our city," Emily Sparvero of Temple's School of Tourism and Hospitality Management said. "Those are the people we want as visitors to boost and keep our economy going."
The Temple research also revealed that 77 percent of race participants live outside of the city, while more than 45 percent of the runners have average household incomes of over $100,000.
This year the registrations for the event were expected to reach a record all-time high. As a result, more than $15 million is once again expected to be spent over the weekend.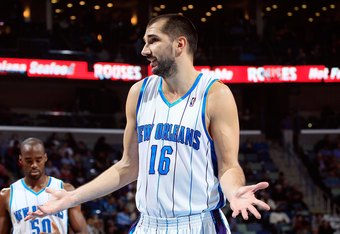 Peja Stojakovic, small forward for the New Orleans Hornets, will be packing his bags for Toronto, according to a source as reported by ESPN.
In a report by ESPN's Chris Sheridan, a source close to the negotiations revealed that the trade could be made official as early as Saturday, November 20 afternoon.
Sheridan wrote that Peja Stojakovic and Jerry Bayless will be traded to the Torontoa Raptors in exchane for Jarrett Jack, David Andersen and Marcus Banks.
According to Sheridan his anonymous source said the deal was held up on Friday night because there were issues with the cash incentives the Hornets were to send the Raptors.
Stojakovic is in the last year of his contract and is set to make $14.5 million this season.
Bayless was aquired by the Hornets from the Portland Trailblazers prior to the start of the year for a conditional first-round draft pick.
It's likely that the deal will be completed with two different trades since the Hornets are restricted from trading Bayless in a multi-player deal less than two months after acquiring him, per Sheridan.
Information from ESPN was used in this report.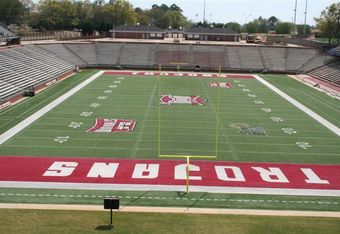 Troy University has a daunting task ahead of them as the South Carolina Gamecocks have taken a 56-7 lead after one half of play.
Marcus Lattimore, running back for South Carolina, rumbled into the end zone three times. Lattimore carried the ball seven times for 107 yards rushing.
Quarterback Stephen Garcia completed 9-of-12 passes for 198 passing yards and two touchdowns. He also ran in for a score.
The Gamecocks defense has stuffed the Trojans running game as they have limited them to several plays with negative yardage and a net gain of zero yards on the ground.
The Trojans are also 3-for-11 on third down opportunities and failed to convert on both of their fourth down attempts.
South Carolina is the No. 17 ranked team on the BCS standings with a 7-3 overall record and a 5-3 SEC record.
Troy has a 5-4 overall record and are 4-2 in the Sun Belt Conference.