Brian Xanders and the Worst General Managers in Sports
Sam Greenwood/Getty Images
The Denver Broncos are currently 3-7 and sitting at the bottom of the AFC West division, behind the San Diego Chargers, Kansas City Chiefs and—as difficult as this is to believe—the Oakland Raiders. Head Coach Josh McDaniels is all but toast, the fans are staying away in droves and the team is going nowhere fast.
So how did they get here? Simple: since taking over the Broncos in February of 2009, Broncos General Manager Brian Xanders has been an unmitigated disaster.
But has he been one of the worst General Managers in sports? Let's have a look.
But Before We Start...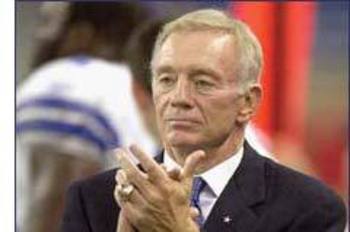 There are two things you're going to see here that might bother you, so here's a little explanation before hand.
First, you're going to see some owners. This is inevitable. Some owners own their team and hand over the management of that team to capable professionals. On the other hand, some owners own their team and put themselves front and center, dictating the moves that are made and the way in which they are made.
This list wouldn't be complete without those guys.
Second, you're going to see some guys who aren't currently employed. Also inevitable. Bad general managers, for the most part, should be fired. However, we're not trying to make a Worst General Managers of All Time list here either, so this will be our limiting rule: if the team in question is still reeling from the terrible moves that the former General Manager made, then he is eligible for our list.
If a General Manager's former team just made the playoffs despite what he did to the team five years ago, then no dice.
Honorable Mention: Al Davis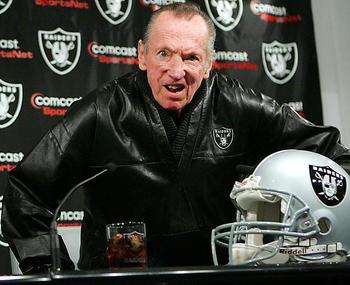 Al Davis has turned the high speed rail into a train wreck.
20. Garth Snow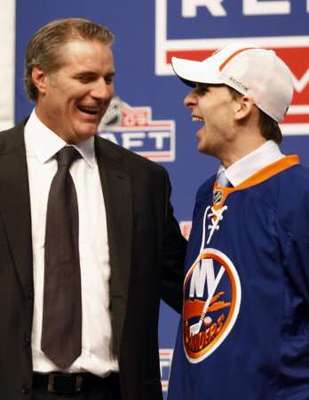 Garth Snow was named NHL Executive of the Year in 2007 by Sports Illustrated, and is loved by New York media.
Snow took over the New York Islanders in 2006, and the team finished in fourth place in the Atlantic Division after the 2006-2007 season, making the playoffs and losing in the quarterfinals. His team has been in last place every season since then.
He gets a lot of credit for his draft-day maneuvers. Uh, okay.
19. Daniel Snyder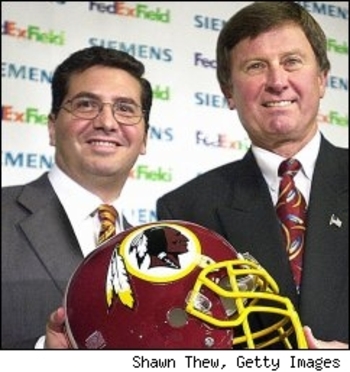 His coach history has been appalling: cutting Marty Schottenheimer lose after one 8-8 season, hiring a clearly overwhelmed Steve Spurrier from the college ranks, bringing Joe Gibbs out of retirement at a time when the game had passed him by.
His player history has been hilarious: trading away a once-in-a-lifetime corner in Champ Bailey for Clinton Portis, giving big money contracts to peaking or over the hill players like Dana Stubblefield, Jeremiah Trotter and now Donovan McNabb.
He has dealt in big names rather than legitimate player development. He has banned signs from his stadium and sued season ticket holders who couldn't pay during the recession.
I'm sure Daniel Snyder is good at something. Running a football team ain't it.
18. Brian Xanders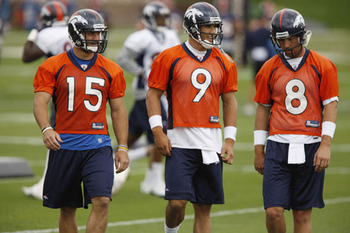 It's hard to know what Brian Xanders is thinking.
First, he trades away Jay Cutler in a deal that brings the Broncos Kyle Orton, two firsts and a third.
Fine.
Then, after Orton has a pretty good year at QB for a team that had a good passing game but had trouble running the ball effectively, Xanders trades away Brandon Marshall for two second round picks.
Okay.
Then he goes out and acquires Brady Quinn and his huge contract for Peyton Hillis, a sixth round pick, and a conditional late round pick in 2012.
Alright.
For those keeping score, Xanders now has two quarterbacks, no running game and he's down a superstar receiver.
So what does Xanders do? He replaces Marshall with the 22nd pick in the draft, Demaryius Thomas. Good enough.
But then he goes out and trades his second, third and fourth round picks for the right to draft Tim Tebow in the first round. Tim freakin' Tebow, who is not only a college quarterback about whose transition to the NFL lots of scouts and coaches have doubts, but whom no one thought would be drafted higher than the third round.
Are you kidding me?
17. Mike Dunleavy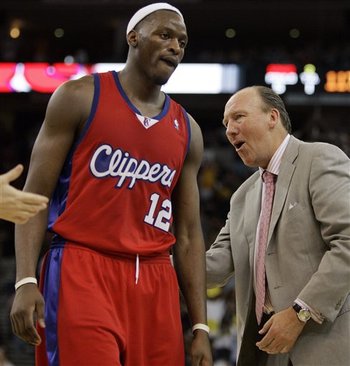 On the one hand, this is the Los Angeles Clippers we're talking about.
On the other hand, he brought a special suck to the job.
That he was on the golf course in the middle of the day with his cell phone in his locker on the day he got fired comes as a surprise to no one.
16. Billy Knight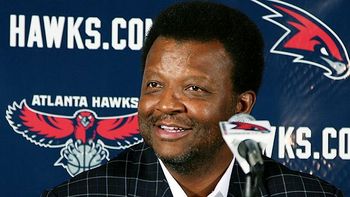 Billy Knight's first round draft pick history:
2004, Sixth pick: Josh Childress (ahead of Luol Deng)
2005, Second pick: Marvin Williams (ahead of Chris Paul, Deron Williams)
2006, Sixth pick: Sheldon Williams (ahead of Brandon Roy, Rudy Gay)
2007, Third pick: Al Horford (not a terrible pick)
2008, no pick.
Knight traded away the Hawks' 2006 and 2008 first round picks along with Boris Diaw for Joe Johnson in 2005, in a deal which provided some cover for the fact that Knight had passed on a veritable starting lineup of All-Stars with his poor drafts.
15. Omar Minaya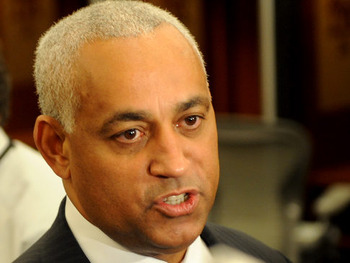 Omar Minaya somehow got lots of credit for being at the helm of Montreal Expos as the ship was taking on water, and parlayed that role into the job of New York Mets General Manager.
In New York, he got lots of credit for signing Latin American players, which given the explosion of Latin talent in Major League Baseball over the last 20 years is like giving someone credit for catching rain in a bucket during a hurricane.
At the end of the day, the Mets were an overpriced mess and Minaya was out of a job.
14. Brian Cashman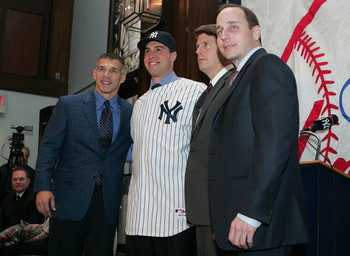 I'm sorry, but with the New York Yankees payroll advantage over every other team in baseball, the failure of this team to win more than one World Series in the last 10 years is appalling.
Give Billy Beane, Pat Gillick, John Schuerholz, Andrew Friedman or another of several actually talented baseball General Managers that payroll, and the Yankees would be winning championships like it was the 1950's.
13. Jim Bowden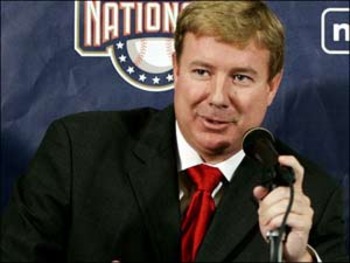 Here's is what I like to refer to as the Jim Bowden Rule:
If you get fired from your job as General Manager because the team you put together sucks, and if when you go to your next team you build around the same players, your new team is likely to suck as well.
After getting run out of Cincinnati for failing to live up to expectations, Bowden went to the Washington Nationals, acquired a host of failed Cincinnati Reds prospects and failed to live up to expectations.
12. Don Waddell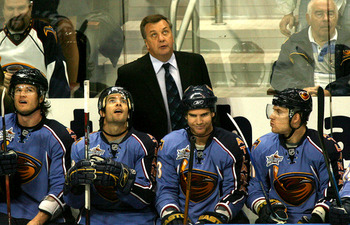 In the NHL, in which over half of the teams get into the playoffs every year, it only stands to reason that the Atlanta Thrashers would have made the playoffs more than once during the 12-year tenure of Don Waddell as GM.
Think again.
Waddell has not once but twice traded away the team's best player during the course of contract negotiations, and has done such a poor job of marketing the team that there are some in Atlanta who don't even know they have a hockey team.
11. David Kahn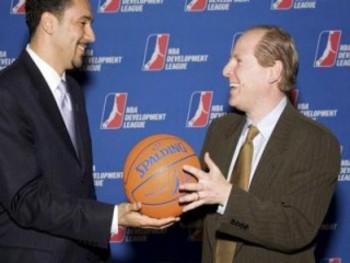 It has been a brief tenure in Minnesota so far, but David Kahn has made it memorable. In the 2009 NBA Draft, he used three first round picks to draft three point guards, one of whom has yet to leave Europe to this day.
He laughably signed Darko Milicic this summer, which was bad for him simply from a PR perspective; that's a name no GM wants to be associated with.
10. Chris Wallace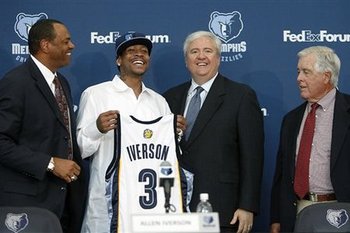 Since joining the Memphis Grizzlies, Chris Wallace has built a championship dynasty.
Of course, that dynasty is the Los Angeles Lakers, whom he aided and abetted when he traded away Pau Gasol for a stocking full of coal.
The trade was so bad that it prompted usually staid San Antonio Spurs coach Gregg Popovich to suggest that there should be a trade committee in the NBA that can veto trades.
But hey, at least he signed Allen Iverson to a contract that he had to later void to make up for it.
9. Jim Hendry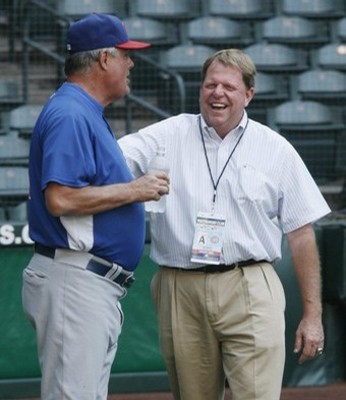 It's not like the Chicago Cubs have had tons of success in their recent history, but Hendry's current Cubs incarnation features a ridiculous number of incredibly overpaid players and bloated contracts, and now their salary woes have absolutely crippled the team.
The Cubs wins per dollar spent in 2010 was amongst the worst in baseball.
8. Kevin McHale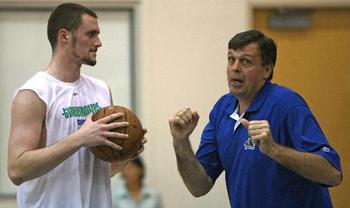 Just because you get five players in return for one doesn't mean you made a good trade.
In August 2007, McHale traded Kevin Garnett to the Boston Celtics. Boston sent the Minnesota Timberwolves forwards Al Jefferson, Ryan Gomes and Gerald Green, guard Sebastian Telfair and center Theo Ratliff, two first-round draft picks and cash considerations.
It was so nice of McHale to help rebuild the Celtics dynasty.
7. J.P. Ricciardi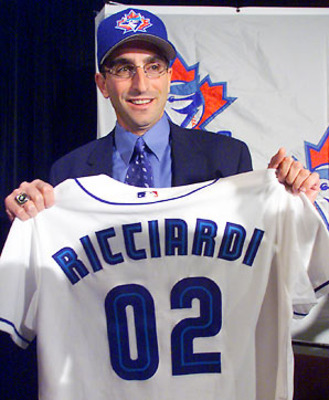 J.P. Ricciardi is a smart guy and a Billy Beane disciple. After the success of Beane and Ricciardi in Oakland became self-evident, the Toronto Blue Jays snatched J.P. up and gave him his own shot at being a G.M.
And in Toronto, he abandoned the Moneyball philosophies that have made Beane successful.
It wasn't his silly moves that made Ricciardi look bad—A.J. Burnett, B.J. Ryan, Lyle Overbay—but he also appeared to be incredibly impulsive, which isn't what you want in a GM.
He signed an overrated and underperforming Vernon Wells to a seven-year, $126 million contract that has handicapped the team ever since. He signed an over-achieving, low-ceiling Alex Rios to a seven-year, $70 million deal that further killed the team. Ricciardi also had a habit of flat out waiving guys—Frank Thomas and Alex Rios—so that he would get nothing in return after they turned up with other teams.
Unlike Billy Beane, J.P. Ricciardi routinely chased big-named players, gave up huge contracts to above-average talent and never led the Blue Jays to within a sniff of the playoffs.
6. David Littlefield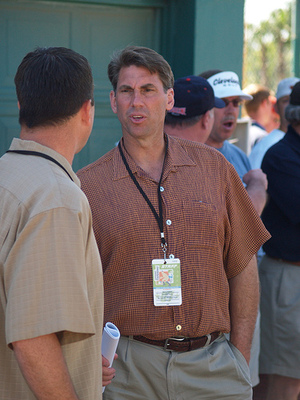 David Littlefield is rumored to have refused to acquire Ryan Howard for either Kris Benson or Kip Wells.
At the same time, Littlefield consistently gave away players like Jason Kendall, Jason Schmidt, Aramis Ramirez, Sean Casey, Chris Young, Rajai Davis and Leo Nunez.
Littlefield also drafted Bryan Bullington with the No. 1 overall pick in 2002, ahead of B.J. Upton, Prince Fielder, Zack Greinke, Khalil Greene, Matt Cain, Cole Hamels and Scott Kazmir, saying afterward that Bullington could be a good No. 3 pitcher.
To complete the trifecta, the Pirates were also far less aggressive under Littlefield in developing Latin American talent.
Littlefield was fired in 2007, and the roster was almost completely turned over.
5. Danny Ferry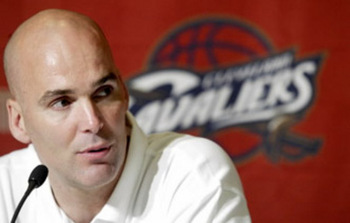 In 2005, Danny Ferry was handed the Golden Ticket: he was given the reigns of a team that had one of the greatest players in basketball history. All he had to do was find a way to build a halfway decent team around LeBron James, and he would be assured of championship success for years to come.
But he never found the McHale and Parish, the Pippen and Grant or Pippen and Rodman, the Kobe Bryant (or Shaquille O'Neal), or the Worthy and Kareem that he needed to make the Cavs into a legitimate contender.
Frankly, it doesn't seem like it would have been that hard to do. Hell, the Timberwolves gave Kevin Garnett away for nothing during Ferry's tenure.
4. Dayton Moore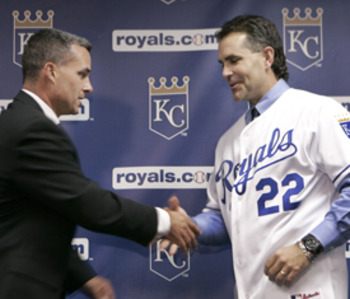 Yes, Kansas City is a tough place to compete because it is so small market.
And yes, the Royals have endured an astonishingly bad run of injuries to talented young players.
And yes, the Royals run of terrible began way before Moore came to town.
But the caliber of players Moore has passed on in his drafts has been ridiculous, he has done nothing to increase the talent on the Royals and he has stood pat on several talented trade pieces in recent years when he could have been stocking the farm system.
3. Peter Angelos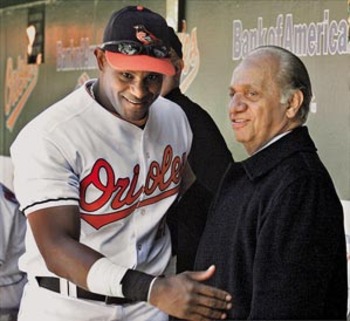 Yes, it is tough to compete in the American League East.
Just ask the Tampa Bay Rays, who have won the division twice in the last three years.
Just ask the Boston Red Sox, who have won two World Series in the last decade.
The Orioles, meanwhile, have nearly officially been renamed "The Once Proud Baltimore Orioles" after a simply laughable period of ridiculous player signings, talent development and clubhouse chaos.
2. Isiah Thomas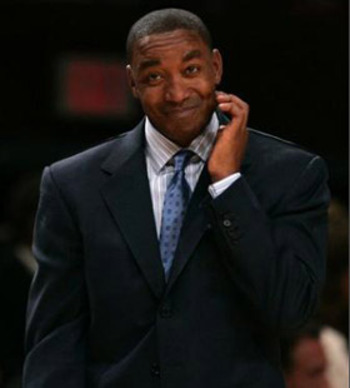 Isiah Thomas has ruined players, teams, franchises and leagues, and then thrown in sexual harassment as a cherry-on-top.
The wake of destruction behind Isiah Thomas is unrivaled.
1. Matt Millen
This is from a Peter King article right after the Detroit Lions drafted Calvin Johnson with the second overall pick in the 2007 draft:
"A month earlier Denver had offered two first-round picks, a second-rounder and two third-rounders, plus veteran linebacker Al Wilson, but when the Broncos wouldn't substitute another second-round pick for the injured Wilson, Millen turned them down."
King meant that as praise, but at the end of the day it typified the problem with Millen: he was smitten with big-named college receivers and it kept him from ever developing his roster in a way that was conducive to winning.
Johnson is a great receiver, but he was also the fourth wide receiver taken by Millen in the first round in six drafts. Meanwhile, Millen failed to develop the offensive line, the defensive line, the defensive secondary or any other position in any meaningful way.
And in 2008, the Team That Millen Built became the first team to ever go 0-16.
Keep Reading