2011 NFL Draft: Top Player at Each Position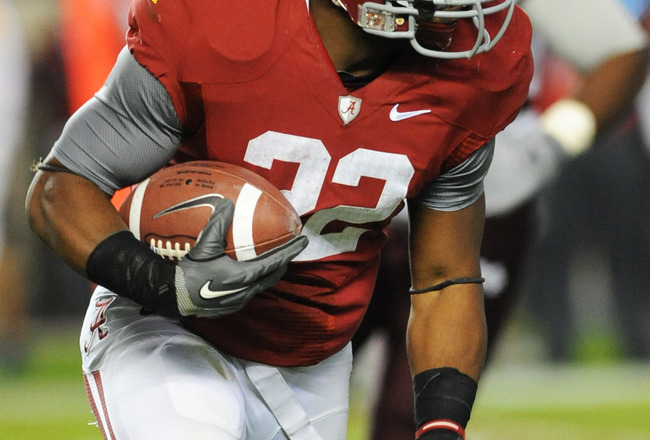 Al Messerschmidt/Getty Images
The NFL draft isn't for several months, but it is never too early to evaluate talent. Here are the top players at each eligible position. Some have a consensus pick, while others are less obvious. All these players have one thing in common: potential to be great.
Quarterback: Andrew Luck, Stanford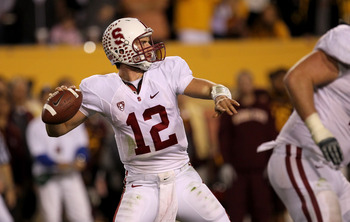 Stephen Dunn/Getty Images
Jake Locker was once considered a top prospect. With the success of Luck, and the struggles of Locker, it seems things have changed. Luck has shown great leadership, accuracy, decision-making, and athleticism. Luck is only a redshirt sophomore, but has a good shot at being the top pick, and I don't see him risking a fall like Locker's.
Running Back: Mark Ingram, Alabama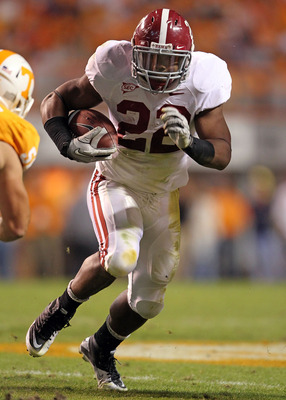 Andy Lyons/Getty Images
Mark Ingram is a good prospect. He just does everything well. He is quick, patient, and powerful. He concerns me a bit because he might just be an amazing college back who doesn't fit as well into the pros. Winning the Heisman certainly doesn't guarantee pro success. However, there is no other back that can really challenge him for the top spot at this point.
Wide Receiver: A.J Green, Georgia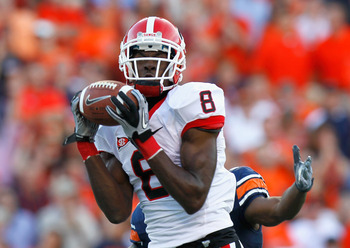 Kevin C. Cox/Getty Images
A.J Green is the undisputed top receiver in this class. He is tall (6'4") with a thick build, good speed, and amazing play-making ability. He beats out Julio Jones, another top prospect, with his more consistent hands.
Tight End: Kyle Rudolph, Notre Dame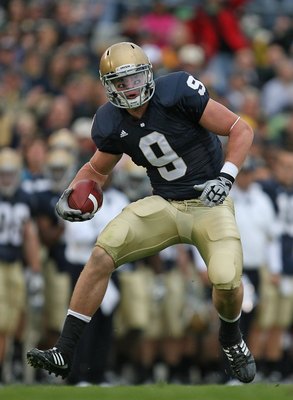 Jonathan Daniel/Getty Images
There are not very many highly-ranked tight ends who are eligible. Rudolph is usually considered the top of this weak class. He is only a junior but it would probably be wise to come out so he can stand out in a weaker class.
Offensive Tackle: Derek Sherrod, Mississippi State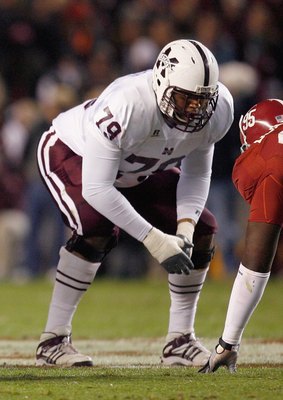 Kevin C. Cox/Getty Images
It was a difficult choice picking the top tackles in the class. None of the tackles have separated themselves from the pack yet. Derek Sherod might begin to do this. His stock has been rising a lot recently because of his quick feet and good size.
Interior Lineman: Stefen Wisniewski, Penn State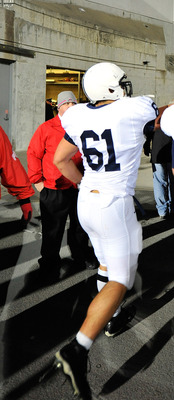 Jamie Sabau/Getty Images
I decided to combine centers and guards because prospects tend to be able to play either. Stefen Wisniewski is considered by many the top center prospect for the draft. He is solid in all aspects of the game. He is fundamentally sure and athletic for a center, and he has decent size.
Cornerback: Patrick Peterson, LSU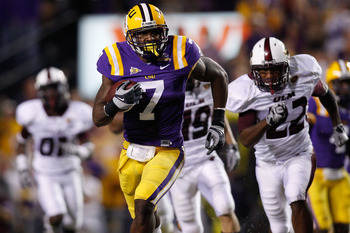 Chris Graythen/Getty Images
Cornerback might be the deepest position in this draft. There are at least three players who could be the first corner picked in a less deep draft class. Patrick Peterson is a is a large corner who has huge play-making ability. Scouts have praised him and some consider him the best corner prospect ever.
Defensive End: Da'Quan Bowers, Clemson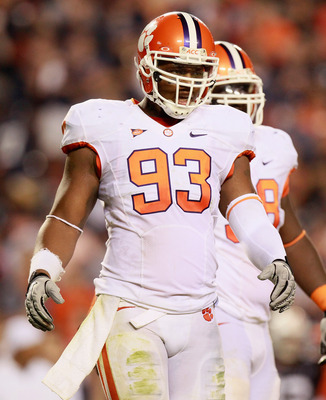 Kevin C. Cox/Getty Images
Da'Quan Bowers is beginning to live up to his big hype coming out of high school. He is having a fantastic junior year, and has likely positioned himself to be a at least a top 15 pick if he comes out.




Defensive Tackle: Marcell Dareus Alabama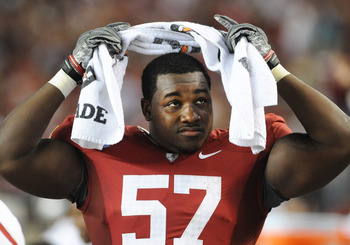 Al Messerschmidt/Getty Images
Marcel Darius came into the season as the top rated DT. However, he hasn't produced as expected—at least statistically. Don't be surprised if Nick Fairly from Auburn overtakes him as the top eligible DT.
Middle Linebacker: Greg Jones, Michigan State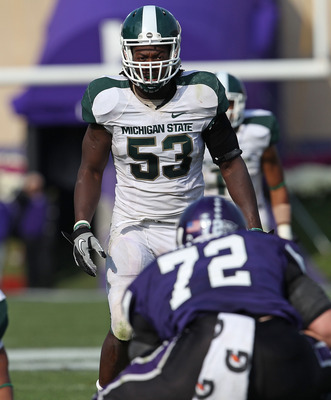 Jonathan Daniel/Getty Images
Inside Linebacker is yet another position where it is difficult to name a clear top prospect. Jones is probably the most talented, though there are many close behind. Jones might actually fit better as an OLB in the pros, but his talent earns him this spot.
Outside Linebacker: Von Miller, Texas A&M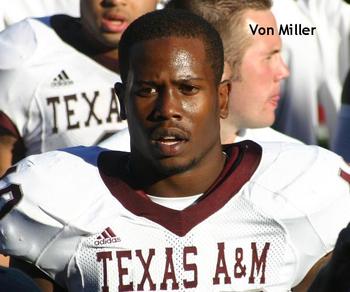 Von Miller is a pass rush specialist, so he is more of a 34 OLB, but he also plays well against the run and in coverage. Like Jones, his overall talent justifies a spot somewhere on this list.
Free Safety: Rahim Moore, UCLA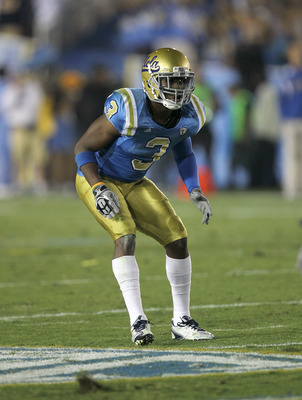 Stephen Dunn/Getty Images
I think Moore is a very solid prospect. He is a very solid cover safety in an underwhelming class of free safeties.
Strong Safety: DeAndre McDaniel, Clemson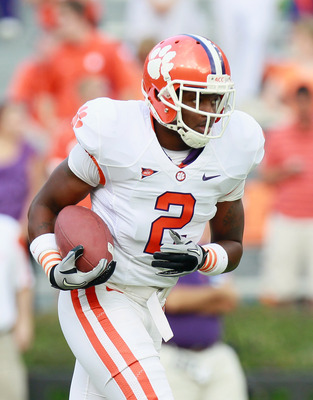 Kevin C. Cox/Getty Images
McDaniel is a ball hawk for a strong safety, and has good size at 215 pounds. He has good run fill. He had eight interceptions his junior season.
Kicker: Alex Henery, Nebraska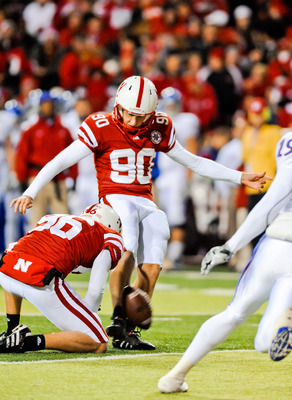 Eric Francis/Getty Images
Henery is a solid kicker, but there is no kicker this year worth more than a late round pick.
Punter: Chas Henry, Florida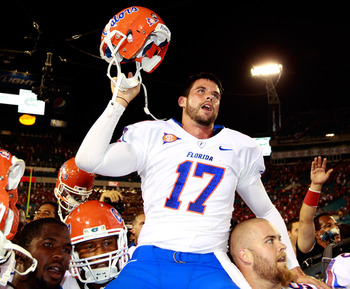 Sam Greenwood/Getty Images
Similar to Alex Henery, he is a solid kicker, but not worth more than a late round pick.
Keep Reading