Fantasy Football NFL Week 11: Pierre Thomas and 5 Important Player Updates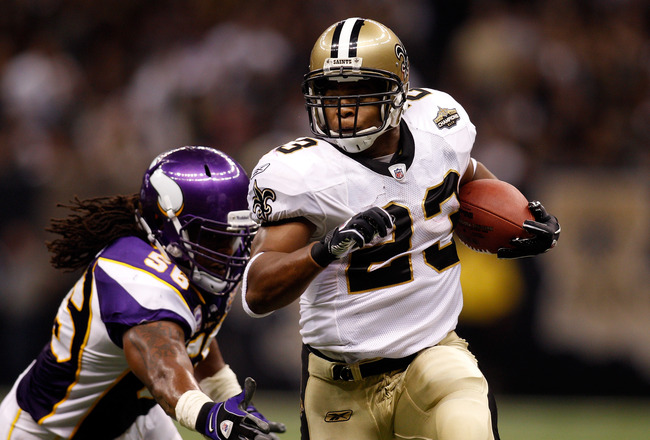 Thomas isn't ready yet. Sit him this week.
Chris Graythen/Getty Images
As a fantasy manager there is nothing more frustrating than not knowing until the eleventh hour if your player is going to play or not, right?
Even though the "official" NFL injury report is released after 4:30 PM Friday, many players are still considered "game-time decisions', which is enough uncertainty to make a fantasy owner pull off his best rendition of Jack from One Flew Over The Cuckoo's Nest.
Take Pierre Thomas for example.
Head Coach Sean Payton has said that Thomas has "turned a corner" in his healing from his ankle injury, which has the potential to get fantasy owners up in arms about his status, giving him the immediate nod.
But the reality is, Pierre Thomas is likely to be ready by Week 12, and if there is no set backs this week—needless to say, you should keep him benched, until his news improves.
Let's take a look at some players who fit that bill, and what you should do wit them.
TE Antonio Gates, San Diego Chargers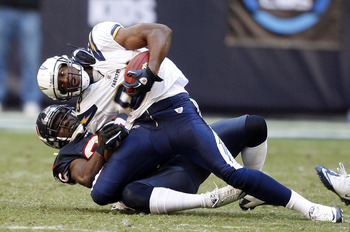 Bob Levey/Getty Images
The Injury Update
As of Friday morning Gates is still going to be a game-time decision, but the likelihood of him starting this week doesn't seem good at all.
By his own omission: "I've never had to be 100 percent to play," said Gates. "But still there is a criteria which you need to meet to get out there on the field—that's being able to run, being able to do something off the foot where it doesn't bother me. I've got a way to go. At this point, I'm trying to give myself a chance to play. It's a tear. It's brutal. It's pain. This is probably as frustrated as I've been in my career based on the recovery." – San Diego Union-Tribune.
What You Should Do
Sit Gates this week and possibly pick up Randy McMichael. Gates isn't going to do much, if anything at all.
WR Austin Collie, Indianapolis Colts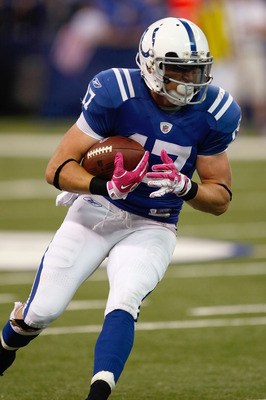 Scott Boehm/Getty Images
The Injury News
It is being reported that Austin Collie has returned to full practice, suggesting he could start this Sunday in a showdown with the Patriots.
The problem with this news is that he is coming off of a concussion, and while he was upgraded to full practice, he has yet to receive game clearance at the time of this article.
What You Should Do
I wouldn't take the chance of starting Austin Collie without more encouraging news from camp, it's just too risky at this point in the fantasy year. The thing is, Joseph Addai, Jacob Tamme, and Reggie Wayne are all banged up, and Pierre Garcon isn't worth a squirt leaving the Indy receivers an avoidable situation this week, if you ask me.
RB Ryan Mathews, San Diego Chargers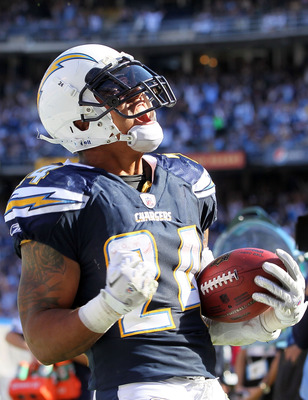 Jeff Gross/Getty Images
The Injury News
Mathews was held out of Thursday's practice due to his ailing ankle, despite expecting to get the nod against Denver under the Monday night lights.
When players—especially newbies—say things like: "I'm getting better every day," said Mathews. "Probably just a couple more days," (San Diego Union-Tribune) it never points to anything positive. This news isn't very encouraging at all, and should be followed very closely.
What You Should Do
The real issue is the Ryan Mathews-Mike Tolbert timeshare, which hasn't really produced a wealthy fantasy situation for owners this year. If you can trade either of these backs for better options I would do so now, and sit Mathews this week going forward.
TE Zach Miller, Oakland Raiders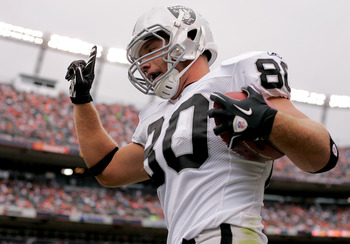 Justin Edmonds/Getty Images
The Injury News
Head Coach Tom Cable has confirmed that Zach Miller is "on track" to start this week against the Pittsburgh Steelers.
Miller has been dealing with a foot injury that has basically been hanging around like the in-laws after Thanksgiving dinner, but all has seemed to heal up quite nicely.
What You Should Do
Miller faces a Steelers team that has significant issues shutting down tight ends (12th most point allowed), so this opportunity for owners to play him is a must-start situation you need to exploit.
RB Ryan Torain, Washington Redskins
Win McNamee/Getty Images
The Injury News
Ryan Torain was held out of practice yet again on Thursday, as he continues to deal with that persistent hamstring injury.
The other issue is that fellow RB Clinton Portis is a no-go, and the Washington Redskins offense as a whole, has been incredibly inconsistent all year.
What You Should Do
Dealers choice here. Keiland Williams will fill in against a Tennessee Titans team that ranks 11th against the run and has only allowed four rushing touchdowns. Still, Williams has three rushing touchdowns and two receiving touchdowns in three appearances this season, suggesting that if you have to play him, you'll at least get something out of the deal.
I hope this helps, and feel free to check out my WR WK 11 Start Sit column for all of your start sit advice, and questions answered.
Keep Reading