The 25 Dirtiest Players In World Football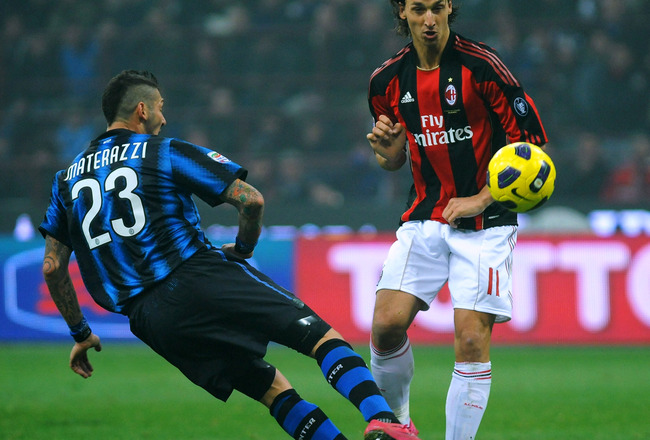 Valerio Pennicino/Getty Images
Why is Eboue on this list? Well, when you hit the pitch every time someone breathes on you, people tend to see you as a dirty player. The Arsenal back is one of the most notorious floppers in the world, so he certainly merits a place in the top 20.
25. Paul Scholes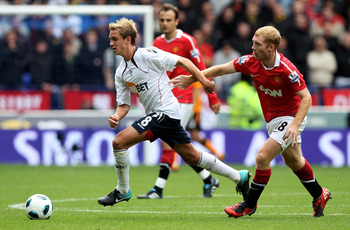 Michael Steele/Getty Images
The Manchester United midfielder might be a controversial choice for the list, but the fact is the diminunitive redhead has been making ill-advised tackles for 16 years now. At some point, we need to realize that perhaps his tackles are not accidental, and something a bit... grimier.
That being said, Scholes is undoubtedly one of the most talented midfielders of his generation, and will go down as one of the all-time greats. Now if only Sir Alex Ferguson had taught him how to tackle.
24. Gabriel Heinze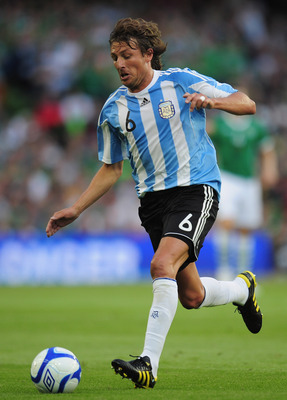 Shaun Botterill/Getty Images
One of the worst defensive defensemen in recent memory, Heinze perfected the art of the well-timed flop to keep from getting smoked. He can score goals on occasion, but his detestable flopping puts him on the list.
23. Thierry Henry
Mike Stobe/Getty Images
Henry had a reputation as a dive artist before he gained the virulent hate of the entire nation of Ireland with his blatant handball in the 2010 World Cup qualifying.
When you combine those two together, you have a recipe for one of the dirtiest players in soccer.
22. Steven Gerrard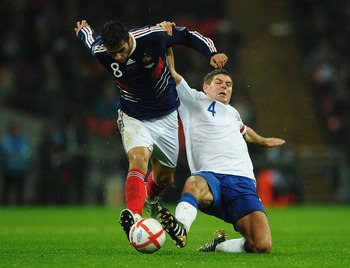 Laurence Griffiths/Getty Images
A combination of poorly-timed tackles and a reputation as one of football's more infamous divers gets Gerrard a spot on the list. He's one of the best midfielders in the world, to be sure, but the English national is also one of the football world's biggest divers.
21. Diego Forlan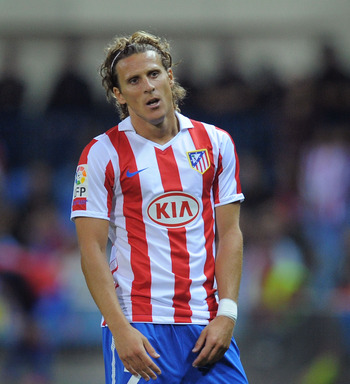 Denis Doyle/Getty Images
Forlan is one of the best strikers in Uruguayan history. If you watched a single match during the 2010 World Cup, you would be convinced that Forlan could be decimated by the slightest of touches from an opponent, as he flew across the turf and lay motionless for several moments each time he was touched.
Forlan's theatrics were well documented during the World Cup, and were occasionally mentioned by the broadcasters.
20. Emmanuel Eboue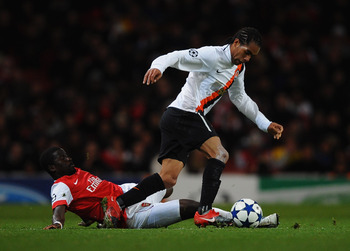 Laurence Griffiths/Getty Images
Why is Eboue on this list? Well, when you hit the pitch every time someone breathes on you, people tend to see you as a dirty player. The Arsenal back is one of the most notorious floppers in the world, so he certainly merits a place in the top 20.
19. Arjen Robben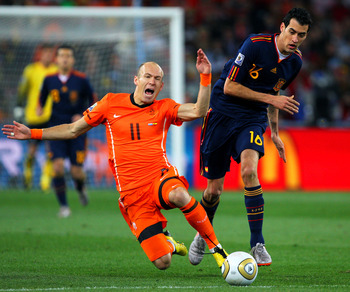 Clive Rose/Getty Images
Robben, the cueball-headed Dutch winger, might be one of the world's most talented scorers. However, given his performance in the 2010 World Cup, he seemed to be aiming for an Oscar, rather than the Golden Boot.
He's a notorious flopper, and loves nothing more than getting in a ref's ear when he doesn't get a call he thinks he should. He's been the bane of many an opposing fan's existence with his theatrics and generally cheap tactics.
18. Javier Mascherano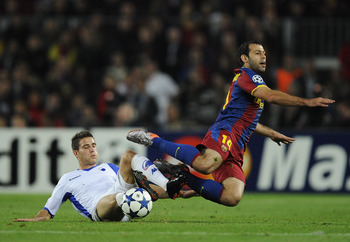 David Ramos/Getty Images
All you need to know about Mascherano's dirty player credentials can be seen in this photo. See how he's already looking for the ref's whistle, and deciding whether or not he needs to feign an injury to get it?
Case closed.
17. Michael Ballack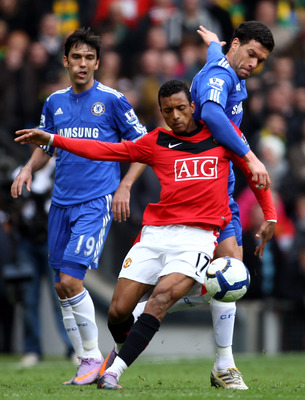 Alex Livesey/Getty Images
Ballack has a sterling reputation among the football punditry, but a close observation of his play reveals a savvy player who exploits his reputation to it's fullest. He makes reckless tackles with regularity, and manages to escape serious punishment in many cases. He's not above giving an opponent an elbow, shove or trip, if the ref is looking elsewhere.
16. Didier Drogba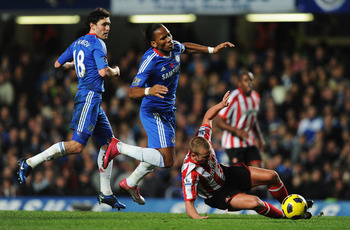 Michael Regan/Getty Images
I'm not saying Drogba doesn't get hit hard sometimes; he does, like any good striker. But he's a legendary diver, with his high flying leaps and catastrophic falls.
Drogba's also got a bit of a whiny streak, complaining mercilessly if he doesn't get the call he wants.
15. Cristiano Ronaldo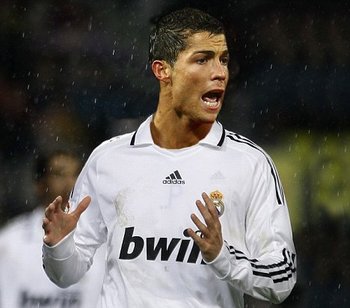 Sure, he's a football megastar, and one of the most supremely talented attackers in football history.
That being said, Ronaldo also might be the biggest flopper and crybaby in recent memory, driving fans absolutely up the wall with his theatrics.
He's not a bad actor, but he's an actor nonetheless.
14. Stephen Hunt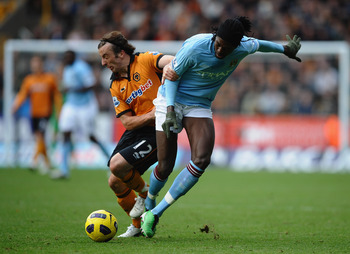 Laurence Griffiths/Getty Images
Ah Steven Hunt. The diminutive midfielder at Wolves is one of the most notorious thugs in all of football, and with good reason. Hunt's playing style makes it much more likely that he'll give a foul away than most footballers, and he's widely viewed as a dirty player.
13. Michel Salgado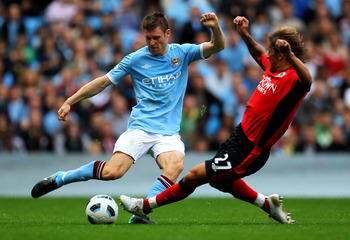 Alex Livesey/Getty Images
Salgado is a relic from a bygone era; his violent, physical style of play would have been better suited to the 70's or 80's. Instead, Salgado continues to make reckless tackles and cross paths with officials in the modern game, where his brutish style of play is less than welcomed.
12. Lee Bowyer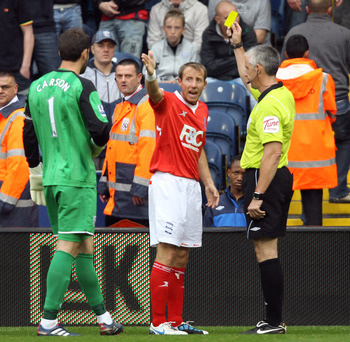 Ross Kinnaird/Getty Images
Bowyer is another one of the Premier League's more infamous goons. His style of play has seen him wind up on the wrong side of the official more times than I can remember.
Bowyer's an aggressive tackler who occasionally plays the man, rather than the ball. And by occasionally, I mean, more often than not.
11. Jamie Carragher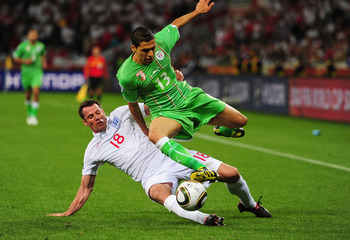 Jamie McDonald/Getty Images
Carragher's not a terrible defender; he's just not the fastest thing on two legs. So, when someone gets past him, he reaches into his bag of tricks and pulls out a trip, push or grab to keep his opponent from scoring.
Some call it a tactical foul; I call it playing dirty.
10. Kevin Davies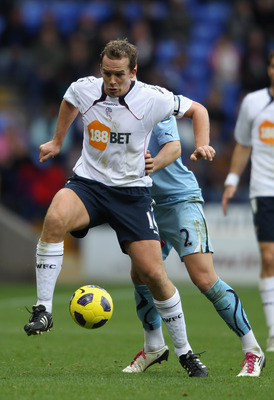 Clive Brunskill/Getty Images
Davies is a big, punishing forward, who uses his superior size and strength to bully smaller defenders in and around the box. He's a frequent shover of opponents, and he's often on the wrong side of the law on the pitch.
9. Karl Henry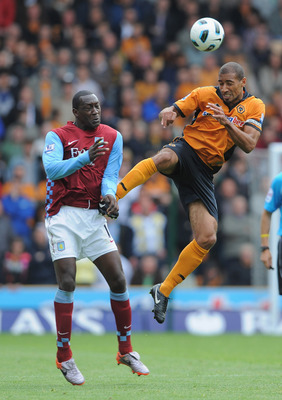 Michael Regan/Getty Images
The Wolves' midfielder is a recent addition to the list of dirty players, thanks to a season-long run of brutal tackles. Could it be coincidence? Perhaps. But Henry is at best reckless in his challenges, and downright filthy at worst.
8. Lee Cattermole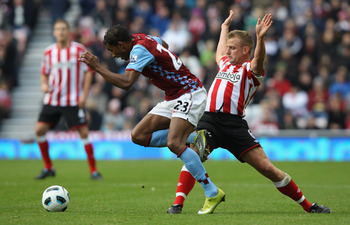 Clive Brunskill/Getty Images
Cattermole is one of the youngest entrants on this list, but the 22-year old Sunderland midfielder already has a sizable body of work. He's a wild challenger, who has often been accused of using dirty tactics. Like Henry, he's reckless at best, and dirty at worst.
7. Giorgio Chiellini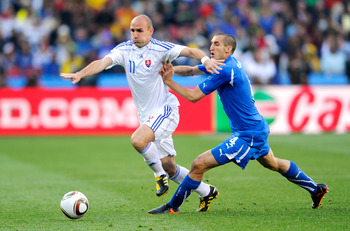 Claudio Villa/ Grazia Neri/Getty Images
Chiellini might be one of the best central defensemen in the world. That being said, he also might be one of the world's dirtiest players. The Juventus man's combination of pushes, trips and tackles combine to make him one of football's most infamous enforcers.
6. Nemanja Vidic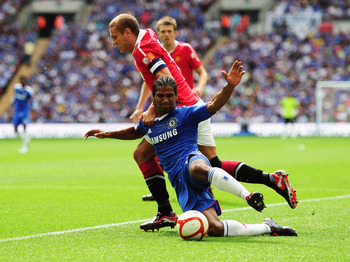 Laurence Griffiths/Getty Images
Vidic is another punishing central defenseman in the mold of Giorgio Chiellini. The massive Serb uses his size to full advantage, pushing, tripping and running through opposing offensive players to keep them from scoring. He's racked up 43 total cards in his tenure at Manchester United, and is fortunate not to have received more.
5. Michael Brown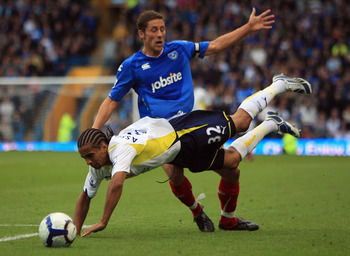 Bryn Lennon/Getty Images
Brown has been one of England's most infamous goons for years now, and it's a reputation he's worked hard to earn.
His fondness for violent tackles and suspiciously hitman-like play have given him a well-deserved reputation as one of football's biggest thugs.
Brown has been involved in numerous on-field incidents in his career, typically involving reckless and possibly malicious tackles of opposing players.
4. Joey Barton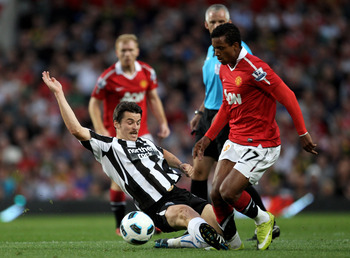 Alex Livesey/Getty Images
Barton has been a troublemaker at St. James Park almost since his career began. He's a reckless, violent tackler who has seen his fair share of send-offs and yellow cards in his career. While he's toned down the goon act in recent months, Joey's still getting into trouble more than the Toon Army would like to see him do.
3. Robbie Savage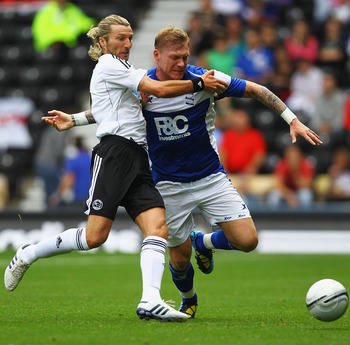 Matthew Lewis/Getty Images
Savage has truly lived up to his surname during his career. He's one of the game's cheapest players, renowned for his violent tactics and wild, reckless tackles. The Derby County man has been relegated out of the Premiership, but Savage continues to torment the lower divisions of English football.
2. Nigel De Jong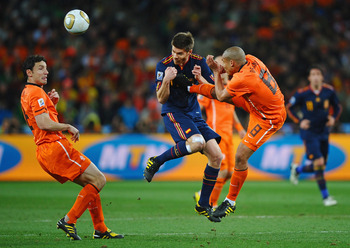 Laurence Griffiths/Getty Images
Shots like this one, in the 2010 World Cup title clash with Spain, are why Manchester City and Dutch midfielder Nigel de Jong is one of the most infamous dirty players in football. His tactics resemble those of an enforcer in hockey; he uses his body as a weapon, inflicting non-stop punishment on opponents. He's almost an annual contributor to the worst tackles of the year list, and de Jong doesn't really do anything else to make up for his questionable behavior.
1. Marco Materazzi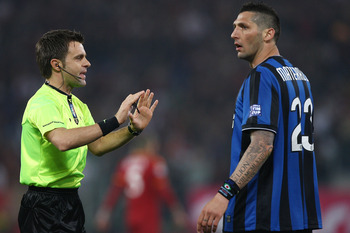 Paolo Bruno/Getty Images
Marco Materazzi has turned dirty play into an art form. He's a master of gamesmanship, and giving opponents little shoves, trips and nudges almost constantly. He's a pest, a troublemaker, and one of the most infamous thugs in the game.
For proof, look no further than the 2006 World Cup Final. Guess who was on the receiving end of Zizou's head-butt?
Keep Reading