Fantasy Football Trendy Picks: Are Mike Goodson and Tyler Thigpen Worthy Grabs?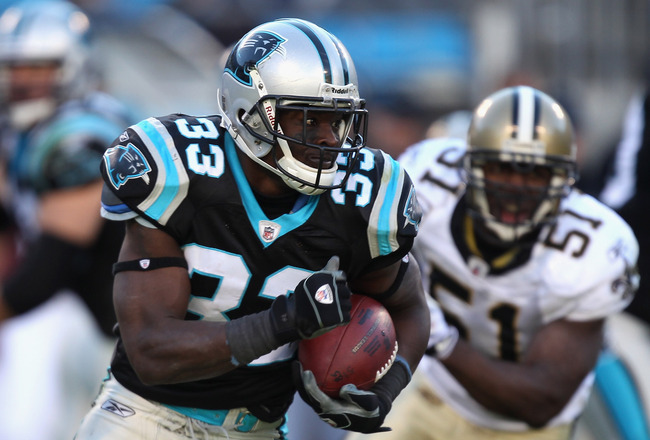 Streeter Lecka/Getty Images
As we head toward Week 11 of the 2010 fantasy football season, the list of potential game breaking waiver wire gems continues to grow, with RB Mike Goodson, and QB Tyler Thigpen leading the way.
But Goodson and Thigpen aren't the only curious names on this week's list, as Week 11 actually provides a bevy of player to choose from whether it be plug-in players, or players you could grab and stash for that perfect matchup going forward.
Let's take a look.
TE: Randy McMichael, San Diego Chargers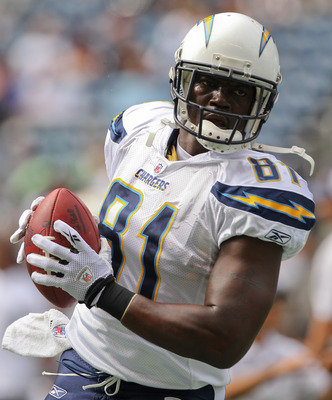 Otto Greule Jr/Getty Images
Antonio Gates was quoted in the Associated Press Monday as saying he wasn't sure if he was going to play this week against Denver, then was quoted by Kevin Acee on Twitter as saying he is 50/50 on playing this Monday Night against Denver.
Granted, this is something to follow, but the likelihood of Gates playing isn't looking to good, and McMichael remains a hot pickup in a banged up receiving corps for pass happy San Diego.
Monitor this situation, but if Gates isn't ready to go by Friday end of day, grab McMichael pronto.
RB: Bernard Scott, Cincinnati Bengals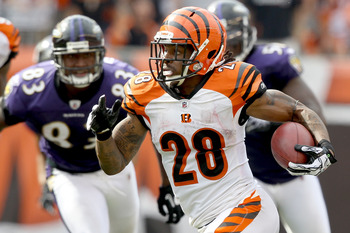 Matthew Stockman/Getty Images
Cedric Benson missed another practice with a foot injury, and his participation in this week's matchup against the Buffalo Bills is in serious question.
The important thing to understand here is that Scott has been chomping at the bit, and the Bills are the worst run defending team in the NFL, making Scott a tasty grab.
RB: Mike Goodson, Carolina Panthers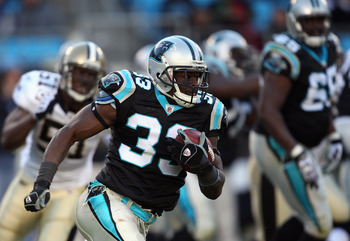 Streeter Lecka/Getty Images
DeAngelo Williams is done for the season with a sprained foot, and fellow RB Jonathan Stewart is out this week with a concussion, leaving Mike Goodson the lone cat in the litter.
Goodson racked up 100 yards rushing against Tampa last week, but faces a tougher run defense in Baltimore, but the fact that he garners points as a RB and return man, is too hard to pass up.
Even when Stewart returns, Goodson will still hold significant value, as the Panthers are a two RB type team, and with Tony Piker passing the ball—yes, that's right; Tony Pike gets the nod this week, and don't even THINK about touching him—you have to expect the Panthers will continue to go with a run first approach.
QB: Tyler Thigpen, Miami Dolphins
Marc Serota/Getty Images
Don't buy into the coy game that Head Coach Tony Sparano is playing with the media, Tyler Thigpen will be the starter for this week as well as the future with Chad Henne's knee in question.
Thigpen is likely to hold significant value with two quality RBs out of the backfield for check down options, Brandon Marshall on the outside, and Davone Bess as his primary underneath slot man.
He's a PPR sleeper in the making, even this late in the year.
WR: Terrance Copper, Kansas City Chiefs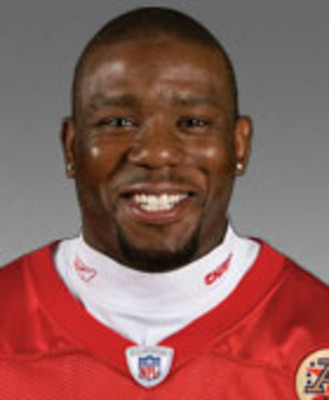 The Chiefs face off against the Arizona Cardinals this week in a game that has fantasy gold written all over it for owners of the Chiefs receivers.
The obvious focus will be on Dwayne Bowe, but if the Cardinals opt to double up on him—something they tend to do with the better receivers in the league—that will inevitably open the door for Copper who has already shown he can contribute in a major way.
The best part is, Copper is literally un-owned in most formats.
I hope you all enjoyed this article, and please check out my WR Week 11 Start Sit column for further advice.
Keep Reading