The 100 Hottest WAGs Ever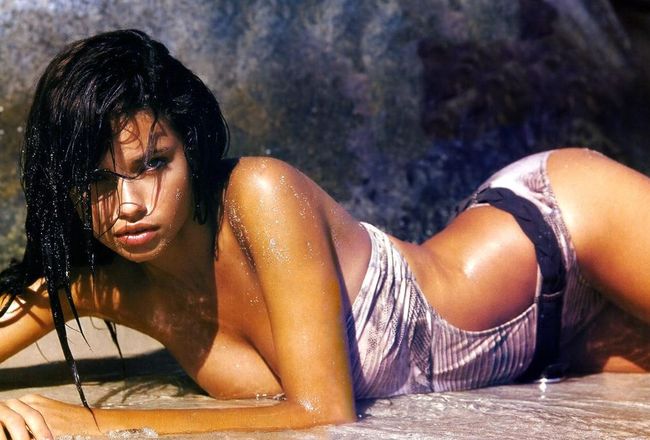 There's been lots of talk about the wives and girlfriends (a.k.a. WAGs) of professional athletes on the Internet over the last few years.
We've looked at the top WAGs in baseball, football, basketball and hockey. We've seen the top WAGs at the World Cup, at the Olympics, and at the Super Bowl.
But now it is time to take a look at the Top 100 WAGs of All Time. Let's get it on.
Honorable Mention: Jenn Sterger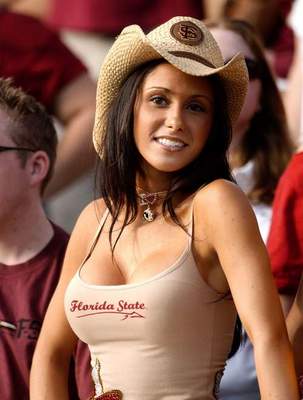 Let's go ahead and get this one out of the way early.
Has anyone ever gotten further in a career based simply on water balloons?
We think not.
100. Kendra Wilkinson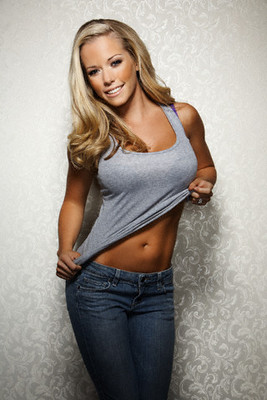 Hey Kendra, remember that time the Saints started the second half of the Super Bowl with an onside kick off your husband's face mask?
We do.
99. Hillary Duff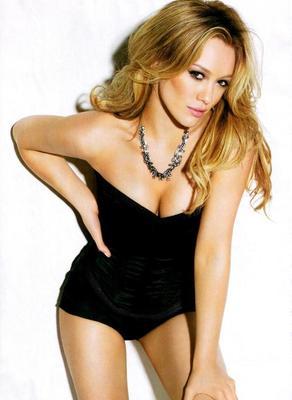 The campaign to help Hillary Duff evolve from child star to sexy femme-vixen reminds me of the campaign to help Bob Saget evolve from the wholesome father figure on Full House into a foul-mouthed adults-only comic.
Duff is attractive because she is a sexy child star, just as Saget is funny because he's become our image of the foul-mouthed father figure.
98. Mariah Carey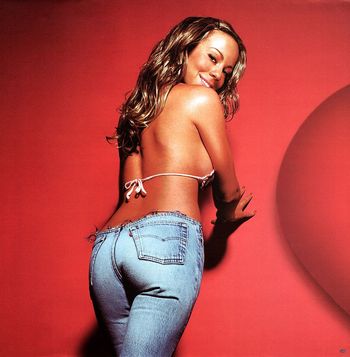 Mariah Carey married Columbia Records executive Tommy Mottola at a very young age, recorded and released several amazing albums and became one of the most successful female recording artists of all time.
Carey later divorced Mottola in 1997, stating that she found him to be controlling and manipulative, and hired a new publicist, attorney and manager to remake her image.
It was at this time that she entered the "whore phase" of her career, wearing substantially less clothing than she once did, dancing far more provocatively, and absolutely refusing to make good music any longer.
It was at the outset of this period in her life that she briefly dated Derek Jeter.
97. Elena Barolo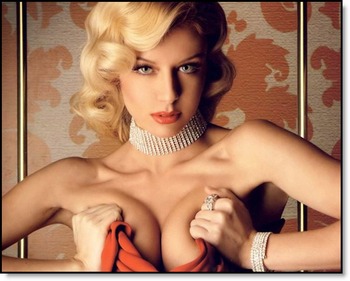 Beautiful Italian model who dated Turino's Roberto Stellone.
96. Minka Kelly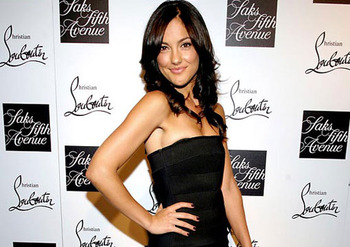 Minka Kelly looks and seems like a lovely girl.
It is kind of hard to believe that Derek Jeter finally chose to settle down, but he seems to have made a fine choice.
Do we call her "Mrs. November"?
95. Elsa Benitez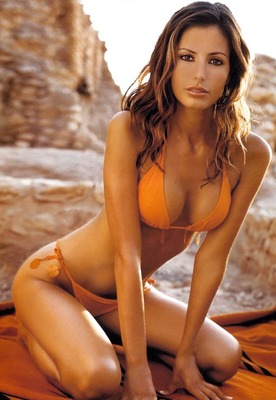 Elsa Benitez was formerly married to Rony Seikaly.
Try to keep your snickering to yourself.
94. Lorena Bernal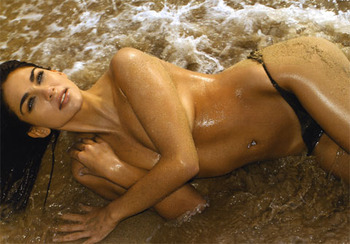 Lorena Bernal is married to Spanish footballer Mikel Artela, who is currently playing for the FA Premier League football club Everton.
We've already told you more than you care to know.
93. Laura Cover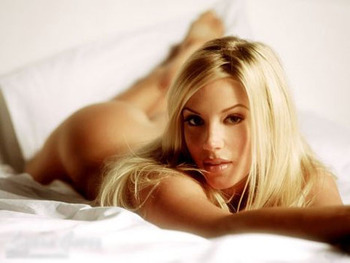 Aaron Boone is one of those guys who is just in the right place at the right time.
He hit a game-winning home run in Game 7 of the 2003 ALCS to send the Yankees to the World Series, and he married a Playboy Playmate.
There are a lot of people in the world who have worked a lot harder than him to accomplish a lot less.
92. Aleka Kamila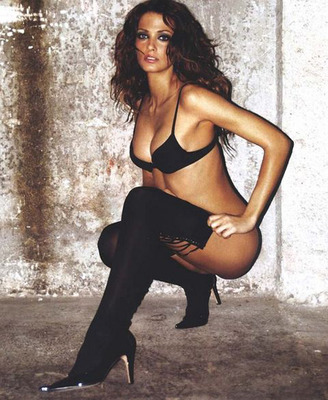 Aleka is married to Peja Stojakovic, who plays for the New Orleans Hornets.
And apparently, if this photo is any indication, she was an extra in Fiona Apple's Criminal video.
And BOOM goes the dynamite—a Fiona Apple reference!
91. Evangelina Anderson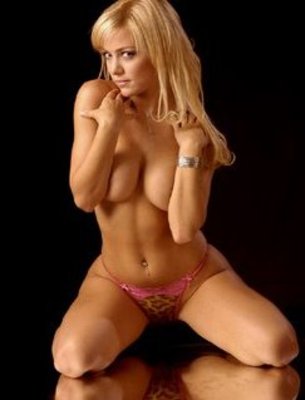 What is it about the name Anderson and hot babes: Evangelina, Pamela, Loni, Louie...
Er, maybe it's just women.
90. Carmen Electra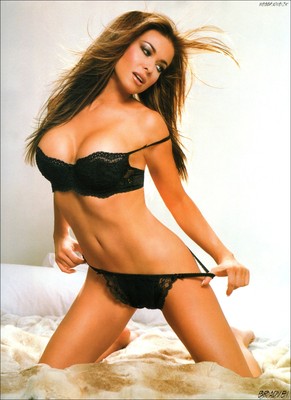 Thanks to Dennis Rodman, we get some Electra up in here.
Look for Carmen as a headliner on our upcoming "Prince's Top 10 WAGs of All Time."
89. Bridget Moynihan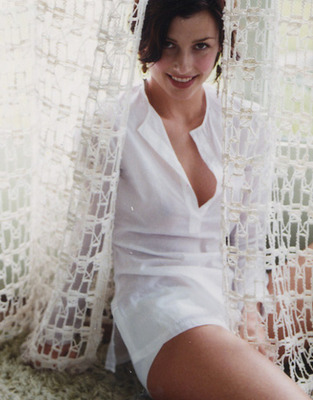 Oh Bridget. Poor Bridget.
Gettin' played by Tom Brady like the small-town girlfriend of a big-time state-university fraternity pledge.
Everyone knew you were gonna get screwed, except you.
88. Nicola Chapman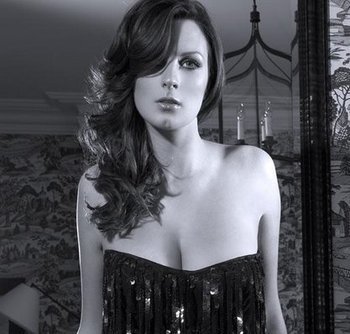 The ex-girlfriend of ex-Manchester United midfielder Phil Mulryne.
87. Jessica Bratich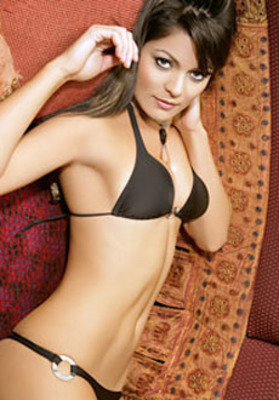 Jessica Bratich is the girlfriend of Aussie left-arm fast bowler Mitchell Johnson.
That's the nice thing about a list like this: You don't even have to understand what that sentence meant to appreciate the scenery.
86. Julia Schultz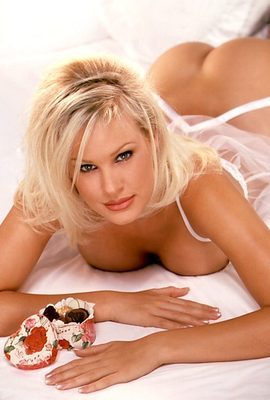 Sometimes when we're walking down the street, we see wonderful-looking girls with unappealing guys who would seem to be out of their league.
The marriage of Julia Schultz and Brett Tomko would seem to be the worst-case scenario of that phenomenon.
85. Shannon Schambeau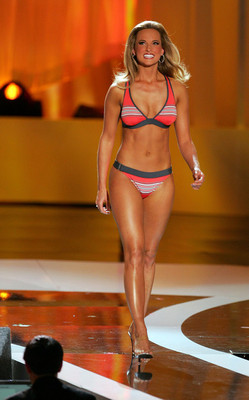 Only the Miss District of Columbia pageant could have a winner who is actually from Florida.
Shannon is married to injury-plagued John Patterson of the Washington Nationals.
84. Casey Connelly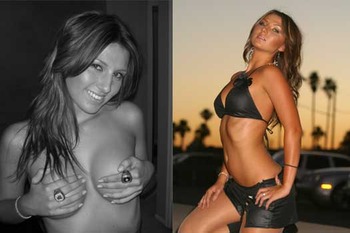 Casey's boyfriend Sam Keller went undrafted in the 2008 NFL Draft, and his window to make it as a quarterback is probably over.
She's still hot, though.
83. Alyssa Milano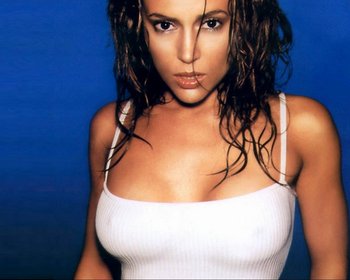 Why is Alyssa Milano ranked so low?
Tryin' too hard, Alyssa. Tryin' too hard.
Why date someone from every major league team when just one would do.
82. Jamie Hanna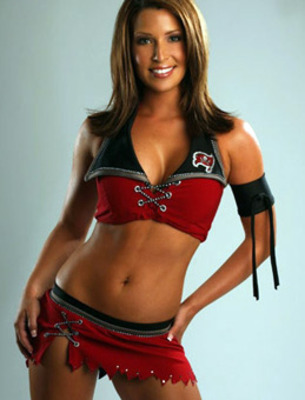 Totally hot celebrity cheerleader is dating Evan Longoria.
81. Brooke Shields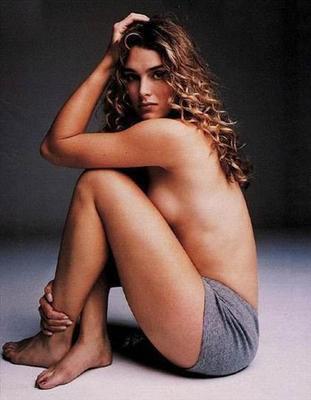 Brooke Shields was hot and then started dating Andre Agassi.
That's all we're saying.
80. Eiko Koike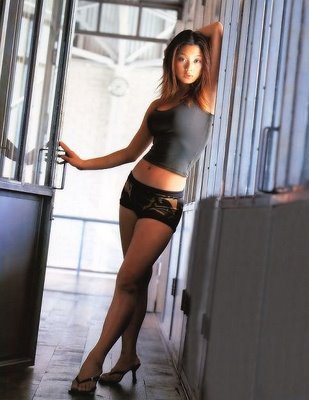 This is an actual entry from Wikipedia:
"Recently, she has been making appearances for the comedic HUSTLE wrestling promotion supporting her husband, Wataru Sakata, and the New Generation HUSTLE Army as Yosei, which means 'Fairy' in Japanese. She helped her husband gain an upset victory against the seemingly unstoppable wrestling cyborg, The Esperanza when she deflected one of his 'spirit gun' bolts back at him."
We don't know what any of that means.
79. Melanie Collins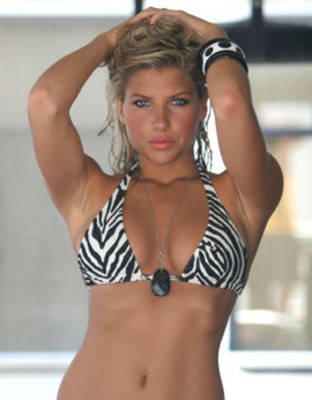 The girlfriend of Philadelphia Flyer Scottie Upshall.
She if a former bikini model turned NBA sideline reporter, though there are rumors that some less-than-appropriate pictures of Melanie and the butt-crack of some girl are floating around out there.
Don't ask us where to find the pictures. And certainly don't google image search "melanie collins."
78. Yolanthe Cabau Van Kasbergen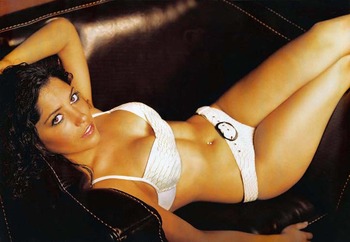 Yolanthe married Dutch football player Wesley Sneijder just days after he played in the 2010 FIFA World Cup Final.
77. Kim Kardashian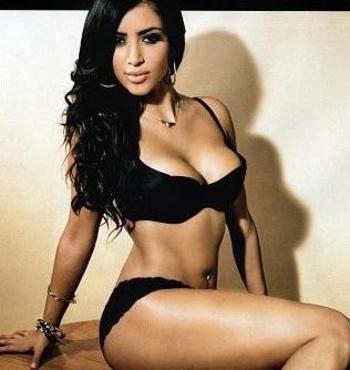 Although many people have disdain for Kim Kardashian because she is simply "famous for being famous," she's also pretty hot, and rooted for the Saints in the Super Bowl.
So she's okay in our book.
It's also rare when a professional athlete and superstar can date a woman that is wealthier than he is, but such is the case with Kardashian and Reggie Bush.
76. Martina Colombari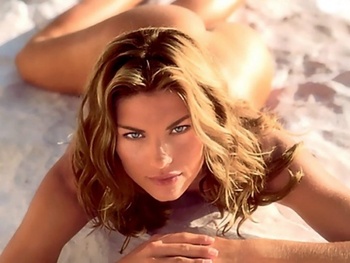 This beauty is married to Alessandro Costacurta, a former footballer turned manager who spent 20 years with Milan.
We're beginning to think that soccer must be a big deal over in Europe, what with the absolute hotties connected to soccer players over there.
75. Jennie Finch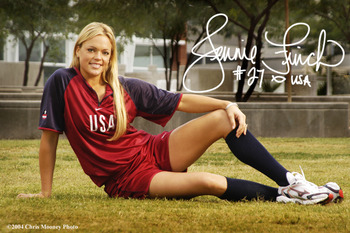 Married to Casey Daigle, a major league pitcher.
We wonder who pitches faster. We bet she lets him win.
74. Erica Ellyson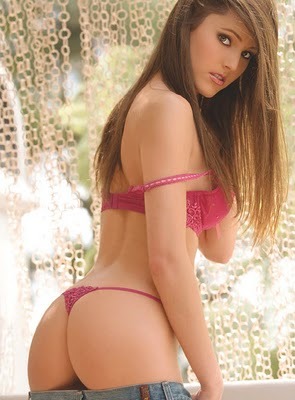 The "taking off my jeans to reveal that I am wearing a thong" model pose is one of the best.
For what comes next, you'd have to ask Red Sox pitcher Clay Buchholz.
73. Layla Kiffin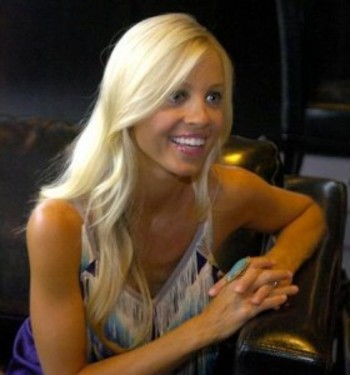 Just because her husband Lane is a turncoat (we call him that because we don't want to say "douchebag" in this slideshow) doesn't mean she isn't hot.
And probably quite sweet.
72. Fabiana Semprebom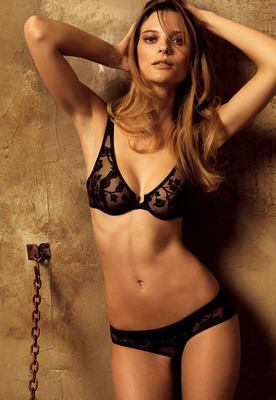 Boy oh boy oh boy.
Fabiana is engaged to retired Argentinian tennis player Guillermo Ignacio Cañas.
Or, as we call him, the luckiest gaucho south of the Rio Grande.
71. Gina Antoniello
Gina dated Duke center Brian Zoubek while she was a student at Wake Forest.
She is also featured in the Girls of the Atlantic Coast Conference 2010 calendar.
70. Lisa Guerrero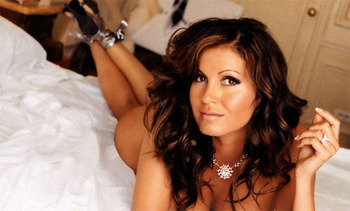 Lisa is married to baseball player Vladimir Guerrero, and they have two . . .
Wait, what? Oh, sorry: She's actually married to Scott Erickson.
Yeah, that makes sense.
69. Sthefany Brito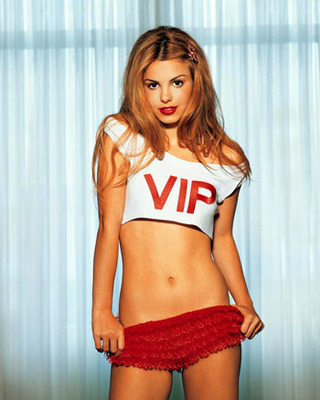 Weirdest spelling of a name on this list, and maybe ever.
Perhaps it was an accommodation in advance of all the people with lisps that she'll meet in her life.
68. Jennifer Walcott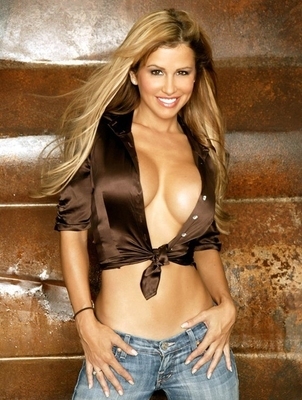 Married to Adam Archuleta.
When Archuleta looks back on what was a failed football career, do you think it was all worth it to find and marry Jennifer?
67. Julie Henderson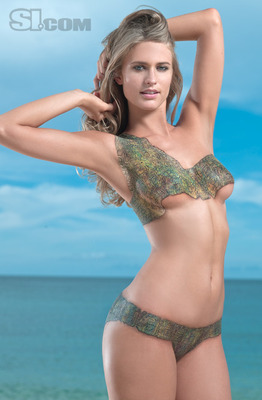 Has been linked to Aaron Rodgers and Russell Simmons.
Which is kind of like the reverse of being linked to Jamie Foxx and Milton Berle.
66. Karolina Kurkova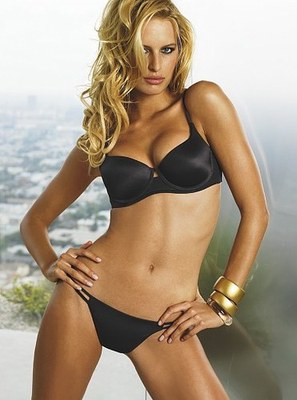 Kurkova earned her WAG status by dating Wladimir Klitschko, before moving on to her current fiance Archie Drury.
Oh, and by being hot.
65. Heather Mitts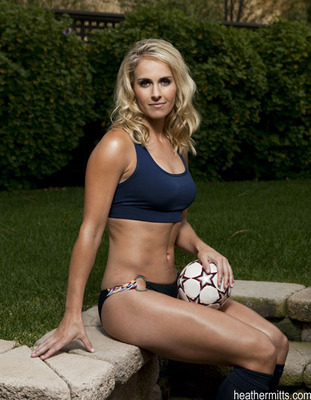 A professional women's soccer player (no really) and two-time gold medalist, Mitts is married to career backup quarterback A.J. Feeley.
64. Jamie Kotsay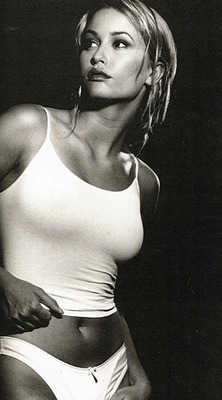 As a baseball player, Mark Kotsay was known for rarely striking out.
Insert joke here.
63. Oksana Andersson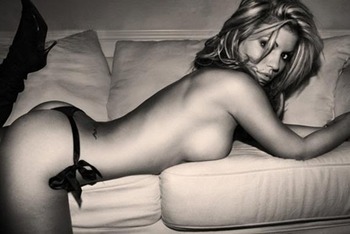 A Soviet-Union born Swedish model who . . . .
Do we really need to continue?
She dated Al-Hilal midfielder Christian Wilhelmsson.
62. Yesica Toscanini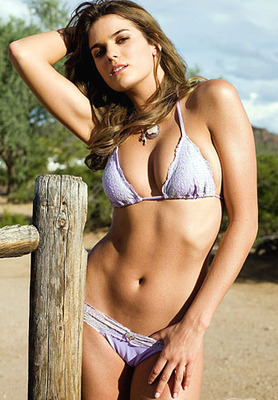 When you look like that, you not only pronounce "Jessica" with a "Yes!" as the beginning, but you spell it that way as well.
61. Vanessa Williams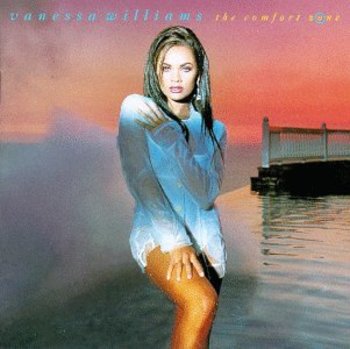 I had this buddy in high school that referred to his own special private time as "going to the Comfort Zone," as a special tribute to Vanessa Williams, with whom he was particularly infatuated.
Talk about ruining a song.
60. Jennifer Jones
Toronto Blue Jays pitcher Brett Cecil landed Jennifer Jones before he got rich and famous.
In fact, right now he is famous for being married to her, and not particularly rich.
It must be love.
59. Gena Lee Nolin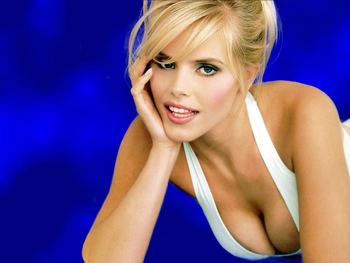 Another hottie married to an NHL star.
Seriously, these guys don't have any teeth.
58. Lauren Pope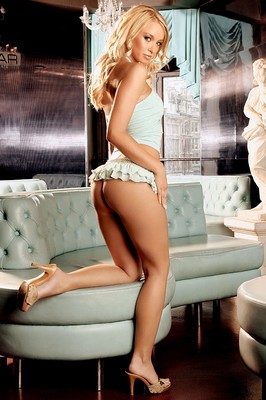 This is a pose we don't see nearly enough of.
We'd like to thank whichever nameless English footballer she dated to earn WAG status.
57. Francesca Lodo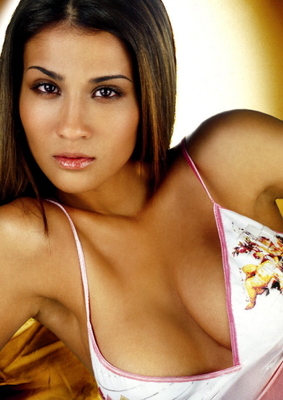 This photo represents the single-most modest photo ever taken by Francesca Lodo, who was born without clothes on and appears to have remained that way ever since.
56. Heather Kozar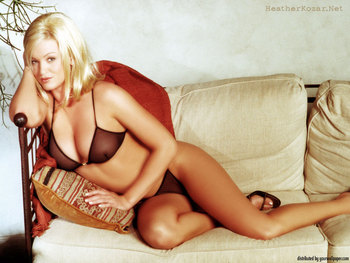 A Playboy Playmate, a Barker's Beauty, and a St. Pauli Girl, Tim Couch's wife has had quite a career.
That makes one of them.
55. Niki Taylor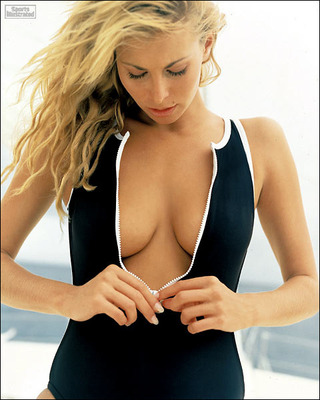 For goodness sakes, can someone please help Niki unzip her bathing suit?
Oh, what's that?
She's trying to zip it up?
Okay, never mind.
54. Elisabeth Reyes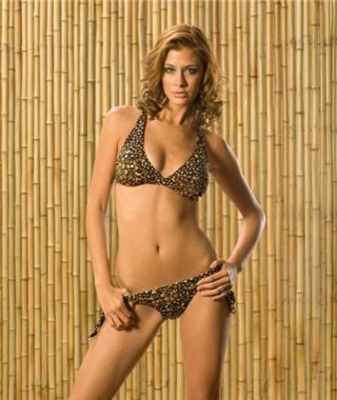 Whatever it is we did, we're sorry.
Now please let us out of this bamboo hut and let us return to our families.
53. Eva Gonzalez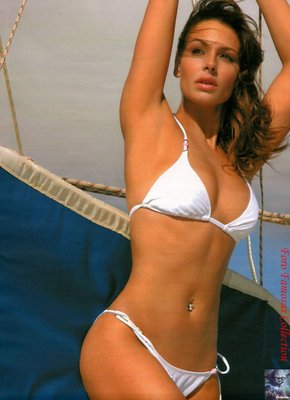 A Spanish beauty-pageant winner who competed in the Miss Universe pageant, she has dated a goalkeeper for Real Madrid as well as a Spanish bullfighter.
Olé!
52. Victoria Beckham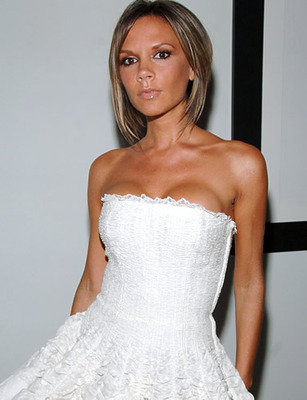 We can't believe it.
It's been right in front of us all this time, and yet we only just now came up with it.
Imagine how much money we could have made off of "Spice Rack" as a play on words if we'd come up with it just five years earlier.
51. Anna Kournikova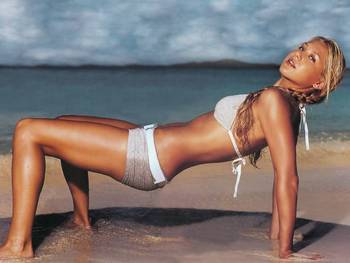 Yes, we still think Anna is attractive, though she may not be the standard-bearer for attractive female athletes or even attractive female tennis players any longer.
Someday, people are going to look back at Anna Kournikova and think that the turn of the century was an odd time for hotness.
50. Jennifer Ellison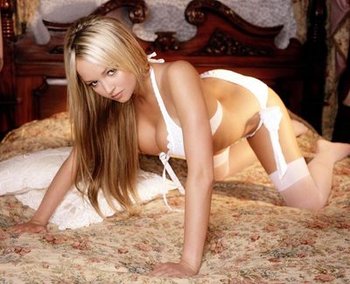 The odds that you're still reading the captions at this point strike us as 100-to-1, at best.
Jennifer is married to boxer Robbie Tickle, though like all English hotties she has also dated a footballer.
49. Rosario Cannavo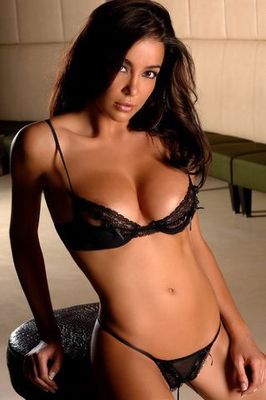 Another European beauty, another girl who dates footballers.
(Seriously, is it too late for us to sign up?)
48. Cheryl Tweedy Cole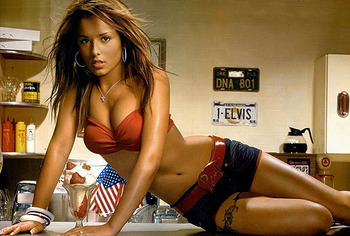 Cheryl Tweedy Cole.
Very difficult to get past the notion that this is a folk-rock country-rockabilly act.
47. Emily Kuchar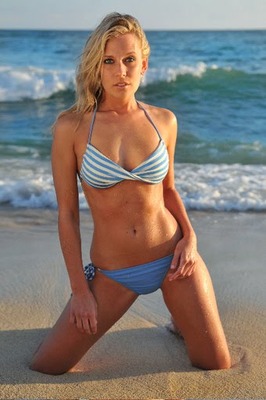 Emily Kuchar's fiancée, Zack Greinke of the Kansas City Royals, famously left spring training one year and considered retirement because of social anxiety disorder.
Looks like he got over that.
46. Jessica White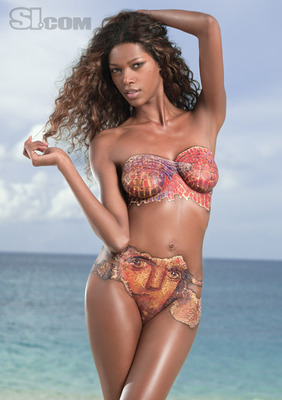 Okay, first of all, who does the painting.
Second of all, are they accepting applications?
45. Marikym Hervieux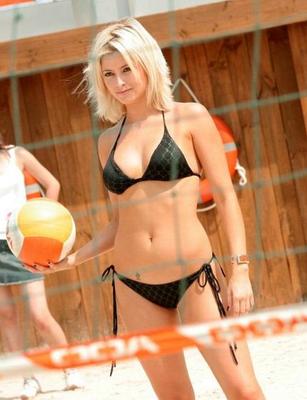 Girlfriend of Los Angeles Dodger Russell Martin.
44. Angelica Bridges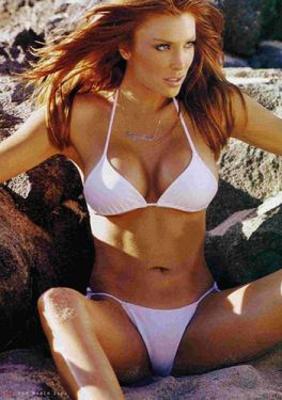 Married to Edmonton Oiler Sheldon Sourray, Angelica Bridges kind of looks like Julianne Moore's evil twin.
43. Amaia Salamanca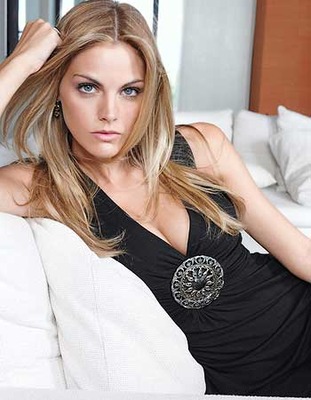 A Spanish television actress married to Sergio Ramos García, a World Cup-winning Spanish footballer who currently plays for Real Madrid and the Spanish national team.
42. Danielle Lloyd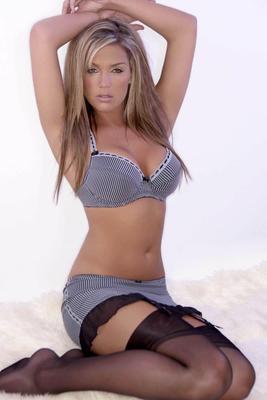 Won Miss Great Britain in 2006, then was striped of the crown when she posed nude for Playboy.
So, her crown wasn't the only thing she was striped of.
We'll be here all week.
41. Anna Benson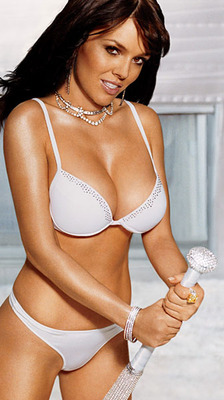 Oh Anna, really?
Grasping phallic objects with both hands?
Has it come to this?
Has your 15 minutes of fame really passed that quickly?
40. Madonna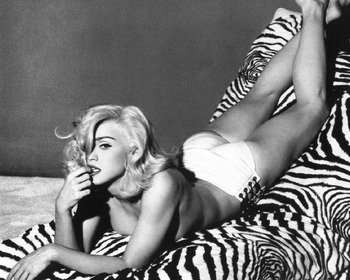 Very few women have had the impact on our popular culture that Madonna has had. If not for Madonna, our society may never have gotten comfortable with things like "Top 100 WAGS of All Time" slideshows.
Madonna isn't the hell, but she might be the hand-basket.
39. Elizabeth Hasselbeck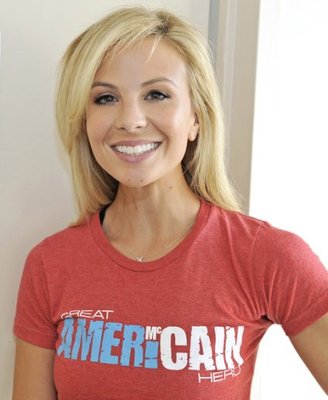 Liberal Democrat confession: Being conservative only bolsters the hotness bona fides of hot conservative commentators and political figures.
Conservative Republican response: You don't say?
39a. Carrie Prejean
Ditto for Carrie Prejean, a.k.a. Mrs. Kyle Boller.
38. Gemma Atkinson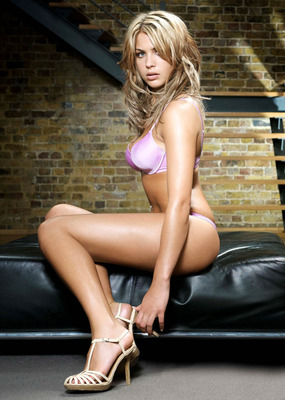 She's about to fall over. All we're saying.
She dated Cristiano Ronaldo, who would seem to us to be the Wilt Chamberlain of Portuguese soccer.
37. Hilary Rhoda
Hilary Rhoda has been linked to both Mark Sanchez of the New York Jets and Steve Avery of the New York Rangers.
Insert "sloppy seconds" joke here.
36. Sara Tommasi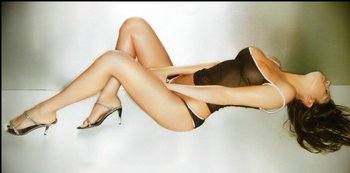 Sara Tommasi has been linked to a couple of European soccer players, which isn't nearly as important as pictures of her.
35. Rachel Reynolds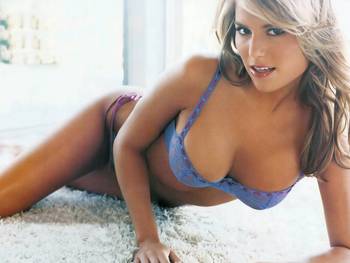 A Barker's Beauty and former LSU track star, Reynolds was once married to Josh Booty.
34. Nani Gaitán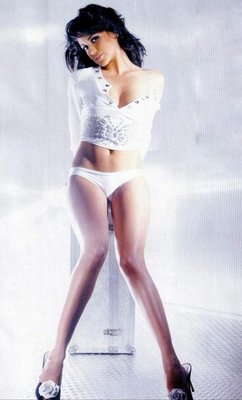 Another hottie who dated a bullfighter.
33. Heidi Hamels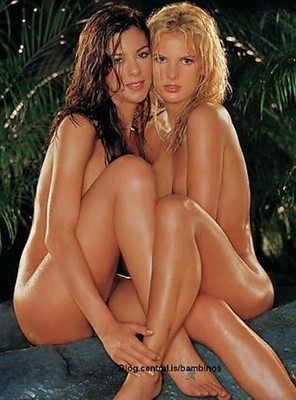 Does being married to Heidi Hamels come with the second girl? Is this is a marry-one-get-one-free deal?
That is all we want to know.
32. Diana Roberts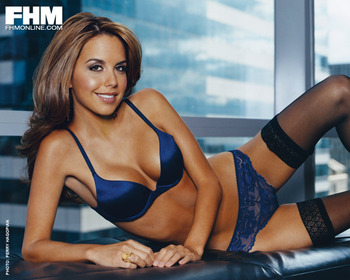 Wow, Baltimore Orioles' second baseman Brian Roberts' wife is really hot.
For our money, you just don't get enough bra-panties-thigh-highs in the magazines any more.
Classy look, classy girl.
31. Selita Ebanks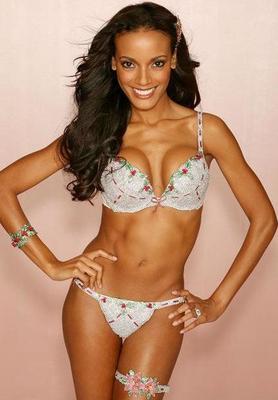 Dated tennis player James Blake, who broke up with her.
Really James Blake? Really?
Incidentally, Ebanks was also engaged to Nick Cannon, who is now married to Mariah Carey.
Wow, Nick Cannon must be a stud.
30. Keeley Hazell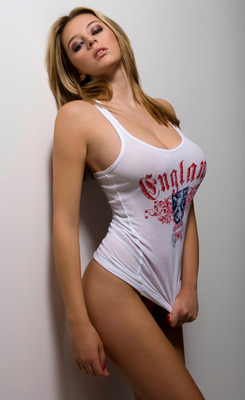 England.
Got it.
We'll buy what you're selling.
She's been connected to Chelsea FC footballer Joe Cole.
29. Veronica Varekova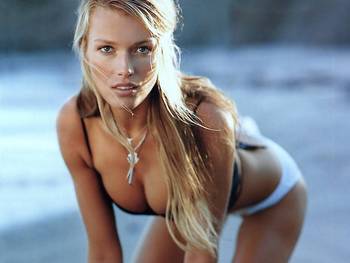 Czech model was married to Peter Nedved of the Phoenix Coyotes from 2004 to 2006.
28. Kelly Brook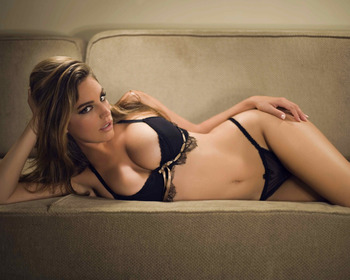 Kelly has dated Jason Statham, Billy Zane and rugby player Danny Cipriani.
Quite a "man's man" list she's built there. Pass the testosterone.
This ain't exactly a group of guys who tears up at the end of Love Actually, if you know what I'm saying.
27. Alena Seredova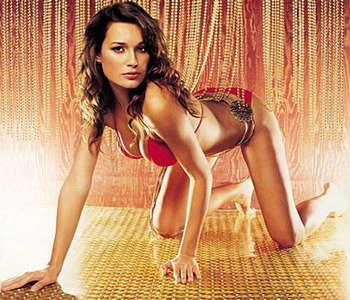 Lives with and has two sons by Italian national football goalkeeper Gianluigi Buffon.
That body has put out two sons?
26. Misty May-Treanor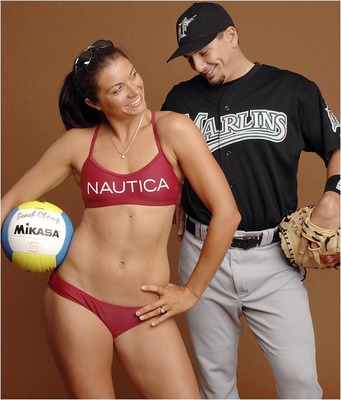 Really, calling Misty May-Treanor "Matt Treanor's wife" is kind of disrespectful.
In reality, Matt Treanor is Misty May-Treanor's husband.
25. Sara Carbonero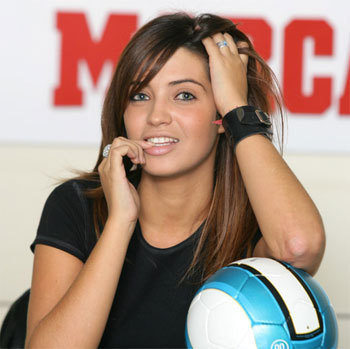 It is, perhaps, the accepted sign of true beauty in the 21st Century when you can be universally admired without having to be photographed in lingerie, a bikini, or less.
24. Elin Nordegren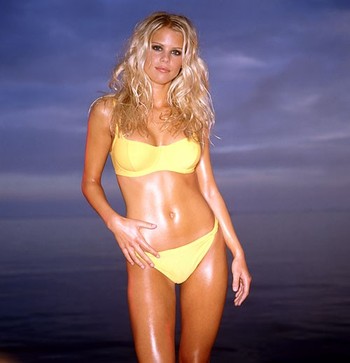 How far ahead of the rest of us is Tiger Woods?
He cheats on a girl that most of us can only dream of getting next to.
Just so you know, we won't be including any of Woods' side-girls in this slideshow.
Surely they've milked Tiger for enough attention by now.
23. Hope Dworaczyk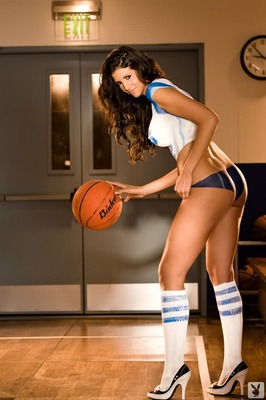 Jason Kidd's girlfriend gives Hope to all girls with names like "Dworaczyk" that they, too, can survive potentially stunting last names and become hot.
22. Heidi Klum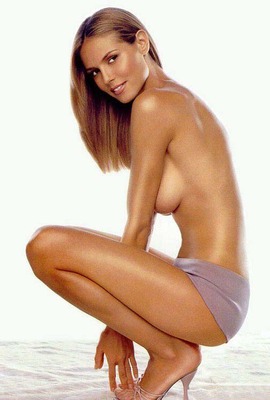 Dated Formula 1 executive Flavio Briatore after divorcing her first husband, but before she met Seal.
Does that count?
Since it's Heidi Klum, yes.
21. Sylvie Françoise Van Der Vaart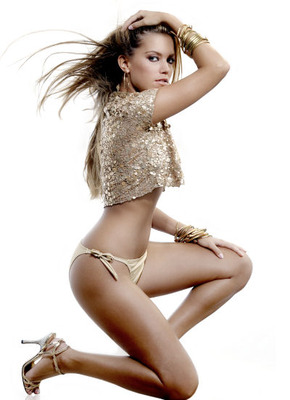 A Dutch television personality married to footballer Rafael Van Der Vaart.
20. Marisa Miller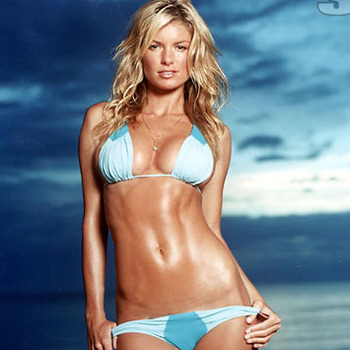 19. Luli Fernandez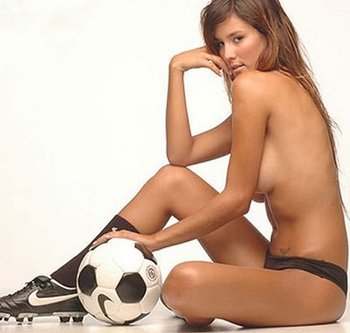 Frankly, if every nude, semi-nude, or topless photo-shoot from now until the end of time featured the models in soccer cleats and holding a soccer ball, we'd be okay with that.
So would Fernando Gago of Real Madrid.
18. Carrie Underwood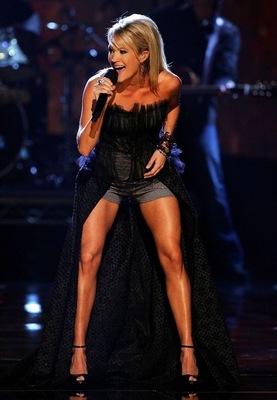 Carrie Underwood, of course, makes this list on the basis of her relationship with Tony Romo and her marriage to Ottawa Senator Mike Fisher.
Don't look for Jessica Simpson on this list. She gets enough attention without dumbing down this list.
17. Imogen Thomas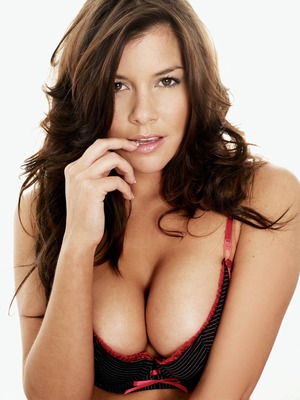 Imogen Thomas dated Reading defender Ibrahim Sonko very briefly.
Now we all know who she is.
Seems to be becoming an industry.
16. Abi Titmuss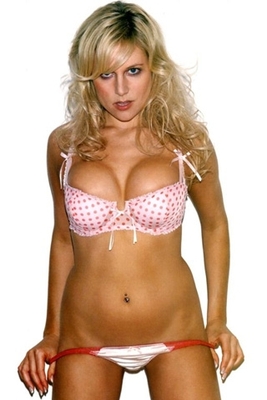 If her name was the made-up name of a romance novel character, it would be considered pushing the envelope.
Seriously, that's like the name of a female Bond villian.
15. Carmella DeCesare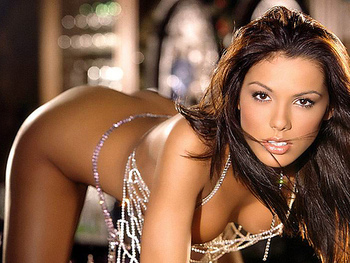 Terrell Owens once accused Jeff Garcia of being gay.
If marrying Carmella DeCesare is just a ploy to cover up being gay, well, that makes us sad.
We hope it is not so.
14. Tyra Banks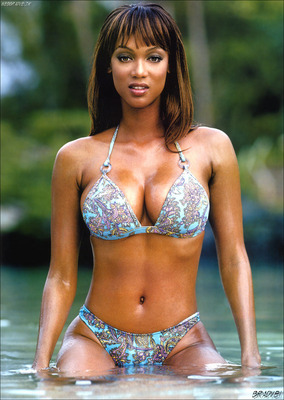 Thank goodness she dated a professional athlete.
This feature would have seemed empty without her.
13. Eliza Dushku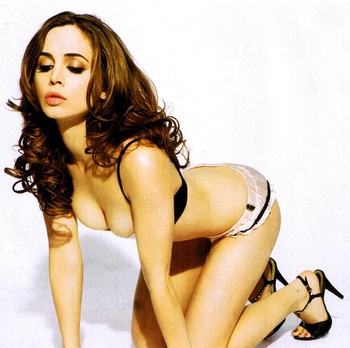 If you are approximately our age, then Eliza Dushka and Kirsten Dunst in their cheerleader uniforms from Bring It On is your ultimate girl-on-girl fantasy.
A fantasy we can't help but to wonder whether current boyfriend Rick Fox has ever been a party to.
12. Elisha Cuthbert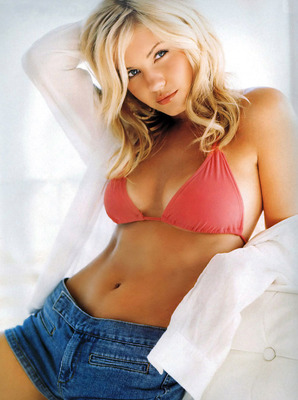 An ice hockey fan, Cuthbert is currently with Toronto Maple Leafs star Dion Phaneuf.
We wonder if there is a "we just can't get Phaneuf of Elisha Cuthbert" joke to be made here.
11. Lisa Dergan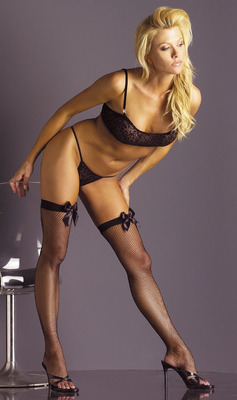 Scott Podsednik.
Scott Pod-freaking-sednik.
10. Jessica Alba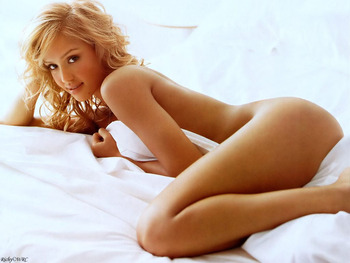 Look, we've been trying to keep quiet about this because we don't want to offend or besmirch poor Minka Kelly, but...
Seriously, Derek, you dated Jessica Alba and you ended up with Minka Kelly?
What's wrong with you?
9. Jessica Biel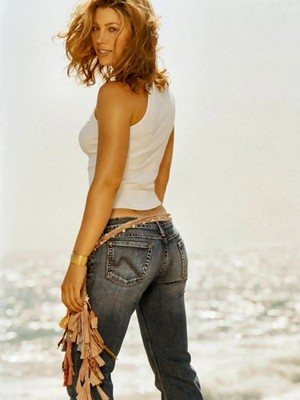 We don't completely get Jessica Biel.
We don't know that we've ever seen any of her movies or television shows, and we don't follow her personal life.
But we do know that she dated Derek Jeter, and every picture she's ever taken has been hot.
8. Scarlett Johansson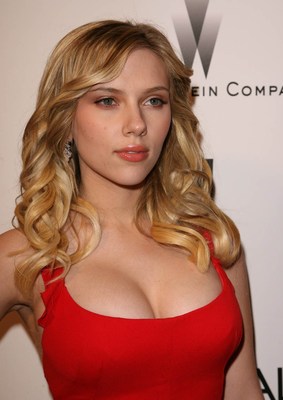 Scarlett Johansson has stated that she gets tested for HIV twice per year.
We're all about safe sex and disease prevention, but...what's that about?
7. Brooklyn Decker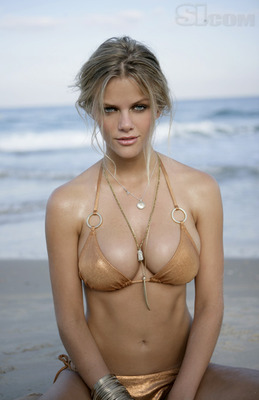 She has a supermodel's body and a stripper's name.
Best of both worlds.
6. Adriana Lima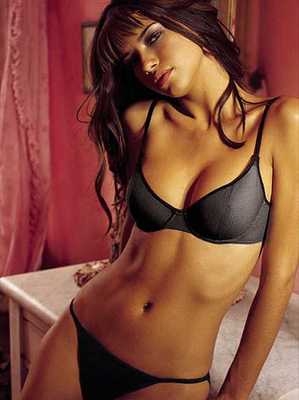 [Insert obligatory Marko Jaric joke here.]
5. Gabrielle Union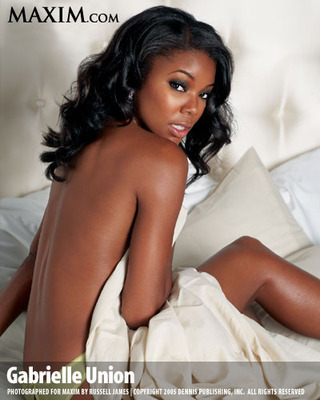 Classically beautiful, Gabrielle Union is the only woman on this list to share a name with a professional sports franchise (The Philadelphia Union).
Union has been linked to Jason Kidd and Dwyane Wade, and was married to Chris Howard.
4. Eva Longoria
Tony Parker.
The only French dude in the history of the NBA, and he takes one of our national treasures.
3. Gisele Bundchen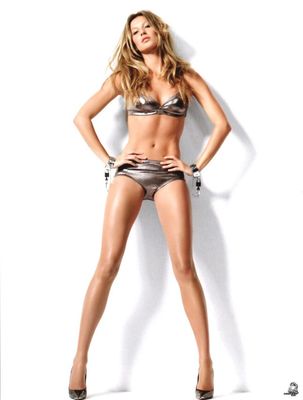 How hot do you have to be to get a whole country to talk about how unattractive someone as hot as Bridget Moynihan is?
This hot.
And by the way, why did the photographer who took this picture feel the need to digitally enhance Gisele's legs. We mean, surely they can't be that long.
Can they? Can they?
2. Halle Berry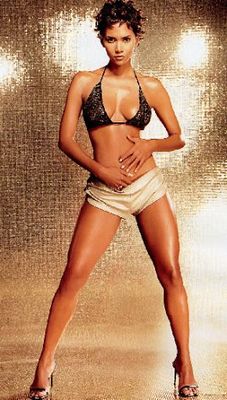 Is Halle Berry the most beautiful woman in the history of our national pop culture?
While it would be impossible to say definitively, it would also be hard to argue that she is not.
1. Marilyn Monroe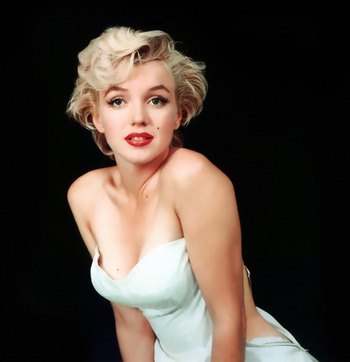 The classic. The one and only.
Marilyn Monroe.
America's sweetheart, the 20th Century icon of sexuality, was married to Joe DiMaggio, the Greatest Living Ballplayer.
Maybe someday a female sex symbol will be more iconic than Marilyn Monroe. But we aren't there yet.
And when it comes to the Top WAG of All Time, we're not even close.
Keep Reading