UFC 123: Rampage vs. Machida Live Blog, Results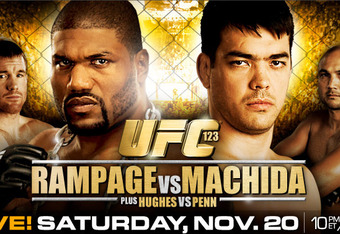 Welcome to the UFC 123 live blog!
I, featured columnist Derek Bolender, will be your host for this evening's festivities. I am currently seated cageside inside the Palace of Auburn Hills in Auburn Hills, Michigan. We are about 30 minutes north of Detroit.
Please follow along for a round-by-round analysis of tonight's fights as they transpire. I will also give my observations of what is going on inside the arena and on press row and attempt to set the scene.
The undercard will start at or near 7:20 pm (et) with the main pay-per-view card scheduled to go live at 10:00 pm (et).
Follow me on Twitter (@DerekBolender) for all post fight news and notes.
Main Event:
205 lbs - Quinton Jackson def. Lyoto Machida via split decision (29-28, 28-29, 29-28)
Main Card:
170 lbs - BJ Penn def. Matt Hughes via KO (punches), Round 1, 0:21
185 lbs - Maiquel Falcao def. Gerald Harris via unanimous decision (29-27, 29-27, 29-28)
205 lbs - Phil Davis def. Tim Boetsch via submission (modified kimura), Round 2, 2:55
155 lbs - George Sotiropolous def. Joe Lauzon via submission (kimura), Round 2, 2:43
Spike TV Card:
170 lbs - Brian Foster def. Matt Brown via submission (guillotine choke), Round 2, 2:11
185 lbs - Mark Munoz def. Aaron Simpson via unanimous decision (29-28, 29-28, 29-28)
Preliminary Card:
170 lbs - Dennis Hallman def. Karo Parisyan via TKO (punches), Round 1, 1:47
155 lbs - Edson Barboza def. Mike Lullo via TKO (kicks), Round 3, 0:26
155 lbs - Paul Kelly def. T.J. O'Brien via TKO (punches/elbows), Round 2, 3:16
155 lbs - Nik Lentz def. Tyson Griffin via split decision (29-28, 27-30, 29-28)
That's a wrap! Thanks for following along. Follow me on Twitter at @DerekBolender for post fight presser news and notes.
Lyoto humble in defeat .. even though he probably won.
Rampage says an immediate rematch is something he can get behind.
Quinton Jackson def. Lyoto Machida via split decision (29-28, 28-29, 29-28)
Round 3 - Rampage pressing forward and misses. Machida circles away. Jab by Machida misses. Combo from Rampage misses. Machida back Rampage up with a combo that lands, throws and lands a kick. Rampages fires back with a fury! Machida takedown to end the exchange. Best exchange of the fight. Machida in half guard trying to move to mount. Rampage defending the progression. Machida looking for the left arm of Rampage but gives it up. Machida into side control and then full mount. Machida going for the armbar. Rampage picks him up and they're standing. They clinch with 30 secs left. Machida drops down looking for a leg and misses. Round ends. I score the round 10-9 Machida and the fight 29-28 for Machida.
Round 2 - Rampage presses forward. Misses with right hand. Machida misses a trip. Clinch against fence and Machida catches a low blow. Herb Dean restarts them in the center. Both gauging distance. Left hook from Rampage misses and they clinch against cage. Knee from Machida and Rampage takes him to the mat. Machida will look to use the cage to get back up. And he does successfully. Overhand right misses by Rampage as they separate. Clinch against fence. Nice knee by Rampage. And a nice body punch. Machida pushes off and grazes with a high kick. Big knee by Machida and Rampage clips Machida on his way out on the chin. Low kick by Machida lands. Clinch against fence. Machida with the body lock tries to get a takedown but cannot. They remain in clinch then press away. Straight left from Machida appears to land and Rampage stumbles backwards. Machida throws high kick as the bell sounds. Again, close round. I give it 10-9 to Rampage.
Round 1 - Herb Dean overseeing action. Rampage moving forward and feinting like crazy. Low leg kick by Machida scores. Rampage trying to find the distance with his jab. Leg kick by Machida scores. This could be rinse and repeat all night. And again he connects with a low kick. Rampage trying to time a counter to the low kick. Rampage lands a right hand counter as Machida kicks and moves forward. He presses forward and misses with a big hook and clinches. Machida with his back to fence. Rampage landing little body shots inside with right hand. Big overhand right by Rampage misses. Body kick by Machida lands. Rampage staying aggressive. Body kick Machida and they clinch. Both men take a breather. Inside knees from both men. Lead left hook from Rampage misses. Right/left combo from Rampage misses. Low kick from Machida and Rampage storms forward. The bell sounds. Close round. I give it to Machida 10-9 for all his kicks but i'm okay with a 10-10.
Not much of a staredown ... let the violence commence
Wilmer Valderrama just showed up cageside to watch the main event. He's right by Miguel Torres and Kenny Florian.
Rampage coming out to the PRIDE theme song is awesome.
Rampage must stay aggressive, move forward, and put pressure square in the face of Machida. Otherwise, he's going to get picked apart.
I favor Machida in the fight staying on the outside landing body and leg kicks, moving in and out, outpointing Rampage to a unanimous decision victory.
Rampage vs. Machida up next. Who ya got?
BJ Penn is fired up in the post fight interview. He says Hughes will always be his idol.
BJ Penn def. Matt Hughes via KO (punches), Round 1, 0:21
It was the counter right that dropped Hughes and BJ swarmed and finished with punches. The crowd is now chanting BJ's name.
Round 1 - BJ from a good left hook early. He drops Hughes and finishes him on the ground with strikes!!! Wow!!
If you've been living under a rock the past few years this is the third fight between the pair. BJ won the first fight. Hughes the second. Tonight completes the trilogy.
Jeremy Horn and Robbie Lawler in the corner of Hughes. Hughes spent a considerable amount of time out in Colorado training with Horn for this fight.
Huge ovation for Hughes inside the arena.
Matt Hughes vs. BJ Penn up next
Maiquel Falcao def. Gerald Harris via unanimous decision (29-27, 29-27, 29-28)
Round 3 - Jab from Harris backs up Falcao. Overhand left from Harris misses. Both men being extra patient once again Crowd boos the lack of action. Harris misses with jab. Jab grazes Falcao. Is Falcao saving up his energy for the last 2 mins again like he did in the first? We'll see. Right hook by Harris misses. Low kick from Falcao and Harris misses a combo counter. Crowd continues to boo. Harris trying to press the action but he is getting nothing in return. Right hook from Harris lands. Harris shoots for a takedown. He presses Falcao against the fence but cannot complete it. They start again in the center. Right head kick from Falcao misses. Jab by Harris misses. 10-10 Round
Round 2 - Straight right from Falcao stuns Harris. Harris is swinging wildly and falls backwards. Falcao has his back again with both hooks in. He's looking for another rear naked choke. Harris is defending well at the moment. Falcao gives it up and Harris eventually scrambles back to his feet. Falcao reverses and presses Harris' back to the cage. Knee from Falcao. They center. Jab from a winded Harris. Harris drops down for a single and Falcao sprawls. Harris stays with the single and pushes Falcao back against the cage. Big takedown by Harris but Falcao right back up. Jab and body kick from Falcao. High kick and straight right from Falcao and Harris drops down to avoid. He's working on a single but getting nowhere. Falcao looking to ground and pound with 30 secs left. Harris works his way to his feet. Overhand left by Harris misses as the bell sounds. I scored the round 10-9 for Falcao. I also had him winning the first round 10 - 9.
On the replay it looked like Harris tapped before the horn sounded. That was a crazy ending.
This article is
What is the duplicate article?
Why is this article offensive?
Where is this article plagiarized from?
Why is this article poorly edited?