2010 Michael Vick: The Most Dangerous Quarterback To Ever Play in the NFL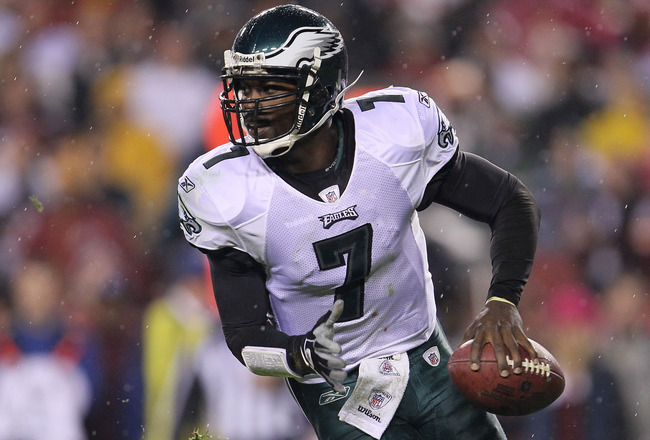 Chris McGrath/Getty Images
Even after missing time due to injury, Michael Vick has to be the favorite to win the NFL's MVP Award, the Comeback Player of the Year Award and any other awards he may or may not qualify for.
Vick is putting together an absolutely masterful season and finally living up to all of the hype that followed him before his dogfighting indiscretions.
This season, Vick has been better than Tom Brady, better than Peyton Manning and remarkably better than Drew Brees and Brett Favre. Vick has finally developed accuracy and maturity in the pocket to accompany the strong arm and incomparable athletic ability that has always been his trademark.
Vick was a successful quarterback as a member of the Atlanta Falcons, and that was back when many scouts and analysts had serious doubts about his abilities as a pocket passer. Those doubts are gone, along with any doubt as to who the NFL's best player is.
Vick is the only player in the game who is a legitimate threat on every single play to find the end zone either on the ground or through the air. In fact, not only is Vick the best player in the NFL this season, but the 2010 version of Michael Vick is the most dangerous player to ever strap on a football helmet.
Consistency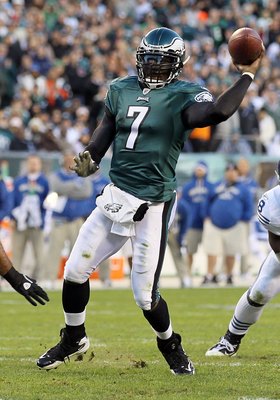 Jim McIsaac/Getty Images
A former flaw in Vick's game, consistency has now become one of the developing quarterback's greatest weapons. Vick is dangerous on every single play of the game and is making fewer mistakes every week of the season.
Vick's consistency is illustrated best by his passer rating and interception total. His passer rating is simply amazing this season, both for himself personally and in the league as a whole.
His passer rating through six games stands at 115.1, good enough to be the highest in the league. This is also the highest passer rating of his career by a significant margin. In fact, Vick's lowest passer rating in a full game this season, 93.7 against Indianapolis, is higher than his season passer rating from any of his years in Atlanta.
Also, that 93.7 would put Vick at 11th in the league this season, which isn't bad for your worst game of the year.
The most remarkable statistic Vick has put up this season may just be that he has yet to throw an interception. Troy Smith is the only other quarterback in the league with more than 20 pass attempts who has yet to throw an interception (47 attempts).
Vick, meanwhile, has thrown 153 passes without a single turnover through the air. For a quarterback whose best career touchdown-to-interception ratio was two-to-one in 2002, eleven touchdowns and no interceptions is an incredible improvement.
As a Falcon, one of Vick's downfalls was how often he would beat himself. It was often said that the only person who could stop Michael Vick was Michael Vick. Vick seems to have gotten the message. If he continues to play mistake-free football, he is absolutely unstoppable.
Speed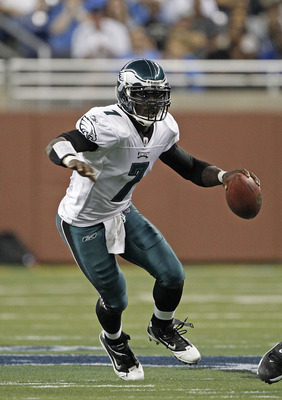 Leon Halip/Getty Images
Speed has always been the hallmark of Michael Vick's playing style. He is undoubtedly the fastest quarterback to ever play in the NFL and quite possibly one of the fastest players in the game today. Vick's athleticism is actually more dominant than numbers can show, as his ability to cut makes him more elusive than players that may actually run faster 40-yard dash times.
When playing with Atlanta, Vick used his speed to break off electrifying runs and kept plays alive by scrambling for yardage when facing a blitz. Vick's speed has always been impossible to prepare for or practice against, as it simply does not exist elsewhere in the league.
Vick didn't lose a step during his time off, and his 7.8 yards per carry this season is the third-highest average of his career. He has four rushing touchdowns in six games, and if last night's game against the Redskins is any indication, the only way to slow Vick down is to injure him.
Vick has been running all over teams at will this season, and that is what makes him so dangerous. No other player in NFL history has possessed an ability like Vick's to turn a severely broken play into a first down with such frequency and ease.
Vick is the only quarterback in the league that can turn a well-executed blitz into positive yardage simply by making people miss. He is the bane of defensive lines across the country, as well as the easiest player to block for in the league.
Arm Strength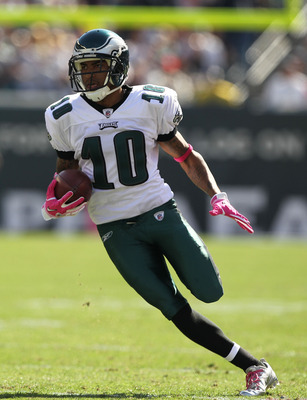 Al Bello/Getty Images
Michael Vick has one of the strongest arms and prettiest spirals in the NFL today. These two skills allow him to hit receivers with deadly accuracy seemingly miles down the field. Against the Redskins, Vick had passes of 88 and 47 yards and an average of 11.9 yards per attempt.
This means that every time Vick threw the football he averaged a first down. Combine this with his average of 10 yards per carry on the ground, and on average, every time Michael Vick made a play with the football he picked up a first down for the Eagles.
This is absurdly dangerous in the NFL. Averaging a first down at the quarterback position makes an offense utterly unstoppable. These numbers, although inflated in a big win, are also not that far off from how Vick has been playing this season.
Vick has thrown a pass of 50 yards or longer in four out of his six starts and currently averages 8.82 yards per attempt on the year, which is behind only Phillip Rivers for the league lead.
Vick's arm strength allows him to hit receivers all over the field. More importantly, it lets him make solid throws while on the move. If one of the fastest men in the NFL can throw the ball anywhere on the field while on the move, there is really no way to stop it.
Accuracy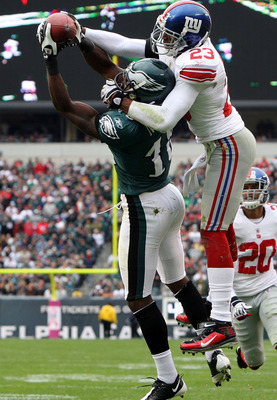 Jim McIsaac/Getty Images
Accuracy has long been one of the main flaws in Vick's game as a quarterback. While he always had the gifts of dominant athleticism and a big arm, he often struggled with finding and hitting his receivers. As of right now this no longer seems to be an issue. Accuracy is the most important improvement in Vick's game this season.
Vick's completion percentage is up about six percent from his career high and currently sits at 62.7 percent for the season. This has him at 12th in the league rankings, which is likely the highest he's ever been on that list.
While it may appear closer to the middle than the top of the list, it must be taken into account that Vick is on the move more than any other quarterback, and the combination of throwing on the run and throwing deep as Vick often does will lower your completion percentage.
The main statistic to look at regarding Vick's passing game this season is his interceptions total. Vick has yet to turn the ball over through the air and has stopped beating himself with bad mistakes.
If Vick continues at his current rate, there is simply no defense that can contend with all of the ways he is able to beat you.
Pocket Presence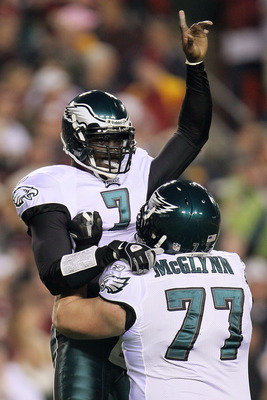 Chris McGrath/Getty Images
Vick's greatest improvements this season have come in the form of development in the passing game. Vick is finally playing the game like a quarterback who can run instead of a running back who can occasionally throw the football.
Vick is standing in the pocket longer, making better reads and using his athletic ability to buy his receivers time. In the past Vick would drop back, survey the field quickly and take off downfield at the first sign of trouble. While this was still effective, it was not dominating in any way.
Vick has been dominant this season because he is combining all of his abilities and playing the way a quarterback should play. All you have to do is watch one possession of Eagles football, and you will likely see Vick show off his accuracy, arm strength and athleticism.
However, what you may not notice at first glance is how comfortable he has become in the pocket. Vick will sit there until the very last second and then either find an open receiver or evade the danger. Once the danger is evaded, he is not just running downfield anymore, but keeping his head up and moving in the pocket. If there really are no options to throw to, then Vick takes off running and more likely than not picks up the first down.
It is this development more than anything that makes the 2010 version of Michael Vick the most dangerous player in NFL history. While this may be a bold statement, consider the fact that only the quarterback can hold this title, as he is the only player on the field that handles the ball on very nearly every play.
Now in the long and illustrious history of quarterbacks, has anybody ever been as dominant a runner as Michael Vick?
The answer: not even close.
A more simple way of proving this point comes in the form of question. If your favorite team is facing a 4th-and-15 with the Super Bowl on the line, out of every player to ever play in the NFL, who would you want under center?
Picking anyone but Vick here would be just plain dangerous.
Keep Reading

Philadelphia Eagles: Like this team?