Gutter Balls: College Football Bowl Streaks in Jeopardy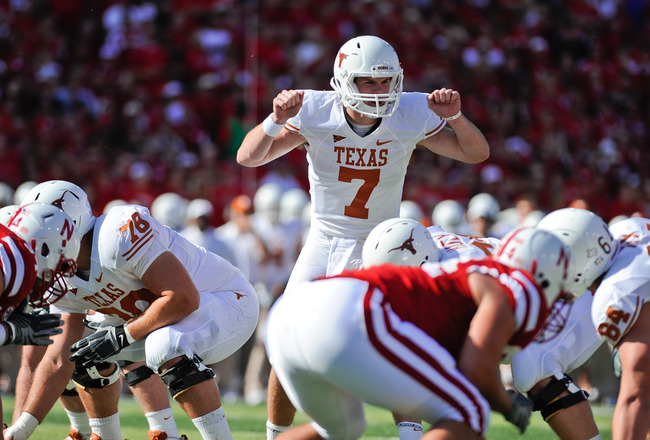 Eric Francis/Getty Images
Oregon. Boise State. Auburn. TCU. Wisconsin.
When most people think of the upcoming bowl season this year, they are interested in where the above teams are going to land.
However, a lot a familiar names are missing from that list. And not only are they missing out on a BCS game, there is a large chance that they won't get to travel at all during December and January.
Here are the teams with the longest active bowl streaks who may may be reset to zero after this year.
Boston College, 5-5, ACC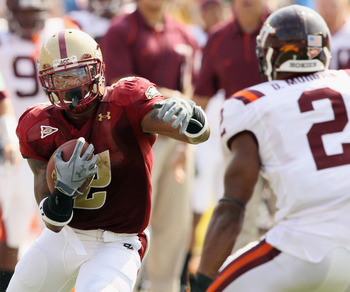 Elsa/Getty Images
While the Eagles are not the first team to come to mind when bowl streaks are brought up, BC finds itself with a 11 year bowl streak that is in seriously jeopardy.
Though Boston College wasn't expected to be a serious contender for the ACC title, it was expected that they would find a way to win 8 games like they usually do. However, inexperience and switches at the quarterback position left BC with a serious hole to fill.
However, the ACC's leading rusher in Montel Harris has kept the Eagles alive for a bowl bid.
Remaining Games:
vs Virginia (4-6)
at Syracuse (7-3)
Prediction
BC beats UVA to secure a bowl for the 12th consecutive year.

California, 5-5, Pac 10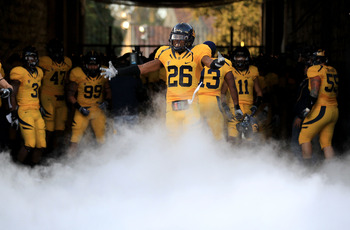 Ezra Shaw/Getty Images
Cal, coming off a heart-breaking 15-13 loss to #1 Oregon, now find themselves in a position they do not want to be in.
However, if the Bears miss out on a bowl for the first time in seven years, expect some rage to be had by Berkeley fans. Despite playing ranked Arizona and the aforementioned Oregon Ducks very valiantly, Cal has dropped a couple of lackluster performances by losing to Oregon State by 28 and to USC by 34.
Remaining Games
vs #6 Stanford (9-1)
vs Washington (3-6)
Prediction
Though they may play Stanford tough at home in a rivalry game, expect the Golden Bears to pick up their 8th straight bowl bid with a win against UW.

Georgia Tech, 5-5, ACC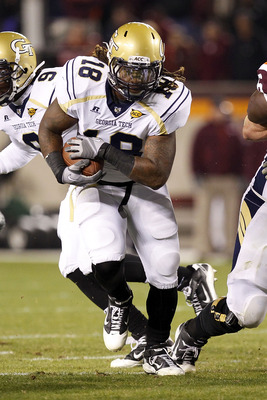 Geoff Burke/Getty Images
With the Yellow Jackets being my team, being in this situation is a major disappointment.
Coming off an ACC title and Orange Bowl bid, Tech looked to rebound with a respectable record. Though they lost to four of their 5 best players to the NFL draft, GT maintained a preseason top 25 ranking across the board. An unexplainable loss at Kansas could keep the Jackets from getting to their 14th consecutive bowl game.
It is also important to note that Senior QB Joshua Nesbitt is out for the season with a broken arm. Will that cost Tech a bowl bid?
Remaining Games
vs Duke (3-7)
at UGA (5-6)
Prediction
Look for Georgia Tech to pick up their sixth win against a young Duke team.

Georgia, 5-6, SEC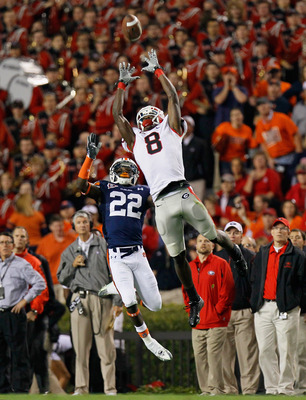 Kevin C. Cox/Getty Images
In a year when practically any team not named Vandy could have won the SEC East, the Bulldogs killed themselves by starting off the season 1-4.
In a year where the media thinks Mark Richt might lose his job, some people have forgotten about the 13 year bowl streak UGA has going. Considering that they have been to three BCS games in that time, UGA is one of those teams that is most surprising in the fact that they are on the brink.
Despite breaking in a new 3-4 defense and starting a freshman QB, Georgia also had a ranking in the preseason top 25 and was a darkhorse pick to win the SEC.
Remaining Games
vs Georgia Tech (5-5)
Prediction
I think UGA stays home this year. Call it homerism all you want, I cannot go against my team.

Texas, 4-6, Big 12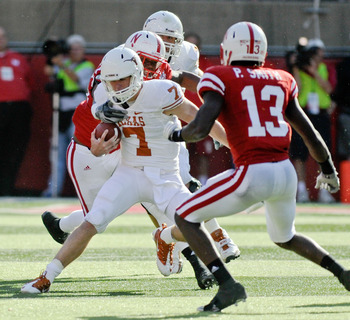 Eric Francis/Getty Images
How the mighty have fallen. A year after participating in the BCS national title game, the Longhorns two games under .500 despite a top ten preseason ranking.
Though Garrett Gilbert showed extreme promise after subbing for the injured Colt McCoy last year in the title game, his inexperience has showed. However, it seems that Texas may be missing WR Jordan Shipley more that winningest QB of all time.
After getting routed by UCLA at home, Texas may find themselves in a place that they haven't been in 12 years.
Remaining Games
vs Florida Atlantic
vs #19 Texas A&M
Prediction
The way the Longhorns have played in big games so far, look for them to fall to 5-7 after the TAMU game.

Texas Tech, 5-5, Big 12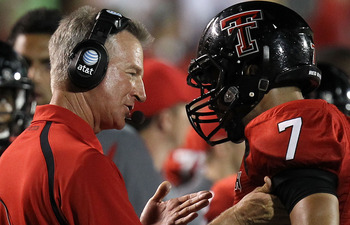 Ronald Martinez/Getty Images
After all of the off-season hoop-la that the university experience, many thought the Red Raiders would miss out on bowling for the first time in ten years.
However, after Tommy Tuberville and company upset Missouri, Texas Tech found themselves in position to clinch a spot in the postseason after all. That being said, this won't exactly be the strongest team to make it into bowl season.
Remaining Games
vs Weber State (Does their record matter?)
vs Houston (5-5)
Prediction
Thanks to their laughing stock of a schedule, expect Tech to get to 7 wins and make it to a bowl game.

Keep Reading

Texas Longhorns Football: Like this team?