Hurricane Hernandez Hits Hat Trick for Pirates in 5-0 Win Over Corpus Christi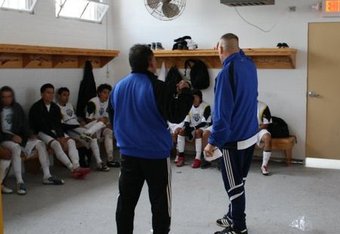 There's never a dull moment when Galveston Pirate captain and star striker Roy Hernandez is around; Sunday was no exception!
After the disappointment of a late cancellation on Saturday with the Club America Academy match due to adverse weather, the players were made to wait that extra 24 hours to play competitive football again after such a long layoff.
The home match on Sunday had been the most anticipated in Galveston for years and as the Pirate players took to the field at Courville Stadium, it must have been a very proud moment for the players and their families, but especially coach Brendan Keyes, without whom all this wouldn't have been possible.
The match got underway but it took around 20 minutes for the game to burst into life with Roy Hernandez opening the scoring with a stunning trademark volley that couldn't be saved by the Corpus Christi keeper despite his valiant efforts to keep it out of the net.
Hands still stinging from the Roy "Starnandez" strike, the CC keeper was picking the ball from the back of the net again a few minutes later when another Hernandez strike hit the back of the net, only this time it was Luis Hernandez that made the net bulge to give his side a 2-0 lead after a nice lay offfrom Roy.
Roy's goal assistance didn't end there as he then set up Jonathan Yanez to round of the first half scoring a few minutes before the end of the 45 minutes.
The Pirate players started the second much the same at the first ended, with complete domination!
This was never going to be as close an affair as the first game of the season with Roy soon adding another only a couple of minutes into the second which finished the game as a competition and gave coach Keyes reason to smile.
Roy added his third and the Pirate's fifth of the match with a nice bulleted header after an inch perfect Alcantar cross to round of the scoring for the home side.
As he and his team relaxed in the after match meal, Pirate coach Brendan Keyes said afterwards,"It was great to get back in action after such a long time since our last league match. From front to back today, we were outstanding and we now look forward to the rearranged Club America fixture on Wednesday night."
After another three goals from star man, Roy Hernandez, it's hard for his name not to be brought up in a conversation with Coach Keyes no exception to his quality, stating, "Roy was an injury worry prior to the game but he insisted on playing saying he was fit and after three goals and two assists, who can argue with that return? He's a truly outstanding player, he has scored 29 goals this year and is an inspiration to the other players."
Keyes was also quick to point out the merits of the other players saying,"Yes, Roy scores plenty of goals but this is a team game. Today, they were all winners and all deserve the plaudits, everyone played their part in what could have been a tricky tie."
Leaving on a jovial note, Brendan quipped, "As for Roy's Tevez style celebration, dear oh dear!"
Roy himself spoke about the celebration saying, "Well what can I say? He is my favorite player and I always try to perform as he does on the field. From the hustling, to the goal scoring, and cant forget the celebration, lol."
A perfect end to a perfect game I suppose, a nice bit of bum shuffling dance moves!
Final score Galveston Pirate SC 5 Corpus Christi Fuel 0
This article is
What is the duplicate article?
Why is this article offensive?
Where is this article plagiarized from?
Why is this article poorly edited?