Live Blog: Danny Green Defends His IBO Cruiserweight Title Against B.J. Flores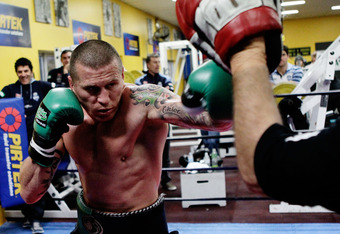 Brendon Thorne/Getty Images
This fight starts at around 4 am eastern and if you are interested in having me do the live blog leave a comment. The Green-Flores fight will start between 7-7:30 am.

Hard punching Aussie Danny Green (30-3 27 KO) returns to the ring three months after his farce of a fight against a comebacking Paul Briggs.
He will be looking to defend his IBO title for the fourth time against American B.J. Flores (24-0-1 15 KO). Flores has won the USBA and WBO NABO cruiserweight titles in his career.
This is the first major test for Green in some time and should be an exciting showdown.
Pretty sure Danny Green just thanked every single person in Australia by name. His thanks went on for about 10 minutes. Well that is all for me tonight. Good night or good morning or whatever! It was a good night of fighting.
Green wins easily by scores of 117-112, 118-110, 118-111.He retains the IBO title and moves to 31-3 with 27 KO's. Flores falls to 24-1-1 with 15 KO's.
Flores wasn't the less skilled fighter in the ring tonight he was the more inactive fighter. He has a lot of energy as the fight ended because he didn't do anything during the right. Neither fighter landed anything big but Green did more and landed the harder punches.
This doesn't make Green a legitimate cruiserweight. It just showed that Flores really wasn't that good of a fighter.
Final Round! Flores needs a knockout and has picked up his work rate in the first 30 seconds. That doesn't last long and he goes back to staring at Green sitting on the ropes. Green is the aggressor actually and lands a few punches in a flurry. Green lands a good right hand but doesn't shake Flores at all. Fans chanting "Green, Green, Green" and he pleases them by landing a right hand off the ropes. 30 seconds left and Flores eats a big left hand and does nothing as the fight ends. Tries to jump onto the second rope and almost falls down. A bad night overall for him.
Green 10-9
Green 117-111
Green seems content to box and not take any chances knowing that Flores needs a stoppage at this point. Green throws the left jab and then goes to the body. Green is warned to keep them up after Flores complains he was hit low. Green lands some good left hands and backs onto ropes. He lands another good left handed jab on the chin. Flores tries to rush in but lands nothing. Green lands a good right hand and the two exchange some as the round ends.
Green 10-9
Green 107-101
Green is throwing the left jab to start the round. Flores throws some punches but misses with all of them. Green lands a body shot and is actually boxing very well for a guy who is known as a slugger. Flores hasn't landed anything of note in this round so far with 30 seconds left. Flores lands a good right hand.
Green 10-9
Green 97-92
Green doubles up the left but neither have much effect and the lights seem to dim a little. Flores is throwing the left jab still and is missing them. Green lands a very nice and hard left jab and Flores walks into another left hand. Flores throws Green onto the ropes. Flores has a good bounce in his step still but is doing nothing. Flores lands a left jab while Green is on the ropes. Green lands a good body shot but Flores countered with a good left hook.
Flores 10-9
Green 87-83
Green lands another good left hand to the head of Flores about a minute in. He goes back to sitting on the ropes and Flores goes back to just staring at him. He is keeping the jab in his face but isn't putting anything behind it at all. Flores finally opens up some but misses both shots. He lands a big looping right hand on the left ear of Green. Green responds with a good right hook. Flores lands a good right but is cracked with a even bigger left from Green.
Green 10-9
Green 78-73
Green lands another good left hand and the legs of Flores buckle a bit. He is okay and still pumping the jab. Green is back on the ropes and avoiding punches very well. Not much has happened with only a minute left. Flores lands a good left hook but gets hit with better left from Green.
Green 10-9
Green 68-64
Green lands a very good left hand and Flores is stuck on the ropes. Flores sticks with the jab but still isn't throwing anything behind it. Green is back on ropes and throws a leaping left hand. Flores has Green on the ropes but is just looking at him. Green gets a good left hand through the guard of Flores. Flores lands a solid left hook and barely misses with another. Flores is very inactive.
Green 10-9
Green 58-55
Flores complains of Green using elbow but referee says box on. He keeps the jab going again and Green backs himself onto the ropes again. Flores just stand there and looks at him. Green is told not to hold and hit after he lands a uppercut while holding and hitting. Green backs onto ropes again and rushes in without landing much. Green lands a double jab then walks across the ring and sits on the ropes. Flores lands a solid jab and Green answers by landing a left hand. Green getting inside but not landing much. Flores lands good shot to end round.
Green 10-9
Green 48- 46
Neither fighter lands anything of note in first 30 seconds. Flores keeps the jab going and lands a good left hand to the head. Green is keeping the jab in the face of Flores. Not a lot of action so far in the round. Green throwing but not really landing anything. Flores lands a good hook and Green is on the ropes again. Flores lands two good body shots. They fight as round comes to end but neither land anything.
Flores 10-9
Green 38-37
Flores starts the third round moving around and keeping the jab in Green's face. Green goes back to the ropes and lands a good jab off the ropes. Green lands a good right hand and Flores misses wildly. Green lands a counter right over the top and a nice left jab. Flores keeps the jab in his face but is putting nothing behind it. Green lands a right to the body and Flores jabs to the head again. Another tough round to score.
Flores 10-9
Green 29-27
Flores goes back to the jab at the start of round two while Green tries to cut the ring off. Flores throws a right hand that misses and sits with his back on the ropes for the first minute. Throws off ropes but lands nothing. Flores lands a solid right hand and Green misses wildly. Flores lands a right on the glove of Green and ties up again. Doubles up the left hand and ties up yet again. Green gets a warning. Flores lands a good jab and gets out of the way of some Green shots. Green lands a good left hook and Flores responds with a jab. Green lands another good right hand to finish out the round.
Green 10-9
Green 20-18
Anthems are done and the crowd sang along with the Australian national anthem very loudly. The crowd is really buzzing. The fight is finally under way and Green tries to land to the body. Flores starts to pump the jab and throws one to the body. Flores holds the first time Green gets close and does it again. Green is getting behind the jab early and both fighters are warned about their heads. Green is warned about using the elbow. Flores lands a solid right hand, Green ducks under a sweeping right hook. Flores lands a good left-right hand combination. Green lands a big right hand the best punch of the round. Tough one to score
Green 10-9
Green 10-9
They show a video package of him working out as well with Dropkick Murhpys playing in the background. They also show him knocking out the living legend Roy Jones Jr. There is no Paul Briggs highlight. Green is walking out now and the crowd is going wild. He is coming out to From the Land Down Under, which is totally awesome. They again cut to his wife and mom dancing together. I like how the Aussie's do things.
Finally time for the main event. The announcer says that Danny Green is nervous but wont be "filling his pants". This commentary has been classic. They have put together a video package of Flores working out and he looks ripped. Hopefully this isn't the last time we see him punching tonight. He walks out to All I do is win and a woman carries the American flag ahead of him. He is totally amped and they cut to a shot of his wife dancing.
MAIN EVENT is finally here. If this is what you want then I suggest you stay here.
Wills has won by scores of 59-55 and 59-54 (2x). He moves to 15-0-2 with 8 KO's. Gilmour put in a very game effort but falls to 7-4-3 with 1 KO. A very entertaining undercard has finally wrapped up.
Next fight is a welterweight fight between Steven Wills (14-0-2, 8 KO) and Casey Gilmour (7-3-3, 1 KO).
Garlett wins the fight by KO-3. He moves to 5-1 with 4 KO's and Donohue falls to 7-10-1 with 3 KO's. Donohue was down multiple times and never in the fight.
Next fight is about to get underway. Quinton Donohue (7-9-1, 3 KO) v. Matt Garlett (4-1, 3 KO)
Wilson wins by scores of 40-36 (3x) and moves to 5-0 with 3 KO's. Bryce falls to 1-1 with 0 KO's. Another good fight that saw Wilson score a knockdown after suffering a nasty gash.
Announcers basically call B.J. Flores ugly as they talk about his wife. They say "he is punching out of his weight class". Classic line but next fight is Jae Bryce (1-0, 0 KO) v. Mike Wilson (4-0, 3 KO).
The winner by scores of 116-112 (2x) and 117-111 is Shane Cameron. He moves to 26-2 with 20 KO's and wins the IBO Asia Pacific cruiserweight title. McCracken falls to 13-6 with 5 KO's. Scores were to wide but the right guy got the win.
Cameron comes out and is active. Cameron lands a good left hand and is pumping the jab. He is the far more active fighter and lands a good combination. McCracken lands a straight left. Cameron lands a great left to the body. McCracken lands a clean right hook to the head with 30 seconds left and another with 19 seconds left. A good fight and McCracken offers Cameron a beer after the fight haha.
Cameron 10-9
Cameron 115-112
This article is
What is the duplicate article?
Why is this article offensive?
Where is this article plagiarized from?
Why is this article poorly edited?