New England Patriots vs. Pittsburgh Steelers Game Blog: Patriots Win on Road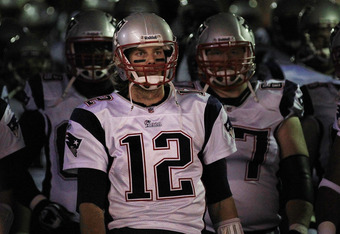 Chris McGrath/Getty Images
My apologies to Matt Miselis, who is already doing a live blog, but I felt as though I wanted to give my in-game opinions as well.

Tonight, the 6-2 Pittsburgh Steelers travel to New England to take on the Patriots, who also have a 6-2 record.

Pittsburgh is coming off a narrow win against the Bengals on Monday night. On the other hand, New England is trying to rebound from a 20-point defeat to the Cleveland Browns.

You can bet your bottom dollar that New England will have revenge on their minds tonight.

I will be listing my thoughts throughout the game, stats, scores and much more!

Follow me on Twitter to talk sports!
http://twitter.com/TannerThoms
MVP of the game:

Tom Brady- 30-43, 350 yards, 3 TDs
End of game

New England- 39

Pittsburgh- 26
Ty Warren and Tully Banta-Cain combine for sack on Roethlisberger, New England's fifth of the game.
Shayne Graham connects on a 36-yarder for New England.

New England- 39

Pittsburgh- 26
I would like to thank Ben Roethlisberger for his tremendous game tonight. I was down big time in fantasy before tonight's contest.
Ben Roethlisberger to Mike Wallace for yet another TOUCHDOWN.

Two point conversion is successful by Mewelde Moore

New England- 36

Pittsburgh- 26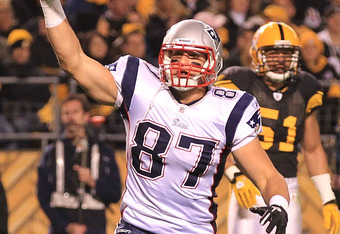 Tom Brady finds Rob Gronkowski in the end-zone for the third time! TOUCHDOWN, New England

New England- 36

Pittsburgh- 18
Tom Brady's short pass to Sammy Morris results in a first down.

5:25 remaining in the game.
Ben Roethlisberger zings a pass to No. 1 wide-out, Mike Wallace, for a TOUCHDOWN.

Mewelde Moore runs in for successful two point conversion.

New England- 29

Pittsburgh- 18
Steelers are driving down the Patriots throat, but it's a little too late.
Ben Roethlisberger pass intercepted by James Sanders, and taken for a TOUCHDOWN.

Two point conversion by New England fails

New England- 29

Pittsburgh- 10
Pittsburgh must continue to pass for the rest of tonight's game. Roethlisberger has looked sharp over the last quarter.
Intentional grounding penalty moves Patriots ten yards back. New England will punt from Pittsburgh's 39 yard line.
Brady to "law firm" BenJarvus Green-Ellis for a first down. New England continues to wind down the clock, and the hopes for a Pittsburgh comeback.
Big Ben throws a fade to Emmanuel Sanders in the corner for a six yard Touchdown.

New England- 23

Pittsburgh- 10
Ben Roethlisberger finds Mike Wallace for a 21 yard gain to the New England six yard line.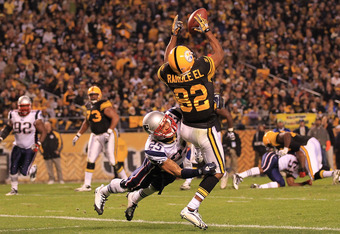 Ben Roethlisberger connects with Antwaan Randle El for 20 yard gain.

End of third quarter
Tom Brady rushes up the middle for a three yard TOUCHDOWN. Extra point by Shayne Graham is no good.

New England- 23

Pittsburgh- 3
Tom Brady connects with Randy Moss' replacement, Brandon Tate, on 45 yard play.
Jeff Reed 28 yard field goal is NO GOOD. New England stays on top by 14.
Pass Interference call on Brandon Meriweather places the ball on the eight yard line for Pittsburgh.
Steelers run the ball on consecutive plays for the first down. Pittsburgh is near New England territory.
Patriots move back 13 yards in three plays. New England will punt.
Steelers crowd beginning to show serious enthusiasm. This could potentially be the turn-around that they need.
Ben Roethlisberger sacked for the fourth time tonight. Steelers punt the ball away once again.
This article is
What is the duplicate article?
Why is this article offensive?
Where is this article plagiarized from?
Why is this article poorly edited?

New England Patriots: Like this team?