Nebraska Football: Officials Biased Against Cornhuskers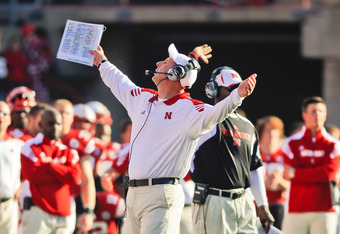 Eric Francis/Getty Images
Zebra Exasperation.
What else could you call it?
Referee resentment? Official irritation? It doesn't matter. What matters is that the Big 12 does not like Nebraska.
Just watch a Nebraska game. You can tell.
After three straight weeks of questionable officiating following the controversial one-game suspension of Nebraska's Eric Martin for a supposedly flagrant hit, it's becoming clear that the tension between Nebraska and the Big 12 is snowballing.
Big 12 Commissioner Dan Beebe and head of officials Walt Anderson seem to be playing prominent roles in that build-up.
Way back in June and July, the Big 12 was in the midst of a huge conference shake-up. Colorado and the whole Big 12 South seemed to be headed to the Pac-10, Nebraska was headed to the Big Ten, Missouri was trying to figure out why they were curbed in favor of the Huskers, and Kansas, Kansas State and Iowa State were panicking as their conference fell apart before their eyes.

Must Read: Top Running Backs in Nebraska History
Who is to blame for the poor officiating in Nebraska games?
Eventually, through a last-minute patch job, Dan Beebe coaxed Big 12 titan Bevo to stick around, and the South followed suit. The conference was saved...for the time being.
That left the Cornhuskers and Buffaloes, who were both set to bolt after the 2010 season. Inevitably, the big brother was made the bad guy and the little brother was ignored.
Here's a summary of how it went down: The Big 12 was drifting towards destruction. The Big Ten expressed interest in the resurgent Cornhuskers. Texas threatened to bolt for the Pac-10 and demanded commitment from Nebraska. The Huskers called Texas' bluff, forcing Dan Beebe to use Elmer's glue and duct tape to hold the conference together.
Thus began the process of one ugly divorce.
Fallout from this separation was bound to happen. Nebraska's public rejection of Texas' demand didn't sit well with Texas or its butler, Mr. Beebe. The Cornhuskers entered the season with high expectations and were picked by some to win the Big 12.
But the Big 12 couldn't let Nebraska go out with the last laugh. No matter—Texas would take the South and beat the Huskers in the conference title once again.
Unfortunately, the Longhorns did walk away from Lincoln with a victory, thanks to a bevy of drops, fumbles and missed tackles by the inconsistent Huskers.
But what nobody had foreseen was the subsequent collapse and implosion of Mack Brown's boys.
Sitting at 4-6, the Longhorns are last in the Big 12 South, while the 9-1 Cornhuskers are the clear favorite in the North. Assuming the Huskers win one of their last two, the last Big 12 championship will be Nebraska's for the taking, if they can take care of Oklahoma State once again.
This wasn't the season Beebe expected.
Clearly, the Big 12 is doing everything it can to prevent the Huskers from winning what will be the final Big 12 championship. This all started against Oklahoma State, with a suspension of special teams dynamo Eric Martin as a result of a thunderous hit that left an OSU player injured. The hit was deemed "flagrant" by Beebe, even though it was a legal hit.
The following week against Missouri, quarterback Blaine Gabbert was smeared by safety Courtney Osborne and fumbled the ball. However, the officials called the play dead as a result of stoppage of forward progress, even though Gabbert was not moving forward on the play.
What's more, the fumble was ignored while Osborne was accused of an illegal helmet-to-helmet hit on Gabbert and was in danger of suspension. Walt Anderson issued no apology for the botched call.
A week later in Ames, a run by Roy Helu Jr. was called a fumble after Helu's forward progress was clearly stopped, and the ball could not be seen on the replay until well after Helu was down on the ground, anyway. This led to an Iowa State touchdown.
Later in the game, running back Rex Burkhead powered his way into the end zone and was being held up by several players. An Iowa State defender proceeded to grab Burkhead by the helmet and wrench his head sideways and upwards into a dangerous position. Clearly an unnecessary act, the refs threw a penalty flag.
However, the penalty was not called on Iowa State. Rather, it was called on Nebraska fullback Tyler Legate, who had pushed the defender away from Burkhead.
In essence, Legate was flagged for being concerned for his teammate's health.
By this week, Husker fans had come to expect classless officiating by the Big 12, and for good reason.
A good 20 of Kansas' 73 total rushing yards came on one quarterback scamper in which a Kansas lineman grabbed Husker defensive tackle Baker Steinkuhler by the jersey and simply held him back from catching the quarterback. No call.
On another play, Helu was handed the ball and darted around the right corner, galloping for a nice gain. Upon replay, I noticed a Kansas player grab Helu's facemask, which helped bring him down. No call.
Still another hold was committed against Jared Crick, who still proceeded to power his way for the sack on the play. No call. This one would have been declined anyway, but it's the thought that counts, right?
Brian Bahr/Getty Images
After four weeks, and four wins, this is getting out of hand.
To be fair, it doesn't help matters that Bo Pelini is constantly in officials' faces for one reason or another. Suffice it to say, the zeebs feel no guilt in making calls against the Huskers' polarizing figure. But you can't blame him for sticking up for his players and for what he feels is right. He knows what the refs are doing—he sees it. That's probably why there has been no shortage of his outbursts this year.
So, what can be done to hinder the escalation of this madness?
Nothing.
There is nothing Husker fans can do except rally around their coach and their team. They would never admit it, but the Big 12 has it out for the Big Red. After seeing the refs butcher call after call, there is simply no other logical explanation.
You want to call me paranoid, irrational, or a conspiracy theorist? Go right ahead.
I'll stick to my word, if nothing else for the simple supposition that Beebe and Anderson would stoop this low.
Bo Pelini is the perfect man for this situation. He already has his team thriving on the us-against-the-world mentality, and if these past few weeks aren't proof that it really is us against the world, I don't know what is.
Nothing would be sweeter than to part from the Big 12 with a slap in the face. But the Big 12 will not let up. If anything, it will get worse, and assuming the Huskers make it to the Big 12 title game, the officiating in game could be nothing short of outrageous.
The fallout won't end until the season does. So how does Nebraska respond? They've been able to crank out four wins despite the biased officiating. For that to continue, the Huskers will need to play mistake-free football, keep cool heads, and take notes from their class-act athletic director, Tom Osborne.
Maybe Dan Beebe and Walt Anderson should be taking notes as well.
This article is
What is the duplicate article?
Why is this article offensive?
Where is this article plagiarized from?
Why is this article poorly edited?

Nebraska Huskers Football: Like this team?