UFC 122 Results: Yushin Okami Earns Shot, B.J. Penn Talks and 25 Lessons Learned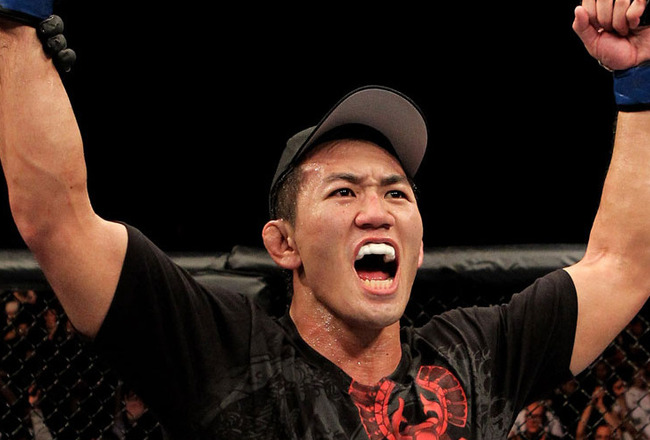 You can't say that Yushin Okami abused Nate Marquardt on his way to victory in the UFC 122 co-main event. I'm not even sure you can say he clearly beat Nate the Great, but Thunder got the victory on the scorecards and to the victor go the spoils.
As the saying goes.
The Japanese middleweight's long-awaited date with his dream was not the only story line from a decent card in Oberhausen, Germany. Though Okami's ascension was the most profound development from across the Pond, there were many other tidbits littered throughout the entire card—the preliminaries and main attraction.
Here are 25 takeaways from the UFC's second trip to Deutschland.
No. 25—Alessio Sakara May or May Not Have Lupus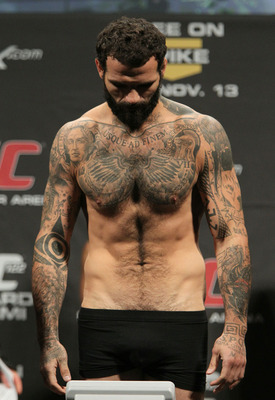 We knew fighters were cut from a different kind of cloth, but dear me...
I have no idea how serious lupus is or if Legionarius really has it (since there was only mention of a rumor), but it doesn't sound like something that would be helpful to a career in professional combat sports.
Either way, Sakara was puking backstage before his contest so, yeah, he probably wasn't in condition to scrap.
No. 24—The Internet Is Not Omnipotent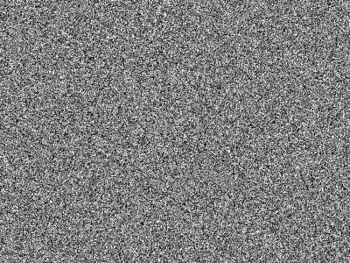 For the first time that I can remember, the Interwebs were totally powerless to aid in my pseudo-piracy of a mixed martial arts event.
I can't tell you whether it was hyper-vigilance by the UFC's cyber-police or simply lack of video as a function of the German media's anti-MMA blitzkrieg (too early?), but I do know I looked high and low for a live stream of the prelims.
What I uncovered was a big, fat zilch until the main card started.
No. 23—Kneebars Are Gruesome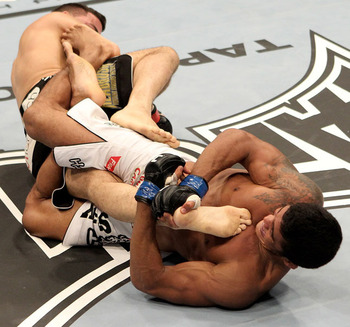 This is not so much a lesson learned as it is a lesson reminded.
You might see many a gnarly thing inside the Octagon and those fans who blanch at the sight of blood need not apply. But, for my money, there is nothing more stomach-churning than when a kneebar gets clamped on with no avenue of escape.
It's not in most fighter's nature to tap until it's already too late and that means most of 'em get up grimacing, unable to put weight on the assaulted joint.
Oof, makes me a little queasy just writing about it (did I mention I had knee surgery at 18?).
No. 22—Dennis Siver Saved the Main Card from a Bonus Shutout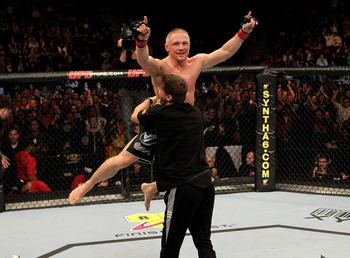 It was almost a really embarrassing show from the main card—the meat and potatoes portion of the card lost one of its sexiest matchups (Sakara/Rivera) and was in the processing of putting up lackluster dookie across the board until Siver stepped in (more on him later).
Though they hadn't been awarded yet, Karlos Vemola had already forced the ref to save his victim from total darkness while Pascal Krauss and Mark Scanlon had ripped at each other with reckless aggression. Vemola's work would net him Knockout of the Night and the Kruass-Scanlon connection was good for Fight of the Night honors.
So the big boys were in danger of a hideous bagel until Dennis saved the day with his exhilarating submission of Andre Winner that earned Submission of the Night.
No. 21—I'm Out of My Depth When Judging Non-Striking Battles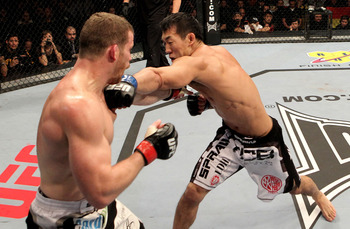 As I alluded to, I thought Nate Marquardt had taken a unanimous decision when I watched his bout with Yushin Okami live. In fact, I didn't think it was particularly close given both fighter's relative inaction in the second round—it was either a draw or a UD for Nate the Great in my eyes.
But, upon further review and after talking to a few friends with a taste for the combat sports, I can see how Thunder earned the victory. I'm still not sure I agree, but I'll concede that the nuances of jostling for position and how they translate to fight control/aggression are beyond my grasp.
Of course, the fact that I was leaning in Thunder's direction eases the sting of the concession.
No. 20—But the Judging In MMA Does Need Work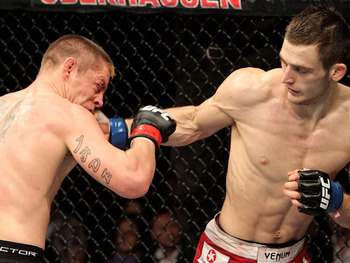 I will make no such concession regarding the miscarriage of justice between Duane Ludwig and Nick Osipczak—Slick Nick got robbed at gunpoint and there's no two ways about it.
It was obvious watching it live and during the replay on Spike that the British competitor took the first two rounds before flagging badly in the third.
Bang Ludwig spent about 2:30 minutes of the first sniping away at his target, but Osipczak turned the tide with that right hook.
He proceeded to drop the American twice and score a takedown; i.e., he won the first round. The second round was closer, but he still blocked almost all of Ludwig's offense while scoring with his return fire.
The third was all Duane, but that was the only one.
Brutal decision.
No. 19—Krzysztof Soszynski Is Screwed at 205 Pounds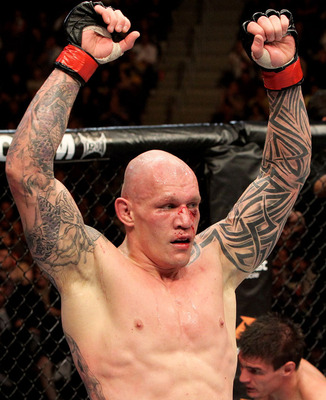 The Polish Experiment is one impressive mammal—he looks to be heavily muscled from head to toe and the body art helps with the intimidating aesthetic. But the big fella has quite a bit of finesse to his game as well, as evidenced by his facility with the grappling side of things.
And he's totally up a creek in the light heavyweight division.
Soszynski is 33 years old and, though he still appears to be improving as measured by his thorough romp over a game Goran Reljic, it's very difficult to see him challenging in the deepest of deep UFC waters.
Honestly, can you see him waltzing successfully with champ Mauricio Rua? How about Jon Jones? Lyoto Machida? Quinton Jackson? What about Anderson Silva?
Neither can I, and I'm a fan.
No. 18—Karlos Vemola Might Be Onto Something at Light Heavyweight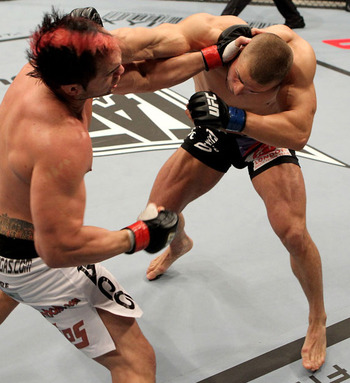 As opposed to Krzysztof Soszynski, Karlos Vemola might be another name to add to the list of dangerous sharks patrolling the 205-pound waters.
It's too early to tell for sure, but Seth Petruzelli isn't a chump and the Terminator was splattering him across the cage with startling ease. You'd probably have to call Vemola raw at this point in his career, but he's got physical tools with which to play.
The Czech fighter is still only 25 and he looked extremely strong after dropping down from heavyweight.
It'll be interesting to see if Dana White and the powers that be toss him into the feeding frenzy immediately, or if they nurture him a la some of the other young talent in the division.
No. 17—Carlos Eduardo Rocha Made a Splash in His Debut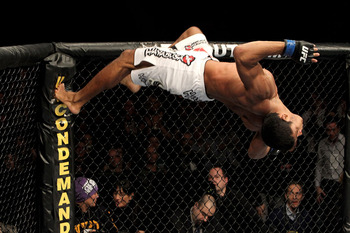 No, Rocha didn't pull off that madness in mid-fight, but he was nonetheless impressive in victory over Kris McCray.
McCray has clear talent and is quickly picking up the intricacies of mixed martial arts. Additionally, he's fearless and gives every appearance of being one tough cookie.
The runner-up from Season 11 of The Ultimate Fighter was performing well despite attacking Ta Danado in the latter's world—on the ground where the Brazilian holds a black belt in Brazilian jiu-jitsu.
But Carlos never panicked and eventually locked in the fatal kneebar that ended the bout, possibly doing significant damage to the joint in the process. It'll be interesting to see what he can do at welterweight.
Keep in mind this was the man's UFC debut, he's 9-0, and ended all nine contests (eight submissions and one TKO).
No. 16—Chandella Powell Flies Under the Radar, Which Does Not Seem Possible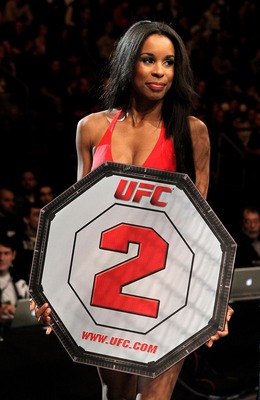 Seriously, how spoiled are we?
And by "we," I mean heterosexual men.
Chandella is melt-your-face hotness, yet she's not the star, so she goes under-appreciated.
No. 15—Amir Sadollah Gives Us the Mandatory PSA Regarding Leg Kicks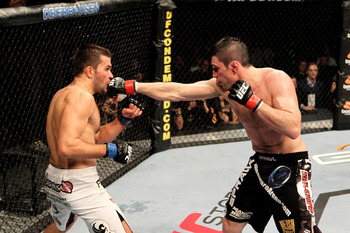 Speaking of under-appreciated, let's take the obligatory moment to note (again) how consistently effective leg kicks seem to be.
I realize the picture makes for an odd companion and, truth be told, Sadollah was winning that fight regardless of the leg kicks. He was simply on fire out there and picked apart Peter Sobotta from start to finish. But the savagery the TUF Season 7 winner inflicted with his shins—mainly to Sobotta's thighs, but to the body as well—greatly enhanced the visuals.
It also demonstrably limited the young German's ability to do much of anything as the battle entered the later stanzas. At several junctures, Sobotta favored his lead leg badly and/or had to visibly compose himself after another thudding salvo landed.
Yet kicks still surface with almost criminal rarity.
No. 14—The Ultimate Fighter Needs Make No Apologies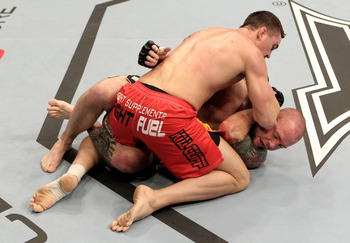 True, TUF alumnus Kris McCray got kneebarred into submission. To boot, alumnus Andre Winner got pulverized by Dennis Siver and Nick Osipczak "lost" his meeting with Duane Ludwig.
But the reality show also saw former cast members take resounding victories when Kyle Noke submitted Rob Kimmons, Amir Sadollah crushed Peter Sobotta, and Krzysztof Soszynski had his way with Goran Reljic.
It's becoming clear that TUF isn't going to produce too many champions, but it is churning out decent-to-legitimate contenders on a fairly regular basis. In essence, it's operating like a very small developmental league for the UFC.
Toss in the guilty-pleasure entertainment quotient and nobody can complain.
No. 13—Germans Love the UFC Even If Germany Does NOT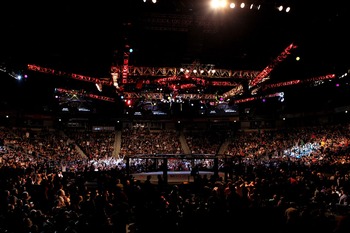 There was quite a ruckus over in Germany the last time the UFC visited (UFC 99). The entire sport was banned from television and minors were barred entrance to the live events.
As is usually the case, all the controversy seems to be doing wonders for the sport's popularity as well as the organization's. The crowd sounded lively and the Konig Pilsener Arena looked jam-packed.
Translation: Well played, German media, well played.
Right up there with the Vatican's public hostility toward The Da Vinci Code.
No. 12—Dennis Siver Might Need a Bust in the Underrated Hall of Fame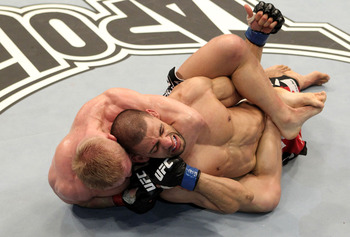 Every now and then, a warrior suddenly emerges from obscurity and you find yourself mystified that you've never paid him any attention until now.
Chris Lytle is a great example of the phenomenon—he'd been in the UFC FOREVER and taken on some of the top talents with varying degrees of success, yet it took a string of Fights of the Night to garner him anything that could be considered adulation.
Well, Dennis Siver might be the next guy in that particular line.
The Russian-German's sit-up-and-take-notice submission of Andre Winner at UFC 122 makes a second consecutive triumph for the 31-year-old after he sliced up Spencer Fisher last time out.
Since debuting at UFC 70, Siver has a 6-4 record with three of the losses coming to Gray Maynard, Melvin Guillard, and Ross Pearson. Further vouching for the dude are his four bonuses, accumulated in his last six trips to the cage.
No, he's not going to be wearing the lightweight belt unless there's a monumental shift in the 155-pound landscape, but he delivers the goods almost without fail.
And that's more than a lot of fighters can say.
No. 11—Vladimir Matyushenko Lives to Fight Another Day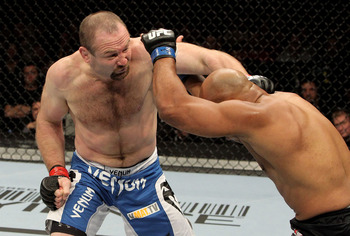 My MMA days date back to the early UFCs and PRIDE Fighting Championships, so there's a rather large soft spot in my consciousness for the Janitor.
Consequently, it was nice to see him get a much-needed win against Alexandre Ferreira. The win over the Brazilian newcomer isn't exactly the stuff of legends, but a win is a win.
Considering his last tussle saw him face the Jon Jones thresher, who could begrudge him a pseudo-layup?
Not I.
No. 10—Joe Rogan Can No Longer Be Trusted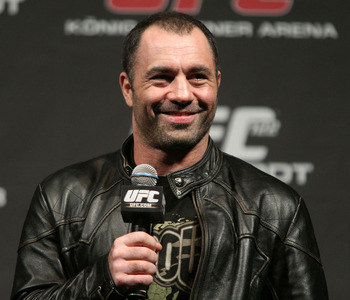 One of the mildly disappointing side effects of the UFC's meteoric rise in popularity has been the inverse impact it's had on Joe Rogan's objectivity.
Once upon the time, I would've put Rogan's color commentary up against the best broadcasters in any sport as far as its candor, technical insight, and its translation of hard-core observation to casual-fan language.
Those days are a distant memory.
Now, Joe's turned his considerable talents more toward the promotional side of things, or maybe he's just become enamored of the warriors who step inside the cage (I'd imagine that's easy to do when your perspective is as intimate as Rogan's must be).
Regardless, the hilarious comic lapsed into the unintentional side of things when he called a couple of the more tepid affairs "great" fights.
I'm still a relatively unconditional fan, but his Octagon-side opinions must now be taken with a boulder of salt.
No. 9—Every UFC Slideshow Must Include Arianny Celeste

Disclaimer: I won't deny this is unabashed pandering and padding all wrapped into one slide.
But what a scrumptious slide it is.
Ergo, I'll make no apologies either.
No. 8—Sometimes Paper Tells an Accurate Story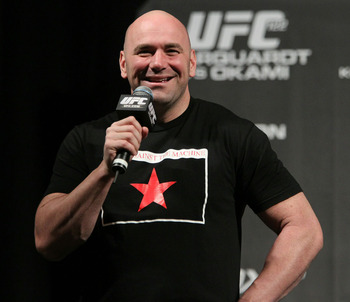 If that picture of UFC president Dana White gets your blood boiling, then UFC 122 either gave you multiple aneurysms (if that's possible) or tickled you pink.
Because what looked like an unfortunate snoozer on paper can justifiably be labeled with the same adjective now that it's become a reality. In short, UFC 122 was ammunition for those who despise White and his cohorts for various and sundry reasons—some with merit, others painfully lacking.
A shallow card became ankle-deep once Alessio Sakara had to excuse himself from his collision with Jorge Santiago in the co-main event. Then the main event left a tad to be desired, which only intensified the dissatisfaction.
Toss in an egregious decision and some one-sided affairs on the main card and the organization's second trip to Germany couldn't truly be characterized as a smashing success.
But then it didn't look like it would be one in the first place.
And injuries are a fact of MMA life so I'm happy to give the UFC brain trust a mulligan.
Granted, I've always enjoyed Dana and Co.
No. 7—It's a Good Thing UFC 123 Is Next Weekend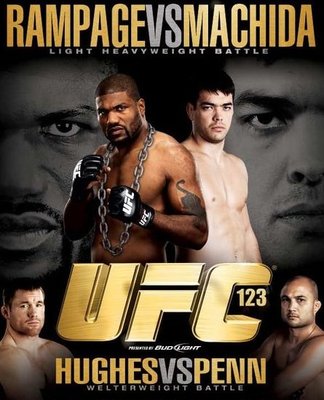 As demonstrated on the last slide, even the most sympathetic UFC fans can't argue that UFC 122 was a barn burner. Not every promotion will be an edge-of-your-seat affair as injuries happen and match-making is an inexact science (despite Joe Silva's impressions to the contrary).
However, it's never an ideal scenario to have the bad taste from a card linger.
That makes the immediate onset of UFC 123 (next weekend) all the more significant. Not only will the memories of Saturday be eradicated by the anticipation of Lyoto Machida against Quinton Jackson plus Matt Hughes' finale with B.J. Penn (not to mention another Phil Davis appearance), but also by the action itself.
Again, UFC 122 wasn't atrocious, but the quick turnaround is still a blessing.
No. 6—The UFC Welterweight Division Is Getting Crowded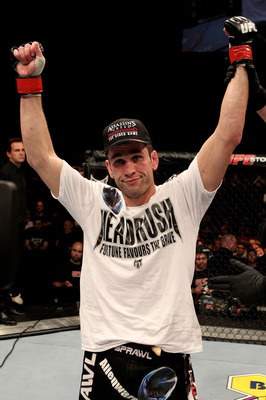 The most talented division in the UFC is currently the collection of light heavyweights. In the last several months, probably more like a year, the heavyweight cup has started to overflow. Between those two masses of humanity, there hasn't been much thought or attention to spare for the other guys.
That's worked out nicely for the middleweights and lightweights since those divisions are building still-modest momentum as we speak. The same could be said of the welterweight class as well, but that's changing.
The introduction of Jake Shields added some immediate spice (even it's a basically flavorless one); Thiago Alves is still floating around; Matt Hughes paradoxically seems to be experiencing a renaissance; B.J. Penn is suddenly in the mix again; Carlos Condit is lurking; Martin Kampmann goes unnoticed; Josh Koscheck is an idiot, but a dangerous one; Dan Hardy is good for a stand-up war if matched appropriately and there is plenty of younger talent awaiting polish (Dustin Hazelett, John Hathaway, etc.).
With Amir Sadollah, Carlos Eduardo Rocha, Pascal Krauss, and a few other 170-pounders distinguishing themselves in Oberhausen, the future looks very bright and very cluttered for the division.
No. 5—Nate Marquardt Comes Up Short, Again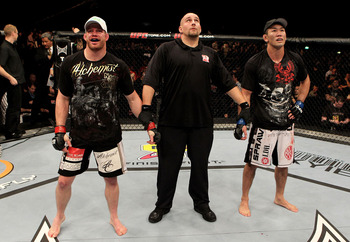 Perhaps Nate Marquardt isn't meant to get another shot at the middleweight belt.
Nate the Great got a crack at the hardware in 2007 and was summarily thrashed by the champ, Anderson Silva. Ever since then, the 31-year-old has been trying to get back within sight of the same near-summit.
A loss to Thales Leites derailed his return journey almost before it began at UFC 85, but Nate authored three consecutive knockouts in the wake of his unanimous decision loss to his fellow challenger.
That got him all the way back to a shot at the No. 1 contender's mantle with only Chael Sonnen standing in his way.
We all know how that unfolded and, now, we've seen Marquardt come up empty in a second stab at the No. 1 contender's spot.
If history tells us anything, it's that Nate Marquardt will keep charging. But it also might be telling us that he's tilting at middleweight windmills.
No. 4—MMA Explosion Is Already Global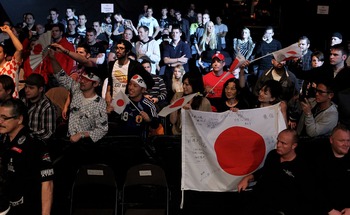 The National Football League, Major League Baseball, and the National Basketball Association (to a lesser degree) have all been trying to spread their brands across both oceans in an effort to squeeze every bit of revenue from their golden geese.
Their progress is hard to quantify, but it hasn't conjured imagery of wild fires or plagues to date.
Now, it goes without saying that the UFC and MMA in general trail these behemoths in terms of popularity in the United States, but the question might not be so cut and dry when posed in international waters.
Consider that UFC 122 featured 10 bouts and produced winners from eight different countries—the Yanks and Krauts each accounted for two wins (a total of four) while Australia, the Republic of Belarus, Brazil, Czechoslovakia, Japan, and Poland each tallied a victory.
OK, so these weren't the cream of the UFC crop and some of the international flavor was more nationality than country of identification/residence.
Nevertheless, the sport is already drawing on a truly global talent pool practically without trying.
In that one regard, MMA might have an advantage on its more entrenched competitors.
No. 3—B.J. Penn Surfaced and He Sounded Eerily Humbled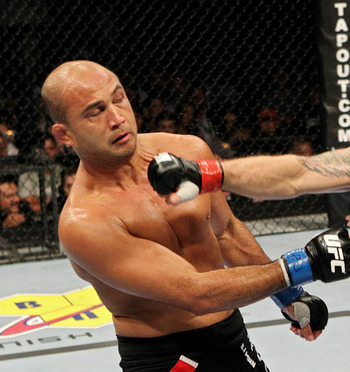 Those of us who fancy ourselves die-hard B.J. Penn loyalists were hoping a re-focused and re-energized Prodigy would enter the cage for his rematch with Lightweight Champion Frankie Edgar.
No such luck.
But if you heard Baby J interviewed about his upcoming tie-breaker with UFC Hall of Famer Matt Hughes at 170 pounds, you might've come away with the same impression as I did—that sounded like a starkly different B.J. than we've heard previously.
He was practically genuflecting in gratitude to Dana White for the "opportunity" to get back in the Octagon with Hughes and even spared some flattery for the former welterweight champ.
That was perhaps the most striking sound bite from the back-and-forth because there is no love lost between the Hawaiian and the Midwesterner from Illinois.
Whether that will have a positive or negative influence on Penn's performance remains to be seen, but there's reason for hope...
No. 2—Yushin Okami, By Hook or By Crook, Is the New No. 1 Contender at 185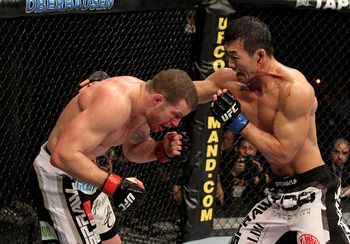 Over two years ago, in October 2008, Yushin Okami was all set for a title shot against Middleweight Champion Anderson Silva. Alas, a broken hand kept him from his first date with destiny, a date that went to Patrick Cote (who would wait until the actual hostilities to pull up lame).
Well, it wasn't pretty by any means, but Thunder has his second shot at fate thanks to his unanimous decision over Nate Marquardt.
The world of MMA is a little bit more forgiving than real life, so second chances are quite as rare, but they still ain't common and you could tell how relieved Yushin was to get it when his arm was raised.
Now, he'll have to wait to find out if he will, indeed, get a chance to shred the Spider's almost five-year-strong web of invincibility.
Okami was the last man to beat Anderson (albeit by virtue of an illegal strike) and he'll get a chance to bookend Silva's run of domination should the latter get past Vitor Belfort at UFC 126.
That contest isn't until February 2011, which means Yushin Okami will have to endure a several more turns of the calendar before his title shot arrives.
But, after so many years, what's a few more months?
No. 1—Bottom Line, The Price Was Right
Now that I've done the dirty work and taken my necessary potshots, let's just remind ourselves of the critical detail—at the end of the day, most fans got to see eight entertaining contests, a few stellar stoppages, a new No. 1 contender crowned, and the highs/lows of the human condition.
All for free.
And here endeth the lessons.

**Click Here to Learn More About the Paralyzed Veterans of America**
Keep Reading