Cam Newton, Reggie Bush and Why College Athletes Should Be Paid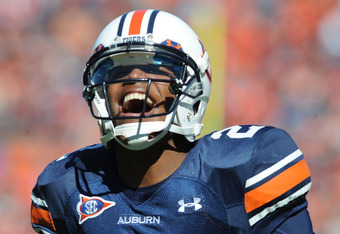 Newton may be suspended for solicting improper benefits, but isn't the one to blame.
Al Messerschmidt/Getty Images
With the allegations around Cam Newton, it is possible that the nation's leading Heisman Trophy candidate could be declared ineligible for requesting improper benefits. Earlier this year, Reggie Bush was found guilty taking improper benefits, resulting in heavy sanctions against USC and his forfeiture of the Heisman Trophy.
Both of these players, as well as the many other players over the years who have accepted money or gifts, most likely did so because they believed that they deserved additional benefits. However, the NCAA doesn't think they do, and that's why they put rules in place to prevent this.
There is no denying that college sports are a huge part of the entertainment industry. NCAA basketball has a half-billion-dollar per year TV deal. In an '07-'08 report from Street & Smith's SportsBusiness Journal showing college football revenues, each of the top 10 schools made more than $50 million, with Texas making more than $70 million.
The players see no share in any of those profits, but it's not like that money isn't going back to the athletic programs. Florida's Urban Meyer has a six-year/$24 million contract, and Mike Krzyzewski is the highest paid university employee at Duke.
While the coaches do play a big part in a team success, it is ultimately the players who win games.
Not having the best players on the field or the court is bad for everybody: it's bad for the player, his family, the school and it's certainly bad for the sport as a whole. If the NCAA simply paid the players, then they wouldn't have to worry about it.
Do you think college athletes should be paid?
State legislators in Nebraska have supported a stipend for University of Nebraska players. In California and Texas, lawmakers considered a special athlete-welfare program. Neither of these programs was put into effect however, because these state-funded programs would put the burden on the taxpayers, and it is not their responsibility.
The point here is that lawmakers and legislators recognize the issues with college players, however the burden should fall on the NCAA and the schools to pay the athletes, because after all they are the ones making the money.
Allen Sack, a professor at the University of New Haven, played on the 1966 Notre Dame team. He says that disallowing college athletes to use their God-given talents to secure a financial future for themselves and their family is a "morally unconscionable" decision. Another professor, Dr. Boyce Watkins, is a finance professor at Syracuse University and provides commentary saying that the NCAA is "exploiting" the athletes, and in many facets of society a similar practice would be illegal.
A study by the National College Players Associations revealed that a full scholarship can still leave Division I athletes with more than $30,000 dollars in expenses.
Sack, Boyce and the NCPA all also agree separately the NCAA can longer hide behind the "amateurism" argument. CBS makes $6 billion a year, an estimated $4 billion generated by the athletes themselves, and there is nothing amateur about an industry of that size.
Overall, there is a myriad of evidence that supports the fact that the college athletes need to be fairly compensated. That's the bottom line, and there is no way around it.
This article is
What is the duplicate article?
Why is this article offensive?
Where is this article plagiarized from?
Why is this article poorly edited?

Auburn Football: Like this team?