Pittsburgh Steelers Draft 2010: Re-Evaluating the Picks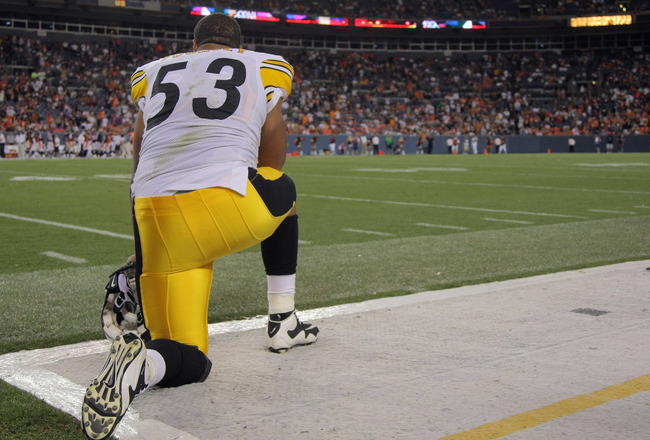 Doug Pensinger/Getty Images
We're a little over halfway down with the season, after this week there will be no more byes for anyone until the first round of the playoffs at least, and it's time to take a look back at the 2010 NFL Draft and see what kind of value the Pittsburgh Steelers have picked up thus far.
To read my original draft article, follow this link: Pittsburgh Steelers Draft Picks 2010: Evaluating The Draft Class.
Keep in mind, I grade harshly, the good thing about that is that there is rarely room for error on the back end, but there is definitely potential for a grade to be raised by the end of the season.
Round One: Maurkice Pouncey, Offensive Line, Florida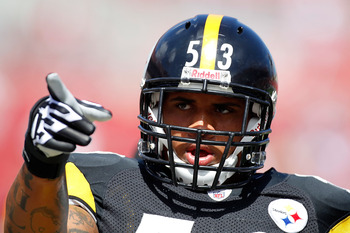 J. Meric/Getty Images
As predicted, Pouncey stepped into the starting lineup right away. The Steelers organization is so confident in Pouncey, that veteran center Justin Hartwig was cut prior to the regular season. Pouncey has shown a veteran presence at the center position, generally one of the harder offensive line positions to step into and make an immediate impact.
He has mauled multiple opponents, and shown great poise and leadership among a unit that has been shaken up and beat up all year long.

Pouncey routinely takes on multiple defenders at once, and more often then not comes up victorious. He also shows a great burst of quickness to get to the second level, being able to hook the defensive lineman and flow to the linebackers is key in the Pittsburgh blocking scheme.

He also seems to be the leader of this offensive line, even as a rookie, the unit isn't cohesive without him on the field, as evidenced by the Monday Night Football game against the Cincinnati Bengals.

It seems the Steelers finally have a franchise offensive lineman that will produce for years to come. That was step one to revamping the offense, and without any other glaring offensive needs, the Steelers will most likely pick up another young buddy to help Pouncey on the offensive line in next year's draft.

Grade: A+
Round Two: Jason Worilds, Linebacker, Virginia Tech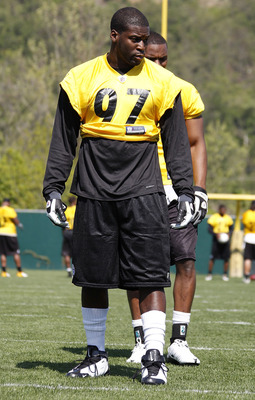 Gregory Shamus/Getty Images
Worilds has been exactly what most expected him to be—a great special teams player with a lot of heart. Not many expected him to see the field outside of special teams, but in the limited time that he has played with the first team defense, he's registered a sack.

Worilds is in one of the best positions that a rookie linebacker can be in—sitting behind two of the best in the business in James Harrison and LaMarr Woodley. There is no one better to learn from, especially in the art of the strip sack and sure tackling form.

Though he has a lot of potential, and is certainly a great special teamer, he's only racked up eight tackles through the ninth week of the 2010 season.

Grade: C+
Round Three: Emmanuel Sanders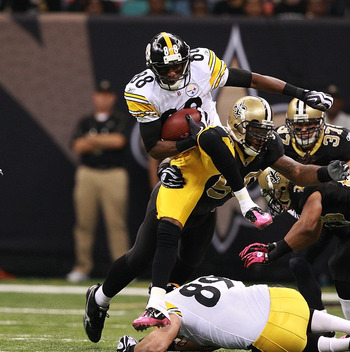 Karl Walter/Getty Images
Sanders, as predicted, has taken over kick return duties from the departed Stefan Logan and has done well. He's also contributed slightly in the passing attack, catching four passes for 76 yards, for an average of 19 yards per reception.

He did force a fumble on the opening kickoff against the Bengals, which certainly earned him his special teams stripes for the year, but it's going to take some time to truly integrate him into the passing game, which is common for rookie wide receivers—not many can take the league by storm their first year out of the gate.

Grade: C
Round Four: Thaddeus Gibson, Linebacker, Ohio State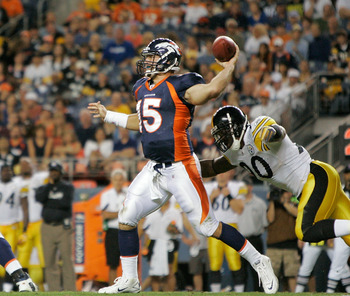 Justin Edmonds/Getty Images
Ah, what could have been.
He had the build and the mentality to excel in a LeBeau-coached defense, but it was not meant to be. He was waived by the team in order to make a roster spot available to activate another defensive lineman (Steve McClendon).

The Steelers ran the risk of losing Gibson on the waiver wire and lost him, the San Francisco 49ers signed him, because of what they saw during the preseason, where he performed well in two phases of the game.

While it was sad to see such a perfect fit leave the team, it's all about numbers. Linebacker is the Steelers deepest position, especially the outside position where if the help is needed Lawrence Timmons is just a few feet away. It was a case of being the low man on the totem pole for Gibson and I wish him nothing but the best.

Grade: F
Round Five: Chris Scott, Offensive Tackle, Tennessee

At this point in the season, Scott hasn't done much, if anything at all. But with Max Starks being placed on the injured reserved (that's right, we're down both starting tackles) he is expected to be the man replacing him, though 90 percent of Steelers fans would prefer to see Flozell Adams flip back to left tackle, and Scott to the right side.

There's no way to effectively grade a player that's done nothing, because there's nothing to base it off of, but I've got to go with the same grade I'd give a player that has been cut, etc. He certainly has a chance to change his grade—a little extra credit if you will, but as of now the grade stands.

Grade: F
Round Five: Crezdon Butler, Defensive Back, Clemson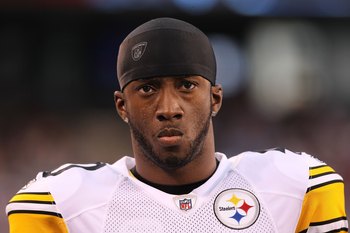 Nick Laham/Getty Images
Like Scott, Butler is on the roster, but hasn't done anything this year, though with the way that William Gay is playing, he just might get his shot to play on passing downs at some point during the year.

Grade: F
Round Five: Stevenson Sylvester, Linebacker, Utah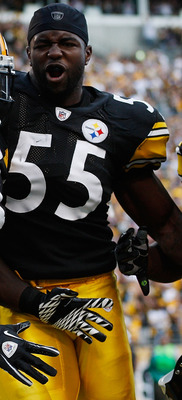 Jared Wickerham/Getty Images
Sylvester may have just four tackles and a forced fumble this year, but boy oh boy can this kid hit like a truck. Just ask New Orleans Saints return man Lance Moore, who learned first hand why you want to call for the fair catch when watching a swarm of black and gold coming toward you at 100 miles per hour.

He's been adequate, and has a nasty mean streak to him, but only time will tell how he truly fits in on the team.

Grade: C
Round Six: Jonathan Dwyer, Runninback, Georgia Tech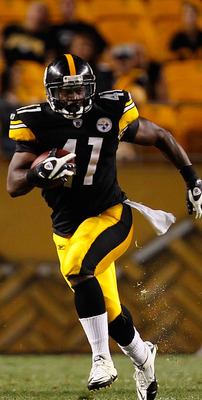 Jared Wickerham/Getty Images
Dwyer is the biggest disappointment of this draft for a Pittsburgh team that embodies hard work, discipline and determination. He's shown none of the three, showing up out of shape and seemingly not working hard to work the weight off.

He was presumably going to be the short yardage and goal line back for the Steelers this year, but we're watching Isaac Redman handle those duties fairly well. I guess it's hard to lose a job you never applied for in the first place, right?

Dwyer has a long road ahead of him to prove that he belongs in the NFL, much less on a Steelers roster.

Grade: F
Round Six: Antonio Brown, Wide Receive, Central Michigan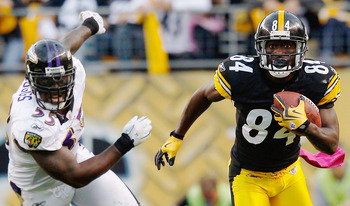 Jared Wickerham/Getty Images
Other than an 89-yard kick return for a touchdown he's done nothing. It's hard to determine just how much that touchdown means at this point, because it could have been either a fluke, a stroke of luck, or signs of things to come, but he's only appeared in three games and Sanders has been handling return duties ably.
He may be on the outside looking in come next year.

Grade: D
Round Seven: Doug Worthington, Defensive Tackle, Ohio State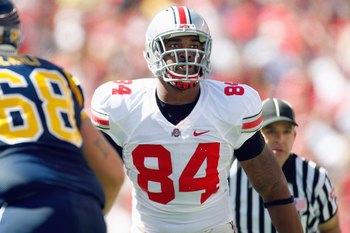 Gregory Shamus/Getty Images
Worthington is a Tampa Bay Buccaneer at this point in time, which earns him the default grade. Wish him the best, as always, but can't grade him when he couldn't make the cut.

Grade: F


Keep Reading

Pittsburgh Steelers: Like this team?