A Manny Pacquiao 10 Count: Pacman's Greatest Knockouts To Date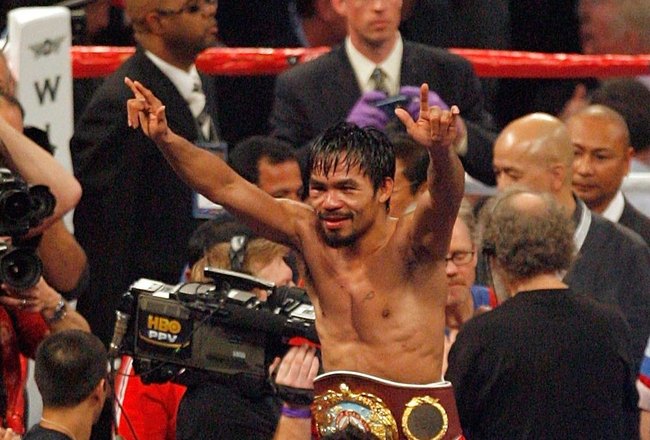 The most electrifying fighter in years.
Tom Pennington/Getty Images
This is a slide show is for anyone who still doesn't understand why boxing fans love Manny Pacquiao, as well as those who do.
In a sport where fans crave a definitive and final ending, Manny provides it more often than not. He is quite simply the most electrifying fighter since Mike Tyson was coming up in the 80s.
With a couple of caveats, I give you his 10 greatest knockouts to date. The caveats being:
1.The other fighter can't retire in his corner, and
2. The opponent must be a seasoned fighter with quality wins—all of these knockouts come against top opponents and most are in championship bouts, and
3. According to sources in Hollywood, Manny is in great shape for this weekend's fight, so it is quite possible these rankings will be revised come Saturday.
10. Chatchai Sasakul

Out like a light.

Sasakul was the WBC Flyweight champ when he squared off with Pacquiao in 1998. Manny knocked him out in the eighth round. Watch the champ try and get up after being knocked down. The man is out.
9. Arnel Barotillo
In Pacquiao's second fight at 122 pounds, he defended his WBC International Super Bantamweight title against Arnel Baratillo. Watch Baratillo's delayed reaction to Manny's vicious right hook.
8. Jorge Solis
Solis was undefeated when he faced the Mexicutioner at 130. He didn't make it out of the eighth round against Manny.
7. Chockai "3K Battery" Chockvivat
This Manny's first championship fight. The OPBF Flyweight title against Chockai 3K Battery.
I love this one for three reasons. Manny's first belt. His first of two fights with fighters called 3K Battery (In 2004 he defeated Fahsan 3k Battery in an IBF Featherweight eliminator).
And because it's an amazing knockout.
6. Lehlohonolo Ledwaba
Manny's first Vegas fight with Freddie Roach in his corner.
Pacquiao took the fight as a last minute replacement on an Oscar De La Hoya undercard. This is the fight that made Manny a rising star. Love Lampley's call at the end. "Joe Cortez has seen enough." Fight fans in the US, however, had not seen enough of Pacquiao.
Like Andrea True back in the 70s they wanted more, more, more!
5. Fahprakorb Rakkiatgym
The fourth time is a charm! This fight is a short one. But watch how Rakkiatgym keeps getting up. That is until the fourth time Manny sends him to the canvas. Definitely not for the squeamish.
4. Erik Morales 2
I put this one high on the list because Morales had never been knocked out before. But the proud Mexican couldn't handle Manny's barrage in the 10th round.
3. David Diaz
Manny moved up to 135 to face Diaz for the WBC Lightweight title. He proved he had just as much power as he did at 130 when he dispatched the tough Chicagoan into that long goodnight in Round 9.
2. Erik Morales 3
Morales made the mistake of telling the press Pacman's punches didn't really hurt him in their previous fight. I guess he believed it was exhaustion that sent him to the canvas. Manny made sure Morales felt his punches this time.
1. Ricky Hatton
Can their be any doubt about this one? One of the greatest knockouts in the history of boxing.
Keep Reading