BCS Rankings: How an Auburn vs. TCU National Championship Would Play Out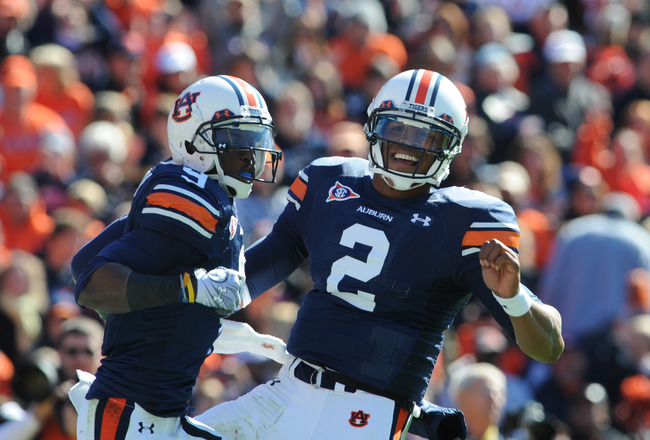 Al Messerschmidt/Getty Images
How many of you predicted that No. 2 Auburn and No. 3 TCU could be playing each other for the BCS National Championship?
Well, that's how crazy this season has been thus far.
If No. 1 Oregon loses to Cal, No. 18 Arizona, or in-state rival Oregon State while Auburn and TCU go undefeated, this will be your national championship game, ladies and gentlemen. There just isn't anyone capable of leapfrogging either team this year in the BCS rankings.
This game would make history as the first time a non-AQ team would play in a national championship game. TCU would have the opportunity to win a national championship as a non-AQ since BYU won it all in 1984.
So how would these two great teams match up? Read on...
Auburn Offensive Breakdown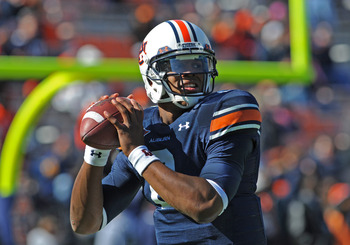 Al Messerschmidt/Getty Images
Auburn's offense can be pretty much summarized in two words:
Cam Newton.
There's a reason why he's the Heisman front-runner. He's already led the Tigers to several close wins over SEC foes. Auburn has averaged 42.2 points per game, and only Mississippi State has been able to hold them under 20 points all season.
By the end of this season, Auburn will have faced three top ten scoring defenses (Mississippi State, LSU, and Alabama). TCU is going to have its hands full, but they're the top defensive team in the nation. It should be a great battle.
Auburn Defensive Breakdown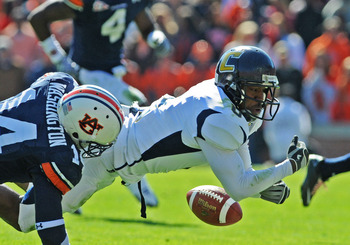 Al Messerschmidt/Getty Images
With all the attention that Cam Newton gets, one might forget that Auburn even has a defense. However, winning the national championship just might depend on the defense just as much, if not more, than on Cam Newton's ability.
Auburn ranks No. 55 in scoring defense (24.3 points/game) and No. 52 in total defense (355.9 yards/game). And before you SEC fans yell "strength of schedule", the Tigers will have only faced two teams in the top 25 in scoring offense (Arkansas and Kentucky). TCU would be by and far the toughest and most efficient offense that the Tiger would face all season.
This unit has stiffened in enough to win tight games, but they've got to step up their game if they want to win a national title.
Auburn Special Teams Breakdown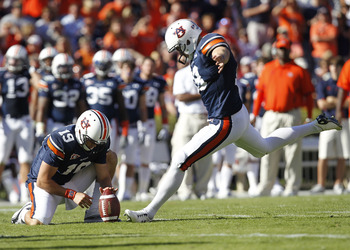 Mike Zarrilli/Getty Images
Auburn has made 15 of 19 field goals this season, but they've only missed a single extra point attempt out of 54, which is no small feat. But Auburn excels in the kickoff return game, being No. 6 in the FBS.
Auburn Coaching Breakdown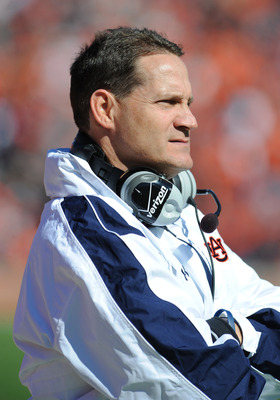 Al Messerschmidt/Getty Images
When Auburn hired Gene Chizik to take Tommy Tuberville's place as head coach, this was criticized as one of the worst hirings ever. After all, his Iowa State Cyclones only went 5-19 under his direction. Both outsiders and Auburn faithful thought this was a terrible move.
Apparently, the people that hired Chizik knew something everyone else didn't.
Now in his second year as head coach, the Tigers are on the verge of a SEC title and its first AP national championship since the 50's.
Go figure.
TCU Offensive Breakdown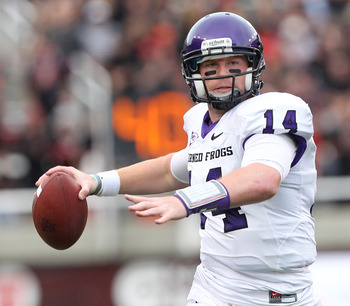 George Frey/Getty Images
TCU always gets credit for being a great defensive power, but they play offense pretty good too.
The Horned Frogs are led by senior QB Andy Dalton, who has 2,242 yards this season and 19 touchdowns. He doesn't have the arm strength that many others in college football have, but he's one of the most efficient quarterbacks in the nation. The offense rolls like a well oiled machine, averaging 41.4 points per game.
If this game happens, the Horned Frogs will be the highest scoring offense that Auburn will have faced all season. The Tiger's defense is going to have their hands full with TCU.
TCU Defensive Breakdown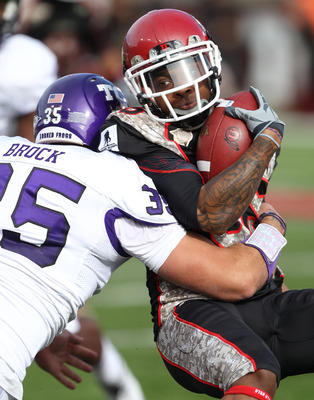 George Frey/Getty Images
They say that defense wins championships. Well, check out TCU!
Just last week, the No. 9 offense and the then No. 5 team in the nation hosted the TCU Horned Frogs.
The TCU defense held the Utah offense's head to the turf as long as the first string was on the field. They took away the ball four times and held the Utes to 199 yards and a single touchdown with 11:12 left in the game. TCU currently leads the nation in total defense and scoring defense. Only two teams have scored more than 10 points on them all season, and no one has scored more than 24 against them.
Impressed? You should be.
TCU Special Teams Breakdown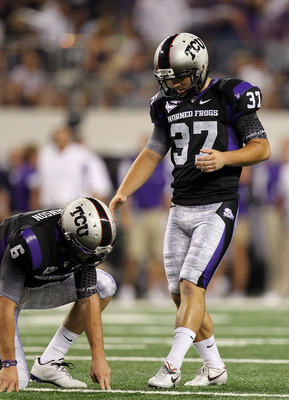 Ronald Martinez/Getty Images
TCU is just as efficient on special teams as any other part of the team. K Ross Evans has yet to miss a field goal. Also, WR/PR Jermey Kerley is hard to stop as TCU is the No. 8 in kickoff returns and No. 19 in punt returns.
TCU Coaching Breakdown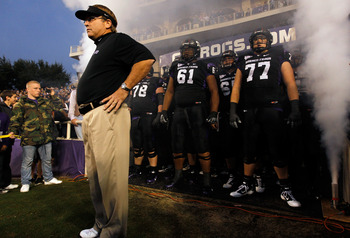 Tom Pennington/Getty Images
Most great coaches in non-AQ conferences have used their success as a stepping stone to get to a great AQ team, just like former Utah Head Coach Urban Meyer did after taking Utah to the Fiesta Bowl in 2004. A few have built their non-AQ teams into national powerhouses, such as Lavell Edwards at BYU and Chris Petersen at Boise State.
Add TCU Head Coach Gary Patterson to that list.
It's not like he's hasn't gotten the opportunity to leave TCU for a head coaching job at an AQ school. It seems like every time a head coaching position becomes available, Gary Patterson is at the top of just about everybody's wish list.
And why not? He's arguably the best defensive minded coach in the nation. His Horned Frogs are No. 1 in both scoring and total defense, even after losing some key star players from last year's Fiesta Bowl squad. The fact that TCU is knocking on the door of a national championship just says it all about Gary Patterson.
Summary and Prediction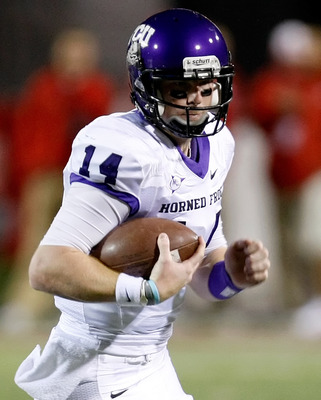 Ethan Miller/Getty Images
If TCU and Auburn were to play for the national title, it would be a great game. The part of the game that would get the most attention would be matching up the TCU defense with Cam Newton and the Auburn offense. TCU would be able to slow Cam Newton and the Tigers down, but probably wouldn't be able to stop them.
However, this game will probably be won or lost by the TCU offense or the Auburn defense. If Auburn can't stop Andy Dalton and the Horned Frog offense, Cam Newton isn't going to be able to make up for that on offense against such a great defense. That's why I'd give TCU the advantage in this game.
Prediction: 31-24 TCU
Keep Reading

TCU Football: Like this team?