Cam Newton: What We Know So Far About the Scandal
Al Messerschmidt/Getty Images
Cam Newton has been the topic of just about every college football fan around the nation. There have been rumors of his suspension, which got started earlier today and his college paperwork from the University of Florida was leaked, though no one knows who leaked them.
The NCAA has continued their investigation, but there's been no indication that they've found anything of substance. At least nothing they can use to suspend the Auburn quarterback.
Twitterverse should be thanked for making "Cam Newton Suspended" one of the biggest search trends on Google right now.
The question that remains is how much longer can Newton avoid suspension and what does the NCAA have right now?
If they had anything at all, don't you think we would have heard something from them already?
There's more to this than we know, so let's see where we are, where we've been and what we know already about the Cam Newton suspension.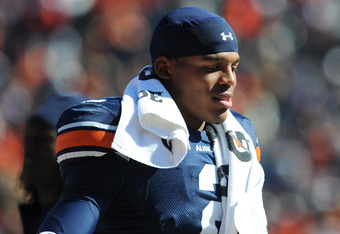 From the FBI investigation of John Bond, to the allegations of cheating while at Florida, and the rumor of being suspended, there's more that is sure to come out over the next few weeks and leading into the off-season.
As of right now, Cam Newton is still a member of the Auburn football team and he will start against Georgia on Saturday.
What happens from here is anyone's guess.
Does this affect Newton and his ability to focus? It will be in the back of his mind unless he knew about none of it, other than the cheating and the purchasing stolen goods, than he can play with a monumental chip on his shoulder.
If the NCAA had anything concrete they would have taken him to the sidelines already and made sure they or the school suspended him for at least the coming game.
As of right now, we have nothing but rumors and allegations. Until we know more than that, there's no reason to jump on the "suspend Cam Newton" bandwagon.
This article is
What is the duplicate article?
Why is this article offensive?
Where is this article plagiarized from?
Why is this article poorly edited?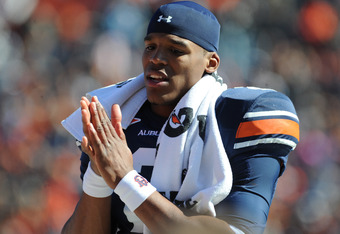 Here's what we know so far.
This all started when a story broke that a former Mississippi State player, Kenny Rogers, was soliciting former Bulldog players for money to be able to throw at Cam Newton in order to get him to sign with them out of junior college.
This has gotten so bad that apparently the FBI has gotten involved.
According to TMZ.com, the Federal Bureau of Investigation wants to speak to John Bond, another former player from Mississippi State who claimed that people close to Newton said it would take at least $180,000 to get him to sign with the university.
Bond's attorney confirmed to TMZ that the FBI agent that contacted him said, "We are interested in whether young men are being shopped to colleges."
That was the first bit of information that came out about the allegations.
Then, another report came out from ESPN.com's Chris Low, citing possible allegations of cheating while he was at the University of Florida. Newton was apparently facing expulsion when he transferred to a Blinn College in 2009.
A FoxSports.com report, cited by Low, apparently alleges that Newton put his name on another student's paper and turned it in.
He was also arrested for buying a stolen laptop in November of 2008 but the chargers were dropped last December when Newton agreed to complete a pretrial intervention program for first-time offenders.
Things got worse for the Auburn quarterback while at Florida.
The student that wrote the paper that Newton signed his name to and turned in, was tracked down by the class professor and got the student that originally wrote the paper to fess up and that's when Newton's goose was cooked.
This article is
What is the duplicate article?
Why is this article offensive?
Where is this article plagiarized from?
Why is this article poorly edited?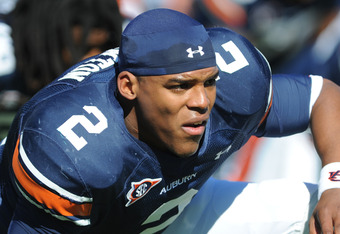 Cam Newton isn't being suspended by the NCAA or anyone else. Let's get that out of the way first before we start breaking down everything that's happened today.
For those of you who are on Twitter and check it regularly, you saw the same rumors that I saw from the moment you logged in.
I caught them early this morning as soon as I got in to the office. There were conversations immediately between myself and Matt Baxendell from 790 The Zone in Atlanta. What we both saw made our jaws drop.
Not only were we hearing about the fact that Newton might have been offered money to sign with Mississippi State and Auburn, but apparently his traffic records were being looked at as well.
The original report was thought to come from Ian Fitzsimmons of ESPN Radio. He was on the air earlier today when he mentioned the suspension. What he actually said was the investigation, as big as it is, could change in a matter of three or four hours.
A listener misconstrued those words and took to Twitter saying Newton was going to be suspended by the NCAA in three or four hours.
Paul Finebaum spoke to Fitzsimmons personally and he told Paul that it was NOT what he had said.
This rumor even got as far as the Las Vegas bookies who took the Auburn-Georgia game off the board.
Auburn head coach Gene Chizik reiterated to the media today that it was business as usual at the ir practice and that Newton would play on Saturday against the Bulldogs.
This article is
What is the duplicate article?
Why is this article offensive?
Where is this article plagiarized from?
Why is this article poorly edited?

Auburn Football: Like this team?