Lingerie Football Dream Team: 50 Women We Want in The LFL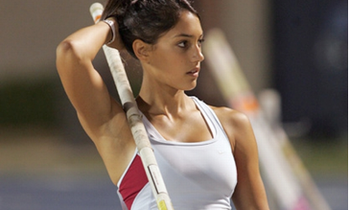 What could be better than looking at half-naked women in lingerie? There can only be one answer to that question and it should be nothing, but if you said football, then I have a gift for you, and it is called the LFL, Lingerie Football League.
Where else can you watch women playing football in lingerie? Nowhere. This league combines the two most popular things in the US, women and football. It makes the XFL look like the CFL. This is a league of beautiful babes that have some football skills running around tossing the pigskin wearing almost nothing.
How can I make this even better you ask? Well, what if I told you that we were not here to look at the hotties of the LFL? Instead, we are here to dream about the sexy female athletes we hope will one day play in the LFL.
This is a list of the hottest female athletes that make my fantasy roster for the LFL. Enjoy!
50. Daniela Hantuchova: Tennis
There is just something about Daniela that makes me want to see her wearing less clothing.
I wonder if it has anything to do with the Lord of the Rings outfit she has on in this photo?
49. Katarina Witt: Figure Skating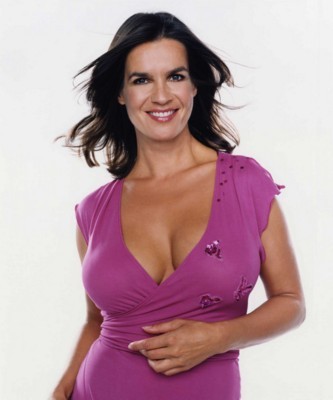 How can you blame me for wanting to see those twins prance up and down the sideline?
Katarina would be a great defensive player, because if she played on the offense, it would be too easy to grab onto her.
48. Lauren Jackson: Basketball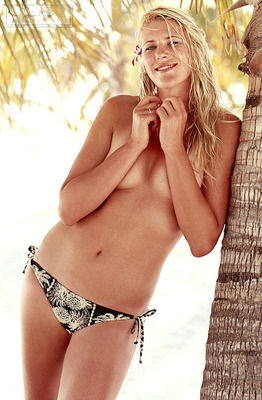 Lauren Jackson is 6'4''. She is taller than most of the male population, so it is easy for us to want her on our team.
Imagine how awesome she could be at the wide receiver position, all sexual puns aside.
47. Miesha Tate: MMA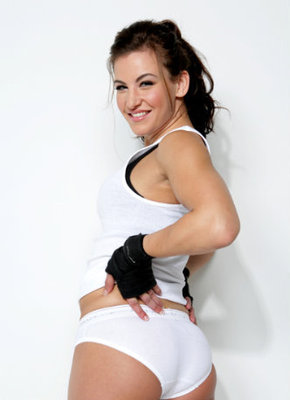 Every football team needs an enforcer. Miesha Tate would be just that, a fierce hard-hitting linebacker.
She might not look like it, but Miesha could take on a team of pit bulls at a Michael Vick welcome home party.
46. Karina Petroni: Surfing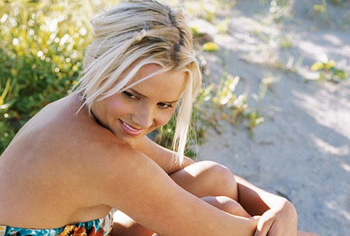 Since when has surfing been so much fun to watch? Probably since I found Karina Petroni hitting the waves.
Karina has a natural beauty that would be useful to any LFL team looking to get some more exposure. She could also be useful as a running back cause those surfer chicks are tough.
45. Kari Traa: Freestyle Skier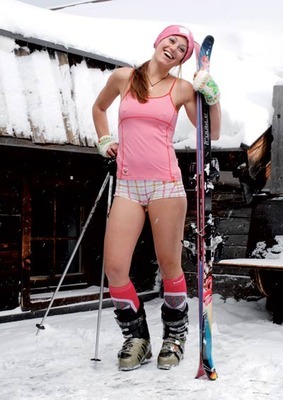 I guess it is a known fact that most female skiers are hot. Let me rephrase: most of the talented female skiers are hot.
Case in point, Kari Traa out of Norway. It doesn't take a medical doctor to understand that she should probably be wearing some more clothes in this photo—we wouldn't want her to get sick.
44. Malia Jones: Surfing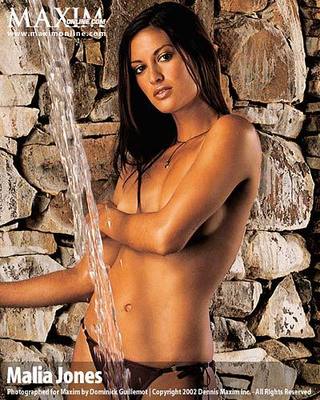 Do you remember when I said how tough and hot those female surfers are? Well, if I must remind you, I will just go ahead and point to Malia Jones' picture.
There is just something that tells me, she could be a great leader on any LFL offense, so a quarterback position would not be out of the question for Jones.
43. Nastia Liukin: Gymnastics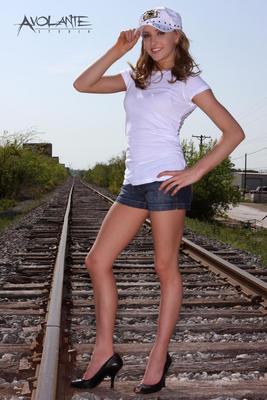 We already know that she can do flips, now we want to see if she can wear the gear and take the hits, too.
She could be a human highlight reel, jumping over defenders all game.
42. Kiira Korpi: Figure Skating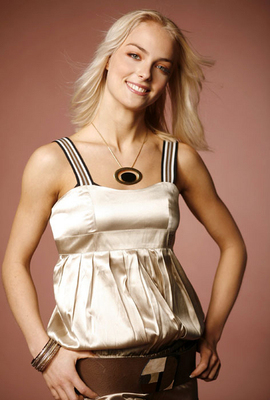 Any team that needs a cute Finnish hottie, please stand up.
Kiira would be on any team I coached in the LFL, mainly for her beauty, but also because she is probably a good running back. All those spins, twirls and jumps have to help her balance out. She could be used as a decoy in any offense.
41. Desiree Ficker: Tri-Athlete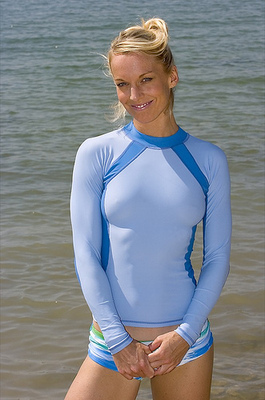 I am just going to pick Desiree Ficker for my team because she is smoking hot and could out run any one else on this list with ease.
Take a look at her amazing body and tell me you wouldn't want to see her in less clothing. I thought so.
40. Jennie Finch: Softball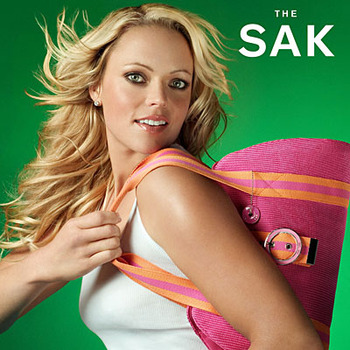 The queen of the diamond can also be the queen of the gridiron if she wanted to be.
I am sure that the LFL has already tried to get Jennie to come try out. It would be great to scratch watching Jennie Finch playing football in lingerie off my bucket list.
39. Ashley Force: Racing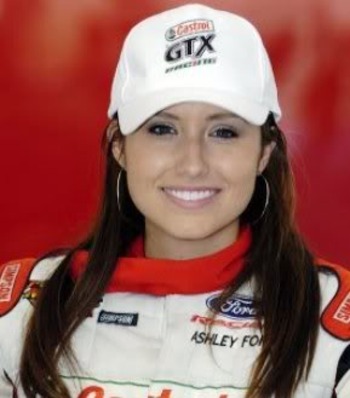 What are race car drivers good for in football? Take a second and think about it.
They are well conditioned, smart and have great instincts.
I would love to pick-up this babe for my team—she could be the quarterback. Oh, and we would like to see her in lingerie.
38. Amy Taylor: Soccer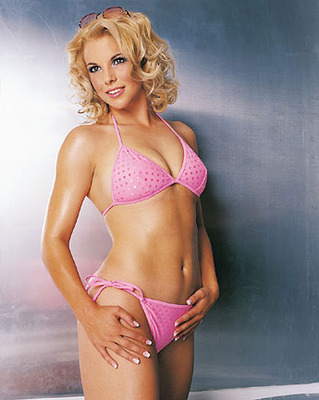 Amy Taylor is not well known to most men that will be reading this. I didn't even know who she was until I did this article and came across her wiki profile.
A super sexy soccer player that can kick the ball, I guess she is our new kicker.
37. Kristi Leskinen: Alpine Skiing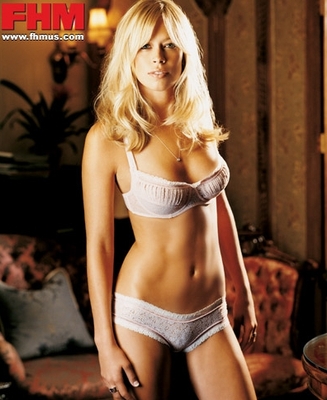 Now that the Olympics didn't work out, maybe Kristi will find herself looking for something to do in her free time.
Why not pick up football as a side job?
36. Laisa Andrioli: Soccer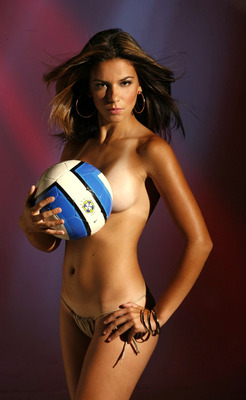 I am going to hope Laisa Andrioli does not play in the LFL after seeing this photo because the LFL requires more clothing than she is probably used to wearing, and we wouldn't want to do that now, would we?
One question though, can someone remove that soccer ball for a second? Thanks.
35. Niki Gudex: Mountain Biking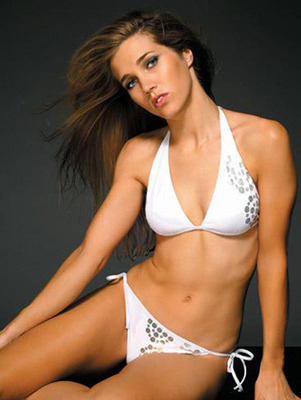 Nikki is a professional mountain biker in Australia who was born in England.
I am not a genius but how could you not want someone this talented, both in sports and looks, on your team?
34. Maria Sharapova: Tennis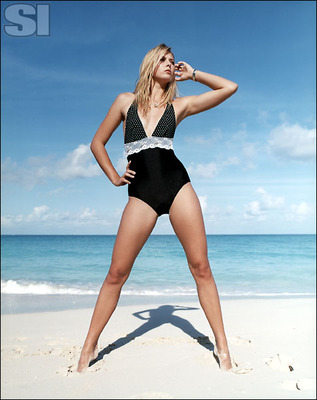 There will come a time when Maria Sharapova will become old news.
Thankfully, this is not that time. A big shout out to Sasha Vujacic for landing this babe. In the words of Llyod Christmas, "He must work out."
33. Lacy Schnoor: Freestyle Skier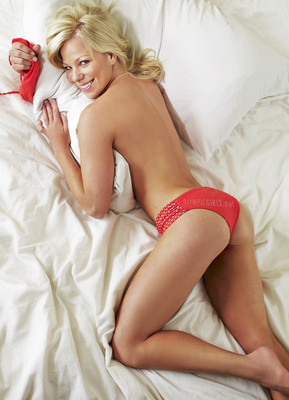 From the looks of her photos, Lacy Schnoor will not be needing any assistance when it comes to removing clothing.
However, I would definitely sign up for that job any day of the week and twice on Sundays.
32. Alana Blanchard: Surfing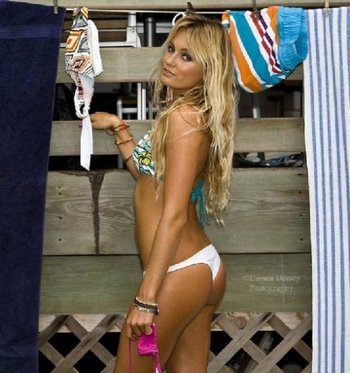 Is it just me or are female surfers starting to dominate all the other hotties from the different sports?
I take Alana Blanchard for the starting defensive lineman position on my team. Why? The better question is, why not? I would make her the water boy if it meant she could wear lingerie and be in the stadium for the games.
31. Victoria Vanucci: Soccer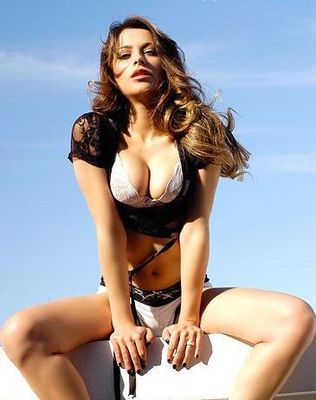 The women's World Cup next year is going to be so much fun to watch if babes like Victoria Vanucci are out there on the field.
She is one of the few hotties from the soccer world, but any LFL team that didn't have a kicker or punter could definitely use her skills.
30. Danica Patrick: Racing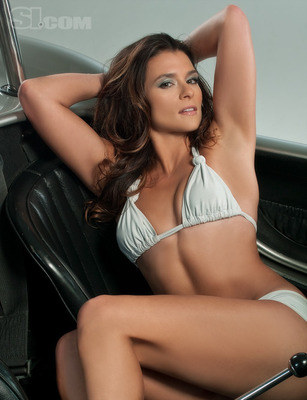 Danica Patrick has not been my favorite female athlete in most of my prior slideshows, but she has been consistently in them. She maybe hated by a lot of NASCAR fans, but I am starting to like her. She comes off as a moody, well, you know who, but I am digging her after seeing some of her SI photos.
She could be on any team that needs a hard-hitting linebacker. You might call me crazy, and I am almost certain you will, but she should be on defense.
29. Clair Bidez: Snowboarding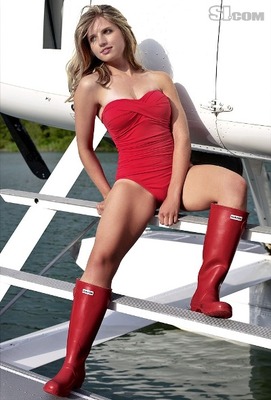 From the mountains to the football field, Clair Bidez would have come a long way to play football but she could be useful on most teams.
She could set up on defense and play the safety position. She is not that tall but she has guts and would not be afraid to drill a receiver cutting across the field.
28. Michelle Watterson: MMA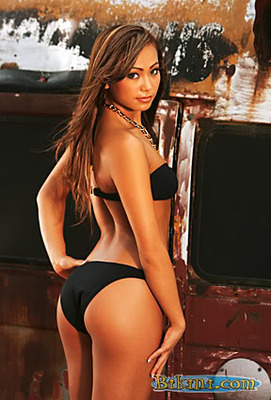 I had to double-check the first time I came across Michelle Watterson to make sure that she was a fighter and not a ring girl in MMA. I kid you not, she might look like someone who wouldn't be a fighter, but she is a hard hitting MMA fighter people.
Where is the best place to put warriors of the octagon? On the defensive line, of course. I just want to see her continue to wear less clothing than legally allowed in public.
27. Maria Kirilenko: Tennis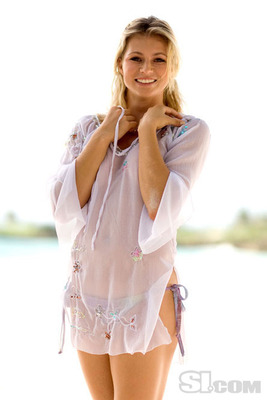 I think it is about time we get to see another tennis hottie named Maria.
I would imagine a lineup starring both Sharapova and Kirilenko but that might be too much hottness for one event. No, seriously, the roof could melt if these two babes stepped on the field wearing lingerie.
26. Leryn Franco: Javelin Throw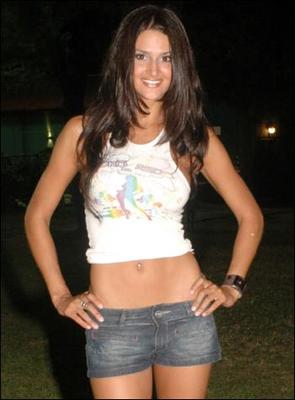 When you hear about the Olympics, what is the first thing you think of? If you think like me, than it is probably all the new hotties we will be introduced to.
Leryn Franco was one of those hotties. She became prevalent in 2008 and has stayed in the media spotlight since. She would be the featured wide out on my team but I could also see her playing some quarterback too.
25. Allison Baver: Speed Skating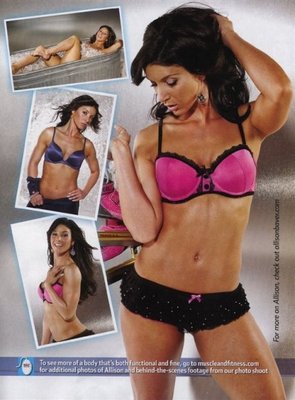 There are several hotties that could play on defense, Allison is a special talent.
She could play both ways, keep the sexual jokes to a minimum, please. I could use her on offense because she is fast. She is not just fast on the ice rink, she is a fast chick and could run past the defense at anytime.
She could also play linebacker in the LFL. Her size and speed could make for an interesting combo in the LFL.
24. Sandra Gal: Golf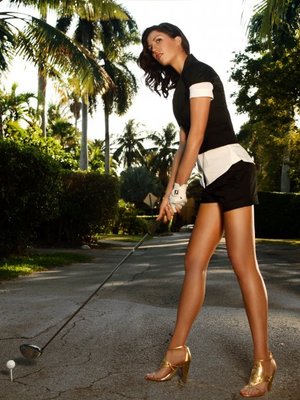 My new favorite person to watch in any sport is Sandra Gal.
I wish I would have heard about her before this slideshow because she would have made about 10 other lists of mine, had I known her.
23. Milene Domingues: Soccer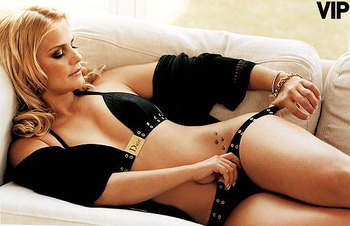 With a sexy name like Milene Domingues to go with her incredible looks, how could you not want her on your team?
She would be my pick for whichever position stays on the field longer. I would not want her off the field for more than a minute with a body like that.
22. Tatiana Grigorieva: Pole Vaulter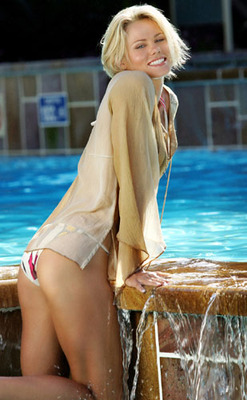 Since this is one of the hottest female pole vaulter's of all time, Tatiana Grigorieva belongs on any LFL team looking for a backup quarterback.
We already know she can throw the long ball with ease but can she do it consistently? Regardless of the position she plays, it would be nice to look at her all game, wouldn't it?
21. Ashley Harkleroad: Tennis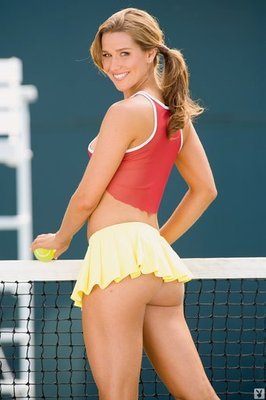 Now that is a picture worthy of being called awesome.
I think it is about that time where we lose track of what we are doing and just stare at the beautiful women above.
20. Jessica Gysin: Beach Volleyball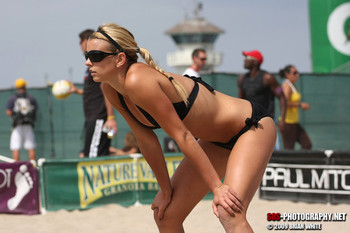 Yep, this is definitely one of those times.
19. Julia Mancuso: Skiing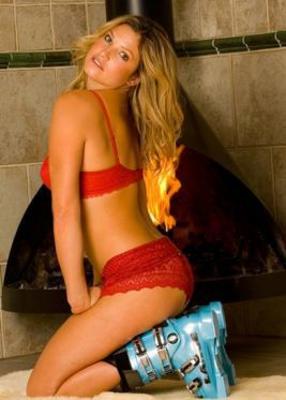 I can think of ten reason Julia Mancuso should play in the LFL, but I only need the first one to really sell it. She is hot.
That is it. Julia Mancuso is a mega babe and belongs in any league where female athletes are wearing almost no clothing.
18. Anna Rawson: Golf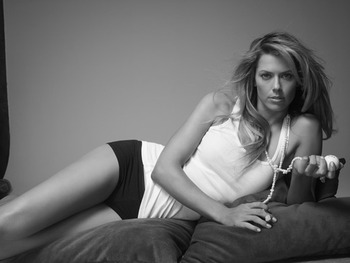 It is about time we get to look at Anna Rawson. I was thinking I forgot to add her to my list for a second.
She is a babe with the sexiest legs in golf. She belongs in the LFL for her abilities to look good in lingerie. She might have some football skills but that is currently the least important thing.
17. Allison Stokke: Pole Vaulting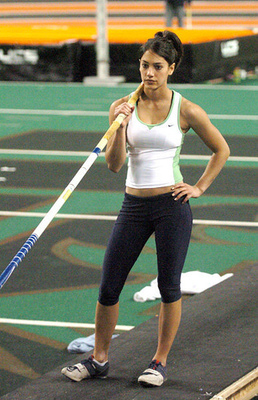 She knows how to handle a stick.
Looks like she can ride that pole seen feet in the air.
It is a good thing she has health insurance, running around with a pole so long.
Okay, I got them out of my system. Thanks for your patience.
16. Stephanie Rice: Swimming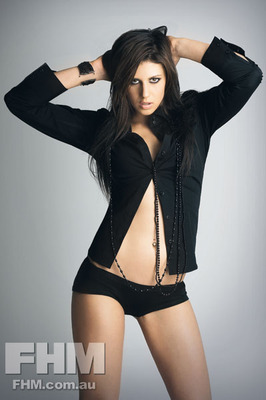 If I was allowed to hand-pick a few women that deserve their own list, Stephanie Rice would be on the top of that list. She is smoking hot and has tons of athletic abilities. She is so hot I found myself cheering her on at the Olympics.
It would be nice, however, to see her body in some lingerie for two hours every Friday night.
15. Stacy Keibler: Wrestling
I think I would explain my choice, but I would rather just give you more video evidence...
14. Tatiana Navka: Figure Skating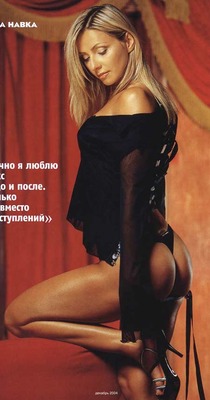 Look at this photo—do I need to explain why she would be perfect in the LFL?
I am almost certain that she would be perfect anywhere that gives women the ability to play football in lingerie.
13. Ana Paula Mancino: Volleyball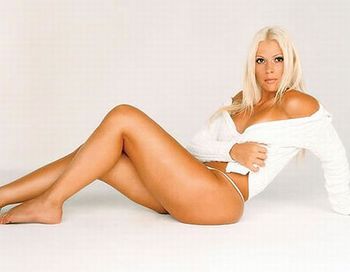 Ana is the poster girl for the LFL. She has an amazing body, beautiful face and sexy pair of twins upstairs.
She wouldn't even have to play the game, just allow us to photograph her in lingerie for the logo.
12. Sophie Horn: Golf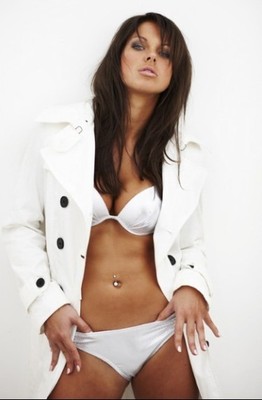 If you thought Natalie Gulbis was hot, let me introduce you to Sophie Horn, the hotter version of Gulbis.
I do not even know how I found her, but I did, and that is all that is important. Sophie dominates all other female golfers when it comes to hottness, and I challenge you to find others. Go ahead and look, you might find some that are hot, but not hotter than Sophie.
11. Branca and Bia Feres: Synchronized Swimming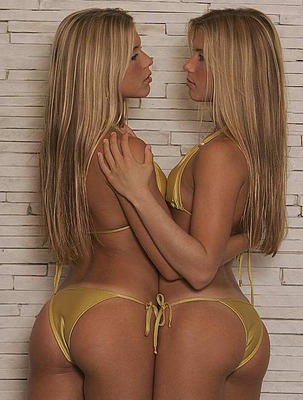 Twins!
Twins!
I find it hard to believe that they exist, but here is photo evidence people. These are certified twins that belong in the hotties hall of fame.
10. Trish Stratus: Wrestling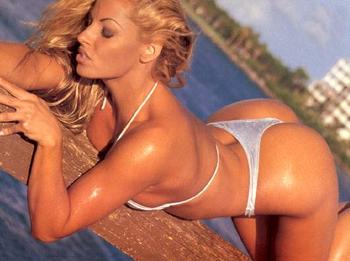 Trish Stratus is the best female wrestler in WWE history. It is a fact and everyone will agree. She dominated the sport for years so why not allow her into the league that rewards sexy women?
I think it would be best to allow Trish Stratus into the LFL just so we can once more see that amazingly perfect body she has.
9. Bianca Cruz: Softball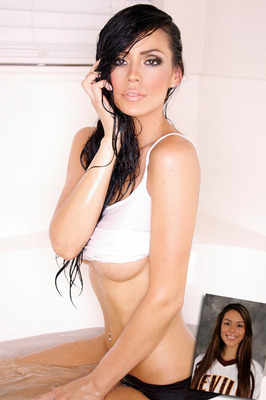 Jennie who?
Until I discovered this incredible beauty, I was mistakenly thinking that Jennie Finch was the hottest women to play softball. I stand corrected.
Thanks to some well placed water and wet hair, Bianca jumps to the top of the list of hotties in softball. She also moves to the top of the list of beautiful women.
8. Anastasia Ashley: Surfing
Is she good at surfing? I am not too sure but from the looks of her incredibly sexy body, I can tell you that she is perfect for a league that requires women to wear lingerie as their uniform.
7. Ashley Massaro: Wrestling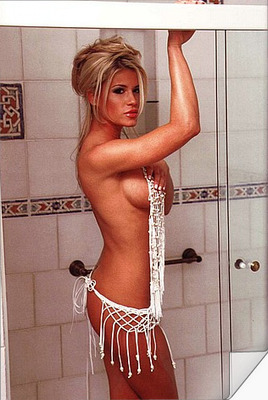 Ashley Massaro is the No. 1 female athlete that makes me wish I had millions of dollars to start up my own league and ask Ashley to star in it.
She is so hot that I forget what I am writing about half the time. She is simply the hottest thing to come out of Babylon, New York since, ever. That is correct, nothing has ever come out of Babylon, New York that can be called hotter than her.
6. Jenn Brown: Softball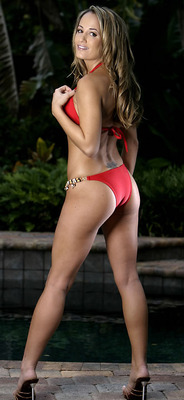 That is not a misprint people, Jenn Brown was a softball player before her broadcasting days with ESPN.
She has the body for lingerie, like all the women on this list do, but she also has the guts to take a hit. If for no other reason than that, she could be my running back. But since we can see how incredible of a bottom half she has, she could run over tacklers without skipping a beat.
5. Amanda Beard: Swimming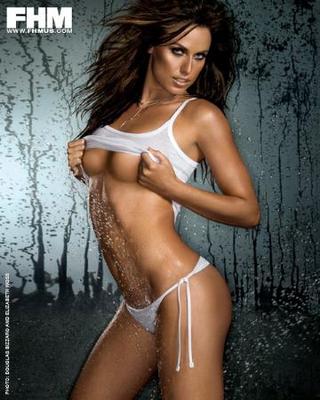 Two things are true about Amanda Beard.
1. We know she has mad skills in the pool.
2. We have already seen her naked.
So what is left for Amanda to do? Well, how about playing wide out for any team in the LFL?
4. Anna Kournikova: Tennis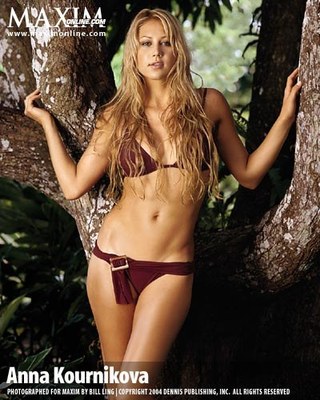 It is not like she has much to do right now other than Enrique Iglesias, so why not join a football league that features half naked women running around the gridiron?
She would be a perfect selling point for any team. All they need to do is tell everyone that Anna Kournikova is playing and the sell outs shall commence.
3. Torrie Wilson: Wrestling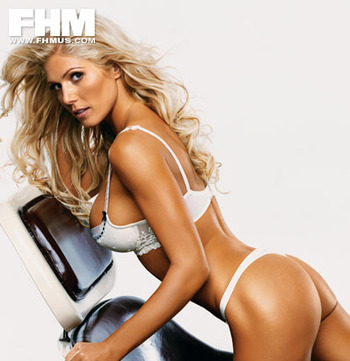 Torrie Wilson was born to do one thing: kick other women's asses. She has spent her entire WWE career doing that, and it would not be crazy to think she would be just as awesome in the LFL.
We have already seen her in the nude, now we can see her in lingerie tackling the other hotties in the LFL. In case you were wondering, she would need to be on defense.
Here is a taste of what she can do in lingerie...
2. Anna Semenovich: Figure Skating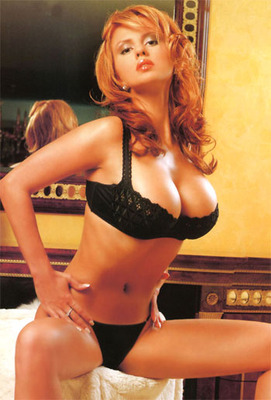 If it was not for her last name, I would have a hard time saying anything funny about Anna Semenovich. But luckily for me, her name speaks for itself.
How great would it be to have Anna as your starting center? As long as she brings the twins to every game, she can play whatever position she wants to.
1. Blair O'Neal: Golf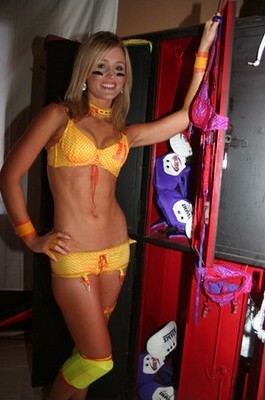 The hottest female athlete on my list was also a participant in the LFL. That is correct, she played in the LFL when it began. She was on the Phoenix Scorch as the quarterback but the team did not make the final cut.
How about that? The hottest chick on the list was a true member of the league that I grew up wishing would exist someday.
Keep Reading