EPL: Ranking the 20 Premier Leagues Managers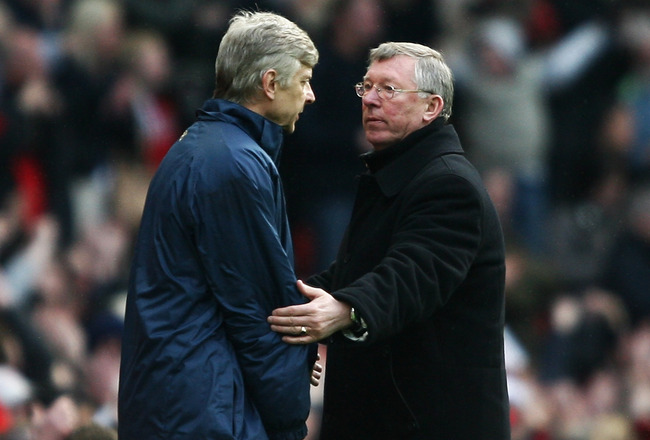 Clive Brunskill/Getty Images
This is an attempt to rank the twenty current PL managers based on their successes and failures purely as Premier League managers, some have the advantage of having managed in the league for years while others are newcomers, but I have remained as neutral as possible. Let me know below if you agree, or disagree with any of the rankings.
20: Sam Allardyce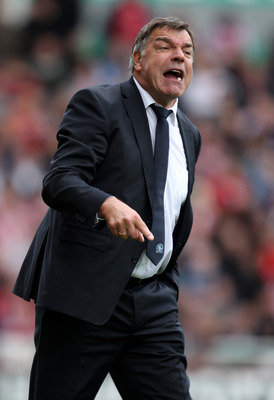 Mark Thompson/Getty Images
Big Sam, nemesis of Arsene Wenger and manager of physical teams has been a staple of the Premier League for years, but his highest honour remains the league cup runner up with Bolton. Unpopular to many football purists he has nevertheless found a certain measure of mid table success with his teams.
19: Roberto Martinez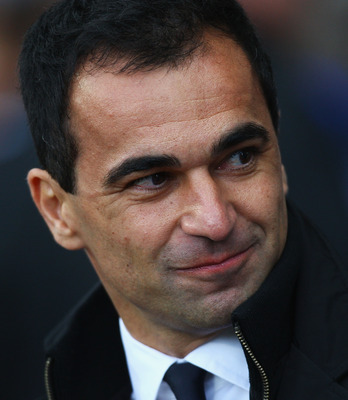 Matthew Lewis/Getty Images
Wigan manager Martinez has created a team which can be brilliant or awful in equal measure. He has beaten Chelsea and Arsenal amongst others in his tenure, but no one will forget Tottenham's 9-1 drubbing of Wigan either. His sheer unpredictability drops him in this list.
18: Tony Pulis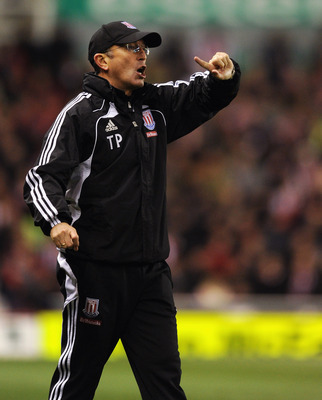 Michael Regan/Getty Images
Be-track-suited manager Tony Pulis has created a formula in the Premier League based around physicality and strength and it brings with it some success and lots of criticism. Against the better teams its a tactic which tends to lack the subtlety to succeed but against the teams around it has produced results. Accusations of bullying and over physicality follow this team endlessly.
17: Owen Coyle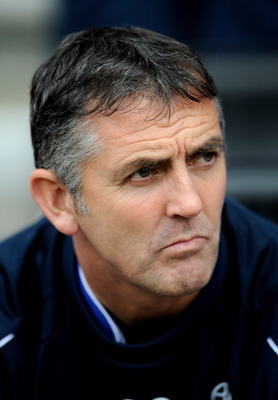 Michael Regan/Getty Images
Current Bolton manager, promoted with Burnley but left when the ship began to sink to the club which he played for. Despite the recent good form of Davies and Elmander, Coyle's teams are rarely easy on the eye and come with little notable success.
16: Avram Grant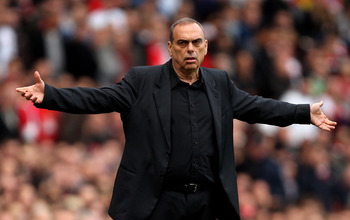 Clive Rose/Getty Images
Following a decent spell with Chelsea, Grant took over at crippled Portsmouth who were unsurprisingly relegated (less because of him, more because of the insanely damaging financial situation) but surprisingly reached the F.A. cup final. Following relegation Grant moved to West Ham to take over from Zola and West Ham are currently rooted to the bottom. Maybe Grant has been unlucky, asked to take over from Mourinho and left with Portsmouth's debts, but it never pays to stay around someone who courts bad luck so frequently.
15: Mick McCarthy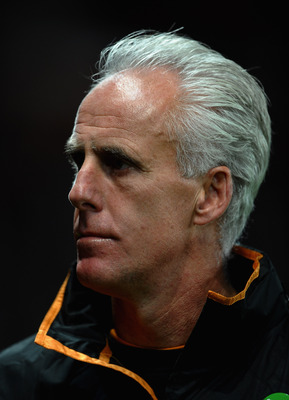 Laurence Griffiths/Getty Images
The no nonsense Yorkshireman/Ireland International seems to have a knack for relegation. With Wolves currently languishing in the bottom three Don't be surprised to see yet another McCarthy relegation. Despite this his teams have grit and determination and will attack anyone anywhere in sometimes highly entertaining games.
14: Mark Hughes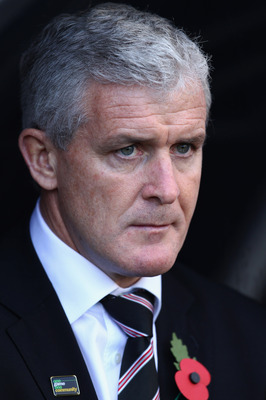 Julian Finney/Getty Images
Another staple of the Premier League managerial collection, Hughes followed an excellent playing career with a solid if unspectacular managerial one (so far). Mid table finishes galore with Blackburn followed by a decent spell with Manchester City. Now at Fulham, Hughes' teams play the game in a decent way but he won't be winning anything any time soon.
13: Roberto Di Matteo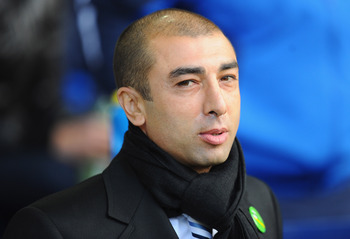 Mike Hewitt/Getty Images
Following a heavy defeat on the opening day of the season many predicted that West Brom would have a hard time in the Premier League. Di Matteo had proved doubter wrong to a certain extent by crafting a Baggies team with strength, guile and a little flair, beating Arsenal 3-1 away. West Brom have suffered some bad defeats too though meaning Di Matteo must make do with fourteenth.
12: Ian Holloway
Alex Livesey/Getty Images
The man with the legendary interviews, Ian Holloway has taken a small and unfashionable team into the Premier League on a shoestring budget and had remarkable success. He is only not ranked higher because we've seen it before, Hull did the same thing and collapsed. If he keeps it up, expect him to leap up the ranking.
11: Steve Bruce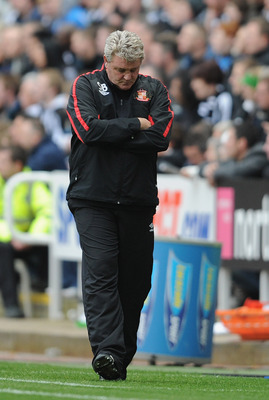 Michael Regan/Getty Images
Another solid mid table manager, Bruce has succeeded to this level with Birmingham, Wigan and Sunderland. Don't expect much silverware but don't expect too many relegations either.
10: Roberto Mancini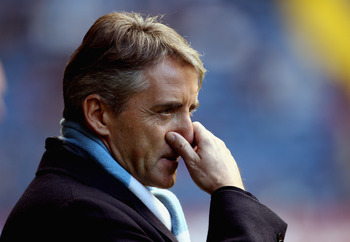 Scott Heavey/Getty Images
Manager of mega-rich Manchester City Mancini has yet to win anything with the most expensively assembled squad the league has ever seen. This hits his ranking hard as he was brought in for immediate effect by the owners. Mancini's tactics are often 'typically Italian', based around defence and can be terminally dull. Despite these failing Mancini is beginning to create the team he wants and it will only be a matter of time before silverware is his.
9: Chris Hughton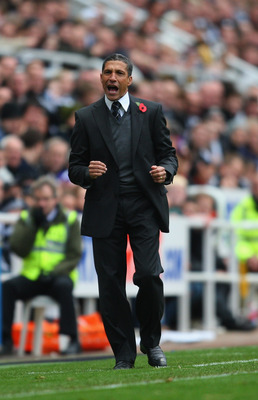 Stu Forster/Getty Images
Competent and surprisingly well dressed, Chris Hughton has put together a Newcastle team including firey and difficult characters and forged a real team bond. Midfield veteran Nolan has been a revelation and Newcastle have so far done very well including a 1-0 win over Arsenal and a 5-1 demolition of local rivals Sunderland. Its early days but Hughton is going the right way about maintaining his job.
8: Alex Mcleish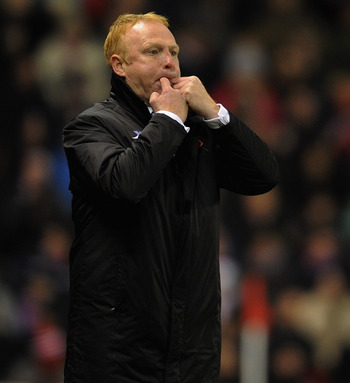 Michael Regan/Getty Images
Big Eck took over at Birmingham a team in a mess. Following relegation and subsequent promotion he took Birmingham to the heady hights of a ninth placed finish,k the best in fifty years with a tempestuous takeover in the background and very limited funds and players. A solid but unspectacular start to this season too means Mcleish ranks fairly highly.
7: David Moyes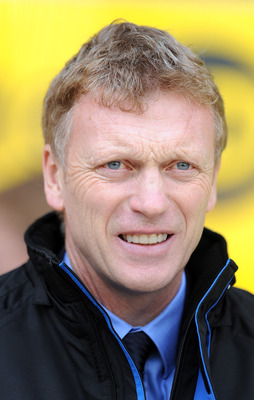 Chris Brunskill/Getty Images
Everton manager Moyes has made himself a good Premier League side. Lower echelons of European football are a regular for Everton and despite little in the way of silverware Moyes can be proud of his achievements in Liverpool.
6: Gerrard Houllier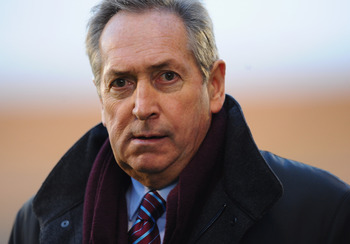 Mike Hewitt/Getty Images
The current Aston Villa manager is better known for his successes at the helm of Liverpool, winning the F.A. cup, League cup and Uefa cup during his tenure. He inherited a Villa side with injuries and several dud buys from the previous manager and has begun to turn them around.
5: Roy Hodgson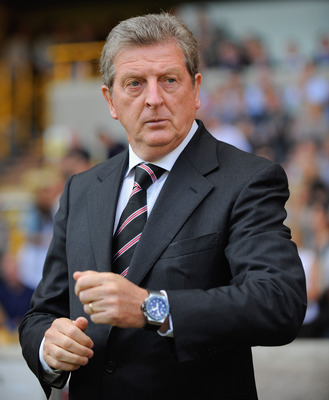 Michael Regan/Getty Images
An incredible run to the Europa League final with Fulham saw Hodgson given the role of Liverpool manager. This poisoned chalice threatened his reputation as the sub-par team offered sub-par performances, but a revival including a brilliant win against Chelsea have rejuvenated the scouse side.
4: Harry Redknapp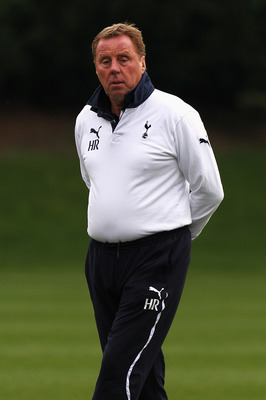 Dean Mouhtaropoulos/Getty Images
The 'cheeky geezer' manager of Tottenham Hotspur who broke the monopoly of the big four by capitalising on Liverpool's weakness with his Tottenham side. His successes with Portsmouth were also notable, an F.A. cup being the crowning gem and his current success with Spurs see him break into the top four of this list.
Carlo Ancelotti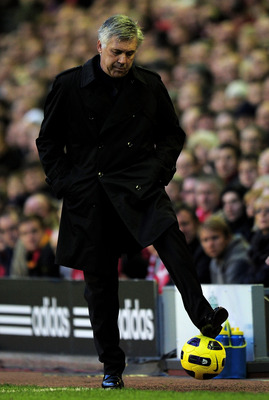 Shaun Botterill/Getty Images
Hugely successful in Italy, Ancelotti has brought that success to England and Chelsea, acting as a more than adequate replacement for Mourinho. He has won the league and F.A. cup and is well on his way to repeating that feat. Next on his list will be the elusive Champions League coveted by Abramovich, and within realistic sight of Chelsea's goals.
2: Arsene Wenger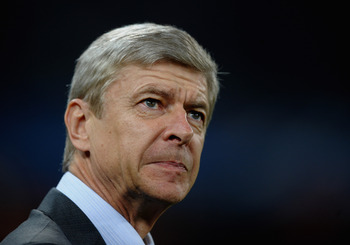 Laurence Griffiths/Getty Images
Yes Arsenal have suffered a medal drought for several years but three Premier League medals tell a story of success at the highest level. Add another four F.A. cups adds gloss, and to all this add the fact that Arsenal are the best proponents of youth in England and Wenger clearly deserves his place near the top of this list.
1: Alex Ferguson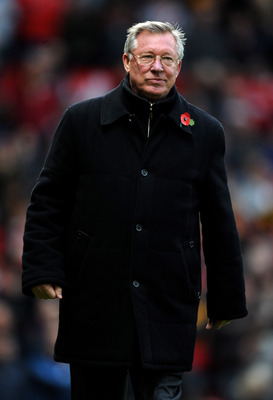 Laurence Griffiths/Getty Images
Love him or hate him, its hard to claim anyone else deserves top spot. Over twenty years managing the biggest club in the world to a staggering eleven Premier League victories, five F.A. cups and two Champions Leagues mean that Ferguson is undoubtedly top dog in the Premier League, but his retirement draws ever closer meaning that he will be replaced at top spot before too many more seasons are done. Until then, he has no equal.
Keep Reading