NHL Bang for Your Buck: Top 10 Bargain Contracts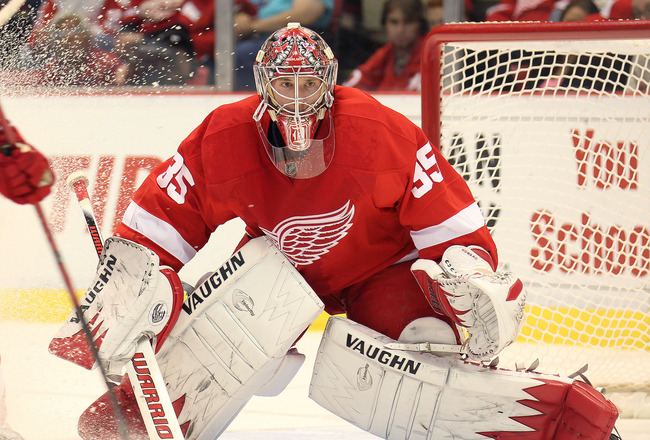 Claus Andersen/Getty Images
There is always a lot of talk about contracts in professional sports. But it seems that this year the spotlight has intensified. In the NHL, many teams are finding life difficult as they try to navigate a fluid roster and leave enough room to re-sign some players, make a deal or two at the deadline, or replace an injury.
A lot of the media attention and talk around the water cooler focuses on overpaid players and the impact they have on the budget. But today I want to look at the guys who are due for a raise.
Let's countdown the top 10 bargain contracts of the 2010 season.
10: Cody Franson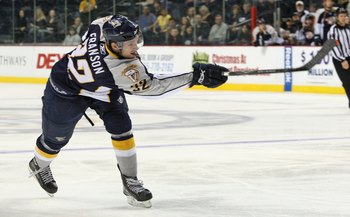 Frederick Breedon/Getty Images
Contract: $800,000
Not many people know about Cody Franson, but that will change this season. Many thought that the Predators would suffer a blow when Dan Hamhuis took his talents to the Pacific Northwest. But Cody Franson has picked up the slack nicely this year. He already has three goals, four assists, and a plus-five rating in 13 games.

Simply put, Nashville knows how to develop young talent. He is a third-round pick of the 2005 draft and only 23 years old. At $800,000, he is already outplaying his current contract and he will be looking for a significant pay raise if he keeps playing the way he's playing.
9: Jack Johnson
Contract: $1,425,000
Another young defenseman who is worth a lot more than his current contract is Kings blueliner Jack Johnson. His development was slowed a bit by injuries, but he already seems like a veteran and he is just 23 years old. With nine assists in 13 games this year, he is well on his way to another good season. Most of the time he is overlooked because of Drew Doughty. But sooner or later Jack Johnson will emerge as a star in his own right. He has great mobility and he is already a good all-around defender.
8: Niklas Grossman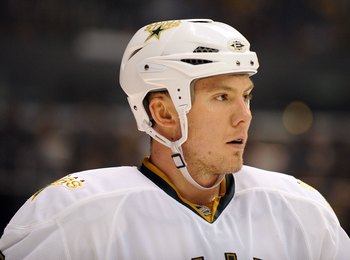 Harry How/Getty Images
Contract: $1,625,000
Noticing a trend yet? Yes, it is another defender. One of the reasons that teams find bargains at this position is because defenders usually take a bit longer to develop than forwards. Subsequently, they will still be on a low-end contract by the time they establish themselves as studs.
At the No. 8 spot is Niklas Grossman. He might be another name not many are familiar with, but that is probably a good thing. He is a very solid defensive defenseman and the only time you hear about them is when they make mistakes. Several teams have tried to include him in trade talks over the last few years, but Grossman is going nowhere. At 25 he will be a mainstay on the Stars blue line for years to come.
7: Alexandre Burrows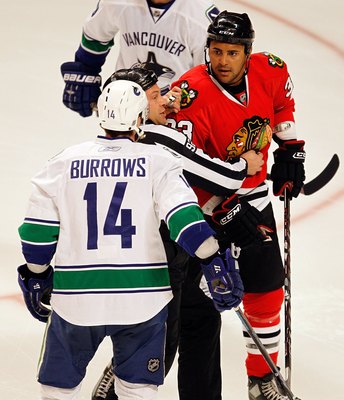 Jonathan Daniel/Getty Images
Contracts: $2,000,000
Alexandre Burrows has had a tough start to the season, but at $2 million he is a very nice bargain for the Vancouver Canucks. A lot is expected of this team this season and Burrows will play an integral part in any success they have. He is averaging over 30 goals the past two seasons to go along with his excellent two-way game. He gets under the skin of opponents and he could be one of the most annoying pests on the ice. Therefore, you must factor in more than the stats when it comes to his salary. He brings a whole lot of value for a bargain-basement price.
6: Brent Seabrook
Contract: $3,500,000
Brent Seabrook is on the last year of his contract. This is a double-edged sword for the Blackhawks. On one hand they are extremely happy that he only costs $3.5 million, given their bad cap situation. But they have more tough decisions to make when he becomes a restricted free agent next summer. He plays huge minutes, puts up points, and he was a key cog in the Stanley Cup run last postseason. Seabrook is only 25 and entering the prime of his career. Pony up Chicago.
5: Alexander Edler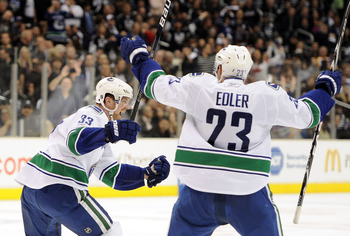 Harry How/Getty Images
Contract: $3,250,000
Alexander Edler is another young blueliner on his way to a nice pay raise. He has quietly been a steady defenseman for the Canucks for a few years, but he is really starting to come into his own. He logs enormous minutes on the top pairing and he plays in all situations. He has 10 points on the season and the sky is the limit for this youngster. The best is yet to come and he provides the Canucks with great value as they make a serious run for the Stanley Cup.
4: Chris Stewart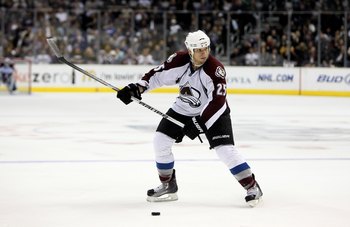 Jeff Gross/Getty Images
Contract: $2,875,000
What more can be said about this emerging power forward? He topped my list last week as the top rising star of October and he is quickly proving that last year was more than a hot streak. Stewart is among the top scorers in the league and he shows no signs of slowing down. He is a bull on the top line for the Avalanche and he is a beast in front of the net. Opposing defenders are going to have many sleepless nights as he imposes his will on teams this season.
3: Jonathan Quick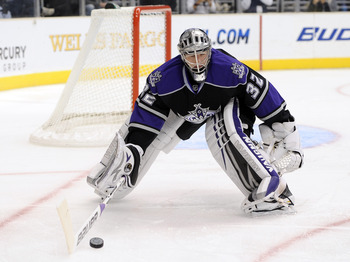 Harry How/Getty Images
Contract: $1,800,000
Another player near the top of my rising stars of October is Kings net-minder Jonathan Quick. He has been nothing short of spectacular this year and he is keeping young Jonathan Bernier on the bench for the time being. There were some (myself included) who questioned if he could be "the guy" for LA, but it appears he is well on his way to answering those questions. The Kings are expected to make a serious run in the playoffs this year. If Quick continues to play at this level, they'll have a good chance to go far.
2: Jussi Jokinen
Contract: 1,700,000
Jussi Jokinen is another player flying under the radar. But he broke out last season in a big way, with a 30 goal season. He's off to a slow start this year, but he brings more than goal scoring to the Hurricanes lineup. He is a fundamentally strong player who uses his versatility in a myriad of ways. He can play all three forward positions and he is deadly in the shootout. He'll need to produce at a high level for more than one season to qualify as a star, but at $1.7 million, he comes at a bargain basement price.
1: Jimmy Howard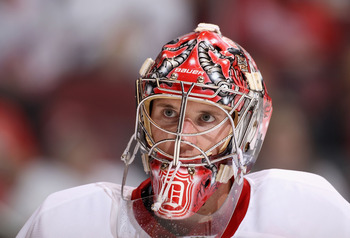 Christian Petersen/Getty Images
Contract: $716,000
Topping the list with relative ease is Detroit goaltender Jimmy Howard. He is another player who had to prove that he wasn't a one year wonder. After nine games he is proving he's got game. The Red Wings have leap-frogged the Blackhawks in the division and they should be in contention for another deep playoff run this spring. Confidence is high in Motown and much of that has to do with the play of Howard. The days of going for a Cup with average goaltending might be a thing of the past as Howard is proving he's among the league's better net-minders. At $716,000, Detroit management is doing cartwheels in the press box. He'll also be looking to break the bank if he keeps up his stellar play. For now, he qualifies as the league's top bargain contract.
Keep Reading