Wade Phillips: Dallas Cowboys Fire Their Head Coach After Miserable Start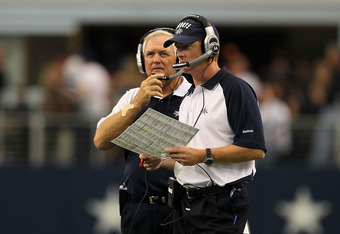 Stephen Dunn/Getty Images
The Wade Phillips era is finally over with the Dallas Cowboys, as word came down from Valley Ranch that Jerry Jones had fired his head coach.
Some would say this move comes a day late and a dollar short. They would be right, especially after the team got embarrassed by the Green Bay Packers on Sunday Night Football.
Early this morning, all of the rumors and speculation started about Phillips being removed as the head coach but there were more of us that didn't believe Jones would send his head coach packing, especially since the season was already lost.
I was one of those that believed Phillips would be able to ride out the season but wouldn't survive after that, especially with the way this team was playing.
When the season began with a loss to the Washington Redskins, a loss that the team never should have had, the questions immediately began as to when enough was going to be enough.
Instead of taking a knee at the end of the first half of that game, the Cowboys instead ran a play and a fumble was forced from the arms of Tashard Choice and returned for a touchdown.
To add insult to injury, quarterback Tony Romo led the team down the field and threw what most thought was the game-winning touchdown pass to Roy Williams. Instead, a holding penalty was called and the game ended just like that.
Since then, the season hasn't gotten much better. One win in eight games and turmoil not only in the locker room but in the Cowboys front office as well.
Whether you blame Wade Phillips for the way this team has played or whether you blame the players, the person that should have a lot of fingers pointed at is Jerry Jones.
He's continued to have control of this team and control of the player personnel moves. He won't give that up to anyone nor will he name a general manager to take over those duties. To Jerry, this is all about control, and he's not realizing that Wade isn't the only one at fault for what's happened this season.
The outlook for the remainder of the 2010 season is bleak to say the least. Jason Garrett, the team's offensive coordinator will take over as the interim head coach. He's a guy that a lot of fans and media alike don't believe in and don't think deserves the gig.
While this isn't an official head-coaching gig, there are those that would tell you Garrett has been groomed to take over this team. The way the offensive play-calls have gone this season, he doesn't look much better than Phillips.
No one knows if there's going to be a 2011 season with the collective bargaining agreement coming up and, from everything I've heard, there's a good chance that we could see the longest lockout we've seen in the game's history.
Fans, like myself, don't want to see that happen but it's the only reason that Jones has not brought a brand new head coach into Dallas to try and right the ship or at least give him the rest of this season to get to know the team and its players.
For now, Cowboy fans will wait and see what Garrett does with this team for the rest of the season. But, make no mistake about it—these fans will have a more critical eye on Garrett than they ever did on Phillips.
The Dallas Cowboys are in trouble and until Jerry Jones realizes how to fix it, starting with himself, these problems could continue to raise their ugly heads.
This article is
What is the duplicate article?
Why is this article offensive?
Where is this article plagiarized from?
Why is this article poorly edited?

Dallas Cowboys: Like this team?