Oakland Raiders, WR Jacoby Ford Keep the Division Record Perfect, Dispose of KC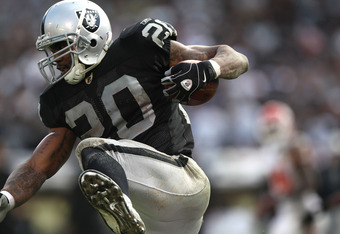 Jed Jacobsohn/Getty Images
Who is this Jacoby Ford guy? Al Davis can answer that.
A known drafter of players who perform freakishly at the NFL combine, Al Davis might be the only person who isn't surprised about Raiders' WR Jacoby Ford.
Ford caught only six passes, but racked up 146 yards, including two catches that set up the game tying field goal at the end of regulation and the game-winner in OT. Arguably his biggest contribution was a 95-yard kickoff return TD at the beginning of the second half which closed the gap on a 10-0 halftime lead for the Chiefs.
The contest was far less than impressive on the stat sheet for both teams. Oakland somehow pulled out a victory while accumulating 13 penalties, three turnovers and not suiting up Nnamdi Asomugha and Zach Miller.
The continuation of baby steps.
Even in the persistent showers, Oakland seemed to draw the majority of their first sell-out in 11 games.
Oakland overcame their consistent penalty problem, adding to their character, which has largely been scripted from their last three games.
With a three-game win-streak on the resume for the first time since 2003, the Raiders have now built a foundation to play with confidence, which is something that will be crucial in Pittsburgh after Oakland has their bye this coming week.
Bearing Witness: A fan in the stands perspective
After the San Francisco Giants won the World Series and with the NBA season underway, sports fans in Oakland have more than enough reason to not put their effort into stressing over the Raiders.
However, the buzz of excitement was contagious as I walked into the tunnel to have my ticket read.
Tom Cable's post-game quote explains my thoughts quite eloquently: "You could feel the mood on the sideline; no one was backing down. The intensity was evident."
In the minutes before halftime, the jumbo-tron went to a live feed of Bruce Gradkowsi on the sideline. Typically, with Campbell playing as poorly as he had in the first half, the "Bruce" chants would have been booming off the concourse walls. That wasn't the case Sunday as fans chose to rally behind off-season acquisition Jason Campbell.
Although it was probably more evident on television, the fans were becoming restless with the referee's after what seemed like one of the worst officiated games of the season. At one point, they didn't even know what down it was as Kansas City lined up from the Raiders seven yard line, having to stop play and discuss what was wrong.
As Janikowski hit the game winner in overtime, fans were jumping up and down, hugging each other, and practically crying tears of joy over what, in reality, is just a regular season game. Don't get me wrong, for more than one reason Sunday's game was just as important as any they've played since coming back to Oakland from LA.
After the score was a final, players on the Oakland sideline sprinted 80 yards towards the black hole, leaping into the grasps of victory-starved fans. The stadium remained trapped in an echo of cheers for ten minutes after time expired, and as the PA announcer stated "join us for our next home game in three weeks against Miami", the fans exploded with a confident, traditional 'Raaaaaiiderrrrrrs' chant.
Oakland steps into their bye week with a 5-4 record, but more importantly, a perfect 3-0 record within the division. Oakland hopes to return Nnamdi Asomugha and Zach Miller to the starting lineup in two weeks.
Expect the unexpected?
Nnamdi's replacement, Jeremy Ware had a huge interception in the end-zone, killing a Chiefs scoring drive.
Oakland gave KC six first downs on penalties. That's as many as the Chiefs had running the ball.
KC rushed 34 times for only 104 yards, averaging just over three yards per touch.
Janikowski implemented a squib kick in overtime, which eventually set up a three and out, largely in part from Janikowski's squib placement. Why is that unexpected? Sebastian typically kicks the ball in the second deck of the stadium. This time, he used his head, and booted a line-drive that was virtually un-returnable. Who knows what would have transpired if it had been a touch-back
Oakland will be in front of the tube this coming Sunday to watch the Chiefs second division clash in a row as they take on a struggling Denver Broncos team. Before then, I will leave you with a fun fact, reported on ESPN.
"Jacoby Ford became the second rookie in NFL history to record 140 receiving yards, and 150 returning yards. The last player to do it was Gary Ballman in 1963."
This article is
What is the duplicate article?
Why is this article offensive?
Where is this article plagiarized from?
Why is this article poorly edited?

Oakland Raiders: Like this team?