Cardinals vs. Vikings: Live Blog, Stats and Play-By-Play Analysis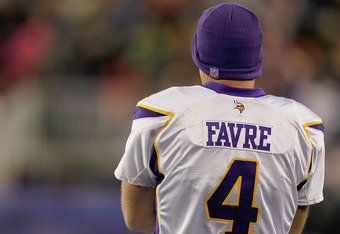 Jim Rogash/Getty Images
So I'm a little late here, but hey, apparently I haven't missed much so far. In fact, all the hype that has gone into this game has been the soap opera that is the Minnesota Vikings.
How will Minnesota handle not having Moss?
How many interceptions will Derek Anderson throw? Okay, okay..."Do the Cardinals have a chance to win" would be a more "glass half full" answer...
Stay tuned!
Well...congrats to the Vikings. They earned it....I'm going to go hide my head in shame...
Great playcalling today by Minnesota. You have to hand it to them.
Maybe Longwell will pull a Janikowski?
Hey look it's Bernard Berrian...again. Can you tell I'm frustrated?
Huge holding call there. That's what Arizona needed badly...
AP has not gotten too many touches today but has taken advantage of them for sure.
Well, I have to say it, congratulations to the Vikings. I'm being pessimistic here, but Favre has done very well today and the Cardinals defense is dead.
Wow. Maybe we should give Houston a call. Anderson has done well today, but this is rediculous...
What's brutal is Anderson had Fitzgerald open on first...
Really? Why do you not run the ball???
Not sure I like the call to go to the air there...
Woo Hoo! Arizona gets the ball first....don't know if that means anything, but at least we have a chance. The bad news is with the new overtime rules, if we get a field goal, the Vikings get a chance too, and I don't think Arizona could stop them.
That was a heck of a play by Jared Allen though to break up the screen though...
You cannot get sacked right there...Anderson has to get it out...Throw it away or something.
Wow...that's so surprising that this is the career high for Favre...incredible career he has had.
But major props to Brett Favre. He has had a heck of a game today.
Play worse defense. Seriously?
10 seconds off? wow...brutal.
Huge penalty there...stops the momentum...maybe...
Nice sack though by Joey Porter who has stepped up today...
Unbelievable. I'd say just let them score here. Is this a defense or a sieve?
Thankfully for the Cardinals, they didn't get the next play off. I tell ya, if this goes to overtime, the Cardinals aren't looking too good.
How many times do I have to say that it's Bernard Berrian? Really Greg Toler?
Wow what a heck of a tackle there on Fitz. Huge stop for the Vikes...
This article is
What is the duplicate article?
Why is this article offensive?
Where is this article plagiarized from?
Why is this article poorly edited?

Arizona Cardinals: Like this team?