Saints vs. Panthers Football: Live Blog, Stats and Analysis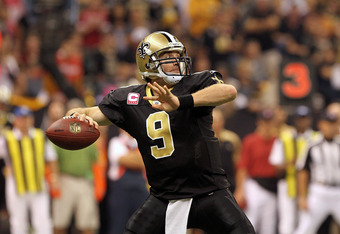 Matthew Sharpe/Getty Images
Good afternoon, NFL fans. This is Keyon Jeff, featured columnist, providing the live blog for today's New Orleans Saints-Carolina Panthers game from Bank of America Stadium.
New Orleans (5-3) is coming off its most impressive game of the season with last week's victory over the Steelers. But they have also struggled against lesser teams (losses to Arizona and Cleveland). Which Saints team will show up today in Charlotte?
Carolina (1-6) is last in total offense and their once-feared rushing attack is lifeless. Coach John Fox is starting Matt Moore at quarterback over Jimmy Clausen despite his struggles.
So join me for the next three hours or so, and see who prevails. I'll talk about everything from X's and O's to the FOX commentators Dick Stockton, Charles Davis and Jim L. Mora and have some fun along the way.
Thank you for being with me today. I enjoy blogging Saints games. New Orleans has its bye next week, so I'll be off as well. I will see ya'll on Nov. 21 when the Seattle Seahawks come to the Superdome to face the Saints. Until then, good night and good luck.
Final Thoughts
Saints played another complete game on the road against a division foe. Despite Brees' slow start, the offense looked good, particulary the running game. They need to be concerned about possible injuries to Shockey and Ivory, while Bush and Thomas are still out.
Don't know how to assess the Saints defense. Carolina had the worst offense in the NFl entering the game and left the same way. Saints D did what they should have done. But it was great to see the ball-hawking presence of Darren Sharper and Jabari Greer infecting the rest of the defense.
Saints are solidly in the discussion of NFC's beat team, with the Giants, Falcons and Packers.
Carolina is the worst team in the NFL despite having one win, while Buffalo is 0-7.
Panthers Final Game Stats
Total Yards: 195 (68 passing, 127 rushing)
Clausen 8/18, 47 yards; Rating 28.5
Pike: 6/12, 47 yards; Rating 60.1
Sutton: 7 carries, 4 yards
3rd Down Conversion: 1-for-12
Defense: 1 INT, 1 sacks
Time of Possession: 25:19
Saints Final Game Stats
Total yards: 408 (243 passing, 165 rushing)
Brees: 27/43, 253 yards, 2 TDs, 1 INT; Rating 84.7
Jones: 6 carries, 68 yards
3rd Down Conversion: 7-for-14
Defense: 4 sacks, 1 fumble recovery, 1 INT, 1 TD
Time of Possession: 34:14
Saints record improves to 6-3, and they get their first season sweep of Carolina since 2001.
Panthers are now 1-7. First time they have had such a record through 8 games since 2004.
GAME OVER! SAINTS WIN 34-3!
Chase Daniel in at quarterback for Brees.
Jeff Charleston sack end Carolina's best shot of scoring a touchdown. Saints takeover at the 30.
Another bad personal foul call by the refs. The receiver was down, and the whistle hadn't blown when Anthony Hargrove hit him.
TOUCHDOWN SAINTS! Ladell Betts powers his way over the goal line ona 1-yard TD run. Extra point is good. Saints stumping the Panthers 34-3, with 8:12 remaining.
That was good pass interference call on Marshall.
Now Chris Ivory is going into the locker room? Neither team, but especially New Orleans, can afford to keep losing bodies.
Maybe Payton should pull Brees. Don't want him getting hurt on a meaningless drive in a blowout.
Tony Pike is in at quarterback for Carolina. Charles Davis is trying to convince the audience that John Fox should keep Clausen in the back to battle through adversity. Has he been watching the same game the rest of us have?
Saints CB Leigh Torrence sacks Clausen back at the 2-yard line as 3rd quarter ends. New Orleans 27, Carolina 3. It's getting embarrassing for the Panthers.
TOUCHDOWN SAINTS! Jabari Greer jumps Gary Barnidge's route and intercepts Clausen, returns the ball 24 yards for a touchdown. Extra point is good. Saints are putting a beatdown on Carolina 27-3, with 41 seconds left in 3rd quarter
Saints have been pinning Carolina near their end zone the whole 3rd quarter.
Steve Smith definitely pushed Porter in the back, but I don't know if that was enough to call pass interference.
Panthers fake the punt. LB Jordan Senn barely picks up the first down at the Carolina 44. John Fox must have been watching LSU and Les Miles yesterday.
Hartley nails a 36-yard FG to increase Saints lead to 20-3, with 8:38 left in the 3rd quarter.
That shot on Colston by Jon Beason was perfectly legal: shoulder-to-shoulder. Bad call by the ref. Ed Hochuli threw that flag based solely on the echo of the collision. The NFL and Commissioner Goodell should focus only only guys leading with the crown of their helmets.
Panthers 1st Half Stats
Total Yards: 91 (9 passing, 82 rushing)
Moore: 3/6, 13 yards; Rating 56.3
Clausen 3/5, 11 yards; Rating 64.6
Sutton: 6 carries, 40 yards
3rd Down Conversion: 0-for-5
Defense: 1 INT, 0 sacks
Time of Possession: 11:55
Saints 1st Half Stats
Total Yards: 284 (183 passing, 101 rushing)
Brees: 18/28/183 yards, 2 TDs, 1 INT; Rating 91.8
Jones: 4 carries, 67 yards
3rd Down Conversion: 4-for-7
Defense: 2 sacks, 1 fumble recovery
Time of Possession: 18:05
This article is
What is the duplicate article?
Why is this article offensive?
Where is this article plagiarized from?
Why is this article poorly edited?

New Orleans Saints: Like this team?