Dolphins vs. Ravens: Live Blog, Stats and Analysis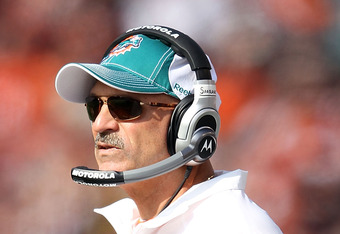 Andy Lyons/Getty Images
Hello Dolphin fans. This is your live blog for the best coverage of the Miami Dolphins against the Baltimore Ravens. I will be posting constant updates. Feel free to post regular comments and feedback as you see fit.
Whether you are at the game, by your television, listening via radio or not able to catch the game, check your computer, Blackberrys and iPhones for updates via this blog.
Some Quick Pregame Notes
Sean Smith has replaced Jason Allen as the Dolphins starting cornerback to be paired with Vontae Davis.
Inactives for today are Clifton Geathers, Marlon Moore, Nate Ness, Patrick Brown, Lydon Murtha and Mickey Shuler.
Today marks the first game back for the Baltimore Ravens' Donte Stallworth since his year-long suspension and foot injury. If he still has his deep speed, that could present a serious problem for Miami.
Some Questions from Around the League
How will Michael Vick look against a suspect Indianapolis defense in his return from a chest injury?
Is this the game that gets Brad Childress fired?
Which is the superior team in the NFL? Is there one?
Till next time..the Baltimore Ravens are now 6-2 and the Dolphins are 4-4
I can't think of any clear positives other than Wake so I am going to draw some final conclusions and call it a day.
1. Brandon Marshall did not play like an elite receiver today. Forget his lackadaisical effort on the deflected Henne pass that was intercepted by Ed Reed. Your go to receiver has to get open and the Ravens' corners aren't that good.
2. Ronnie Brown and Ricky Williams looked old. Its not that Brown didn't have some good runs, he did, but you have to look at Baltimore's Ray Rice and be jealous.
3. We were too quick to anoint Vontae Davis as a Pro Bowl corner. He didn't play like it today in arguably the most important game of his career to this point.
4. Miami's defense ia a huge concern, especially the intermediate pass routes and run defense. They had no answer for the running back out of the backfield.
5. Special teams is still a huge concern. Nolan Carroll offers very little in the return game. The non-covered receiver on the fake punt was a glaring mistake.
Marshall Yanda just blew up Channing Crowder.
Positives for the Dolphins. Cameron Wake is still playing hard and well.
Total yards this half. 223 for Baltimore and 90 for Miami.
What you are seeing now is a true physical team, the Baltimore Ravens.
The shame for Miami Dolphin fans is that Baltimore is making enough mistakes that the Dolphins if they could execute on a consistent basis they could win.
Incomplete to Marshall in the endzone. Third and four for Miami and the blitz gets Henne because unlike Joe Flacco, the Dolphins don't have Ray Rice. Carpenter misses the long field goal.
Henne completes a big pass to Hartline to the Baltimore 29.
Henne looks gunshy. He completes a pass short of the first down to Marshall as the third quarter ends. Third and short and a "must have" for Miami.
Billy Cundiff misses a field goal but Miami still down by 10.
Sean Smith just dropped a pick six that would have put Miami back in the game.
The Ravens are playing with more energy. Look at that four yard run by Rice. All effort and youthful legs. Cameron Wake wraps up Rice and seems to be the only player on defense actually into the game.
If Miami has any hope staying in this game. They must convert this third and three. Brown drops a perfect pass. I mean perfect. I repeat the Dolphins are not good enough. Decent try by Miami to get Baltimore to jump offsides.
Penalty by Mcquistan puts Miami in second and six instead of second and one.
On the flip side, does Derrick Mason really need Channing Crowder to psyche himself up? Kind of a joke.
Vontae Davis beaten on the touchdown to Derrick Mason, the "Old Man" and the Dolphin killer. No pass rush and therefore no shot. Davis is having his worst game of the year. Channing Crowder needs to keep his mouth shut. The 36-year old receiver is outplaying him. Crowder has looked lost in coverage and got beaten badly on Magahee's touchdown.
The Dolphins are just not good enough at this point to win this football game. They need the Ravens to lose it.
Does anyone want to cover Ray Rice? I know you need to blitz but come on.
Three and out. Great punt but Miami needed to come out of the gate better than that.
Miami may be going three and out here on their first series and they can't afford to...
I have the same opinion now as I did when this game started. Miami must play their best football and get a break or two to win this game. Haloti Ngata just devoured Ricky Williams.
Henne overthrows a wide open Fasano. Ball came out wild and for once I agree with Dan Dierdorf. A missed opportunity. I can honestly say that the ball looked to come out of Henne's hand fine and then went haywire.
3rd and goal after Bess can't quite get in the endzone. A better throw by Henne and Bess probably scores.
Complete to Hartline for a first down. No gain on a pass to Brown. Two downs to get in the endzone from the 10-yard line.
This article is
What is the duplicate article?
Why is this article offensive?
Where is this article plagiarized from?
Why is this article poorly edited?

Miami Dolphins: Like this team?