TCU vs. Utah Football: Live Blog, Stats, Analysis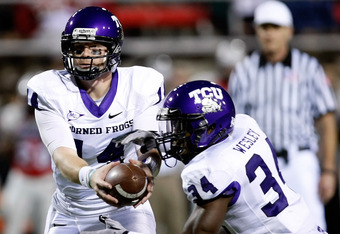 Can the Andy Dalton led Horned Frogs stay undefeated?
Ethan Miller/Getty Images
I'd like to welcome everyone to the live blog of the top five match up between TCU-Utah. In 2008 the Kyle Whittingham led Utes handed TCU a 13-10 loss at Rice-Eccles Stadium. Gary Patterson leads his third ranked Horned Frogs into that same stadium, the site of their last regular season loss, Salt Lake City, Utah.
Thanks for joining me for this live blog of the highly anticipated TCU/Utah game from Salt Lake City, Utah. Hopefully you've enjoyed all the games today and continue to do so well into the night.
Had a blast.
Some stats are irrelevant in a game like this. Some are not. TCU held the ball for 39:06 to Utah's 20:54. TCU turned the ball over once, while Utah turned it over four times, two on the ground and two through the air. TCU was 11 of 15 on 3rd down. Utah was 3 of 13. Finally TCU gained 558 yards to the 199 yards that Utah gained.
The clock ticks down to zero and TCU wins 47-7 at Utah, in Rice-Eccles Stadium. TCU has just won it's 23rd straight regular season win, which is the second longest streak in the nation. TCU may actually be the best football team in the nation.
The game ticks down under two minutes with TCU having locked this game up at the half. TCU allows 8.7 points per game. Only 7 today. If TCU wins out, they will play in the BCS National Championship Game. Unless they lose, they may actually win the National Championship.
TCU is showing just how good they are. Gary Patterson is showing just how good he is as well. TCU has held 13 of its last 20 FBS opponents under the average points scored for them. Incredible.
Down under 5:00 and TCU attempts an option. The option is fumbled by backup QB Paul Hall, but Utah over runs the ball and TCU picks up and scampers into the endzone for the Touchdown. To further show that things aren't going the way of the Utes after the fumble recovery, Utah gets a hand on the extra point, but it still goes through. TCU 47-Utah 7. 4:58 to go.
At this point TCU should consider going independent. They should get a better deal than Notre Dame as far as BCS. I just wonder about their possibilities for TV deals. With this beating of Utah it makes TCU look good, but does it make Utah, and the teams Utah has beaten look weaker and overrated? You have to consider that in the BCS era.
Utah's defense stands strong and forces a three and out allowing only eight yards on that drive. Utah gets the ball back at their own 21 yard line. 9:16 to play.
Utes actually got away with one. Replay clearly shows that Asiata's knee was down with the ball around the one, but the extra point has been kicked and TCU has the ball back. 2nd & 6 Horned Frogs from their own 24 with 10:30 left to go in regulation.
There is no quit in Kyle Whittingham's Utes. Matt Asiata catches a pass and fights hard to get into the end zone to allow Utah to avoid the shutout. 40-7 TCU with 11:12 remaining in the ball game.
Pretty indicative of what Utah has dealt with all day. Jordan Wynn hits a wide open receiver who falls down in the open field.
With a 40 point lead it looks like Gary Patterson won't send Ed Wesley back into the game. Wesley still on the trainers table with his ankle now iced. Wesley will finish this game with 50 yards on the ground.
Andy Dalton was pressured and forced Dalton out of the pocket and forced an incompletion in the endzone. Field Goal TCU, and TCU hits the 40 point mark and basically ends any hopes Utah had. Kansas scored 35 points in the fourth quarter earlier today, but I don't see that happening here, and 35 wouldn't even be enough.
TCU 40-Utah 0. 14:49 left in the 4th quarter.
End of the third quarter with TCU threatening to score once again. If TCU scores, regardless of field goal or touchdown they will be at the 40 point mark. This was a game where 40 points was thought to be a stretch for the combined score of both teams.
Andy Dalton doing his best Peyton Manning impersonation, changing up the play at the line and converting a 3rd and 9 with a perfectly placed pass. The Horned Frogs have it 1st & 10 from the 13 with 1:00 to go in the third quarter.
There is no doubting that TCU came to Salt Lake City to prove a point. That point is that they believe and can back up that they are the top team in the country. They've put 37 on a very good defense in less than three full quarters. TCU came in with the nations top scoring defense, and they are showing why, having pitched the shutout through 43 minutes.
Shaky Smithson is trying so hard to make something happen. You have to admire his heart, even when there's an illegal block in that back that had no impact on the plays actual outcome. 1st and 10 Utah from their own 8 yard line. 92 yards to pay dirt with 5:25 to go in the 3rd down 37-0.
Touchdown TCU. Andy Dalton to Jimmy Young. Some of the Utah fans that were still at Rice-Eccles are making their way towards the exits at this point. Still a strong contingent of fans, but the aisles aren't visible with the bodies in them.
37-0 TCU in the third quarter.
TCU running back Ed Wesley on the trainers table getting his ankle looked at. It has been heavily taped. He is likely to return to the game.
Another punt for Utah. TCU takes over at the 24 yard line. TCU leads 30-0 with 11:12 left in the 3rd quarter.
Utah takes the ball right back with a huge hit on the backup running back for TCU. Utah needs to capitalize on this momentum. Utah responds with a first down and one of their longest plays of the day. Some of the Utah faithful have already left the stadium.
The body language of the Utes isn't promising right now. Frustration is growing on the field and on the sideline. Utah has already allowed 16 more points than their per game average. First play of the drive sees a forced fumble when the ball is stripped right into the hands of a TCU defender. TCU takes over at the Utah 36.
Only 40 seconds gone in the second half and TCU has a 30 point lead.
Touchdown TCU. Wesley walks in the end zone for 6 more after the interception return.
Jordan Wynn has been heavily pressured, and hasn't set his feet many times today. 3rd and ten and Wynn throws an interception returned by TCU down to the Utah five yard line.
This article is
What is the duplicate article?
Why is this article offensive?
Where is this article plagiarized from?
Why is this article poorly edited?

TCU Football: Like this team?