LSU vs. Alabama Football: Live Blog, Stats and Analysis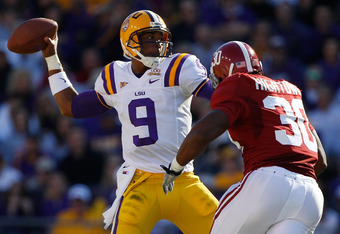 Chris Graythen/Getty Images
Good afternoon, college football fans. This is Keyon Jeff, LSU Featured Columnist here, providing the live blog of today's SEC West contest between No. 6 Alabama and No. 10 LSU from Tiger Stadium.
Both teams return to action after a week off, sport identical 7-1 (4-1) records and have the best defenses in the SEC.
This matchup features the powerful Alabama rushing attack of Heisman Trophy winner Mark Ingram and Trent Richardson versus the stout LSU run defense led by Drake Nevis and Kelvin Sheppard.
The winner of this battle will remain in the hunt for the SEC Championship and even the BCS National Championship .
So join me for the next three hours or so, and see who prevails. I'll talk about everything from X's and O's to CBS commentators Verne Lundquist and Gary Danielson and have some fun along the way.
Thank you for being with me today. I love blogging these LSU games. Never know what's going to happen when two good teams faceoff, and The Mad Hatter is coaching. I don't know if I'll be blogging next week's LSU game versus Louisiana-Monroe. But I'll definitely be back Sunday when the New Orleans Saints travel to Charlotte to play the Carolina Panthers. Until then, good night and good luck.
Final Thoughts:
LSU played Alabama's style of game better then Alabama. Pound the opposing defense on the ground and take advantage of opportunities deep with the pass. The Tigers outgained the Tide 338 yards to 174 iin the second half.
All the Jordan Jefferson haters will have shut up for at least the upcoming week. Both and Lee showed glimmers of hope for the passing game.
The Tigers defense was great when they needed to be, particularly Nevis and Sheppard. Good to see them bounce back from that Auburn debacle.
Les Miles proves once again that you can't prepare for or defend against crazy. A reverse on 4th and 1?
McElroy, who prior to this season hadn't lost as a starter since 8th grade, now has two losses in a month.
With this win and Nebraska's struggle with Iowa St, LSU might become the highest ranked one-loss team in the BCS standings. We'll find out Sunday night.
LSU Final Stats
Total yards: 433 (208 passing, 225 rushing)
Jefferson: 10/13, 141 yards, 1 TD
Lee: 4/7 67 yards
Ridley: 24 carries 88 yards, 1 TD
Randle: 3 catches, 125 yards, 1 TD
3rd Down Conversion: 6-of-17
4th Down Conversion: 2-of-2
Turnovers: 0
Time of Possession: 28:46
Alabama Final Stats
Total yards: 325 (223 passing, 102 rushing)
McElroy: 21/34, 223 yards, 2 TDs, 1 INT
Ingram: 21 carries, 97 yards, 1 TD
Jones: 10 catches, 89 yards, 1 TD
3rd Down Conversion: 7-of-14
Turnovers: 2 (fumble lost and INT)
Time of Possession: 31:14
GAME OVER! LSU WINS 24-21! Tigers keep SEC and BCS title hopes alive. Bama's dreams of a repeat dies in Death Valley.
Can't believe Julio dropped that pass. Probably would have been tackled inbounds if he caught it.
Jasper should have angled that punt toward the sideline.
What a play by Lee! Throws deep to a wide open Randle for a 41-yard completion on 3rd and 13 into Alabama territory. Horrible mistake by Josh Dworaczyk with that personal foul penalty. Cost LSU 15 yards.
TOUCHDOWN ALABAMA! Julio Jones beats Patrick Peterson inside and catches a 9-yard TD pass from McElroy. Extra point good. Tide trims Tigers lead to 24-21, with 3:23 remaining. Another classic LSU-Bama game!
Jasper nails the 39-yard field goal. LSU extends its lead to 24-14, with 5:34 remaining.
Miles went too conservative with his play calling on that series.
Drake Nevis sacks and forces fumble from McElroy. Recovered by Kelvin Sheppard at the Alabama 28-yard line. Sheppard called for the linemen to shift right, and Nevis found an open direct path to McElroy.
TOUCHDOWN LSU! Ridley spins off Bama tackler at the goal line and into the end zone for 1-yard TD. Jefferson connects with Randle for the 2-point conversion. LSU recaptures the lead 21-14, with 8:13 remaining.
Les Miles, you magnificent bastard! LSU coverts 4th and 1 with a 23-yard reverse by Deangelo Peterson to the 2-yard line.
LSU was fortunate to recover that ball. Neutral zone infraction cost LSU 23 yards.
Ryan Baker drops McElroy for a 9-yard sack. LSU defense holding it together despite the injuries.
Jasper makes a 35-yard FG to cut the Bama lead to 14-13, with 14:16 remaining.
End of 3rd quarter: Alabama 14, LSU 10.
WOW! Russell Shepard almost broke that run for a touchdown. Chased down by Barron for 41-yard gain to the Bama 24.
TOUCHDOWN ALABAMA! Ingram sweeps left and scores on a 5-yard TD run. Extra point good. Tide retakes the lead 14-10, with 2:30 left in 3rd quarter. Bama answers Tigers' TD with 11-play, 75-yard TD drive of their own.
McElroy and Ingram are methodically pounded away at LSU's defense on this drive.
Alabama has two guys wearing No. 4 playing in this game: Maze and Barron. Division I football teams have too many guys on their rosters if players have to share jersey numners.
TOUCHDOWN LSU! Jefferson finds Randle over the middle and he outruns Bama CB Mark Barron 75 yards for the go-ahead touchdown. Extra point good. LSU retakes the lead 10-7, with 8:17 left in 3rd quarter. This is Jefferson's first TD pass since the second quarter against North Carolina back on Sept. 4.
That was Jefferson's best pass all game, a 19-yard completion to Terrence Toliver.
McElroy is finding the open man against the LSU defense. Tigers have gotten little to no pressure on him since the first quarter.
This article is
What is the duplicate article?
Why is this article offensive?
Where is this article plagiarized from?
Why is this article poorly edited?

LSU Football: Like this team?