Juan Manuel Lopez Vs. Rafael Marquez: Live from MGM. Follow On Twitter: KingJ323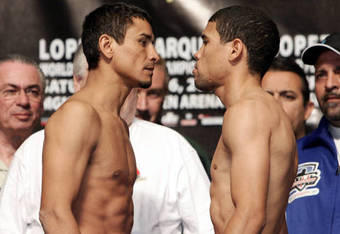 Follow on Twitter.
The Puerto Rico vs. Mexico war continues live from the MGM Grand in Las Vegas this Saturday night, as the undefeated Puerto Rican knockout artist Juan Manuel Lopez 29(26)-0 takes on Mexican warrior Rafael Marquez 39(35)-5 in one of the most highly anticipated featherweight championship title fights in a long time.
It will be safe to say that Lopez vs. Marquez should be fireworks inside that ring. Plus you add what may be one of the biggest rivalries in all of sports—Puerto Rico vs. Mexico—and make what would have been a good fight, a great fight.
Your friend King J will be live at the MGM Grand in Las Vegas covering this fight for all the fight fans out there. From the latest live results from the undercard fights to the main event, to which celebrities are in attendance, as well as any insight from the MGM Grand and the press media conference.
So make sure to follow on Twitter: KingJ323
In a brutal fight of the year worthy performance Lopez TKO's Marquez in round 8. The corner noticed Rafael pointing at his shoulder.
The majority Mexican crowd is now flooding the exits of the MGM Grand Arena exit.
Alright guys check me on Twitter for more live real time updates!
twitter.com/kingj323
Lopez getting some boos from the Mexicans as he enters.
Rafael walks in first to an obviously majority Mexican crowd.
Ok So I run outside to go grab a photo op with Tito Trinidad as he walks in with his entourage. I run back to my seat and Johnson knocks out Green with the same big right hand that he's been landing through out the fight!
36 seconds in round 8.
Ok so Showtime announces that Green will walk into the ring first and we wait and wait and guess what Johnson walks in first. How ghetto of Showtime they dont even have these basic details organized?
Ok both Johnson and Green are now in the ring and the announcers are talking way too much.
Follow me on Twitter for more live real time updates!
So It appears we have gone live on Showtime. We are starting off with the Glen Johnson vs Allan Green fight first. The winner of this fight advances forward to the Super Six Classic Tournament semi finals.
Green is the under dog by about 2 to 1.
They have already played the national anthems of Puerto Rico, United States, and Mexico.
Just wanted to clarify my last update. Friday after the weigh in. Caballero called out Juan Ma and Juan Ma's body guard apparently decked him and a scuffle broke out with both Team Lopez and Caballero who was with members of his team including his trainer Jeff Mayweather who is of course Floyd Mayweather's uncle.
So today I bumped into Mayweather (Jeff) and asked him about the scuffle and he just laughed said it was blown way out of control than what actually happened.
Bumped into Jeff Mayweather, Caballero's trainer and asked him about the scuffle that took place yesterday at the weigh in. Mayweather tells me that the media and internet hyped it way more than what it was.
Check my Twitter for a photo of me and Mayweather I posted.
Both Lopez and Marquez weigh in at 125.5 lbs. Both look in great shape and conditioned.
It appears that Marquez has a bit of a height advantage over Lopez by about an inch or two.
After the stare down, Lopez is joined by Puerto Rican boxing legends Trinidad and Gomez who all hold hands raised high as if it were rally for an election.
Unlike Lopez and Marquez both Trinidad and Gomez have let themselves go bad and to be honest I did not even recognize them for about a good 30 seconds.
On the main fight on the under card Glen Johnson weighed in at 167lbs. He appeared to look weak and drained especially considering he has not made the 168lbs limit in 10 years!
Allan Green his opponent did not make the weight as he was half pound over the 168 limit. Green began to take off what was already small tight boxers to be weighed in again and he made the limit exactly on point.
The weigh in despite the big Mexico vs Puerto Rican rivalry theme was not a packed house as it was for previous major super Mexico vs Puerto Rican fights. Due to Las Vegas geographic location it was obviously a majority Mexican crowd and pro Marquez atmosphere.
This article is
What is the duplicate article?
Why is this article offensive?
Where is this article plagiarized from?
Why is this article poorly edited?