Big Threes Beyond the Boston Celtics & Miami Heat: 50 Best Trios in NBA History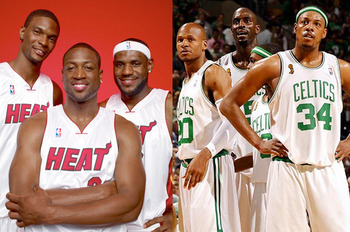 When you discuss trios that are currently in the NBA, you can't leave out the Miami Heat and Boston Celtics.
Miami is led by superstars and 20-somethings LeBron James, Dwyane Wade and Chris Bosh. And Boston features veterans Kevin Garnett, Paul Pierce and Ray Allen, although point guard Rajon Rondo really makes it the "Fantastic Four" instead of the "Big Three."
This slideshow will cover not only the league's best trios of the present, but the greatest of all time.
In order to make this list, the trio has to have led their respective team to at least one playoff appearance.
And in addition, it's all about three stars, instead of two superstars and a role player.
With that said, don't look for the Los Angeles Lakers' Shaquille O'Neal, Kobe Bryant and Derek Fisher to make an appearance on the same slide.
Let's begin.
50. Derrick Coleman, Drazen Petrovic and Kenny Anderson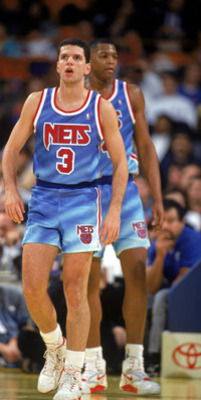 Coleman, Petrovic and Anderson led the New Jersey Nets to a playoff appearance in 1993.
Coleman was a solid inside-outside scorer who could give you 20 points and 10 rebounds every night, Petrovic is one of the greatest European ballers to ever touch an NBA court and Anderson, a New York City legend, was an All-Star floor general.
The tragic death of Petrovic in the '93 offseason broke up the talented Jersey trio.
49. Connie Hawkins, Dick Van Arsdale and Gail Goodrich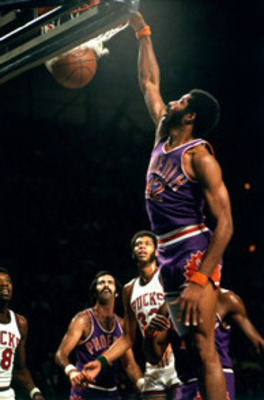 Hawkins, Van Arsdale and Goodrich each averaged at least 20 points per game for the Phoenix Suns in 1969-70, their only season together.
That year, they also led the team to their first ever postseason appearance.
48. Tom Chambers, Kevin Johnson and Eddie Johnson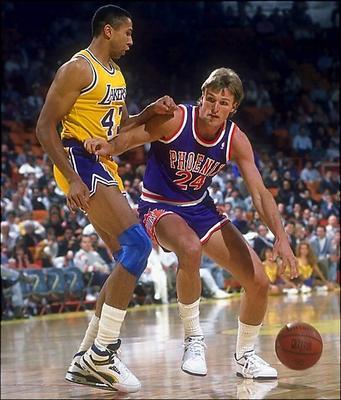 During the 1988-89 season, Chambers and the two Johnsons (no relation) each averaged at least 20 points per game and led the Phoenix Suns to the Western Conference Finals.
47. Larry Johnson, Alonzo Mourning and Muggsy Bogues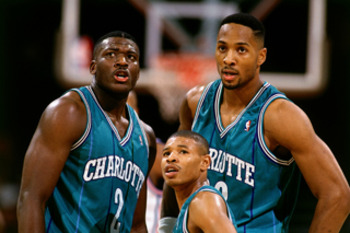 The Charlotte (now New Orleans) Hornets reached the postseason for the first time in franchise history in 1992-93, thanks to Johnson, Mourning and Bogues.
Johnson and Mourning formed a nice, young power forward-center duo, while the 5'3" Bogues did an excellent job running the point.
46. Kevin Durant, Russell Westbrook and Jeff Green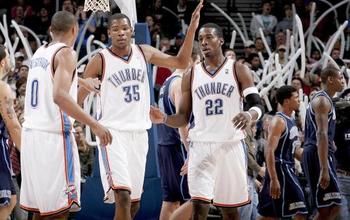 Durant, Westbrook and Green are currently in their third season together with the young and exciting Oklahoma City Thunder.
The three surprisingly led the team to 50 wins last season, which were 27 more than the previous year.
Durant was last season's scoring champ and a MVP candidate, Westbrook is one of the league's top point guards and Green can score as well as rebound.
45. Kevin Garnett, Sam Cassell and Latrell Sprewell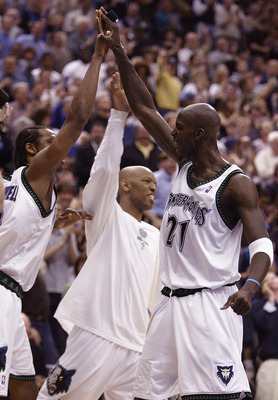 Elsa/Getty Images
Before he was part of a "Big Three" in Boston, Garnett was with one in Minnesota.
No, the Timberwolves didn't win a title, but KG, Cassell and Sprewell took the team all the way to the 2004 Western Conference Finals.
That remains the best season in Wolves history.
44. Scottie Pippen, Horace Grant and B.J. Armstrong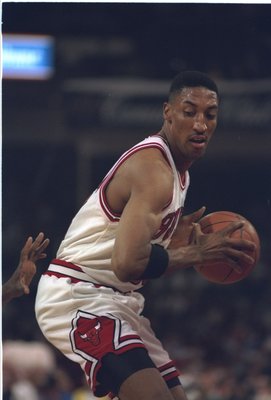 Jonathan Daniel/Getty Images
Michael Jordan's first retirement didn't push the Chicago Bulls back too far in the standings.
That's because Pippen, Grant and Armstrong were still on the roster.
In 1993-94, the first post-Jordan season, Chicago finished with 55 wins, just two fewer than the previous season with MJ in the lineup.
Pippen enjoyed the best season of his career as he emerged as a MVP candidate. And Grant and Armstrong made the only All-Star appearances of their careers.
43. Gilbert Arenas, Antawn Jamison and Caron Bulter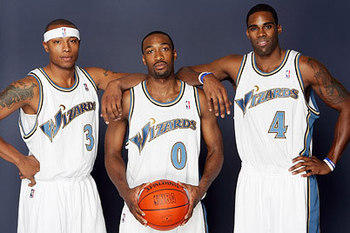 Arenas, Jamison and Butler powered the Washington Wizards to a couple of playoff appearances in the 2000s.
42. Jason Kidd, Vince Carter and Richard Jefferson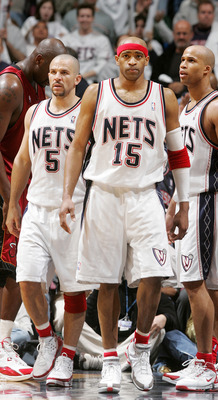 Jim McIsaac/Getty Images
New Jersey Nets fans loved the 2004 trade that sent Vince Carter to their team.
"Vinsanity" would hook up with Kidd, a point guard who could dominate a game without scoring, and Jefferson, an athletic scorer, to form an exciting trio in Jersey.
41. Glenn Robinson, Ray Allen and Sam Cassell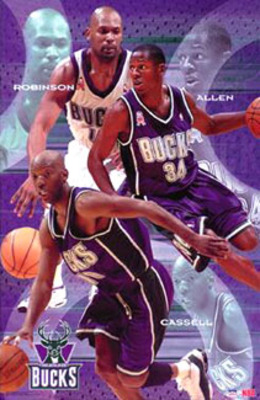 In 2001, the Robinson-Allen-Cassell trio steered the Milwaukee Bucks to the team's first Eastern Conference Finals appearance in 15 years.
Robinson was a dangerous scorer, Allen was an athletic guard who could fill it up from downtown, and Cassell was proving to the league that he should have been drafted much higher than the end of the first round.
40. Isiah Thomas, Kelly Tripucka and Bill Laimbeer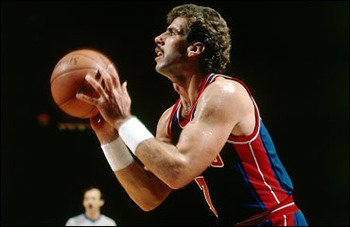 Before the Detroit Pistons went into full "Bad Boy" mode, the team was led by Thomas, Tripucka and Laimbeer.
They each made the Eastern Conference All-Star team in 1984.
39. Alex English, Kiki Vandeweghe and Dan Issel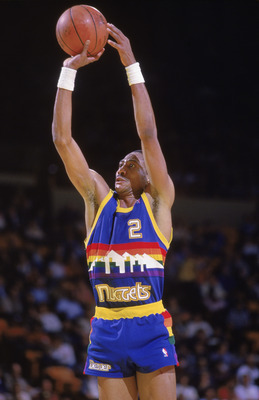 Stephen Dunn/Getty Images
English, Vandeweghe and Issel each averaged over 20 points per game for the Denver Nuggets in both the 1981-82 and 1982-83 seasons.
38. Dale Ellis, Tom Chambers and Xavier McDaniel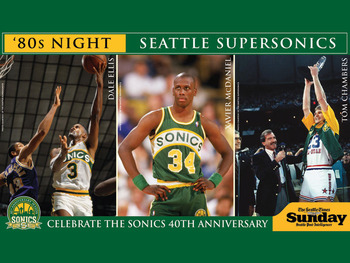 Ellis, Chambers and McDaniel each averaged at least 20 points per game for Seattle twice in the late 1980s
In '87, they led the seventh-seeded Sonics, who had a losing regular-season record, past the No. 2 Dallas Mavericks in the first round of the playoffs.
37. Karl Malone, John Stockton and Mark Eaton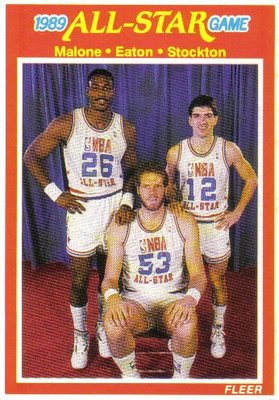 A few years before the Utah Jazz featured the talented trio of Malone, Stockton and Hornacek, there was Malone-Stockton-Eaton.
"Stockton-to-Malone" was a household phrase and the 7'4" Eaton was the ultimate shot-eraser.
36. Moses Malone, Charles Barkley and Julius Erving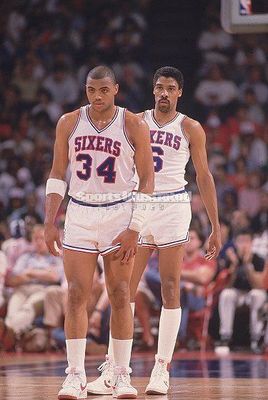 People seem to forget that Barkley played with Malone and Erving in Philadelphia.
The trio only played two seasons together, but all three players are first-ballot Hall of Famers.
In their second season together, 1985-86, Malone averaged roughly 24 points and 12 boards per game, Barkley chipped in with 20 and 13 and Dr. J. put up 18 ppg.
35. Chris Mullin, Mitch Richmond and Tim Hardaway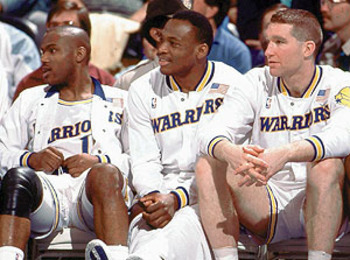 During the 2007-08 season, three Golden State Warriors players—Baron Davis, Monta Ellis and Stephen Jackson—averaged at least 20 points per game.
However, they weren't the first Warriors trio to accomplish such a feat.
Mullin, Richmond and Hardaway did so in the 1990-91 campaign. This talented and explosive threesome dubbed "Run TMC" spent two seasons together in the Bay Area playing under coach Don Nelson.
34. Mark Aguirre, Rolando Blackman and Derek Harper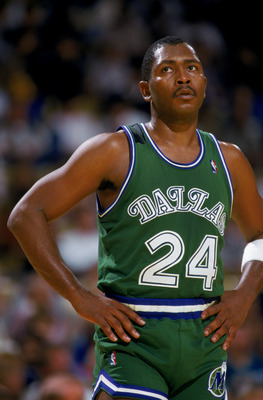 Stephen Dunn/Getty Images
Dallas Mavericks basketball was watchable in the 1980s because of their trio of Aguirre, Blackman and Harper.
Aguirre and Blackman could flat-out score, and Harper is one of the league's greatest players to never suit up for an All-Star team.
The trio led the Mavs to the Western Conference Finals in 1988.
33. Steve Nash, Amar'e Stoudemire and Shawn Marion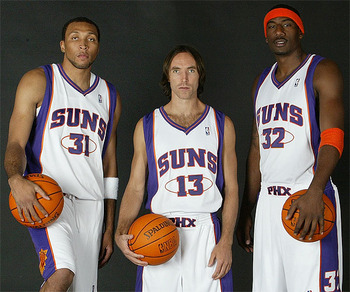 Nash, Stoudemire and Marion turned the Phoenix Suns into an extremely exciting team in the 2000s.
Many claim Nash is one of the top 10 point guards in NBA history, Stoudemire is a newer version of Shawn Kemp (in his prime) and Marion was named an All-Star four times as a Sun.
32. Dirk Nowitzki, Steve Nash and Michael Finley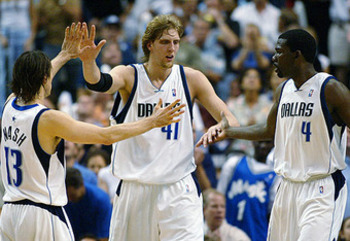 The "Big Three" of Nowitzki, Nash and Finley helped the Dallas Mavericks go from a perennial lottery participant to a title contender.
In 2001, the trio led the Mavs to their first playoff appearance in 11 years.
31. Mark Price, Brad Daughery and Larry Nance
With Price, Daugherty and Nance leading the way, the Cleveland Cavaliers were a dangerous team in the early 1990s.
Price is an extremely underrated point guard who could shoot the lights out, Daugherty was a perennial All-Star center before injuries took over and Nance had the ability to block a lot of shots.
The Michael Jordan-led Chicago Bulls prevented the Cavs from winning anything big, just like they did to several teams in the '90s.
30. Chris Webber, Peja Stojakovic and Mike Bibby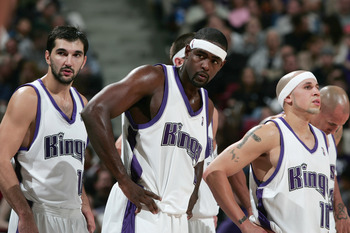 Jed Jacobsohn/Getty Images
The exciting play of Webber, Stojakovic and Bibby helped the Sacramento Kings become one of the NBA's most talked-about teams in the early 2000s.
Webber was a power forward who recorded 20 points and 10 boards per game, while Peja and Bibby stretched the floor with their terrific outside shooting.
29. Gary Payton, Shawn Kemp and Detlef Schrempf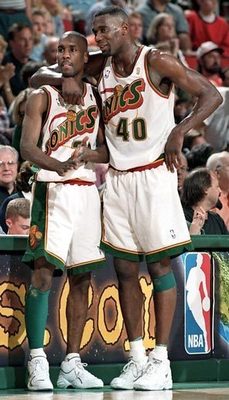 Payton and Kemp are hands-down the most exciting alley-oop duo of all time.
Throw in Schrempf's nice all-around game and the Seattle SuperSonics had an All-Star trio.
The three standouts led the Sonics to an NBA Finals appearance in 1996 and two 60-plus win seasons.
28. Patrick Ewing, John Starks and Charles Oakley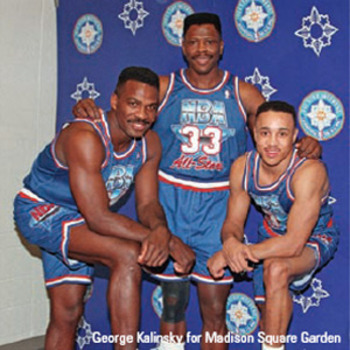 Ewing was the main reason the New York Knicks were one of the league's top teams of the 1990s.
But Starks and Oakley contributed to the team's success as well.
All three were named All-Stars in 1994—the same year they led the Knicks to an NBA Finals appearance.
Ewing is one of the game's greatest centers of all time, Starks could drill the three-pointer with ease, and Oakley was known as a top-notch rebounder.
27. Norm Van Lier, Jerry Sloan and Bob Love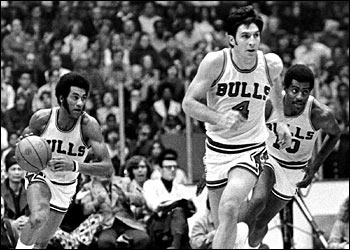 The Chicago Bulls achieved success in the 1960s and 1970s mostly because of "Stormin' Norman" Van Lier, Sloan, the current head coach of the Utah Jazz and Love, whose No. 10 is retired by the team.
26. Charles Barkley, Kevin Johnson and Dan Majerle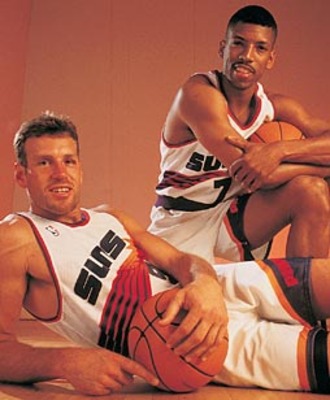 No Phoenix Suns player made more headlines than Barkley during his stay in Arizona, but fellow All-Stars Johnson and "Thunder Dan" Majerle also did their part in pushing the team to the NBA Finals in 1993.
Barkley was the Suns' MVP, KJ was the point guard with the lightning-quick first step and Majerle was money from behind the three-point arc.
25. Bob Pettit, Cliff Hagan and Clyde Lovellette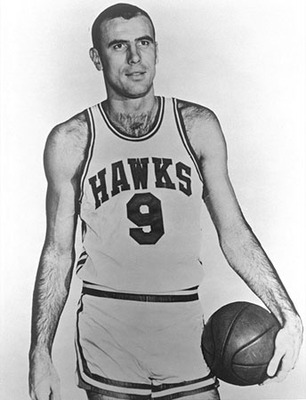 This talented St.Louis Hawks trio combined for an average of at least 70 points and 34 rebounds per game from 1959-60 to 1961-62.
The Hawks reached the NBA Finals in 1960 and 1962, losing to the Boston Celtics both times.
24. Hakeem Olajuwon, Charles Barkley and Clyde Drexler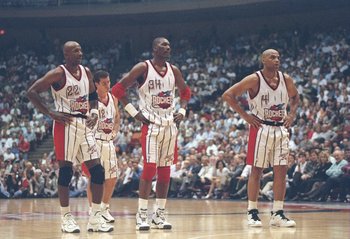 Stephen Dunn/Getty Images
Barkley joined Olajuwon and Drexler in Houston before the 1996-97 campaign.
They went on to lead the Rockets to the Western Conference Finals in their first season together, despite each player being at least 33 years of age.
If they had been in their 20s, they could have created a dynasty and appeared much higher on this list.
23. Clyde Drexler, Terry Porter and Kevin Duckworth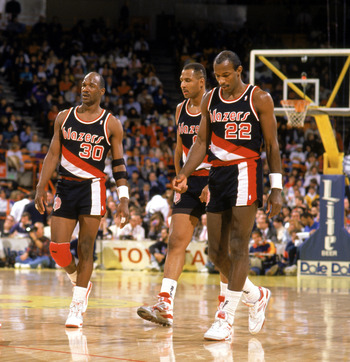 Ken Levine/Getty Images
Drexler, Porter and Duckworth led the Portland Trail Blazers to NBA Finals appearances in both 1990 and 1992.
It's too bad the talented trio couldn't get the team over the hump.
Drexler is truly of of the game's most exciting players of all time, Porter was a solid point guard who owned a vicious three-point shot, and Duckworth was a two-time All-Star center.
22. Julius Erving, Doug Collins and George McGinnis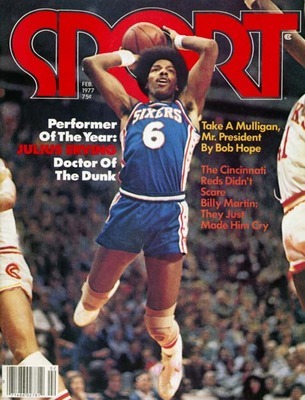 Fresh out of the ABA, Erving made his way onto the NBA scene in the mid-1970s.
He quickly joined forces with Collins and fellow former ABA star McGinnis to make the Philadelphia 76ers an elite ball club.
All three players were named All-Stars in 1977.
21. Dennis Johnson, Gus Williams and Jack Sikma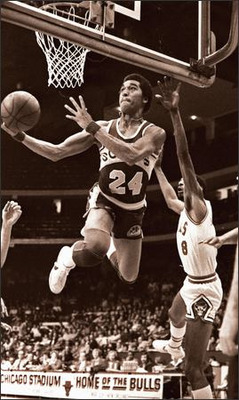 The Johnson-Williams-Sikma trio led the Seattle SuperSonics to the 1979 NBA title.
Johnson and Williams formed a solid backcourt, while Sikma was a double-double threat on any given night.
20. Elvin Hayes, Wes Unseld and Bob Dandridge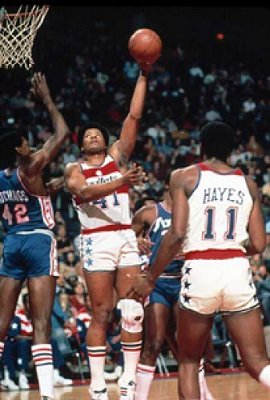 Hayes, Unseld and Dandridge, three immensely underrated stars, helped the Washington Bullets capture an NBA title in 1978.
19. Wilt Chamberlain, Hal Greer and Chet Walker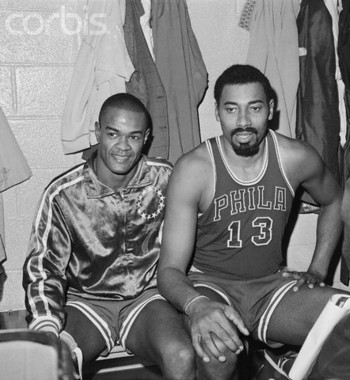 Underrated stars Greer and Walker helped Chamberlain pick up his first NBA championship ring in 1967.
That season, Chamberlain averaged an astounding 24 points and 24 rebounds per game, while Greer and Walker each added around 20 a night for the memorable Philadelphia 76ers squad.
18. Karl Malone, John Stockton and Jeff Hornacek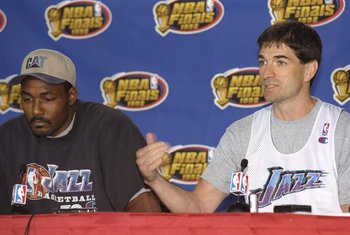 Jonathan Daniel/Getty Images
Stockton and Malone are a Hall of Fame duo, but without the help of the sharp-shooting Hornacek, the Utah Jazz might not have reached the NBA Finals in 1997 and 1998.
Stockton is perhaps the third-greatest point guard of all time, Malone is maybe the second-best power forward behind Tim Duncan, and Hornacek is one of the purest shooters in NBA history.
17. Wilt Chamberlain, Jerry West and Elgin Baylor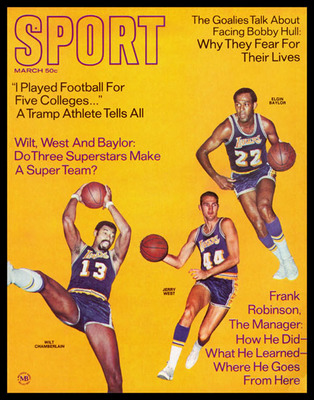 Chamberlain, West and Baylor are perhaps the greatest NBA trio to never win it all.
Chamberlain is considered by many to be the most dominant big man ever, West is possibly the best shooting guard not named Michael Jordan or Kobe Bryant, and Baylor is one of the most underrated players in sports history.
West and Chamberlain went on to lead the Los Angeles Lakers to a title in 1972 with Baylor out of the picture.
16. Kareem Abdul-Jabbar, Oscar Robertson and Bob Dandridge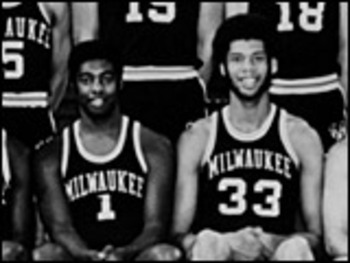 Abdul-Jabbar and Robertson are considered to be two of the top five greatest players in NBA history. Kareem possessed an unstoppable "sky hook," and Robertson was a walking triple-double.
Dandridge's game wasn't too bad either. He wasn't quite a Hall of Famer, but he was good for 20 points a night.
The trio led the Milwaukee Bucks to the franchise's only NBA championship in 1971.
15. Kareem Abdul-Jabbar, Magic Johnson and Jamaal Wilkes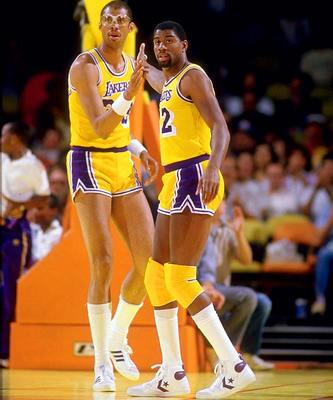 Everybody knows about the fabulous Magic-Kareem-Worthy trio. But what about Magic-Kareem-Wilkes?
Wilkes, along with Johnson and Abdul-Jabbar, averaged over 20 points per game in 1980-81.
In addition, the fabulous trio won three championships together with the Los Angeles Lakers in the 1980s.
14. George Mikan, Vern Mikkelsen and Jim Pollard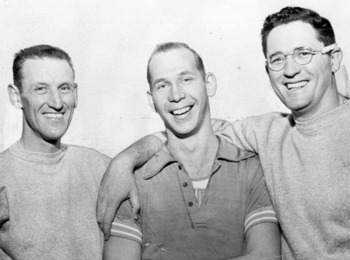 The solid frontline of Mikan, Mikkelsen and Pollard led the Minnesota Lakers to the NBA's very first dynasty.
13. John Havlicek, Dave Cowens and Jo Jo White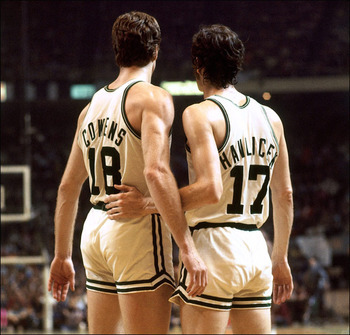 The Boston Celtics were the team of the 1950s and 1960s.
And because of All-Stars Havlicek, Cowens and White, the storied franchise also made some noise in the '70s.
The trio led Boston to NBA titles in both 1974 and 1976.
12. Kevin Garnett, Paul Pierce and Ray Allen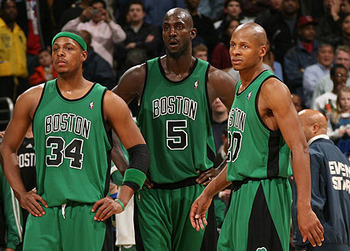 Garnett, Pierce and Allen are no Larry Bird, Kevin McHale and Robert Parish.
However, they did help the Boston Celtics put up their 17th NBA championship banner.
Garnett is a sure-fire Hall of Famer, Pierce is a Celtics legend who will one day see his number retired, and Allen is up there with Reggie Miller as one of the most feared shooters of all time.
11. Wilt Chamberlain, Jerry West and Gail Goodrich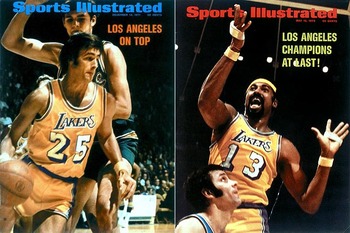 Many fans have never heard of Goodrich, since he isn't a top 10 player of all time like fellow Lakers Magic Johnson, Kareem Abdul-Jabbar and Kobe Bryant.
However, when Goodrich teamed with Chamberlain and West during his time with the Lakers back in the day, he actually led the team in scoring a couple of times.
More importantly, the Chamberlain-West-Goodrich trio led L.A. to a title in 1971-72, a season in which they won a record 33 consecutive ballgames.
10. Tim Duncan, Tony Parker and Manu Ginobili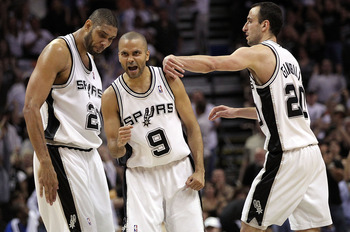 Ronald Martinez/Getty Images
The San Antonio Spurs captured three NBA titles in the 2000s mostly because of the Duncan-Parker-Ginobili trio.
Most people believe Duncan is the greatest power forward of all time, Parker is considered to be one of the NBA's best European players ever, and Ginobili brings a lot to the table, whether he's starting or coming off bench.
9. Julius Erving, Moses Malone and Mo Cheeks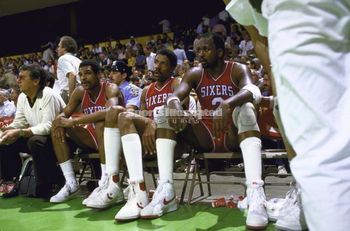 Erving, Malone and Cheeks led the Philadelphia 76ers to a championship in 1983 as the team lost just one game in the postseason.
Erving is one of the game's most well known dunkers of all time, Malone could get it done in the post, and Cheeks loved to rack up steals.
8. Isiah Thomas, Joe Dumars and Dennis Rodman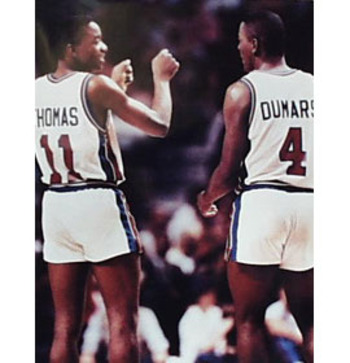 Thomas and Dumars are arguably the greatest backcourt in NBA history, and Rodman racked up gobs of rebounds despite being only 6'8".
The three stars won two championships together with the Detroit Pistons in 1989 and 1990.
They also made the Eastern Conference All-Star team together in both 1990 and 1992.
7. Willis Reed, Walt Frazier and Dave DeBusschere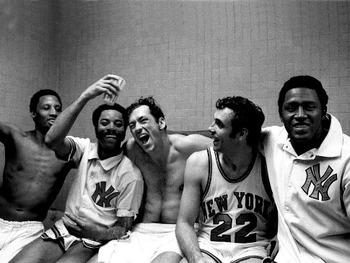 Playing under legendary coach Red Holzman, Reed, Frazier and DeBusschere led the New York Knicks to NBA titles in both 1970 and 1973—the only two championships in franchise history.
6. Michael Jordan, Scottie Pippen and Horace Grant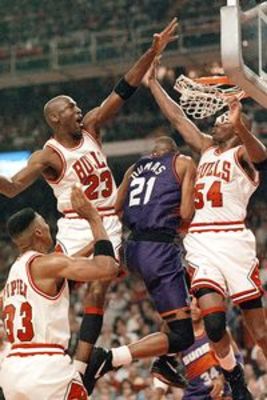 The Chicago Bulls didn't win their first three championships (1991-1993) just because Jordan was on the roster.
Pippen and Grant helped out a great deal as well.
Jordan did most of the scoring, while Pippen played the "point-forward" role, and Grant could rebound and nail the open mid-range jumper.
5. Bill Russell, John Havlicek and Sam Jones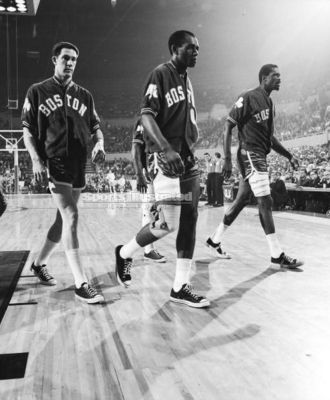 Bob Cousy, who helped lead the Celtics to six titles, retired in 1963.
However, the team didn't stop their winning ways, thanks to holdovers Russell, Havlicek and Jones.
The superstar trio would win six championships during their seven seasons together, including the final season of Russell's career (1968-69).
4. Larry Bird, Kevin McHale and Robert Parish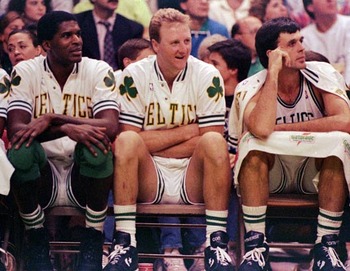 Bird, McHale and Parish are the greatest frontline in hoops history. There's no question about it.
Bird had spectacular shooting and passing skills, McHale owned a plethora of low-post moves, and Parish was just one of the greatest centers of all time.
The Hall of Fame trio led the Boston Celtics to three NBA championships in the 1980s.
3. Magic Johnson, Kareem Abdul-Jabbar and James Worthy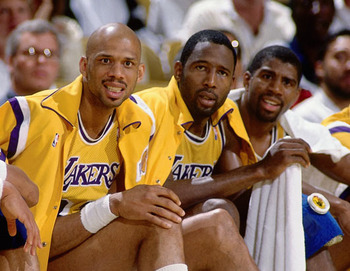 Magic and Kareem won two championships together before the arrival of Worthy in 1982.
With Worthy in the lineup, the "Showtime" Lakers reeled off three more rings in 1985, 1987 and 1988.
It was beautiful thing to watch these three stars play together: Magic leading the fast break, and both Kareem and Worthy finishing with style.
2. Michael Jordan, Scottie Pippen and Dennis Rodman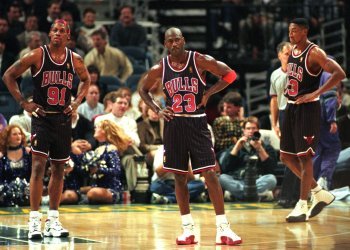 Jordan is arguably the greatest player in NBA history, Pippen was a shut-down defender and Hall of Famer, and Rodman is perhaps the best rebounder ever.
In their first season together, 1995-96, all they did was lead the Chicago Bulls team to a record-breaking 72 wins, which may never be surpassed.
The trio steered Chicago to championships in each of their three seasons together.
1. Bill Russell, Bob Cousy and Tom Heinsohn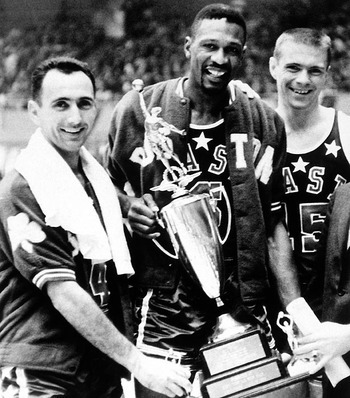 The Russell-Cousy-Heinsohn trio was a major part of the legendary Celtics dynasty which dominated during the 1950s and 1960s.
They won six championships in their seven seasons together in Beantown.
Russell is one of the top five greatest players in NBA history, Cousy was the league's first flashy point guard, and Heinsohn is a Hall of Fame forward.
All three players have their numbers hanging from the rafters in Boston's TD Garden.
Keep Reading