Week 9 NFL Power Rankings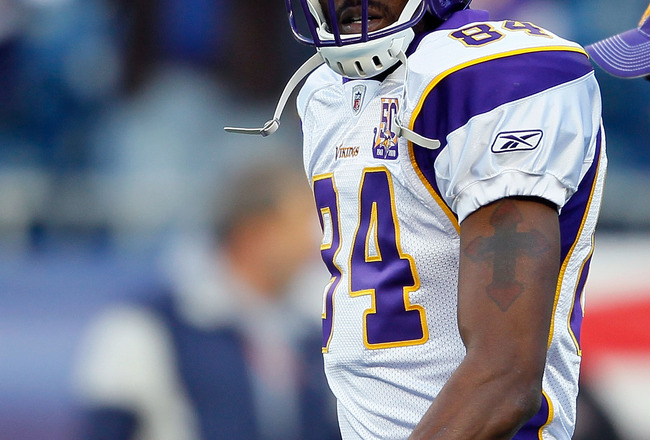 Randy Moss
Jim Rogash/Getty Images
Well, it's been a while since I've written an article on Bleacher Report, but I'm back now. This slideshow contains my complete NFL power rankings from 32 to 1, each followed by a brief explanation of the ranking for each team. I'm listening to both praise and criticism about my writing. Leave your comments and discuss.
32. Buffalo Bills (0-7)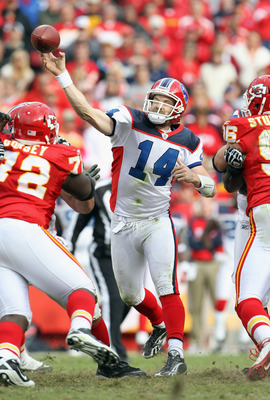 Ryan Fitzpatrick
Jamie Squire/Getty Images
This ranking should be obvious. On a brighter note, the Bills have fought hard every game(Ravens, Chiefs), and they're well on their way to selecting a franchise QB in the draft with the 1st pick. Fighting hard doesn't always lead to wins, but it's still progress on the Bills' part.
31. Carolina Panthers (1-6)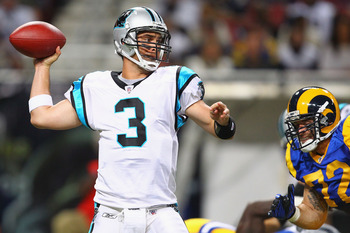 Matt Moore
Dilip Vishwanat/Getty Images
Matt Moore looked very promising last season after taking over for a benched Jake Delhomme, but now he's clearly not the long-term answer at QB, and Jimmy Clausen couldn't even hold on to his starting job. In all fairness though, there's nobody to throw to in Carolina. With only one win and it being against the 49ers, John Fox's seat is getting hotter every week.
30. Dallas Cowboys (1-6)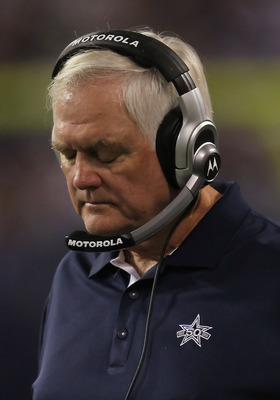 Wade Phillips
Jeff Gross/Getty Images
The look on Wade Phillips' face in the photo above says it all. The Cowboys were a heavy favorite to win the Super Bowl this season, and now they're 1-6 with Romo out for several weeks, and their defense allowing 4 touchdowns to David Garrard is just embarrassing, but at least it's looking like Phillips is finally gonna get fired.
29. Denver Broncos (2-6)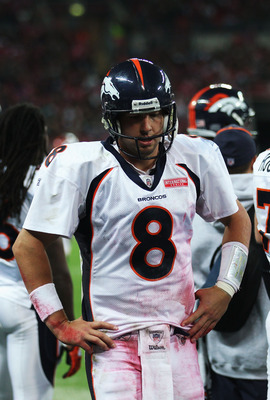 Kyle Orton
Warren Little/Getty Images
The Broncos' downward spiral has continued from their 2-8 finish last season, and it's only a matter of time before Josh McDaniels gets the boot for all the foolish decisions he's made ever since the day he took over for Mike Shanahan.
28. San Francisco 49ers (2-6)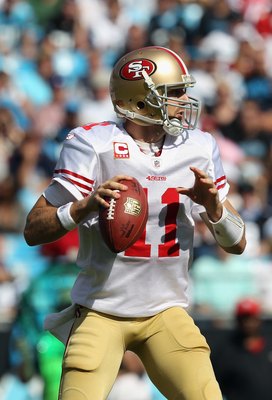 Alex Smith
Streeter Lecka/Getty Images
This team was by far the biggest lock to win their division, but now they stand in the cellar, and being in last in the easiest division is pretty embarrassing. Mike Singletary and Alex Smith will surely not be in San Francisco after the season is over.
27. Arizona Cardinals (3-4)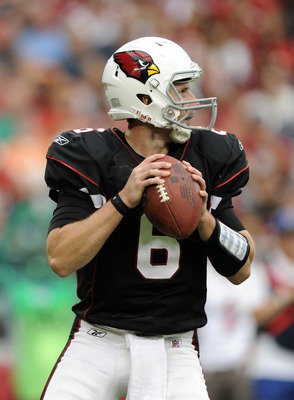 Max Hall
Harry How/Getty Images
It was obvious that this was going to be a rebuilding season after Kurt Warner retired, and Matt Leinart's release only made things worse. Derek Anderson and Max Hall have both failed miserably as well, so it's time to give John Skelton a crack at the starting job.
26. Cincinnati Bengals (2-5)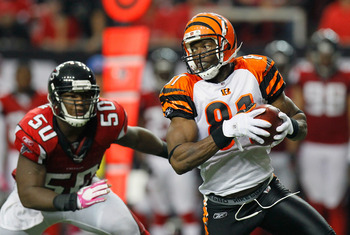 Terrell Owens
Kevin C. Cox/Getty Images
The T.O. and Ochocinco Show has been a disaster so far in Cincinnati. Carson Palmer got a load of receiving upgrades and still can't lead the Bengals to wins. He's clearly past his prime, and Marvin Lewis hasn't won a single playoff game in his coaching stint with the Bengals.
25. Cleveland Browns (2-5)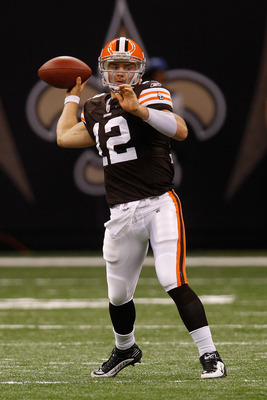 Colt McCoy
Chris Graythen/Getty Images
The Browns are coming off a bye week after upsetting the Saints. Their defense has been underrated, and maybe they can get some momentum going this week.
24. Jacksonville Jaguars (4-4)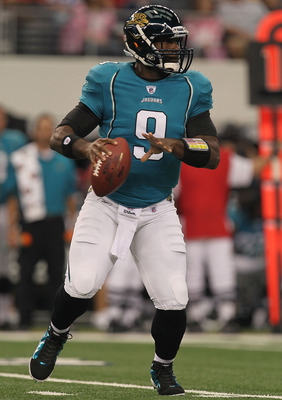 David Garrard
Stephen Dunn/Getty Images
The Jaguars' 4-4 record is misleading. Their only noteworthy win has come against the Colts, and they tanked in the second half last season as they likely will again this season.
23. Minnesota Vikings (2-5)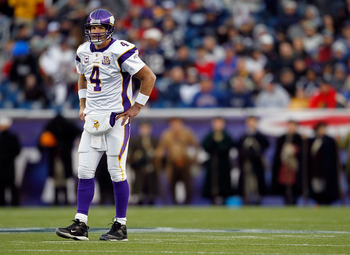 Brett Favre
Jim Rogash/Getty Images
Another media favorite to win the Super Bowl has been a colossal bust this season, and Brett Favre is having the worst season of his career so far(except maybe 2005). The Randy Moss trade was a fiasco, and Brad Childress has no respect from his team.
22. Detroit Lions (2-5)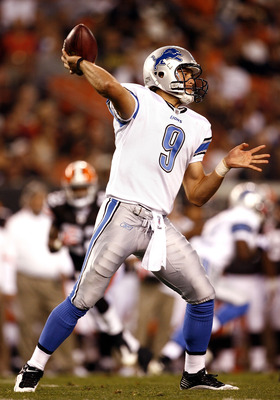 Matt Stafford
Matt Sullivan/Getty Images
The Lions played brilliantly against the Redskins. Matt Stafford's return will get some momentum going in Detroit, and don't be surprised if they become legit playoff contenders next season. They're no longer the laughingstock of the NFL.
21. St. Louis Rams (4-4)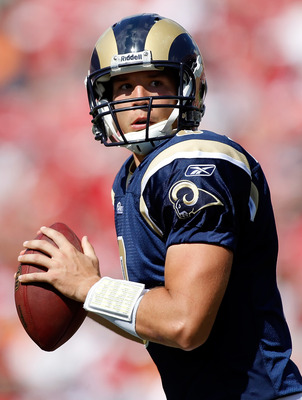 Sam Bradford
J. Meric/Getty Images
Sam Bradford deserves lots of credit considering the circumstances he's in. A subpar offensive line, no receivers to throw to, and a rebuilding team, and still being able to put up satisfactory stats and win 4 games says a lot about his future, and he's definitely a Rookie of the Year candidate.
20. Seattle Seahawks (4-3)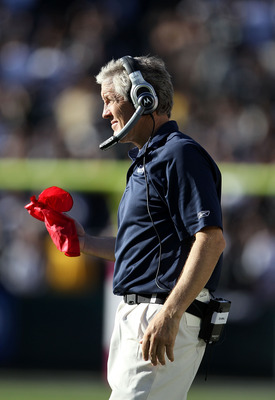 Pete Carroll
Ezra Shaw/Getty Images
The Seahawks are a much-improved team as well as the Rams. Pete Carroll is doing much better his second time around in the NFL. Their defense has improved a lot, but they still need to draft a new QB.
19. San Diego Chargers (3-5)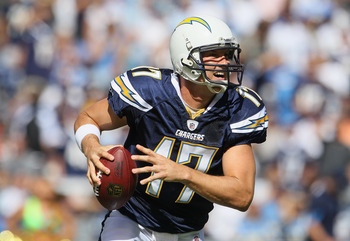 Philip Rivers
Jeff Gross/Getty Images
The Chargers got a big win against the Titans, and they're a team that always performs well in the second half, so they're higher here than they would be in almost every other list.
18. Chicago Bears (4-3)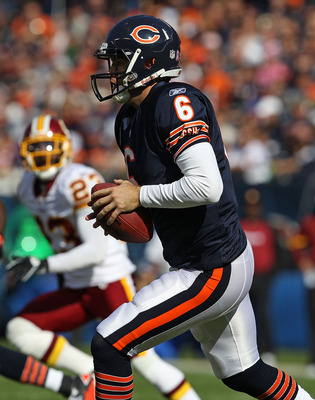 Jay Cutler
Jonathan Daniel/Getty Images
The Bears are overrated, and it's starting to show now. Jay Cutler is not a franchise QB, and he'll throw interceptions left and right, and the offensive line is terrible. Lovie Smith isn't saving himself from the hot seat either.
17. Washington Redskins (4-4)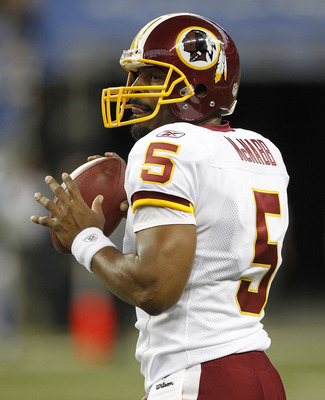 Donovan McNabb
Leon Halip/Getty Images
So let me get this straight. Donovan McNabb isn't in shape for the 2-minute offense, but Rex Grossman is? Look how that decision worked out for you, Shanahan.
16. Oakland Raiders (4-4)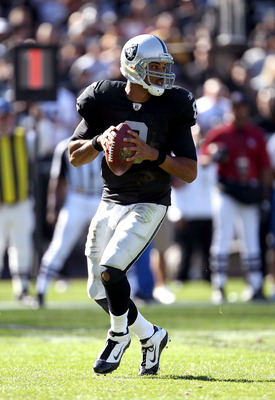 Jason Campbell
Ezra Shaw/Getty Images
Another former laughingstock of the NFL is now gaining respect from football fans, and it's looking as though their playoff drought may end this season. Jason Campbell appears to have learned the new offense, and considering the offensive line he has, he's doing excellent, and now the Raiders' offense is suddenly coming alive. Darren McFadden is finally playing to his expectations as well.
15. Tampa Bay Buccaneers (5-2)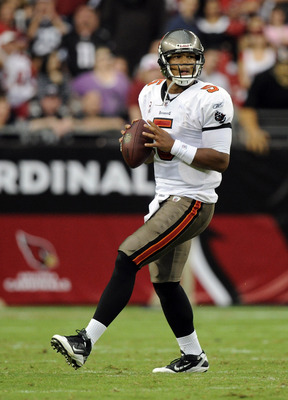 Josh Freeman
Harry How/Getty Images
The Buccaneers have been a big surprise, and Josh Freeman has done well in clutch situations. Taking a chance on LeGarrette Blount has paid dividends. I'm not buying any Super Bowl talk, but they are legit playoff contenders.
14. Kansas City Chiefs (5-2)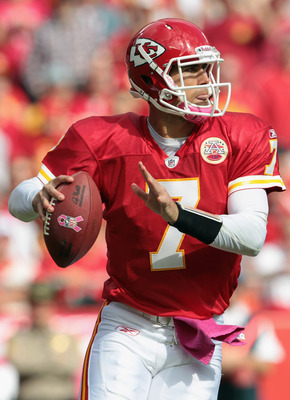 Matt Cassel
Jamie Squire/Getty Images
The Chiefs' defense has looked solid. Brandon Flowers, in my opinion, has been one of the best cornerbacks in the league. The running game has been excellent too, but Todd Haley still needs to use Jamaal Charles more.
13. Houston Texans (4-3)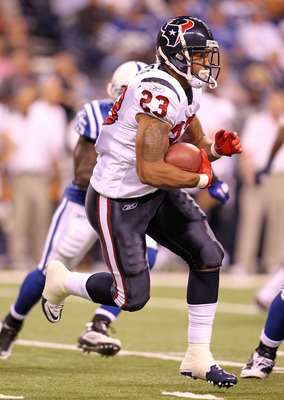 Arian Foster
Andy Lyons/Getty Images
Gary Kubiak coached the game against the Colts very poorly. He called way too many passing plays even though Arian Foster rushed for 231 yards in the season opener against the Colts. He should've gotten more carries. This loss will more than likely derail the Texans' AFC South title hopes, but they're still alive in the playoff hunt.
12. Miami Dolphins (4-3)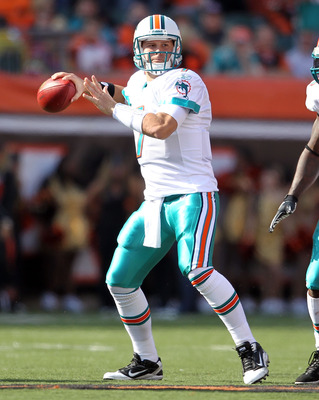 Chad Henne
Andy Lyons/Getty Images
The Dolphins have played great defense, but their offense needs to be more consistent. They've won games on the road though.
11. Philadelphia Eagles (4-3)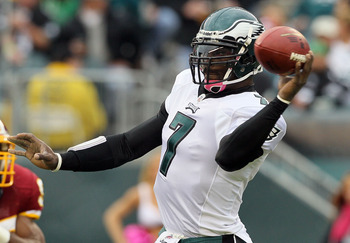 Michael Vick
Jim McIsaac/Getty Images
Michael Vick has been playing brilliantly ever since taking over for Kevin Kolb, and now he's set to return after their bye week, and DeSean Jackson's returning as well. They're still in the hunt for the NFC East title.
10. New Orleans Saints (5-3)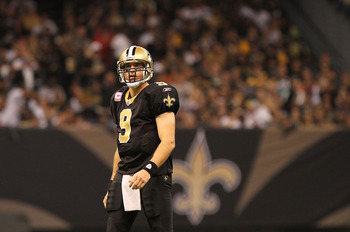 Drew Brees
Matthew Sharpe/Getty Images
The Saints are coming off a big win against the Steelers, and now they're back in Super Bowl contention, and Pierre Thomas and Reggie Bush's returns should help them even more.
9. Atlanta Falcons (5-2)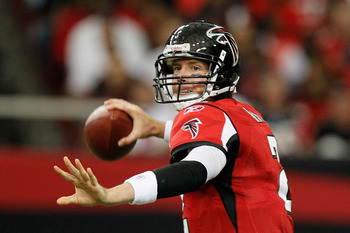 Matt Ryan
Kevin C. Cox/Getty Images
Matt Ryan is playing like a franchise QB, and Roddy White has arguably been the best receiver in football this year. Their running game has done well too. Their pass defense is still very shaky though, and if it doesn't improve, it will likely lead to an early playoff exit.
8. Tennessee Titans (5-3)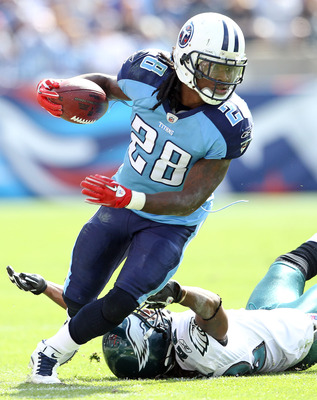 Chris Johnson
Andy Lyons/Getty Images
The Titans are Randy Moss' third team in 4 weeks, and now everyone's wondering whether this will vault the Titans into Super Bowl contention. The offense could potentially become scary now that there's a deep threat, and other receivers may catch more balls since Moss is a great decoy. On the other hand, he may be a locker room disturbance as he's been throughout his career. Chris Johnson's production may decline with Moss in Tennessee.
7. Green Bay Packers (5-3)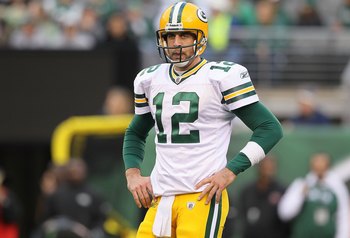 Aaron Rodgers
Jim McIsaac/Getty Images
No team in the NFL has faced more adversity than the Packers. Half their starters have had significant injuries, and they're still 5-3. Clay Matthews is making a strong push for Defensive Player of the Year, and the Packers' lack of a pass rush during his injury shows how valuable he is to the team. The offense has been inconsistent though with receivers dropping passes and the running game not being as powerful with Ryan Grant out for the season, and Aaron Rodgers hasn't done as well as he's capable of. The Packers can still make a deep playoff run if they get more players healthy at the end of the season. Their NFC North title hopes are looking good.
6. New York Giants (5-2)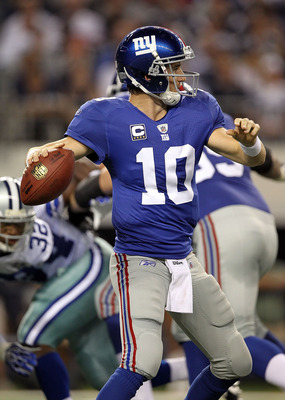 Eli Manning
Ronald Martinez/Getty Images
The Giants are looking like the NFC favorite so far, and the offense has been powerful with Ahmad Bradshaw having a breakout season and Hakeem Nicks emerging as an elite receiver. Eli Manning has been playing his best football ever. The rush defense is back to being a dominant force again too.
5. Indianapolis Colts (5-2)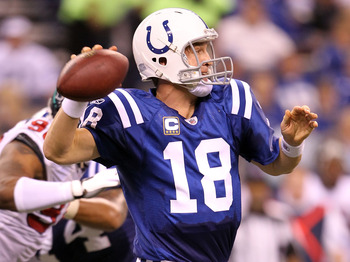 Peyton Manning
Andy Lyons/Getty Images
The Colts are recovering from a slow start, and beating the Texans helped their division record. Peyton Manning is posting MVP numbers, and Mike Hart has been a surprising breakout player in the running game. Manning always connects with his receivers even when there's injuries.
4. New York Jets (5-2)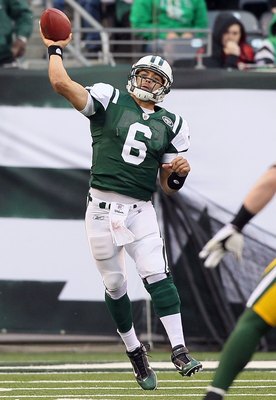 Mark Sanchez
Jim McIsaac/Getty Images
The Jets have taken a step back after losing to the Packers, but they're still Super Bowl contenders, but Mark Sanchez has been struggling lately. He'll need to improve so that teams with excellent run defense won't have it easy when they shut down LaDainian Tomlinson and Shonn Greene.
3. Pittsburgh Steelers (5-2)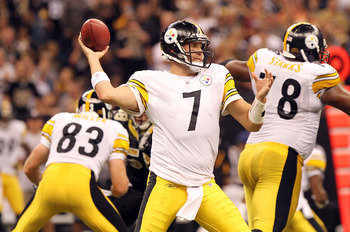 Ben Roethlisberger
Matthew Sharpe/Getty Images
The Steelers are another team who have faced very much adversity with Ben Roethlisberger being suspended for his scandal. Their defense has returned to its dominant form, and Roethlisberger has been doing well since returning, but a loss to the Saints costs them the top ranking in this list.
2. Baltimore Ravens (5-2)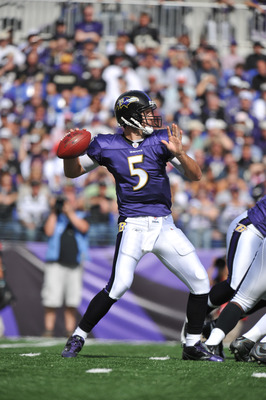 Joe Flacco
Larry French/Getty Images
The Ravens are a Super Bowl threat with Joe Flacco emerging as a franchise QB, and beating the Steelers helps their AFC North title hopes a lot. Ray Rice needs to back on track though. He's only had one 100-yard rushing game.
1. New England Patriots (6-1)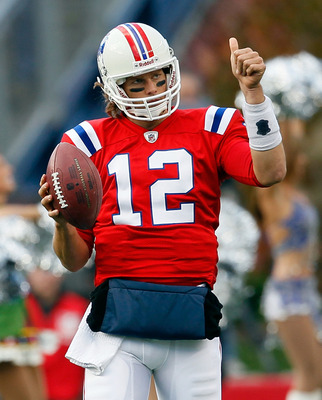 Tom Brady
Jim Rogash/Getty Images
The Patriots get the top ranking here since they only have one loss. They have a legit running game too now that BenJarvus Green-Ellis has emerged as a rushing threat. Trading Randy Moss has turned out to be a genius move too.
Keep Reading