Randy Moss: The Reason the Miami Dolphins Passed on Him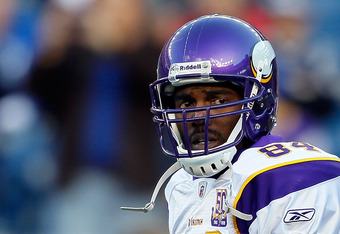 Miami Dolphins Don't Claim Randy Moss on Waivers
Jim Rogash/Getty Images
Randy Moss is officially a Tennessee Titan.
For some Miami Dolphins fans, this revelation was difficult to take. With waiver priority over the Titans, the Dolphins could have made a big splash by adding the mercurial wide receiver to their roster.
Before Wednesday's announcement, fans across the NFL were waiting with bated breath to hear word of whether or not their favorite team had put in a claim for Mr. Moss. The anticipation was palpable within the Miami Dolphins fanbase.
Many fans were clamoring for Moss, warts and all, because he appeared to be the tonic for what ails the Dolphins—a severe case of offensive inefficiency. In addition, the Dolphins' offense appears to be allergic to the end zone, failing to convert good field position into touchdowns on several occasions.

Must Read: 100 Greatest Dolphins All-Time
While Moss may be on the downturn of his career, he still has the explosive speed that the Dolphins offense sorely lacks.
Fans had visions of Moss streaking down the field, plucking footballs out of the sky en route to the once elusive end zone.
With Randy Moss, Brandon Marshall and Davone Bess on the field, the Dolphins would once again be an offensive juggernaut, bringing back memories of 1984.
Alas, the 4:00 PM deadline came and went on Wednesday, and Randy Moss was headed to Nashville—not South Florida.
Moss over Miami was not meant to be.
How could the Miami Dolphins' brain trust pass up a once-in-a-lifetime opportunity to add a Hall of Fame receiver to their roster?
Stupidity?
Incompetence?
Frugality?
None of the above.
To understand why GM Jeff Ireland and Tony Sparano decided to take a pass on Randy Moss, you need only to go back to last Sunday's showdown between the Minnesota Vikings and New England Patriots.
Randy Moss, and what he stands for, was summed up in one memorable play, or rather, lack thereof.
In the fourth quarter, with an opportunity to erase a large lead by the Patriots, Moss streaks down the field.
Vikings' quarterback Brett Favre heaves a pass toward the end zone.
Near the 10-yard line, Moss gets tripped up by a Patriots' player.
An official throws a flag.
With the ball still up in the air, Moss looks back and sees a yellow flag hit the turf.
A split second later, he looks up to see the ball within arm's reach of him.
He makes no attempt to catch the ball. He slows down, content with the penalty and heads back to the huddle as the ball lands harmlessly in the end zone a yard away.
Instead of an easy touchdown, the Vikings got the ball at the spot of the foul.
Sparano and Ireland could have forgiven his curious postgame meltdown professing his love for an opponent.
They might even have been able to look past his horrendous treatment of a catering service.
But an egregious lack of effort and desire to win? Never.
This play, more than anything else, was the reason Miami didn't pursue Moss. Say what you will about Brandon Marshall, Ricky Williams and other questionable character guys on the Dolphins, but they all give unquestioned effort on the field.
In their eyes, Randy Moss committed a cardinal sin by not giving his all on every play.

If there is one thing that the Dolphins coaching staff and front office will not stand for, it is a lack of effort. The fact is Randy Moss is known to "play when he wants to play."
Yes, he is still a premier deep threat, but what is that worth when he can't be counted on in the clutch?
Could the decision to pass on Moss come back to haunt them? Yes. However, it could also be one of the best decisions they have made during their tenure.
Effort is contagious. When Ricky Williams runs 50 yards down the field during practice runs, other players take notice and begin doing the same. The effort spreads. The desire to be greater permeates throughout the entire team.
The opposite is also true.
For the Dolphins, that is a risk they simply couldn't afford to take.
----
Shane Kittelson is an avid Miami Dolphins fan. He is the founder of NFL Wallpaper Zone - a popular source for high resolution NFL Wallpapers.
He can be reached at http://www.twitter.com/skape7
This article is
What is the duplicate article?
Why is this article offensive?
Where is this article plagiarized from?
Why is this article poorly edited?

Miami Dolphins: Like this team?