Oklahoma City Thunder vs. LA Clippers Live Blog: Durant and Griffin Faceoff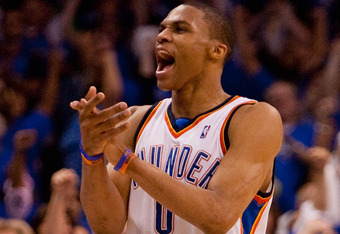 Dilip Vishwanat/Getty Images
If you're from Oklahoma, you have been waiting for this game for over a year.
It's the first time the Oklahoma City Thunder take on former Oklahoma University star Blake Griffin in a game that counts. It's also a game where Griffin is heavily favored against his match-up Jeff Green. Also, Chris Kaman will look to absolutely embarrass Nenad Krstic for the little time that Krstic is hopefully in for.
Apart from that, that's about all the Clippers have going for them. The Thunder have them beat in just about every category you can think of.
However, the Clippers are still win-less and will surely be motivated to get their first win against one of the more hyped up teams in the off season. Also, Blake Griffin will probably be amped up to face his home state squad and leave his mark on the Thunder.
It looks like it will be a interesting game to watch inside the Staples Center, so get yourself some popcorn and enjoy.
Coach Scott Brooks takes the starters out of the game to rest for tomorrow's match up against Portland. Clippers just had too much firepower tonight. Absolutely everything went right for them.
Horrible shooting selection and ball movement tonight by the Thunder. Just horrible..
Eric Bledsoe is a huge spark for the Clippers. LAC fans are really going to enjoy having him this season.
KD is 0-9 from beyond the arch tonight. Something tells me he's off.
D-Cook hit his first trey ball for the Thunder and has helped start a small run for OKC.
Westbrook... Hit a... 3 pointer? Is this real?
For whatever reason, the Thunder just can't seem to find it offensively. And the Clippers don't look like a winless team at all.
However, Oklahoma City showed a spark towards the end of the half cutting the deficit to ten. It will be interesting to see if the Clippers' can keep the momentum going into the second half.
Eric Gordon ends the half with 14 points, 9 in the second quarter. Thunder are down 43-53.
Easy, quick summary of first half: Kevin Durant, Thunder still can't make a basket. Clippers' offense can't miss a basket.
I've been waiting to see this kind of aggressiveness from Jeff Green ever since we drafted him. About time!
Clippers' offense is extremely efficient so far tonight. Eric Bledsoe's tear drop shots are apparently unstoppable.
OKC looks like they have no idea what they're doing on offense.
James Harden is trying way too hard to get to the basket every possession. He's not even letting the offense set up and turning the ball over every time.
After the 1st, 27-21 Clippers. Kevin Durant's shooting struggles continue going 2-9 in the quarter.
Westbrook is making it clear that he's going to try and drive to the basket all night in transition.
Los Angeles plays extremely good off the ball. Griffin and Kaman are going to be a scary duo down-low by the end of the year.
Quick observation: Kevin Durant has a different 30-second handshake with everybody associated with the Thunder, including the ball boy. That is awesome.
Number one wish tonight: Cole Aldrich gets AT LEAST 20 minutes. Second wish is him and Serge Ibaka get on the floor together. Block party? I think so.
Projected starting lineup:
Thunder: Russell Westbrook, Thabo Sefolosha, Kevin Durant, Jeff Green, Nenad Krstic
Clippers: Eric Bledsoe, Eric Gordon, Ryan Gomes, Blake Griffin, Chris Kaman
This article is
What is the duplicate article?
Why is this article offensive?
Where is this article plagiarized from?
Why is this article poorly edited?

Oklahoma City Thunder: Like this team?