Tom Brady, Brian Wilson & The 25 Most Awesome Beards In Playoff History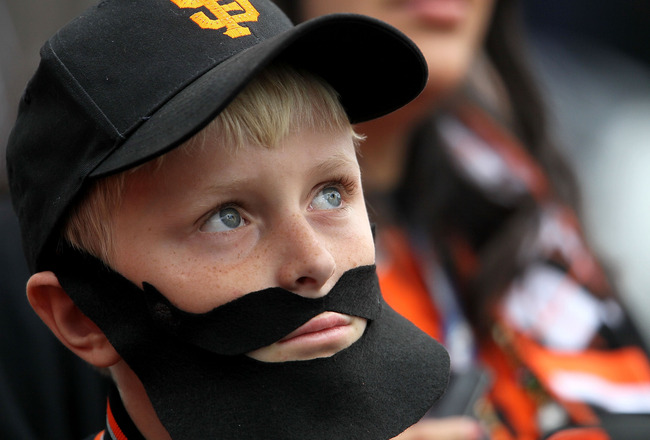 Justin Sullivan/Getty Images
You don't like stubble? Oh no, you nicked yourself with the razor.
Boo-hoo. Man up.
This beard-in-training would like to welcome you to no-shave November, a month that only applies to facial hair (thank God). It's a month where beards, mustaches and Fu Manchus alike are revered for their contribution to hilarity world-wide.
That contribution is bigger than ever in sports.
When the New York Islanders introduced the playoff beard in the 1980s, the sports world finally had something more distracting than the NBA's short shorts. The tradition spread from hockey across all sports, finding a home on some of the world's biggest athletes.
It's considered lucky. Like a penny. Or O.J. Simpson.
So in honor of this great month, which my semi-professional sarcasm consultant brought to my attention, let us celebrate the greatest beards in playoff history. The key word is 'greatest,' because that can be taken in so many different ways.
Time to get hairy.
Follow me on Twitter and read more at L.A. Sports Examiner.
25. Sidney Crosby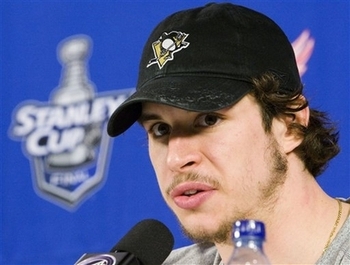 Well it all makes sense now. No wonder they call him "The Kid."
He grows his beard and shaves like he's 13. Maybe try using a hockey stick, Sidney. You seem more dexterous with that.
24. James Blake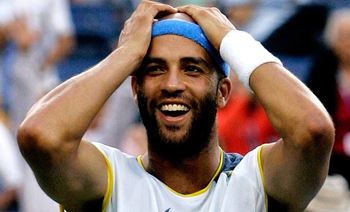 Yes, playoffs don't technically exist in tennis. But Blake dons the beard during Grand Slams, refusing to shave until he is eliminated.
He might want to consider shaving more frequently, because his recent performance with the beard has been lackluster at best.
23. Bret Hedican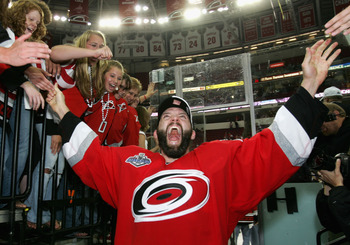 Elsa/Getty Images
He rocked the beard during the Carolina Hurricane's 2006 championship run, so clearly, its working.
The screaming, on the other hand, should remain temporary. Those kids should run for cover.
22. Tom Brady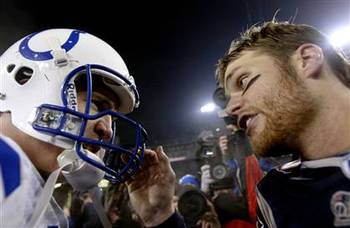 Tom Brady is one of the luckiest men alive.
He's married to one of the most beautiful women in the world, even after multiple disastrous facial hair choices.
Seriously, how does Gisele allow him out of this house looking like this?
21. Baron Davis
Jed Jacobsohn/Getty Images
It's still amazing how people turn the razor to one setting and trim their entire head with it.
Sadly, Davis plays for the Clippers now, so he won't have to worry about growing another playoff beard anytime soon.
20. Pascal Dupuis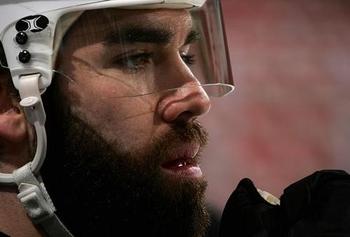 That beard has everything a woman wants in a man:
Tall, dark and handsome.
Too bad we can't say the same thing about Dupuis.
19. Scot Pollard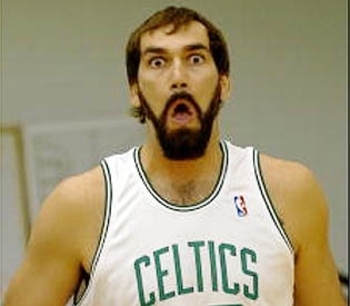 Scot Pollard never shied away from outlandish hairstyles, but his beard choice as a pine-rider in Boston takes the cake.
The thing appears to be at a straight line toward the bottom. Kudos to the barber.
18. Andy Reid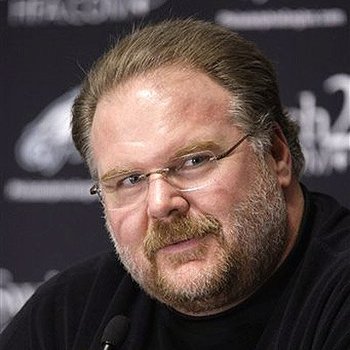 Reid's beard puts him in a very close second for the illustrious nickname, the Walrus, which Mike Holmgren currently holds.
Sadly, the salt-and-paprika look will have to go fully white to take the title.
17. Björn Borg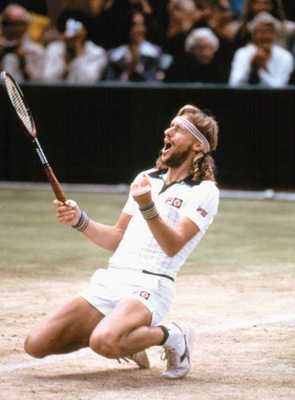 Borg, like Blake, decided to grow out his beard in preparation for Wimbledon, in hopes he could take down the coveted title.
Regardless of his finish, he still wins the "Athlete/Breakdancer of the Decade" award.
16. Matt Light
His mane could easily store snacks for any midnight hunger pains. And for a man his size, that's definitely a necessity.
Which makes you wonder why JaMarcus Russell didn't have one.
15. Johnny Damon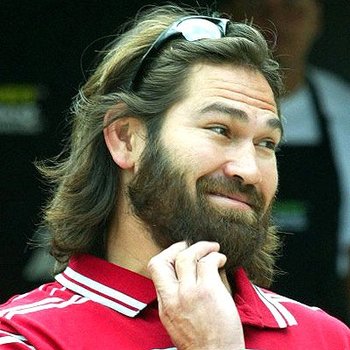 The lovable Caveman redefined shaggy during the Red Sox 2004 championship, their first since 1918.
Maybe if the people in charge of the Geico TV show had picked Damon as the star, it wouldn't have been cancelled after only a month.
14. Kris Draper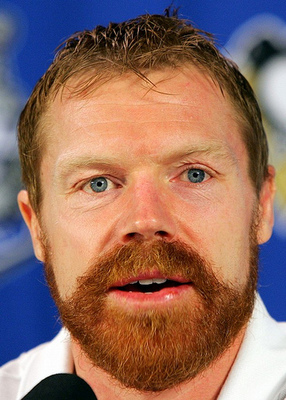 The first red beard of the list, and Draper knows exactly how to sport it.
He was even nice enough to make it contrast his blue eyes. What a fashionista.
13. Jake Plummer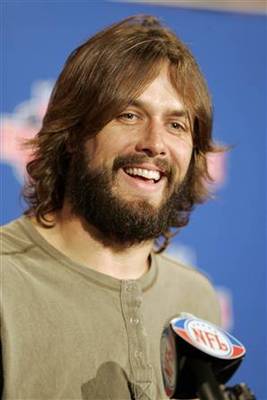 If you didn't know who this was, you might think he looked strangely like Christianity's Lord and Savior.
Once you realize it's Jake the Snake, you realize there's absolutely no resemblance.
12. Brian Wilson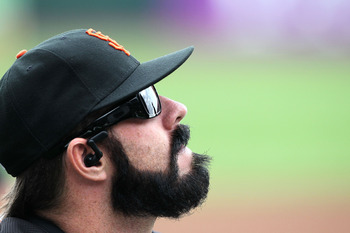 Justin Sullivan/Getty Images
A 2010 World Series champion, Wilson knows that none of his success is possible without the beard.
Honestly, he's maintained it so well, it appears to be growing out of his hat. Bravo.
11. Zydrunas Ilgauskas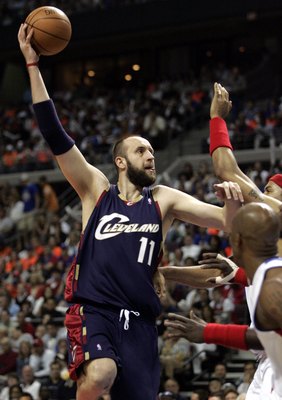 Gregory Shamus/Getty Images
Skin tone: Casper white. Beard: Raiders black.
The man really knows how to accessorize. However, he probably shouldn't come out past Labor Day.
10. Maxime Talbot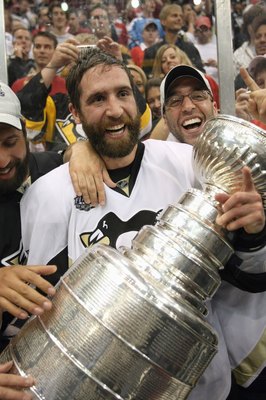 Bruce Bennett/Getty Images
With a beard like that, Talbot should take up a second career as the guy in a pub who nightly breaks out into Irish drinking jigs on the bar.
I hear bagpipes already.
9. Matt Jones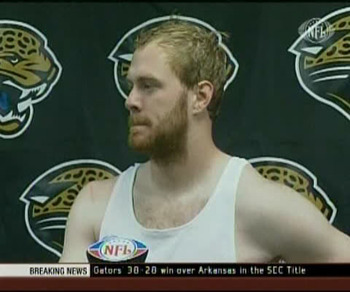 This look is called the "Touchdown Beard," which the wideout refused to shave until he scored during the 2007-2008 NFL Season.
He made that reception in Week 8. His wife must have been furious.
8. Jean-Sebastien Giguere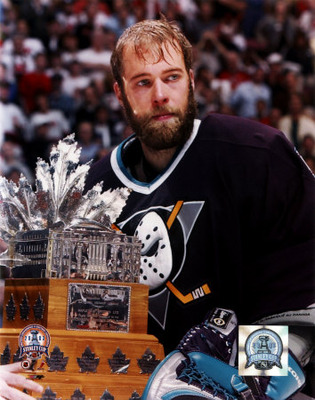 The former Mighty Ducks net-minder sported the beard simply because he helped the team.
Sadly, neither he nor his woman liked it.
Guess who had a playoff celibacy run too?
7. Ben Roethlisberger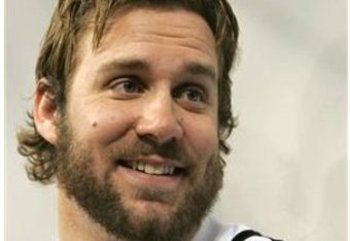 Everyone knows college girls love facial hair.
What, too soon?
6. Ken Daneyko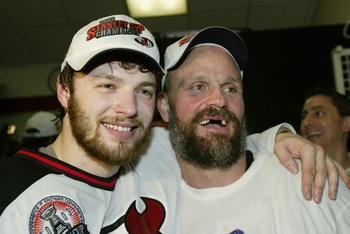 Elsa/Getty Images
Daneyko (right) decided to go all two-tone on his beard, adding that sophisticated touch of silver.
His subtraction of teeth, however, erases that sophistication immediately.
5. Scott Niedermayer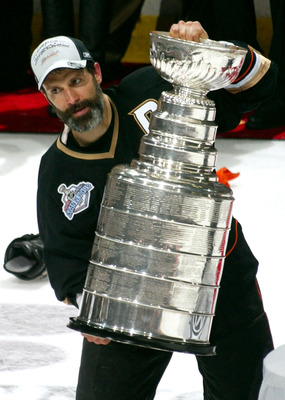 Bruce Bennett/Getty Images
That, my friends, is a classy beard. He knows he's older and he's proud of it.
Now, can someone help the senior lift the Cup?
4. Alan Cork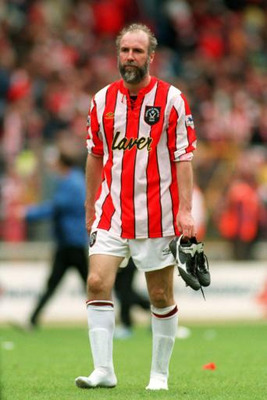 For a guy who's got deeper sand traps than Winged Foot, it's surprising he could muster such a phenomenal beard.
Never doubt a man who can go four months without shaving, especially the guy who made beards cool in soccer.
3. Lanny McDonald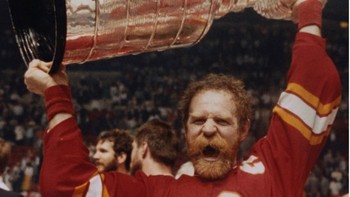 If this were a contest for all facial hair, McDonald would win in a Franklin Roosevelt/Alf Landon-sized landslide.
He must not be one for being taken seriously.
2. Tom Giacchi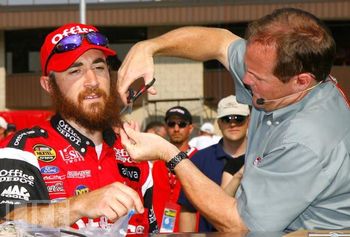 This may have been the most dedicated beard ever, as Giacchi spent almost two years growing this baby between Carl Edwards' victories in 2005 and 2007.
Don Imus knows the perfect way to describe that beard: nappy
1. Mike Commodore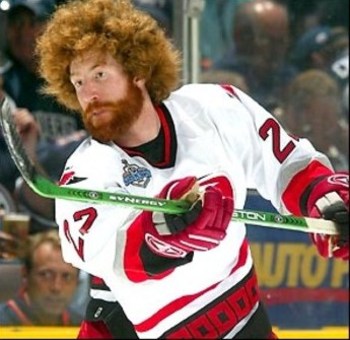 No, the gigantic red afro had nothing to do with Commodore taking the crown that clearly wouldn't fit on that noggin.
It's all about style: an excellent hue, well trimmed with a little bit of unruliness, and thicker than molasses.
Can you think of a better one?
Follow me on Twitter and read more at L.A. Sports Examiner.
Keep Reading