Randy Moss, Manny Pacquiao, LeBron James and Today's Top Sports Videos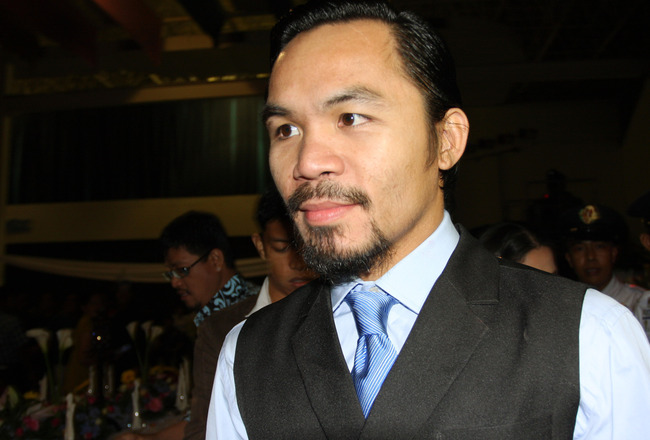 Jeoffrey Maitem/Getty Images
Ladies and Gentleman, let us entertain you for a few moments. You are about to witness some of the most extraordinary sports-related YouTube videos from the day.
You want Shaq doing his best Beyonce impression? Look no further.
How about ESPN personality Michelle Beadle making a key "Decision" of her own?
Recently released by the Minnesota Vikings, see how Randy Moss makes the cut on this list.
And, does it get any better than duets with Will Ferrell and Manny Pacquiao?
I think not.
Enjoy.
Michelle Beadle Needs Your Input

A "Decison" of Epic Proportions

This one is OK, but Dan Patrick did one on his radio show Monday that was actually better.
But since Beadle is much easier on the eyes and has to work with Colin Cowherd, we will show her some love.
Randy Moss
An ode to Randy Moss, who now is searching for a team to play for.
Shaqeeta O'Neal Channels Beyonce?
This was taken on Halloween, and is frightening for all the WRONG reasons.
Disneyland Is Overrated, Let's Rage!
Brian Wilson gives his odd take on what it feels like to win the World Series.
Ron Washington Meets Little Ron
He may not have been the winning manager of the World Series, but meeting Little Ron Washington had to have been some kind of consolation for Ron Washington.
Wes Welker, Quick Hits
Random musings from Wee Wes.
Eric Gordon, Poster Maker
Not even Tim Duncan could block this one.
Jason Kidd From 75 Feet
The old man can still let if fly.
Cam Newton Is a Fairy For Halloween
Don't you just know Alabama will be glad to remind him of this in two weeks?
Will Ferrell and Manny Pacquiao Announce Plans For World Tour
Will Ferrell and Manny Pacquiao debut their first single "Imagine" on Jimmy Kimmel Live. Sure to go platinum and just the beginning for this supergroup.
Keep Reading