New England Patriots Conquer Minnesota Vikings: The Good, The Bad, The Ugly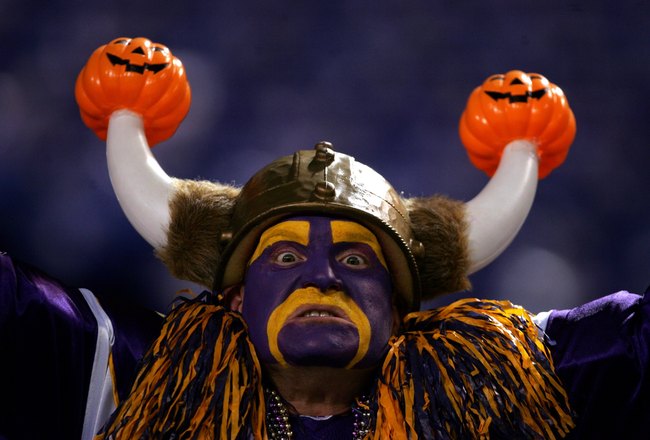 Stephen Dunn/Getty Images
The Patriots hosted a Halloween party at Gillette Stadium and the Minnesota Vikings were the guests of honor.
Brett Favre RSVP'd attending but had to leave the party early. Former teammate Randy Moss also made a brief appearance, but didn't seem to enjoy himself very much.
All in all the Patriots seemed to enjoy the holiday festivities much more than their Halloween house guests.
Still, it wasn't all good, and it certainly wasn't all pretty. Enjoy this week's good, bad and ugly.
Good: BenJarvus Green-Ellis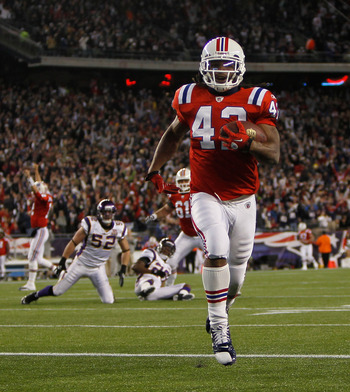 Jim Rogash/Getty Images
Speaking of parties, The Firm had a coming out party of his own on spooky Sunday. The team's dreadlocked demon had 17 carries for 112 yards and two touchdowns.
He outproduced star runningback Adrian Peterson, and he did it in fewer carries.
If Green-Ellis can keep the ground game going as winter approaches, the Patriots should keep churning out victories.
Good: Brandon Tate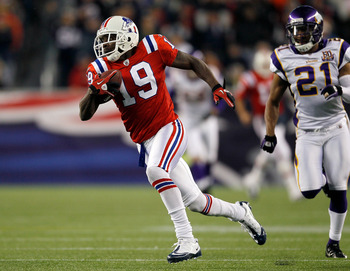 Jim Rogash/Getty Images
Usually when Tate makes the "good" list it means he made explosive plays in the return. Not this week.
Tate only caught three passes but he made them count. Tate totaled a career-high 101 yards receiving and scored a touchdown. His first catch was a shining example of concentration as the ball went straight through the arms of the defender. Tate kept his composure during a nerve racking juggling act, controlled the football and promptly hit the deck to complete the catch. The play set the Patriots up at the Vikings' ten yard line.
His biggest catch of the day came when Tom Brady scrambled out of the pocket, nimbly avoided a shoestring sack and found Tate wide open downfield. Tate turned towards the endzone and outraced two Vikings defenders. The 65-yard touchdown was the Patriots' longest pass play of the season.
Good: Devin McCourty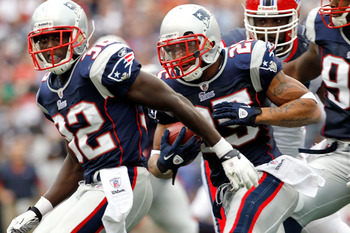 Jim Rogash/Getty Images
I've been singing McCourty's praises all season. As a rookie, he's been the Patriots' best cornerback since day 1. Halloween was no exception.
McCourty made four solo tackles and deflected three passes. His biggest contribution came in the third quarter. With Minnesota in New England territory, McCourty ripped the ball away from Percy Harvin for an interception.
His 37 yard return set the Patriots up at the Minnesota 37-yard line. New England turned the turnover into a touchdown to take an eleven point lead.
Good: Danny Woodhead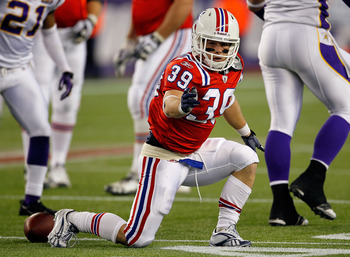 Jim Rogash/Getty Images
I can't get enough of the little guy!
Every week he finds another way to defy logic and the odds en route to a win. This week, on a key 3rd down in the 4th quarter, Woodhead caught a dump off pass from Tom Brady. It was the most important offensive play of the game.
He was met immediately by a defender, short of the first down. Woodhead however would not be denied. He shimmied his way out of the tackle and scrambled for another six yards, enough for a first down that essentially put the game on ice.
He also scored the team's first touchdown on a 13-yard scamper. His exceptional play to this point has really eased the loss of Kevin Faulk.
Good: Middle Linebackers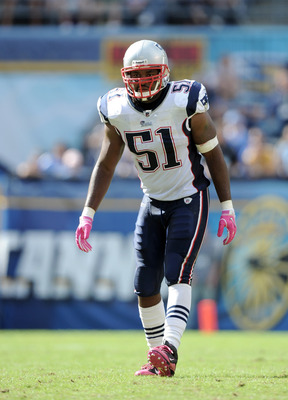 Harry How/Getty Images
Jerod Mayo and Brandon Spikes were the team's two leading tacklers on Sunday, with 14 and 7 respectively. Between the two of them they registered 12 solo stops and were both instrumental in stuffing Adrian Peterson during Goal-to-Go situations.
For those keeping track at home, that gives Mayo 86 tackles on the season. That's the most in the NFL and puts him on pace for 196! I highly doubt he notches that many, but you get the idea. He's been spectacular all season.
The Patriots attributed 10 tackles to Spikes, though the official box score shows only 7. For what it's worth, the team also claims Mayo has 94 tackles, not 86. In any case, Spikes has moved past safety Patrick Chung into second place on the team.
Good: Play-Calling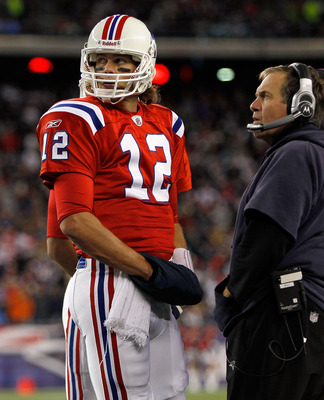 Jim Rogash/Getty Images
If, as he claims, Randy Moss knew what the Patriots were doing on offense, he was the only person on the Vikings sideline who did.
The Patriots executed their most balanced attack of the season, mixing in conventional run plays, screens, draws, passes, you name it. Their offense seemed to be several steps ahead of Minnesota's defense all game long.
Bad: Wes Welker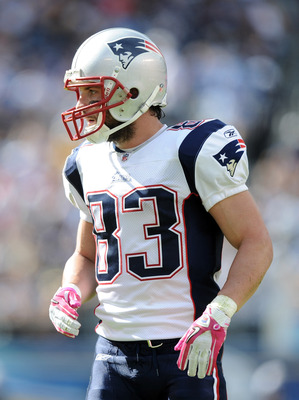 Harry How/Getty Images
I hate to pick on the guy, he's one of my favorite players. He's a hard worker, a great teammate, and a great player. He's defied the odds to this point in his return from a torn ACL.
But he's just not playing at a high level right now. I'm sure some of that is the Randy Moss factor. Not having Moss to take double coverages means more attention devoted to the Slot Machine.
Considering he's led the NFL in receptions over the last three seasons, three catches for 24 yards isn't what Patriots fans were hoping to see from Welker.
Although he did make a key catch that I will touch on in the next slide.
Bad: Officiating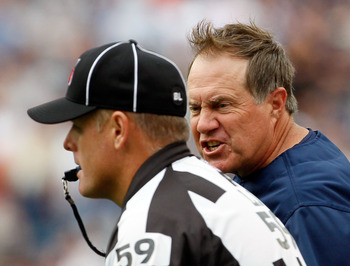 Jim Rogash/Getty Images
It doesn't take a genius to be a referee, just somebody who knows the rules and can see well enough to enforce them.
Now it wasn't like the refs blew the game or anything, but they came dangerously close.
First they blew a call on the goal line. It looked from the replay like Adrian Peterson was clearly stopped shy of the goal line by Vince Wilfork and Jerod Mayo. After review, they let the play stand as a touchdown. I'm biased, so I'll simply agree to disagree and let that one slide.
What baffled me was a blatant non-call in the fourth quarter. With the Patriots leading by a field goal and facing 2nd down and 5 from their own 29-yard line, Brady threw over the middle for Welker right around the first down mark. Welker couldn't make the catch, because he was clearly interfered with.
He was halfway tackled by the time the ball arrived. I couldn't believe the refs couldn't see that. Welker just doesn't get those calls I guess.
My favorite play call of the entire game came on the following play when Belichick and Brady gave a big one-finger salute to the refs and the Vikings by throwing the exact same pass, this time converting the first down.
The Patriots went on to score a touchdown and ice the game, but if they hadn't converted that 3rd down, the Vikings would have gotten the ball with a chance to win. That's a call officials should get right. Period.
Bad: Minnesota's Coaching Effort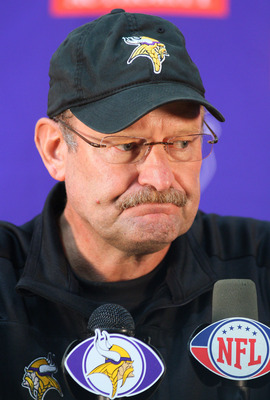 Adam Bettcher/Getty Images
I've seen enough. Brad Childress is a terrible coach.
When you have Adrian Peterson, it doesn't matter who your quarterback is. With a defense as good as Minnesota's, Peterson should get 30 carries every week and the Vikings could play smashmouth football.
Instead, they lure Favre out of retirement and trade for Randy Moss. The end result? A 2-5 record, eight stitches on Favre's chin, Moss waived and a 3rd round pick gone.
That's just big picture stuff...it gets even worse if you look strictly at Sunday's game.
First of all, Childress challenges a catch by Brandon Tate that wasn't even questionable. I find it hard to believe even Chilly thought he could win that one. Challenge wasted, timeout forfeited.
Next, with the game tied heading into halftime, he elects to try for a touchdown rather than take an easy field goal, gain the lead, and seize momentum heading into the locker room. Instead, Peterson gets stuffed and the Vikings squander a golden opportunity.
Worst of all, in a close game, on the road, against a tough opponent, Childress didn't utilize his best player. He put the game in the hands of Brett Favre, the man who's been making one poor decision after another and who Childress himself admitted he thought about benching last week.
So what does Favre do? Throws an interception to set up a Patriots touchdown.
What does Adrian Peterson, the most complete runningback in football and the best player on the team, do? Nothing.
Childress gave him seven carries in the entire 2nd half. Zero, yes that's right, ZERO in the 4th quarter.
Here's a quick rundown of missed opportunities thanks to his second half play calling:
3rd quarter, game tied at 7, facing 3rd and 2 at the Patriots' 5-yard line, he elects to throw. Incomplete. Vikings settle for a field goal.
3rd quarter, trailing by four points, after a 9-yard run by Peterson they go to the air on 2nd and 1. Pass intercepted to set up a New England touchdown.
I won't even get into the 4th quarter. Peterson didn't have a single carry. That's despicable by Childress.
He then cut Randy Moss, the guy they just traded for, without telling the Vikings front office. How does this guy still have a job?
Ugly: Yet Another Puzzling Randy Moss Press Conference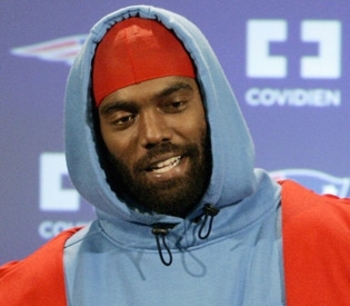 As a Patriots fan, I always liked Moss, but I grew tired of his antics like everyone else.
After seeing his recent press conference in which he praised the Patriots, their players, called Belichick the best coach ever, and professed his love for the team, I like him all over again. As a fan, how can you not love it when somebody speaks about your favorite team with such reverence?
That being said, if I was the Vikings brass, I'd be steamed. He wasn't just taking shots at Childress, he was throwing haymakers. Childress deserved them, but there's no need to oblige after a loss.
Not to mention his whole asking his own questions speech. Just bizarre.
When he was a Patriot, I liked him. Now that he's gone, I love him. It's much easier to enjoy the weekly soap opera from afar.
Keep Reading

Minnesota Vikings: Like this team?