Original Six Showdown: New York Rangers Vs. Chicago Blackhawks Live Blog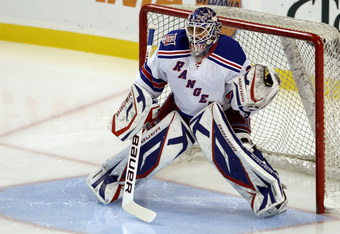 Bruce Bennett/Getty Images
Good evening ladies and gentlemen and welcome to the month of November in the National Hockey League! With three games on the slate this evening, all eyes are on the Big Apple as the New York Rangers host defending Stanley Cup Champions the Chicago Blackhawks.
I'll be bringing you live updates throughout the game as we gear up for an exciting night in Madison Square Garden. Just a few notes before we begin:
-Marian Hossa remains sidelined with injury and will not suit up for the Hawks tonight. Dave Bolland is also scratched with an upper body injury. He is listed as day-to-day.
-Conversely, Brian Campbell makes his return to the lineup and is expected to play significant minutes this evening.
-Marian Gaborik skated this morning for the Rangers, but is not expected to rejoin the team for another two weeks.
-Henrik Lundqvist and Marty Turco are slated to start in net for their respective teams. Lundqvist is coming off a shutout of the Toronto Maple Leafs on Saturday. The puck is about to drop!
Rangers win!
Big win for the team, especially since they've struggled so much at home.
Three Stars of the Game:
3.Artem Anisimov (looked amazing all game, 2 assists)
2.Brandon Dubinsky (2 goals, including one on the power play)
1. Henrik Lundqvist (30+ saves in a huge effort for King Henrik)
And the Rangers keep Chicago off the board thanks to huge saves from Lundqvist! Big win for the Rangers here, an offsides stands in the way of victory.
Lundqvist stifles Kopecky on the best opportunities after the rush and the Rangers hang on for another face-off, but not without a penalty.
John Tortorella was screaming after the face-off initially thanks to interference.
Dan Girardi takes a tripping penalty so with 25 seconds to play, Chicago's on the power play.
Rangers Timeout.
1:45 left...Turco still in.
2:18 to play in the third and the Rangers are hanging on. Chicago has played a solid third period but the longer the play goes the more the Rangers endure.
Shots are 32-23 in favor of Chicago.
Under three minutes. back and forth, the clock is ticking. Waiting to see how long we go until Turco gets pulled.
In fact, this entire game has been really fun. A must see on the NHL Network Replay.
Great pacing in this one is helping take a lot of time off the clock. We're down around five minutes and Chicago has picked up the pressure. 5:21 remaining and the Rangers ice the puck.
Dan Girardi, Marc Staal, and Michal Rozsival have been great tonight.
Christensen earning a lot of great power play minutes here and Michael Del Zotto is working rather hard out there too. Full strength though as the Rangers can't cash in on a second power play goal.
8:47 to go, 3-2 lead.
Great kill by New York and it'll pay off with a little favorable call. A lot of scrum in front and Tomas Kopecky takes a penalty for what appears to be retaliation. Almost incidental contact, but it all works out and the Rangers are back at 4-on-4 with a 1:43 power play upcoming.
Amidst all the scoring, the Rangers took another bad penalty, third one of the game, and this one is for too many men on the ice. Sean Avery will serve the time but this is very costly considering the Rangers just reclaimed the lead.
Could be make or break time during the game.
3-2 Rangers, 12:33 to go in the 3rd.
Well, the flood gates are opening on both sides, now. After Kane scores a goal eerily similar to his Cup winner from this past June, the Rangers are back on the board!
3-2 lead thanks to Erik Christensen who rips one past Turco on a bizarre bounce.
And there's Patrick Kane back the other way on a rough goal for Lundqvist to give up. He should have had it, but the deflection cost him. 2-2.
DUBINSKY NUMBER TWO!
Artem Anisimov sets up an incredible sequence that ends with the Rangers scoring to take a 2-1 lead just minutes into the third. Again, the Rangers are flying this period and this is a well earned goal. Callahan off the bench and the tic-tac-toe style makes them actually look really good.
Dubinsky now has seven goals on the year, and this is his sixth career two-goal game. Credit to Michael Del Zotto for a long pass to Anisimov as well.
End of 2nd Period, Rangers 1, Blackhawks 1.
Scoring Summary: None!
Thoughts: The Rangers played an overall better period and have almost an entire power play to open the period with. Henrik Lundqvist has been great and no one Ranger has played poorly.
On the other side, Marty Turco is taking names out there and looks very good. Chicago's offense, which was stagnant for most of the period, woke up late and could easily carry over the momentum with a big penalty kill.
Great work in the zone by Sean Avery and Ruslan Fedotenko late and the Rangers are getting a power play. Avery showed a lot of justle out there and New York is getting a big opportunity here in a pretty even game.
Duncan Keith is going off for this one.
Frolov's second big opportunity of the period and he comes up empty. Marty Turco with the big play there.
1:58 to play in the second, we remained locked at 1-1.
John Tortorella has been shaking up his forward lines out there; Evgeny Grachev and Todd White are seeing very little ice time.
The Chicago power play really rejuvenated their offense. New York is tired and struggling to clear the zone. Derek Stepan finally cleared, but not before the Hawks made a lot of aggressive plays towards the net. Quality chances are coming at a premium here.
Again, excellent shot blocking presence for the Rangers has taken away the rhythm of the Chicago power play. Michal Rozsival looks really sharp.
Ryan Potulny has returned since taking a puck to the face.
Sean Avery, meanwhile, is going to the penalty box after batting the puck into the crowd on a deflection. Tough call, but by rule, that's delay of game.
Chicago Power Play up next.
7:35 to play in the second, we're at a TV Timeout.
New York is dominating the offensive play this period. Seriously. The shots are now 16-15 Chicago for the game, meaning the Hawks are being out shot 8-3 this period.
I can't stop but think both teams are due to score a goal in the next few minutes, and we could have a repeat of the first frame.
And for those of you who just told me you were listening on Rangers Radio, I'm sorry you had to hear Wayne Gretzky shill for Bigelow Tea.
This article is
What is the duplicate article?
Why is this article offensive?
Where is this article plagiarized from?
Why is this article poorly edited?

New York Rangers: Like this team?