Manny Pacquiao: Five Things 'Coach' Freddie Roach Gave Him To Make Him Great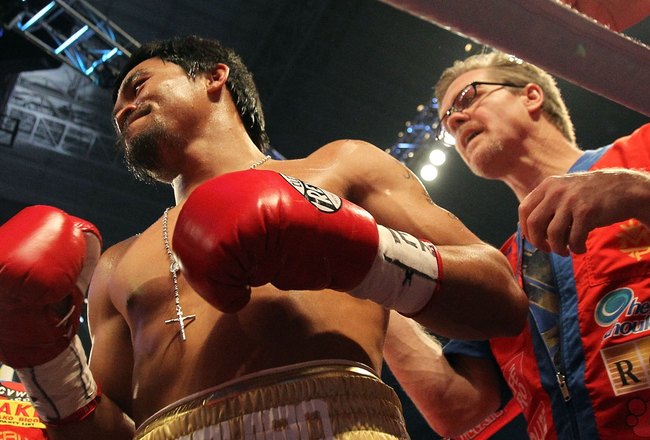 Behind every great champ is a great coach.
Jed Jacobsohn/Getty Images
If you visit the Philippines today you will quickly discover just how popular Manny Pacquiao is in his home country. His picture is everywhere. But it might surprise you who the second most popular person is in the island country. That would be "Coach Freddie" otherwise known as Hall of Fame trainer FreddieRoach.
For those of you who haven't heard the story by now, Manny Pacquiao was an exciting but raw fighter before Ronnie Nathanielsz, a veteran journalist and member of Pacquiao's inner circle brought him over the the US in search for a quality trainer to take the two time champion to a new level. When he worked out with Roach at his Wild Card Gym in Hollywood, CA everything clicked. Shortly after Pacquaio took a fight with Lehloholo Ledwaba as a late replacement. He knocked out Ledwaba, who was considered a rising star at the time, in his first US fight and instantly made a name for himself. Two years later he shocked the world with a brutal 11 round domination of Hall of Famer Marco Antonio Barrera and he's been an international superstar ever since.
Here are the five things Roach has done to make Pac-Man one of the all time greats. All of which will be on display in Dallas, TX a week from Saturday.
1. Vastly Improved Footwork

Watch Manny's footwork in this early fight. He still wins

Footwork is one of the most important facets of any boxer's repertoire. It provides both punching power and defense. Early in the Pac-Man's career he had good drive with his punches but he often landed awkwardly leaving him open to hard shots from his opponents. This was true right as late as his first fight with Erik Morales. But he has improved in every fight since he started working with Roach until he is now one of the toughest targets to hit in all of boxing. And he's always in a good position to throw punches from all angles.
2.

This is how you let your hands go.

One of the mantras at Freddie Roach's Wild Card Gym is "Let your hands go." Basically it means is throwing combinations in bunches. Sounds simple until you try it with another fighter throwing shots at you. It takes a lot of faith and a lot of practice to make it work. It also helps to have the kind of hand speed that current Wild Card fighters like Amir Khan and Julio Cesar Chavez, Jr. have right now, or James Toney had in his hey-day. But it is indeed a trademark of Freddie Roach's fighters. Having said that, no one has ever done it as well as Manny. When he first showed up stateside he was primarily a one handed fighter relying on his left hand. Since working with Roach he is a two handed fighter and his combinations are lethal. They make Pac-Man not only one of the best fighters around. They make him one of the most exciting fighters ever.
3. Solid Game Plans

The Hatton post fight.

No one studies opponents like Freddie Roach. And in Manny he has a student who listens to what he says. Listen to interviews with the teacher and the pupil and you'll hear the same thing. "We have the game plan. We just need to execute it." If their is a similar coach out there he isn't in boxing. He resides four miles to the east of Roach's Wild Card Gym at the Staples Center and his name is Phil Jackson. For both of these men the mental aspect of the game is just as important as physical preparedness. That can make all the difference when you're talking about world class athletes.
4. Patience

Manny survives a nasty cut in Marquez II and wins the bout.

Early in his career Pacquiao often went for a knockout immediately after knocking down his opponents. As he has climbed the ranks he has shown more patience and it has helped greatly in his fights with the very best fighters. The two fights that demonstrated Pacquiao's growth were his two wars with Juan Manuel Marquez. In the first fight he knocked down JMM three times in the first round but when he couldn't close the show Marquez made his comeback. In the second bout Manny weathered a deep cut that made it almost impossible to see in the middle rounds before going on to win the late rounds and the fight.
5. Trust

Manny training at the Wild Card.

Boxing is one of the most dangerous and difficult of all sports. For a boxer at Manny's level he has to have complete trust in the decisions made by his trainer. Ali had it with Angelo Dundee. Freddie had it with Eddie Futch. And Manny has it with Freddie. That trust is why everything else works. It is why Manny follows game plans. It is why he listens in the corner during fights. When Manny first came from the Philippines he allowed other people in the corner which often caused confusion. That ended after the Morales loss and since then it's Manny and the "Master" as he now calls Freddie. It is why many people think Manny will also have the edge if he ever gets in the ring with Floyd Mayweather, Jr.
Keep Reading