World Series Game 5 Live Blog: San Francisco Giants vs. Texas Rangers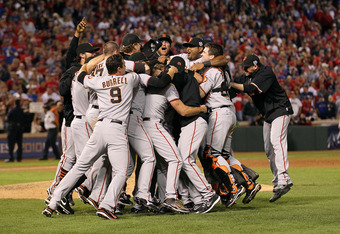 Ronald Martinez/Getty Images
Featured Columnist Ash Marshall here, live blogging Game 5 of the World Series as the San Francisco Giants look to win it all against the Texas Rangers.
The Freak Tim Lincecum did enough to beat an out-of-sorts Cliff Lee in Game 1 and now he has the chance to not only add a defining chapter to his career but, most importantly, to leave Arlington with a championship.
With the stakes higher than ever before, we're getting ready for what could be a pitching duel for the ages.

Join me for the next four hours as we talk about everything from the first pitch to the final out and everything in between. What are your predictions for Game 5?

Well, that concludes my live blog of tonight's decisive Game 5. Congratulations to the San Francisco Giants for ending their 56-year drought, and a very heartfelt well done to the Texas Rangers.
The 2010 season has been filled with so many memorable moments, and in a year dominated by starting pitching, it is fitting that Tim Lincecum, Matt Cain, Madison Bumgarner and Co. ended the season with the championship.
See you all next year!
Texas manager Ron Washington said: "Well you know the guys are a little down simply because they didn't just want to be in the World Series they wanted to win. You have to give congrats to the San Francisco Giants.
"I say that it's not always the best team that wins, it's the team that played the best. They played best.
"I want to congrat them...they deserve to be World Champions because I feel like they beat a World Champion

"I didn't know they could pitch that well. It was just as good as advertised. They can do a lot of things with a baseball—they can throw a good fastball, they can cut it, they can spin it, they can change it."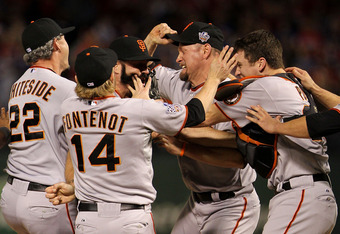 Pile on...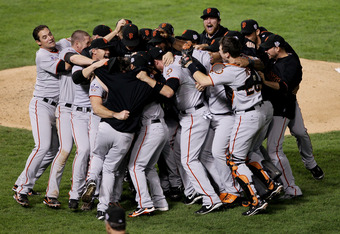 Time to celebrate.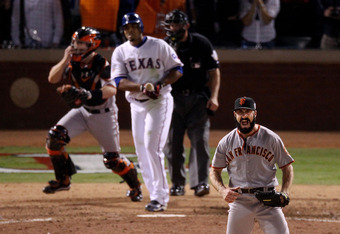 Here are a few other pictures from the celebration...
Timmy was incredibly normal during his interview, kinda disappointing in some way. Luckily Fear the Beard was good value.
"Collectively we put it together and came through at the right time," Lincecum added.
Renteria gets a champagne shower from about eight teammates jumping up and down shouting MVP, MVP, MVP.
Lincecum, picking up the trophy,says "It's shiny."
"This is the most amazing feeling I've ever had with the exception of the birth of my two kids." Huff says. "I didn't even have a job late in the offseason."
Brian Wilson added: "Oh my goodness. It feels amazing. To lead up to this...what a battle...Rally towels, beards everywhere, championship beards."
...Edgar Renteria.
Speaking through tears rolling down his face, he thanked the organization for believing in him.
"It was a tough year for me, but I told myself to keep working, to keep working hard," he said. "I feel proud of myself and proud of my team."
Renteria joins the greats of Gehrig, DiMaggio and Berra to have two series-winning RBIs in World Series play. That's some company.
On a personal note, Bochy says he was nervous all night and day being on the verge of doing something that he has dreamed of his whole life.
The World Series MVP award goes to...
Brian Sabean, the longest-tenured GM in the Majors, describes the victory as a "community effort" and Bruce Bochy added: "It goes to show what a team can do when it plays with heart. I couldn't be prouder."
The trophy presentation is now underway in the Ginats' locker room. I suppose we can listen to Bud Selig for two minutes...
Selig praised the pitching staff and the field staff and hands over the trophy to William Neukom.
"It's a great thing for the franchise and the city of San Francisco... We stood on the backs of Giants to get here."
Neukom also said he was both proud and humbled.
We're still waiting to hear from Tim Lincecum as Fox replays some of his game highlights. They announce him as their player of the game.
The final line for tonight's game by the way: The Giants scored three runs on seven hits while the Rangers plated one run on three hits with one error.
Posey can't say enough good things about Lincecum. "He had that confidence, he had that demeanor about him." Too true, former Minor Leaguer Buster Posey.
It's such a great moment seeing the individual reactions from the players on the field when the final out is made. I remember seeing the Yanks do it last year and it's just as thrilling to see the Giants celebrate.
Cody Ross says he can't say how proud he is of the team. He says there are no superstars on the Giants, just a bunch of guys who want to win.
He said: "We did it, San Fran. We nailed it."
Wilson got Cruz to swing through a high fastball up the ladder and the Giants' bench floods the field. What a series from San Francisco.
BALLGAME OVER. The San Francisco Giants are your 2010 World Series champions!!
The Giants are now just one strike away from the championship as Nellie can't catch up to the fastball.
Lincecum is all smiles and who can blame him? What a performance from The Freak, not just today but throughout both the regular season and the playoffs.
The Rangers are down to their final out and it is Nelson Cruz coming to the plate.
Hamilton strikes out Hamilton looking and Vladdy grounds out to Renteria.
I would have loved to see Lincecum remain on the mound to finish this off, but I really can't criticize Bochy. He has pulled all the right strings so far and Wilson has been so good this postseason.
Three words...fear the beard. Brian Wilson is on the mound looking to shut the door on the 2010 season.
This article is
What is the duplicate article?
Why is this article offensive?
Where is this article plagiarized from?
Why is this article poorly edited?

San Francisco Giants: Like this team?