Jacksonville Jaguars: How To Fix the Team in 6 Easy Steps
Jamie Squire/Getty Images
I'm not a Jaguars fan. Let me start by saying that. In fact, most of the time the Jags are on TV, I'm rooting for them to lose.
What I am, however, is a citizen of St. Augustine, Florida, which fortunately or unfortunately lies within AM satellite radio range of the city of Jacksonville. Therefore, I consume at least 75% more media on a team that isn't my team...the Redskins, who have about a million problems of their own.
Although I'm not a Jags fan, I consider myself invariably attuned to the issues plaguing not only the team and it's players, but also the city of Jacksonville as a whole.
And having such a read on the team, I can no longer hold back my frustrations with a franchise that is seemingly one of the worst run in all of the NFL, from the top all the way down to the bottom.
And for those of you reading this who are Jags fans (I appreciate you both) don't be fooled by this past week's shellacking of Dallas. Seriously, what did you win? You beat a team that you should have beat. A team with no true running back, a career back-up at quarterback and a coach that's dead in the water.
And against this team, you allowed 380 passing yards, and you're defense's supposed "dominating" defensive performance was aided in the interception department by three tipped balls by Dallas receivers.
So, here's the deal. Here's the way to fix the Jaguars. In only six easy steps.
And if you call now, you can get a free set of steak knives AND free shipping.
Step ONE: Wayne Weaver's Declaration Of Dependence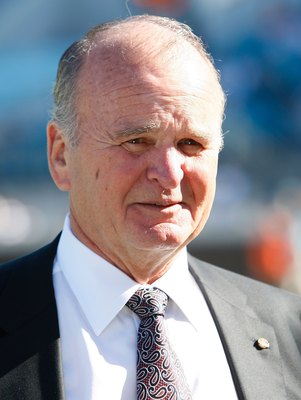 Sam Greenwood/Getty Images
The first thing that needs to happen to fix this Jags is simple. Owner Wayne Weaver needs to get up in front of a ton of real, live cameras and hold a press conference. And in this spectacle, he needs to proclaim to everyone: me, you, and especially Roger Goodell, that this team isn't going anywhere. Period.
I know Weaver has issued subtle statements here and there about how this team isn't moving to say...Los Angeles, but that hasn't quieted the rumors one bit. The city of Jacksonville is still a joke to the outside world. And that's before the media starts making fun of the football team that plays there.
Weaver claims to love this team and I believe him. He truly wants his team, and his business to be successful, but he can do more than what he has done. He's already started embracing the role of team owner. He had a not-so private meeting with head coach Jack Del Rio this off-season in which he issued an ultimatum, win or else.
And what exactly has come of that? A 4-4 record and, hands down, the most inconsistent team in the NFL.
For a long time the Jags were Tom Coughlin's team. Now they're Jack's team. This needs to be Weaver's team.
He needs to you-know-what or get off the pot. Make a statement, appear intent on keeping this team here forever, and do it now.
Jacksonville needs the NFL, not just for the jobs and the attention, but because the city needs something else to look forward to now that Tebow no longer wears Gator Orange and Blue. And the NFL, as much as it hates to admit it, needs Jacksonville. They need to prove that their game is popular enough to survive in a city that has been decimated by the recession and general hard times.
It's a co-dependency.
Bottom line is, this team has, if it wants it, bigger and better times waiting in the future. And I can guaran-damn-tee you that they'll undergo their share of 2-14 and 3-13 seasons too. The key is getting the fans to stick around during those too.
Step TWO: Hit The Road Jack!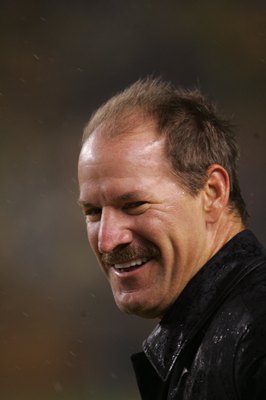 Cowher could bring instant credibility (not to mention long-term stability) to what Weaver is trying to build in Jacksonville.
Chris McGrath/Getty Images
No punny statement of joke. Jack Del Rio has GOT to go.
And even though the mess that the Jags have gotten themselves into hasn't been entirely his fault, it's much easier to replace one head coach and his staff than more than 50 players. A wise man once said that.
Look back on Del Rio's tenure here in Jacksonville. A 61-59 record. Two playoff appearances. A 17-24 record since the Jags last playoff bid. And did you know he only had one year's worth of experience as a defensive-coordinator before the Jags brought him on as head coach. Heck, Del Rio was only four year's removed from being the strength and conditioning coach for the Saints when Weaver brought him over.
Not exactly the most winning credentials. So what kind of results did you expect? Yeah, he led the team to the playoffs, an 11-5 record, and a big win over the Steelers in 2007. I'm also reminded of a Mark Brunell led Redskins squad that somehow snuck into the playoffs that same season. My point? Even a blind squirrel finds a nut.
Del Rio sandwiched that 11-5 record with an 8-8 campaign and a disappointing 5-11 follow-up in 2008. Any momentum the Jags had to build on that '07 team is long gone, and the only real shot the Jags have is if they blow it all up and start again. The first step is getting rid of Jack and bringing in a guy with some serious experience.
Hey, I hear Tom Coughlin might be available after this season. Not with the start the Giants are on, though. Even if the players and management don't like Tom, he's a winner, and he'll stay as long as he's winning.
The obvious choice, and the name at the top of everyone's list, is Bill Cowher. And for good reason. Cowher is a hard-nosed coach who gets results. He made a consistent winner out of the Steelers. There were no 12-4 seasons followed by a 5-11 stinker. There were no 25 point victories one week, and a 35 point loss the next. Cowher brought stability and consistency, both things the Jags lack BIG TIME!
Some say Cowher won't come to Jacksonville. Not when there are more attractive options like Carolina (just a few minutes from his current home), or even Dallas. Heck, I think Jacksonville is the most appealing option out of those three. Where is he likely to have more control: Dallas or Jacksonville? And where does he have the better corp group of players with more talent in-place: Carolina or Jacksonville.
The Jags win going away in both cases.
Bring Cowher in, pay him whatever it takes, even if he wants to make the team headquarters in Charlotte, and bring some positive national attention to Jacksonville, much the same way the Orioles brought instant credibility back to their franchise by hiring Buck Showalter this year.
Sorry, I know my teams (Redskins and Orioles), so I can't help with the shameless plugs. At least I have some expertise on unrealistic expectations on failing miserably.
Step THREE: Find a Franchise Quarterback
Streeter Lecka/Getty Images
In their existence, only three quarterbacks have ever truly led the Jaguars on the field of battle: Mark Brunell, Byron Leftwich and David Garrard.
Brunell was arguably the best player in Jags history. He led the Jags to a 63-54 record and tossed 144 touchdowns in nine glorious seasons (from the view point of a Jags fan). Under his reign, the Jags made the playoffs four times, all in consecutive seasons (1996-99).
During the last year of Brunell's run, the Jags had on their bench a player who they thought was a franchise QB, Byron Leftwich. And when Leftwich ascended to the starting role they had a player they assumed was a capable backup, David Garrard. And while both players had their moments as Jags, neither has emerged as the savior of the franchise. The one to lead the Jags into the 21st century.
For the past three years, the Jags have had not only an opportunity to bring in a veteran passer, but also to pluck a youngster for molding through the draft. In that time, they have passed on Joe Flacco, Chad Henne, Josh Freeman, Jimmy Clausen and Colt McCoy, all of whom are currently starting for their respective teams.
And those are just the starters. They've also passed on promising backups like Dennis Dixon, Rhett Bomar, and Tim Tebow.
You tell me, is there any starting QB that you would take Garrard over? I'll tell you who I would take over him. Any of these starters...
| | | |
| --- | --- | --- |
| Peyton Manning | Eli Manning | Tony Romo |
| Donovan McNabb | Matt Schaub | Drew Brees |
| Kyle Orton | Philip Rivers | Matt Cassel |
| Sam Bradford | Aaron Rodgers | Matt Ryan |
| Chad Henne | Joe Flacco | Tom Brady |
| Matt Hasselbeck | Ben Roethlisberger | Matt Stafford |
| Josh Freeman | Mark Sanchez | Michael Vick |
| Brett Favre | Vince Young | Ryan Fitzpatrick |
In addition, any of these backups
| | |
| --- | --- |
| Kevin Kolb | Dennis Dixon |
| Kerry Collins | Charlie Whitehurst |
| Shaun Hill | Colt McCoy |
| Jimmy Clausen | Seneca Wallace |
| Tim Tebow | Bruce Gradkowski |
Bottom line is, if the Jags ever want to put together a consistent winning team, they're going to need more than just a new coach. They're going to need a new QB. Someone not named Garrard.
As for options, well, they aren't as many as you'd think, and the main culprit for that is Jack Del Rio. This inconsistent son-of-a-gun actually has the Jags at 4-4, well out of range if the season ended right now for any of the 2011 franchise QBs. Andrew Luck looks like a lock to go number one overall right now, and Jake Locker and Ryan Mallett could be right behind him. All three could go in the top ten, one pick away from where the Jags currently sit.
That leaves two options.
1) Develop a middle-round, mid-range QB like Christian Ponder out of FSU. Ponder has good mobility, better than Garrard, and unlike the incumbent, accuracy is actually one of Ponder's strengths. He hasn't been 100% healthy yet this season, so we haven't even gotten a true gauge of how good he could be. Ponder is definitely an option.
Michigan State's Kirk Cousins could be another. Cousins is more of a game-manager, a la Garrard, and would likely do best in a system with a great running-back and good receiving corps. He's certainly not the type of QB who is going to win a game for you, but you could do a lot worse (see incumbent).
Or, they could go the Joe Flacco-esque root and take Flacco's successor at the tiny University of Delaware, Pat Devlin. Devlin was a one-time Pitt Panther, who slipped on the depth chart and scooted out of town to the Blue Hens, where he has quietly boosted his draft stock on the same merits that made Flacco a top-15 pick. Huge arm, football smarts, and decent mobility.
or,
2) The Jags could scour the free-agent wire for a franchise-type QB. Or make a trade. Either way, consider this option the "bring someone in from outside the organization" method. My number one choice, and mind you, these have to be guys who are deemed "get-able," which means no Tim Tebow, is Buffalo's current starter Ryan Fitzpatrick.
The Bills are inevitably going to finish with the worst record in the NFL and have Stanford's Andrew Luck plopped into their lap. They haven't had a franchise QB for an even longer period than the Jags, so they'll pounce on Luck, making Fitzpatrick expendable.
In Fitzpatrick, the Jags would get a smart, smart, SMART player who has done nothing but overachieve on the worst team in the league. He hasn't let the fact that the Bills have a crappy O-line, no running game, and sub-par receivers keep him down. In fact, he's blossomed, tossing 12 TDs and only five picks. And did I mention he went to Harvard? Smart, smart, smart!
Either way, I really don't care how the Jags do it, but go out and find yourselves a franchise QB. You can't keep waiting.
Eventually you'll turn into the Raiders.
Step FOUR: Fix That Secondary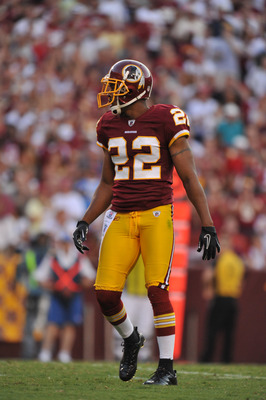 Larry French/Getty Images
You know it, I know it. The Jags have the worst secondary in the league. Who cares what the stats say?
Actually, let's consult the stats. The Jags are ranked 28th in the league against the pass. They've allowed 270 passing yards per game to the opponent, almost 100 more yards than their starter David Garrard has passed for. They've surrendered 17 passing scores, picked off only eight passes (four against Dallas alone), and allowed an opponents QB rating of 103.8.
Want even more evidence? Five of the top nine passers (excluding Garrard) in the league quarterback teams who have played the Jags. Each passer (excluding Vince Young who left their Monday night game with an injury) torched the Jags for at least 220 yards and one TD. Peyton Manning went 352 and two scores. Philip Rivers went 334 and three scores. Kyle Orton went for 295 and one TD. And Ryan Fitzpatrick accounted for 220 yards and three scores.
Just in case you didn't know, despite their offensive outburst against Dallas, this isn't a team that's going to outscore anyone (except for you Indy, and always you). This is a team that is most comfortable in 17-13 and 21-14 contests. The rule has been, if you score more than 27 points, you've got the Jags beat. They're 1-4 in those games this year, and were 0-5 last year.
That said, if you're the new coach you have to bring in some talent for that secondary. And while the Jags might not have a high enough pick to fix their QB situation this year, they very well might be in a good position to grab an impact player in the defensive backfield. This upcoming draft boasts a few of the most talented cornerbacks to come along in a long while.
Nebraska's Prince Amukamura is a true shut-down corner. I was watching Nebraska's game against Oklahoma State two weeks ago and saw that Amakamura had only allowed eight completions against him all season to that point. That's insane!
Another amazing alternative would be LSU's Patrick Peterson. Not only does he pose a serious threat as a return man, but he basically shuts down one whole side of the field when you go up against him.
The Jags would be lucky to get either guy.
Not to mention any of the handful of defensive backs entering free-agency after this season. That batch includes Champ Bailey, Jonathan Joseph, Eric Wright, Richard Marshall, Carlos Rogers, and Antonio Cromartie.
At safety, these guys will be available: Antoine Bethea, Quintin Mikell (BOISE...STATE!!!), Tanard Jackson, O.J. Otogwe, and Darren Sharper.
I know some, if not all of these guys are getting up there in age, but you know they're all slightly-to-extremely more talented to the bunch of guys the Jags got back there now.
Come on, you're telling me that Derek Cox deserved two interceptions against Dallas?
Really?
Step FIVE: More Playmakers!!!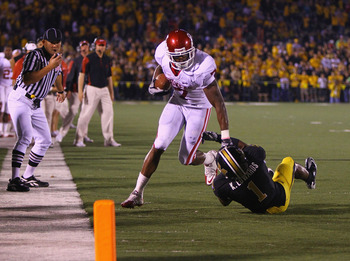 Dilip Vishwanat/Getty Images
Maurice Jones-Drew is a certifiable stud.
He can run (around, through, over), he can catch (short, medium, deep) and he can block.
He truly is the complete package at running back. A super-modern day Marshall Faulk.
As for these other guys, though, I'm not so sure.
Mike Sims-Walker has looked great at times, but then he'll disappear for an entire game...or two!
Mike Thomas has been great, when they've taken the time to work him into the game-plan.
Mercedes Lewis looks like he's emerging as one of the best tight-ends in all of the NFL, but he can't take on an entire team of defenders. It took him until the second-quarter to get on track against Dallas, or rather, until the Jags showed the Cowboys they had someone else (Walker) worthy of their defensive attention.
The Jags need some more play-makers. When they're offense isn't working, they have to have someone to turn to not nicknamed MJD. Mike Thomas is good, but he's small, and makes some pretty dumb plays as a returner. And Sims-Walker is good, but you can't be a big-time receiver in this league and disappear like that.
The Jags need a DeSean Jackson, a Percy Harvin, or even a Wes Welker. They need both a guy who can turn a little play into a 82-yard TD, and also a guy who can make five-to-seven catches a game in space. They have neither. Again, it's going back to the consistency.
The Jags could find these play-makers anywhere. Maybe you can kill two birds with one stone and bring in Patrick Peterson. Let him shut down receivers on defense, and the bring him over for some plays out of the back-field or in the slot.
I wouldn't mind a Titus Young from Boise State, a guy capable and comfortable coming out of the back-field or lining up a wideout. Or a DeMarco Murray, a guy who could spell MJD and provide some serious speed AND offer some amazing pass catching skills.
You want a real-life example? Look at the impact Dexter McCluster has made in Kansas City this year.
Step SIX: More, Not Less, Maurice Jones-Drew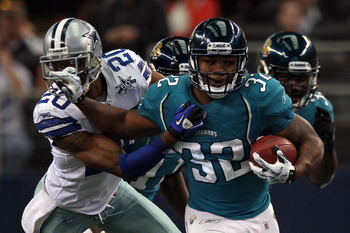 Stephen Dunn/Getty Images
Today isn't the first day I've heard these two conflicting statements on local Jacksonville sports radio.
"See, it's been proven, the Jags need to give MJD 23-27 touches for the team to have a real chance."
and
"There's no way the Jags can afford to give MJD this many carries if they want him to stay healthy."
Really? Are you kidding me? You can't have both! And these weren't even callers, these were the hosts!
The truth is, MJD is the best offensive weapon the Jags have. They need to get him the ball, anyway they can. Running, receiving, heck even some returning.
It has been proven. Give him the ball and the Jags win. And you know why?
Because they don't have anyone else. They only reason Garrard was able to throw four TDs was because Jones-Drew paved the way and opened up the passing lanes. There is no Garrard without MJD.
So the simple solutions are to give Jones-Drew some help. Deji Karim is a start, but that's what we thought about Rashad Jennings, and he's fallen to the bottom of the depth-chart. Who's to say Karim isn't going to follow in his footsteps.
It's simple really, if you're Jack Del Rio, and you want to win, give MJD the damn ball!
Conclusion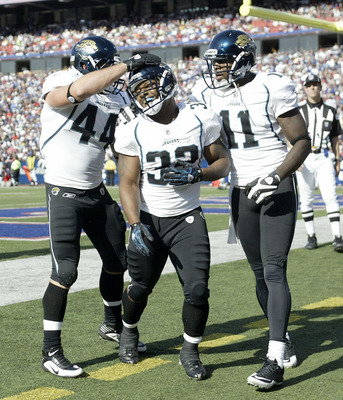 Rick Stewart/Getty Images
There it is...in that order, the way to systematically bring the Jags back to respectability, amongst the fans, the players and the league.
My one true fear as a St. Augustinian, is that if there is a lockout, this team is gone. A stoppage in play is the perfect time for Weaver and his cronies to figure out a plan, a much more lucrative one than staying in Jacksonville. And let's be honest...who really thinks that there will be any support left in this city after a year-and-a-half without football.
Go Gators! And go away Jaguars!
That's what all the fans will be saying.
Keep Reading

Jacksonville Jaguars: Like this team?