The World's Hottest International Sports Fans
Let's face it. If you're not a soccer fan, the only reason you watch international tournaments is because of the beautiful patrons of the sport. They come from everywhere. Sweden, Spain, Holland. You name it! Unfortunately, soccer is probably the only sport that has this international appeal. Fortunately, enough beauties come out to soccer games. Here are a few hand picked photos of the hottest international fans.
Begin Slideshow

»
She may be the support Lionel Messi is looking for.
She's probably a fake blonde, but who cares? It suits her.
Ah Australia. The land of kangaroos, reversed flushing, backwards seasonal patterns and now beautiful women.
She's probably the greatest thing to come out of Austria since Austria-Hungary dropped the Hungary and became it's own country.
This picture is just as good as Brazil's squad. Heck it may even be better.
I love flag bikinis. Do you?
This beauty will eventually bring the small country of Croatia to fame.
Now those are some great danes!
These English girls are putting a few stereotypes to rest with the next two pictures.
1. White girls do have nice behinds (sometimes)
2. English people have amazing teeth (sometimes)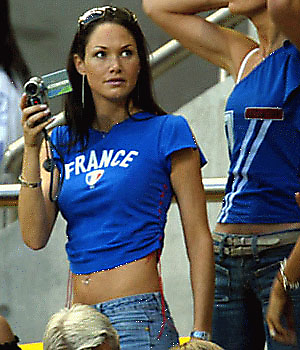 I studied the French language for three years in high school. I hated it and everything French. However, I just love this picture.
This would have been a perfect opportunity to use the hand ball penalty to your advantage.
The Germans finally paid of their WWI reparations a few weeks ago. They could have paid them off earlier if she was part of the deal.
She looks Swedish, but by Zeus she's Greek!
Her eyes are bluer than the Mediterranean sea.
Dutch MILF? You don't find a lot of those nowadays.
These beautiful Dutch females received a red card from FIFA as it turned out that they were part of an ambush marketing ploy paid for by Bavaria beer.
Italian girls are beautiful. Booty shots of Italian girls are even better.
Italian Girls Gone Wild: FIFA World Cup Edition
This gorgeous fan will make men jump over the border to Mexico. Hey, at least it will help the economy!
This Latina beauty said that if the Paraguayan football squad won the World Cup, she would streak through the streets of Paraguay. It's a shame they lost.
Poland has gone through a lot in the past century. The country had always moved between the hands of Russia and Germany. To make things even worse, Germany decided to poach a few Polish players over to their squad. At least the Poles still have their women.
This Portugese beauty is almost in a different league than Ronaldo. Almost.
Who would have thought that such a small country could produce such beautiful women?
Here, my friends, is Mother Russia.
She is one of the reasons why South Africa got to host the World Cup.
She could be the bargaining chip for peace between North and South Korea.
Spain: world class team and world class women.
I would pay to see what she did after Spain won it all in June.
I have to admit that Sweden is my favorite country. These two women and my favorite athlete, Henrik Lundqvist, hail from Sweden. *Booked for flight to Sweden*
I think you know why I love this country so much.
Sweden: The Only Country Whose Women Resemble Their Flag
She is just another reason why everyone should visit the Caribbean at least once in their life.